Vinyl in Philly: The Ultimate Guide
There's something irresistible about vinyl records, particularly here in Philly. It's why we snapped up the second pressing of the Eagles' Christmas album last year in two minutes flat, why we've seen a boom in the medium, and why we're waxing poetic about this city's talented DJs, clever listening rooms and noteworthy record stores. — Edited by Kristen Schott
Jump to:
---
Three Vinyl Experts on Why the Past Is Cool Again
In late 2022, Taylor Swift's Midnights became the first album to sell better on vinyl than on CD in 35 years. Not to discount the passion of Swifties, but this wasn't a huge surprise. Vinyl has become the music industry's fastest-growing physical format in recent years. And while the latest study by data firm Luminate suggests there's been some cooling-off after nearly two decades of expansion, the retro medium isn't going away anytime soon.
A wrinkle: Much of this enthusiasm is driven by a generation that didn't grow up with physical media. Gen Zers typically spend on experiences rather than things — but vinyl is both.
"Records smell like something; they feel like something," says DuiJi Mshinda, a DJ who's the founder of and director of operations for Vinyl Tap 215. Many industry folks see vinyl's resurgence as a counterbalance to the ephemeral nature of music — not to mention a reaction to the ease of having tunes at your Alexa command. "We traded quality for accessibility," explains André Darlington, a former Philly resident and co-author of the Booze & Vinyl book series. "In a digital world, people still need tactile things," adds Ian Cross, the owner of and a DJ at the Trestle Inn.
Unlike with streaming, you can't own everything. But limitation reveals preferences: There's something personal about picking out an album and experiencing its full sequence. "These albums were built as these artists' statements, where you go into someone else's world for a while," Darlington says. "That limitation is soothing."
Another appeal of the medium is the communal aspect — listening with your partner or having vinyl nights, says Darlington. Even shopping has a social element, says Cross: "What's better than going to a record store and just feeling like a part of something?" — Laura Swartz
---
10 Philly Record Stores for Whatever You're Feeling Now
Fishtown
For: that ol' High Fidelity vibe

Yelp will tell you the clerks at this time-tested haunt are aloof and rude. We say: Toughen up. Keep your head down, and dig through bins stuffed with inexpensive indie/punk LPs and singles from the '80s to the aughts. Plus, PRE's staff picks have never let me down.
Recommended if you like: Meg Baird, the Feelies, Yo La Tengo, Bardo Pond.
Queen Village
For: indie-rock essentials

Along with the impressive selection of used records — I once needed a 1974 Telly Savalas LP for my aunt; there were two copies here! — this is a reliable place to pick up something outside the mainstream.
Recommended if you like: Lucy Dacus, Fleet Foxes, Snail Mail, Japanese Breakfast.
Brewerytown
For: old-school rap and soul

The walls and bins of this surprisingly spacious spot are lined with old hip-hop gold, plus reissues and a curated crop of new releases. There's plenty of classic rock, jazz and funk in the crates and over the speakers, too.
Recommended if you like: Schoolly D, T.S.O.P., Nina Simone, Pharoah Sanders.
Manayunk
For: talking shop

In addition to having the staples, this beloved little store always seems to be staffed by upbeat die-hard music fans who know their stuff (and where to find it).
Recommended if you like: Run the Jewels, Belle and Sebastian, War on Drugs, whoever's hot on WXPN right now.
Chestnut Hill
For: vintage LPs and hi-fi finds

This cozy space has wall-to-wall bins of new and used rock and jazz that don't feel picked over, plus a decent selection of turntables and speakers and such.
Recommended if you like: Biggie, Brandi Carlile, John Coltrane.
Rittenhouse
For: a surprise

This odds-and-sods shop has all the stuff you walked in for — and a whole bunch of other stuff you didn't know existed: vintage punk, soul reissues, slyly brilliant compilations, forgotten novelty records, horror soundtracks, you name it.
Recommended if you like: John Carpenter, Aretha Franklin, Dead Moon.
Queen Village
For: a hip-hop history lesson
One of several music shops on South 4th Street, Cratediggaz stands out for its impressive selection of rap records to get you hooked on the genre. If it's big or influential or revered in a deep-cut kind of way, you'll probably find it mixed in among the Bowie and Black Sabbath LPs.
Recommended if you like: The Roots, Parliament, Skrewtape, Nas.
South Philly
For: something mind-blowing
Yes, the music venue/coffee shop also sells records — albeit a small and impressively on-brand selection of LPs to match Solar Myth's experimental, avant-garde aesthetic. If you're not sure about a record, ask for a test spin.
Recommended if you like: Sun Ra, Miles Davis, Irreversible Entanglements.
Queen Village
For: hard and loud sounds

The mom-and-pop shop claims to be the "largest heavy metal record store on the East Coast." Chances are if you read about it in Decibel or tried to Shazam it at Grindcore House, Vinyl Altar has it on sealed wax.
Recommended if you like: Pig Destroyer, Mayhem, Life of Agony, Dio.
East Passyunk
For: nostalgic notes

Owner Marc Faletti founded his shop as "a love letter to the '80s and '90s," so in addition to a few modern releases, he keeps his bins stocked with favorites from a radder, more refined time.
Recommended if you like: Weezer, Whitney, Björk, Britney.
— Patrick Rapa
---
Where to Listen to Vinyl in Philly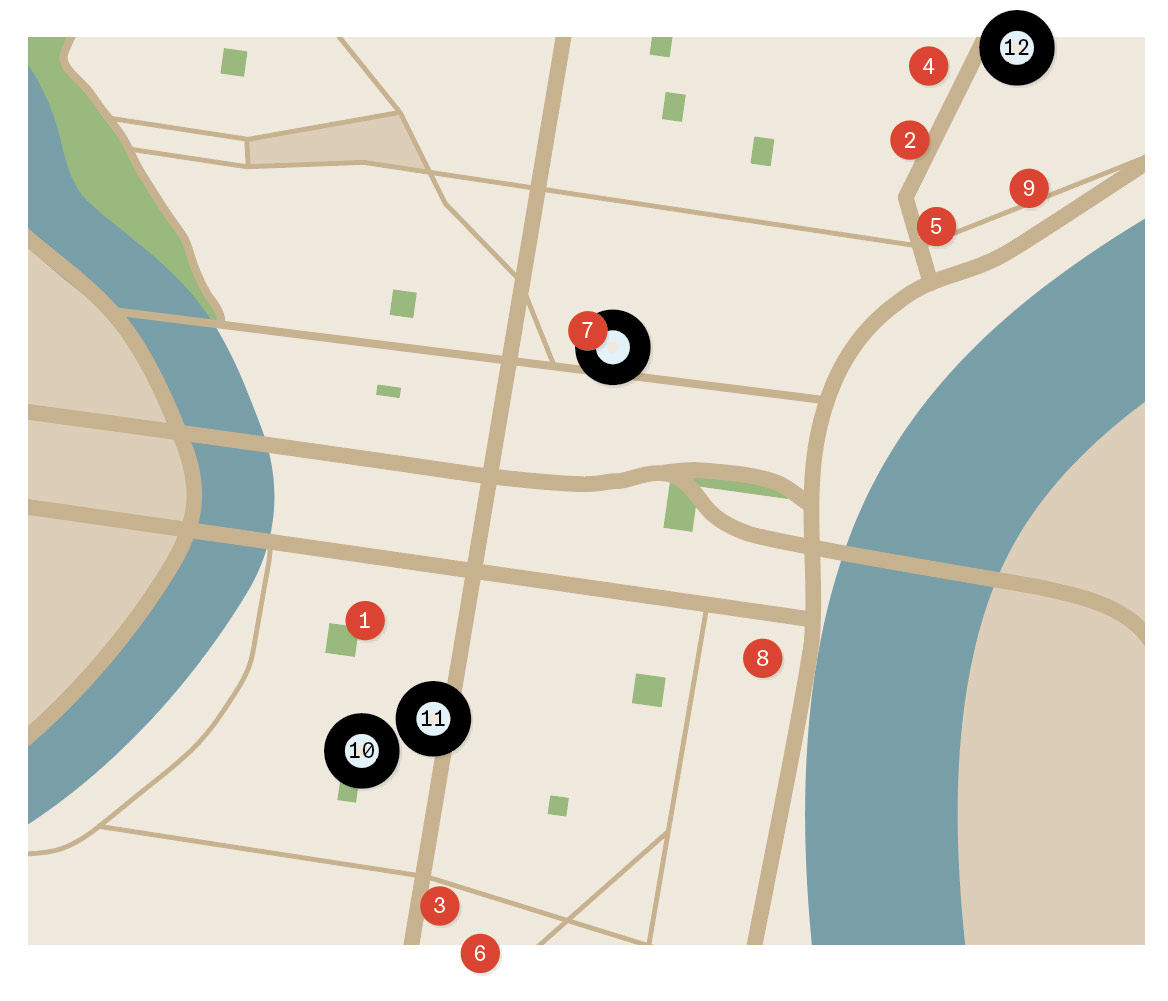 The monthly Vine-yl Nights see a wine-list takeover and full sides of vinyl to pair. "When I put a record on … I listen more seriously," says beverage and service director Frank Kinyon. "That concentration can also apply to wine." Rittenhouse.
While they're spinning vinyl all the time, keep them on your radar for Name That Tune Quizzo on first Wednesdays. Fishtown.
The sound: experimental tunes and avant-garde jazz. The vibes: impeccable. South Philly.
Come on Fridays and Saturdays for all-vinyl sets that will be enjoyed by music aficionados and casual listeners alike. Fishtown.
Probably best known for live music, JB's also hosts live DJs on the regular. Fishtown.
Sit at the bar, explore the rotating beer and wine lists, and hear everything from the Band to Pusha T to Rosali. East Passyunk.
Head here Thursday to Saturday for vinyl dance parties focused on the '60s and '70s. Founder Ian Cross grew up in the U.K. but always loved that '70s Philadelphia Sound. Callowhill.
Musician Joey Sweeney is set to open 48 Record Bar above Sassafras with the bar's owner, Donal McCoy. Expect listening parties for new albums (or reissues of classics). Old City.
After reopening last year, Milkcrate got a liquor license and is planning to transform into a vinyl bar on Friday and Saturday nights. Fishtown.
DuiJi Mshinda started Vinyl Tap 215 as a collective of vinyl DJs "bringing people together through the magic of music." Find them each week at 10. Rex at the Royal (Fridays) and at various monthly residencies (11. Bob & Barbara's and 12. Great Circles) and pop-ups (Trestle). Their Instagram, @vinyltap215, shares where they'll be next — and helps you get to know their DJs. — L.S.
---
Where to Shop Gear
Whether you're an audiophile or an amateur, your treasured vinyl deserves the best turntable out there—and a stylish shelf, too.
MODS stackable bookcase, from $425 at Etsy.com/shop/gideonwoodworker.
Victrola UO exclusive Re-Spin Bluetooth suitcase record player, $120 at Urban Outfitters, Rittenhouse.
Dieter Rams: Less but Better, $40 at the Philadelphia Museum of Art, Fairmount.
Rega Planar 3 turntable with Elys 2-mm cartridge, $1,395 at World Wide Stereo, Ardmore.
Cees Braakman 1950s magazine stand, $160 at Betsu Studio, Port Richmond.
Daystream 1970s leather and chrome swivel chair, $600 at Betsu Studio. — Shaunice Ajiwe
---
Listening Tips: Q&A with the Darlingtons
André and Tenaya Darlington — she's a St. Joe's prof — are the siblings behind the Booze & Vinyl book series, which pair records with cocktail recipes. Here, their notes.
On starting a record collection
André: Go to record stores often, and get into the habit of crate-digging. It's fun, and you find lower-priced stuff that you wouldn't normally have gotten. Remember: You can always sell vinyl back.
Tenaya: I like to shop for records based on what I'll be eating later — it's like shopping for wine! Some people start by collecting their favorite genre, but I like to have a variety. If you go to a record store in search of three albums, pick one to pair with brunch, another for happy hour, and a third for dancing as you fix dinner.
On optimal listening experiences
André: Short answer: Pay attention to your environment. Make it kind of cozy. And add a beverage. It doesn't have to be alcoholic. You can make yourself some tea — or whiskey on the rocks.
Tenaya: I'm barefoot on the couch with a cocktail in hand, and I'm snacking on a stellar cheese board. What better way is there to start an evening? — L.S.
Published as "New Adventures in Hi-Fi" in the April 2023 issue of Philadelphia magazine.