The Philly Mag 2023 Fall Arts Preview
With a packed roster from music to theater and more, Philly's arts scene is having a renaissance. Here's everything you need to see this season.
Jump to:
Concerts | Fringe Festival | Movies | Theater | Comedy
---
Concerts
Music Festivals
Made in America was canceled, yes. But here are three not-canceled multi-day music bonanzas that offer something for everyone:
Making Time
When & Where: September 22nd-24th at Fort Mifflin
The Gist: Longtime Philly DJ, music producer and party promoter Dave P. describes this as a "TRANSCENDENTAL futuristic sounds experience." If you're not sure what that means, imagine a rave, but make it a little more "practical Buddhist" and vibey.
The Talent: More than 100 DJs, EDM performers, and miscellaneous acts (there's a zither­ guy!) from all over the world.
Cost: $226 for all three days. No single-day tickets offered. No service charges if you buy in person at Middle Child.
XPoNential Music Festival
When & Where: September 22nd-24th at Wiggins Park
The Gist: Now in its 30th — yes, 30th — year, the WXPN-produced event in Camden is one of the few non-classical and non-folk music festivals that you can easily take your parents and even grandparents to. An excellent place to discover new and innovative music and not just who's blowing up whatever Billboard chart.
The Talent: Old Crow Medicine Show, Tegan and Sara, and Bruce Hornsby and his band, though this fest is more about the up-and-coming acts.
Cost: A single day for $75 and an all-access pass for $216, but note that kids get in for $10 and discounts apply to WXPN members.
Philly Music Festival
When & Where: October 9th-15th at various locations
The Gist: By day, Ballard Spahr attorney Greg Seltzer is an expert in (yawn) mergers and acquisitions. But by night, he's a passionate music lover. So back in 2017, he started this fest whose roster is solely made up of Philly acts.
The Talent: Kurt Vile & the Violators and Marian Hill get the biggest billing, but we're beyond psyched to see a set from Schoolly D and many of the other locals.
Cost: Tickets are sold per show, with prices ranging from $29 to $49. You'd spend $261 to go to every show at the six venues.
---
The Concert Brief: The Season's 10 Biggest Shows, in 10 Words or Less
Aerosmith • Long past their prime, yes. But still fun. September 2nd at the Wells Fargo Center.
Duran Duran • Children of the '80s, unite! September 7th at the Wells Fargo Center and September 23rd at Ocean Casino Resort.
Sting and Shaggy • An unlikely but quite dynamic duo. September 9th at the Mann Center.
Peter Gabriel • The elder statesman of prog rock. September 16th at the Wells Fargo Center.
Pink • Has Doylestown named a street in her honor yet? September 18th and 19th at Citizens Bank Park.
Janelle Monáe • We saw her at Johnny Brenda's way back in 2010! September 18th at the Met.
John Mayer • Back to solo after Dead & Co.'s supposedly final tour. October 7th at the Wells Fargo Center.
Queen • Singer Adam Lambert: the next best thing to Freddie. October 18th at the Wells Fargo Center.
Ms. Lauryn Hill & Fugees: Miseducation of Lauryn Hill 25th Anniversary Tour • Now this is a reunion worth seeing. October 23rd at the Wells Fargo Center.
Lil Uzi Vert • The wildest Thanksgiving Eve ever. November 22nd at the Wells Fargo Center.
---
Local Talent: Three Philly Musicians We Can't Get Enough Of
Patti LaBelle • Most performing artists of her stature live far, far away from Philadelphia. Not LaBelle, who has kept things local for decades. Earlier this year in an interview, we told her she really needed to make her Met debut. And guess where she's playing on December 9th? You're welcome.
Adam Weiner • Elton John positively loves this pianist and singer and his rock-and-rolling band Low Cut Connie. Barack Obama and Bruce Springsteen are fans as well. Low Cut Connie joins the varied lineup at XPoNential on September 24th in support of their just-released album Art Dealers.
Gina Gleason • An early graduate of the original Paul Green School of Rock Music, Gleason is one of the fiercest guitarists of her generation. She's played with Smashing Pumpkins, Jon Anderson and Carlos Santana. See her perform live with her metal act Baroness at Union Transfer on December 1st.
---
From Yo-Yo Ma to Bizet: 3 Must-Attend Classical Events
Festival O23
Think opera is all "Nessun Dorma" and "Ave Maria"? This 11-day festival that delves into the past and future of the form in unique ways will change your mind. September 21st through October 1st in various locations.
Philadelphia Orchestra's Opening Night
Yannick Nézet-Séguin and the orchestra return with special guest Yo-Yo Ma and works by Shostakovich, Rachmaninoff, and Jennifer Higdon, the Grammy-winning composer who lives right here in Philadelphia. Go. Enjoy the show. But whatever you do: Turn off your damn cell phones! For more on the scourge of cell phones at live performances — especially Philadelphia Orchestra performances — read here. September 28th at the Kimmel Center.
Carmen
The Philadelphia Ballet meets the music of Bizet, with world premiere choreography by the ballet's artistic director, Angel Corella. October 5th through 15th at the Academy of Music.
---
The Fringe Filter: Our Picks for Your Best Fringe Festival
The Philadelphia Fringe Festival is a lot. So many shows, so many pop-ups, so many clowns. It can be a bit overwhelming. That's why we've scoured the schedule — it runs from September 7th to 24th — to come up with Fringe feats to fit your life.
See the full lineup at phillyfringe.org
• If you're looking for a sexy scare, Gunnar Montana's Black Wood promises a femme-fatale tale set in a "supernatural forest." Montana is a Brian Sanders JUNK alum and one of Philly's busiest multi-hyphenates; he's done it all — choreography, performance art, visual art, a freakin' Flower Show installation. September 7th through 24th at the Latvian Society.
• If you're not afraid of the dark, go get lost in Idiopathic Ridiculopathy Consortium's live "radio play" performance of Samuel Beckett's absurdist drama All That Fall. Blindfolds will be provided. September 5th through 24th at the Bluver Theatre at the Drake.
• If you're up for an emotional journey, you need to be in the same room with Philly poet and performance artist Nikki Powerhouse. Her one-woman show The Softest­ Part of Her uses words and movement to create a spiritual, sensual experience. September 19th through 24th at the Community Education­ Center.
• If you want to see a proven winner, Whit MacLaughlin is reviving a deeply personal show he debuted at the 2021 Fringe. 707 Hazardous Moves recounts the New Paradise Laboratories artistic director's journey of self-discovery, from getting shot to getting diagnosed with OCD. September 9th, 10th and 12th at the Icebox Project Space.
• If you want to roll the dice, take a chance on Adam Sandler Jury Duty. GamePlay Theatre Lab's campy comedy will determine the fate of the Sandman's soul and features an all-trans-and/or-gender-nonconforming cast. September 10th and 24th at MAAS Cottage.
• If you want to rock your world, two staged readings (Black Nerdz Are Eazy: A Black Play On Punk Music and Yea, She Heavy: A Black Play On Heavy Metal Music) aim to challenge and delight with their tales of fictional Philly bands. September 3rd, 10th, 17th and 24th at the Indigenous Peoples Artisan Marketplace. Meanwhile, the Paul Green Rock Academy joins forces with local stage and sound veterans Johnny Showcase and Jess Conda for Bowie in Berlin: Sound and Vision, a spin on David Bowie's Berlin Trilogy. September 7th and 8th at FringeArts.
• If the phrase "sloppy, sexy clown autopsy" doesn't ruin your day, see Sarah Knittel/Marina Abramović, a show starring the former and inspired by the latter. September 8th through 18th at Deep End Studios.
• If you're just looking for a good time, go get your head crushed by Kevin McDonald of the Kids in the Hall. The actor/comedian's show starts with stand-up and ends with improv performed alongside members of Philly's Crossroads Comedy Theater. September 23rd at Theatre Exile.
• If you're cool with seeing dead people, the Perspective Collective's Dark Places — a musical drama staged in Laurel Hill Cemetery — fades in on a twisted story of murder and fire. September 17th at Laurel Hill East Cemetery.
• If wildfires and climate catastrophe are on your mind, you'll want to see Koal, an interactive solo show featuring clown-actor-model Jacinta Yelland, who tells the tale of the Australian bushfires of 2019 through a koala bear, a coal miner, and an Indigenous girl. Philly Fringe veteran Trey Lyford directs. September 13th through 21st at The Icebox Project Space.
• If you don't mind a bit of sacrilege (actually, for this one, you'll probably need to actively like sacrilege), you can do no better than Catholic Guilt. Just to give you an idea of how offensive this show might be to some people, the promo materials include the line, "Does daddy Jesus's naked body on the cross make you wet?" September 3rd through 26th at MAAS Building Studio.
• If you've always wanted to explore the notion of "gender cannibalism," it's off to the musical Rose: You Are Who You Eat you shall go. Created by and starring Best of Philly-winner John Jarboe. September 14th through 23rd at FringeArts.
• If you are in search of a fully immersive Fringe experience like nothing else, proceed directly to a long-empty bank in Old City for "Make Bank", in which a four-story mural meets video installations, performance artists, and general weirdness. September 15th through 29th at Manufacturers' National Bank.
• If you don't want the night to end, swing by Late Night Snacks, the Bearded Ladies' drag/music/"unapologetically queer performance art" cabaret­ at a pop-up space on South Street. September 8th through October 1st at the Closet.
---
Blockbuster or Bust? Our Thoughts on Fall Movie Releases
Maestro (Fall 2023) • You'll barely recognize Jenkintown heartthrob Bradley Cooper in this biopic in which he's transformed himself dramatically into famed conductor Leonard Bernstein.
The Equalizer 3 (September 1st) • Love Denzel, but do we really need a second sequel of a movie based on a 1985 TV series?
A Haunting in Venice (September 15th) • Kenneth Branagh meets Delco doyenne Tina Fey in a thriller based on an Agatha Christie tale? So in!
Expend4bles (September 22nd) • I'm pretty sure none of us asked for another installment in the corny Sylvester Stallone action series.
Saw X (September 29th) • Said to be "the most disturbing installment of the Saw franchise yet" — no thanks!
The Exorcist: Believer (October 13th) • Starring CAPA and Masterman alum Leslie Odom Jr. as well as Ellen Burstyn from the original. No, it won't live up to the original Exorcist. How could it? Then again, it certainly can't be as bad as the other two sequels, right?
Killers of the Flower Moon (October 20th) • With names like DiCaprio, De Niro and Scorsese, it's a must-see.
Dune: Part 2 (November 3rd) • Only an absolutely obsessed Dune fan would think this is a good idea.
The Hunger Games: The Ballad of Songbirds and Snakes (November 17th) • A prequel!
Napoleon (November 22nd) • I'm hearing that Joaquin Phoenix's performance as the ruthless emperor — directed by Ridley Scott — has Oscar written all over it.
Wonka (December 15th) • You better not screw this up, Timothée Chalamet.
Ghostbusters: Firehouse (December 20th) • Who you gonna call? I dunno. But please, please don't call me if you have an extra ticket.
The Color Purple (December 25th) • Not simply a remake — a musical remake. Produced by Quincy Jones and Steven Spielberg, who directed the original. And featuring folks like H.E.R. and Philly's own Colman Domingo.
Editor's note: Release dates, which may change due to the writers' and actors' strikes, were current as of press time.
---
Theater
Our Pulitzer Winner's Theater Picks
South Philly's James Ijames made a big splash in the American theater world when he won a Pulitzer last year for his Hamlet adaptation, Fat Ham, which debuted on Broadway earlier this year and opens at the Wilma on November 24th. We asked Ijames what he's most looking forward to seeing in Philly — other than his own show, of course.
What the Constitution Means to Me "What this solo show is talking about is reproductive rights and the character's story of her own journey with that. I saw it on Broadway in the original production and was so moved by it — and that was before Roe was struck down, so it's even more timely now." October 26th-December 3rd at Arden Theatre Company.
Major Barbara "I've never actually seen it. I've only read it, and it was really a hoot. It's George Bernard Shaw's father-daughter story where the daughter is a do-gooder and the dad is an arms dealer. They switch places. It's like George Bernard Shaw does Freaky Friday. It's a play about what it's like to be in someone else's shoes for a day. And it's a tough, tough play to do, which is why you virtually never see it, but Quintessence isn't afraid of tough material." September 13th-October 21st at Quintessence Theatre Group.
Macbeth in Stride "I'm obviously a fan of riffing on Shakespeare, so I can't wait to be in the audience for this one. Full disclosure: My friend made it, and I missed it when it played in Boston, so thankfully it's coming here. This is Macbeth but from Lady Macbeth's perspective. That's going to be exciting to see, because she's such a fascinating character." November 2nd-November 19th at Philadelphia Theatre Company
---
3 Staff Theater Picks
Assassins
Stephen Sondheim always maintained that this was his best and most perfect work. We couldn't agree more.
September 21st through October 15th at the Arden
Camp Siegfried
A newish play about an actual summer camp that once existed in Long Island. This particular summer camp offered all the normal summer camp stuff. Archery. Swimming. Nature walks. But it also offered something that most summer camps didn't offer: Nazism.
October 26th through November 12th at Theatre Exile
Wicked
If you've never seen this Wizard of Oz prequel, it is truly a delight.
November 1st through 26th at the Academy of Music
---
Comedy
On Heroes and Hecklers
We asked three Philly comics — all taking the stage this fall — about their comedy heroes and how they handle hecklers.
Alejandro Morales
Hero: "Sandra Bernhard. She was so fierce and outspoken and in charge of her sexuality. Bold and different. I wanted to be all those things as a teenager in the '90s. I wanted to scandalize people with my words, and that's actually what she did. She just didn't care."
Heckler: "When I'm confronted by a heckler, I actually like to be very gentle and just let them know: This is not a conversation. And usually, this does the trick. If it doesn't, and if they're getting mean and it's really messing with the energy of the room, I can be mean right back, believe me."
See Morales in Open Mic, The Musical, September 3rd, 8th and 13th at the Maas Building.
Betty Smithsonian
Hero: "Chris Rock. I first saw him on Saturday Night Live and didn't see any of his stand-up until after that. He's just the smartest comic out there, and his physicality onstage is unparalleled. The way he shares what's funny is just exceptional."
Heckler: "If somebody wants to try to heckle me, I will cut off their dick. I'm all about the audience, and if the audience is finding the interaction funny, I'll play with the heckler for a little bit. But when I need to shut it down, well, I've been in AA for 23 years. I know how to get assholes to shut up. Come at me, dude."
See Smithsonian when she hosts the Free Fringe Philly Cabaret, most nights from September 4th through 24th at Quig's Pub.
Manny Brown
Hero: "Dave Chappelle. What a gifted orator. He's so engaging, and he's even engaging when he's not being funny. Dave is so good at taking you on a ride that can include all types of emotions. He's on a different planet at this point in terms of his ability to express himself through public speaking."
Heckler: "Many comics fear hecklers. I do not. If a heckler feels the need to say something, I know that I'm the one with the microphone, and I'm the professional in this relationship. I know I can beat them. So the way I look at heckling: It gives me a chance to show off my skills."
See Brown when he co-hosts his comedy series Next In Line, most Friday and Saturday nights at Lilly's Ferry.
---
The 5 Best Big Comedy Shows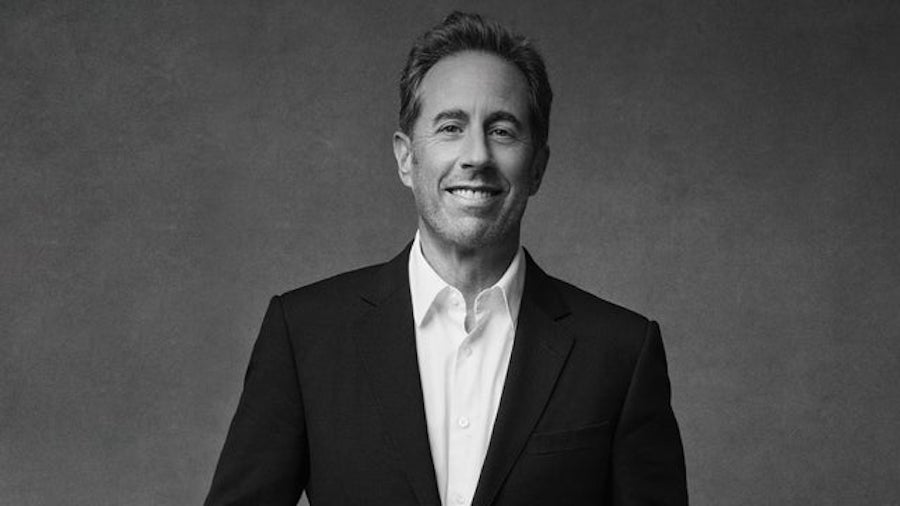 Matt Rife
With six shows in three days, all of which long ago sold out, this is officially the hardest-to-get comedy ticket this season. But where there's a will… If, however, you don't find a way, he's back in the area next April.
September 11th through 13th at Helium
Jerry Seinfeld
Still talking about nothing, nearly 35 years after the debut of his eponymous show. If you can't make the October performance, he's also at the Borgata in December.
October 6th at the Met
Tracy Morgan
As seen on SNL and 30 Rock.
October 13th at Ocean Casino Resort
John Cleese
Fans of Monty Python won't want to miss this one.
October 25th at the Academy of Music
Amy Poehler and Tina Fey
It's not often these two tour separately — let alone together.
December 14th through 16th at the Met
---
Archival Bite
A look back at Tina Fey's favorite local pizza ahead of her December Met show
When Tina Fey visits the Met with Amy Poehler in December for a rare appearance (her Mean Girls musical also runs from October 3rd to October 8th at the Miller Theater), I have a pretty good idea what she'll be having, or at least wanting, for dinner: Pica's pizza. Her fave.
Fey is, of course, an Upper Darby native, and Pica's is the revered Italian spot in her hometown, known for its sauce-on-top rectangular and square pies. How do I know her cravings? Let me take you back. Almost a decade ago, Fey showed up on The Tonight Show Starring Jimmy Fallon. Little did Fey know that Delco comedian Luke Cunningham, then a Tonight Show writer, had conspired with me (a Pica's regular and Cunningham acquaintance) and Pica's patriarch Frank Pica Sr., who has since passed away, to get some pies on the show. The Tonight Show dispatched an intern via Amtrak to 30th Street Station, where said intern was met by Franks Sr. and Jr., pizzas in hand.
"This pizza is the best!" a wide-eyed Fey gleefully exclaimed that night on television when Fallon produced the saucy pie. Her host seemed a little confused upon opening the box, and Fey was quick to explain, in the thickest put-on Delco accent possible: "Your sawce is awn the tawp." As the producers rolled a clip from Fey's upcoming film, she and Fallon chowed down.
Pica's phones blew up for months to come, with some customers driving more than 100 miles just to get a slice of Fey's favorite. Ah, celebrity culture: weird, right? In any event, the appearance was a huge boon for business, and the moment is duly documented through articles and photos at Pica's, where, says Frank Jr., people still come in asking about that moment. But will Fey try to sneak in there while she's in town? "Her mom still comes in," says Frank Jr. "And Tina has been, too. But very undercover."
A version of this piece was published as "Fall Arts Preview" in the September 2023 issue of Philadelphia magazine.