News
First-Ever National Coming Out Day Parade Planned for OURFest This Fall
Galaei unveils plans for the first parade of its kind in the nation, plus a festival and resource fair, this October.
---
This past spring, Galaei took up the mantle for Pride after the dissolution of the prior organizations behind Philly's annual celebration dissolved. In June, the inclusive LGBTQ+ organization staged a march under the banner of Pride 365, featuring the biggest Pride flag in Pennsylvania. Now, they're making history again with the debut of America's first National Coming Out Parade, planned this October as part of their OURfest celebration.
The title OURfest is actually an acronym for "Our Uniting Resilience," encapsulating the spirit of individual journeys in coming out and the collective strength of the community. Scheduled to take place from October 6th to 8th, the OURfest weekend will include a parade, festival, resource fair and other events.
"Pride in June has roots that were in protest and a stand for justice and equality for our larger LGBTQ+ community. We created a march where the entire LGBTQ+ community could participate, march together and raise up our voices," said Galaei executive director and community organizer Tyrell Brown. "For National Coming Out, we see this is a key opportunity to share and celebrate our collective and individual stories of coming out. The parade allows for our community to experience and enjoy a visual display of how far we've come, to watch a moving and powerful show together, and to take a moment to enjoy the story of our coming out."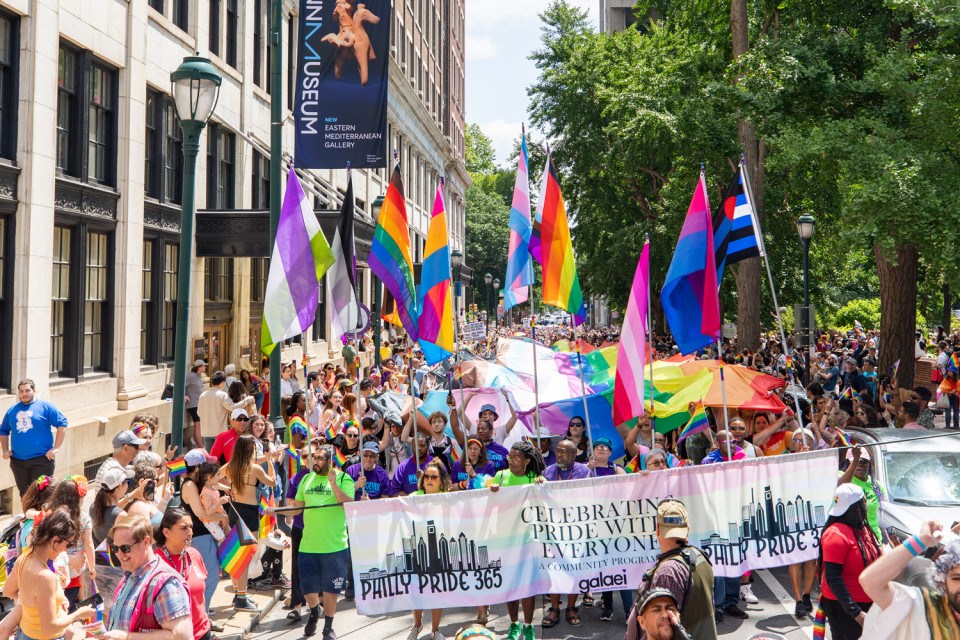 The National Coming Out Parade is set for Saturday, October 7th, from 4 to 6 p.m. starting at 5th and Market and ending at Broad and Locust. The parade will feature floats, community organizations and live performances. Themed sections will showcase youth and families, sports, professional leaders, drag artists and more. The 200-foot-long Pride flag debuted in June will also return.
On October 8th from noon to 7 p.m., the celebration continues with the National Coming Out Festival in the Gayborhood. With a lineup of over 200 grassroots organizations, nonprofits, artists, entertainers, food trucks and more, this festival will spread out from 12th to 13th streets, and from Walnut to Spruce.
Galaei is curating a full schedule of performances, speeches and the awarding of the first annual "Mx, Ms, Mr, OURfest 2023." Also planned are "Bailar con Amor," an ode to Afro-Latinx heritage art and dance, and Kiki Alley, a joyous space highlighting Philly's ballroom culture, history and community.
The festival will also include dedicated spaces for youth and families, including bounce houses, game trucks, chest-feeding and changing stations, and more. This space will be alcohol- and smoke-free. There is also a dedicated sober space planned at Writer's Block Rehab with a bar featuring mocktails and other zero-proof beverages. The Decompression Zone, in collaboration with Disability Pride PA, will provide an accessible haven for attendees seeking a low-sensory reprieve from the festivities.
Community resources range from health-care organizations connecting attendees to testing, mental health, and appointments to adults-only workshops on kink and consent. For more information, to get involved, and to keep up with lineup announcements, visit galaeiqtbipoc.org/ourfest.
---
---