News
First Look: Giant Animatronic Dinosaurs and Bugs Are Coming to the Zoo
Get up close and personal with a roaring T.rex — or a hissing cockroach — with a new outdoor exhibit opening in April.
---
This spring, the Philadelphia Zoo will hosts life-size animatronic dinosaurs and super-size animatronic insects in a new experience that's sure to be a must-do for any little dino-lover — or budding entomologist — in your family. "Staying Power: Be Distinct, or Go Extinct!" opens to the public on April 1st, and tickets go on sale tomorrow morning at 10 a.m.
"Staying Power" will take guests through the time of dinosaurs to the present day, showing the powerful changes and challenges that caused them to become extinct — and how creatures like insects have adapted to survive. Philadelphia Zoo chief marketing and experience officer Amy Shearer calls the upcoming exhibit "a dynamic experience that will put guests side-by-side with some of the biggest and smallest animals to walk the Earth, and challenge guests to look at the adaptations that we have as humans to make a difference for the future of our planet."
The exhibit places the creatures in realistic settings to put them in context and make the experience feel immersive with evocative sounds and landscapes. For the first part of the exhibit, guests will walk through an Earth-themed portal (complete with a fateful asteroid) and explore the "Dinosaur Trail," with animatronic dinos like the 60-foot-long roaring Giganotosaurus (a carnivore believed to be even larger than the T.rex!), velociraptors, and even a giant aquatic Spinosaurus. And, of course, there's also a T.rex.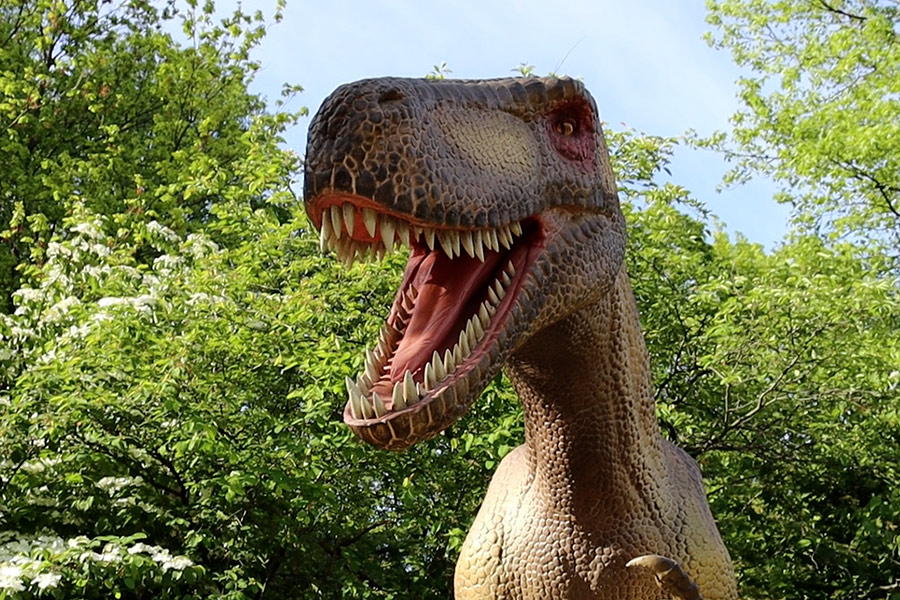 Halfway through the exhibit, guests will "pass through" a giant magnifying glass into a larger-than-life "Insect Garden" of giant creatures that move and make noise — from a hissing cockroach to a screaming katydid.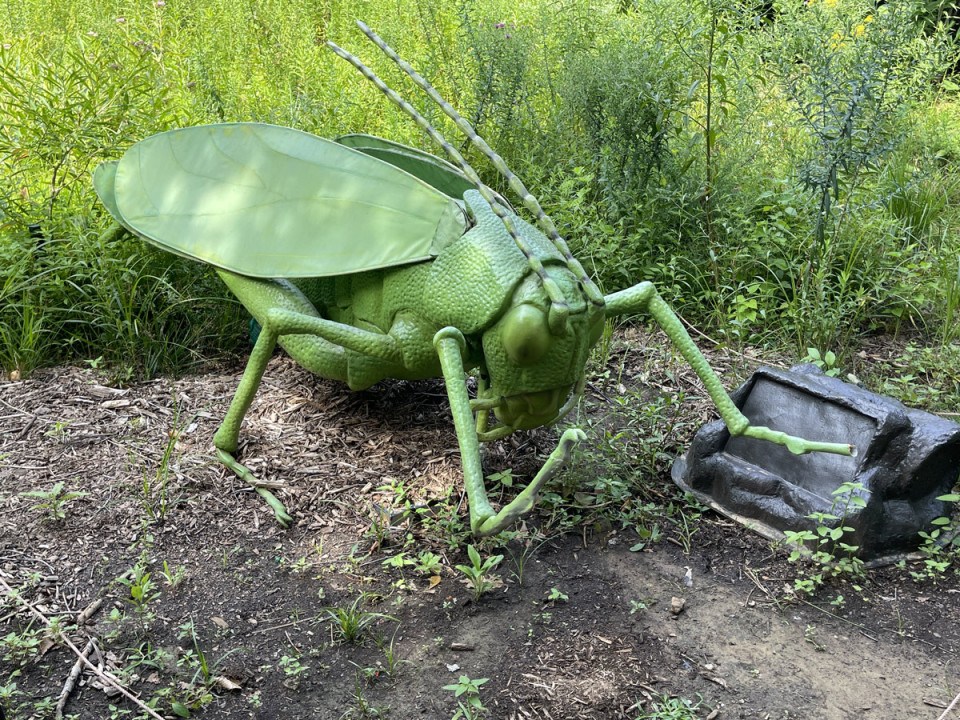 This section will teach guests about adaptations like camouflage, the lifecycle of monarch butterflies, and the threats insects like bees face in our current environment. (That last part is accomplished by depicting giant honeybees working in a hive.) Ultimately, while "Staying Power" focuses on what does — or does not — help a creature survive, it also reminds us of the role we have in that survival, and the steps we can take to help endangered species endure.
To celebrate the exhibit, the zoo is coming out with a special-edition dinosaur Zoo Key, which can be used throughout the exhibit (and the rest of the zoo) at Storybook Boxes that tell you more about the animals.
They're also planning to feature themed food specials at a food stand adjacent to the exhibit, including a "Bronto Burger," dino nuggets (obvs), and a dirt cup with gummy worms (the nostalgia is strong with that one).
Tickets for "Staying Power" go on sale on March 1st, and will be $6 above general zoo admission ($20 for kids, $25 for adults, free for members and kids under two). The exhibit opens on April 1st with a special members-only preview on March 31st.
---
---