This Guy Has Been Pretending He's Ozzy Osbourne for the Last 25 Years
The strange, part-time job of one South Jersey man.
---
If you've got a second, part-time job, chances are you drive for Uber or pick up a few bartending shifts here and there. But if you're South Jersey's Joe Donnelly, who owns his own appliance and HVAC repair company, you pretend to be — like, really, really try to become the Satanic embodiment of — Ozzy Osbourne. That's what Donnelly has been doing for the last 25 years as the lead singer of Sabbra Cadabra, which was quite probably the world's first Black Sabbath tribute band. We caught up with Donnelly in advance of the band's Saturday show at Kung Fu Necktie.
How the heck did you realize that you wanted to impersonate Ozzy Osbourne?
As a pre-teen, I always wanted to do voice-overs for cartoons. I would try to mimic cartoon character voices. And Black Sabbath has always been my number-one favorite band. So when I was older, I saw this newspaper ad — it was in this old newspaper that circulated on the East Coast called the East Coast Rocker and eventually became known as Aquarian — there was an ad in the back that said he was a guitarist that looked exactly like the Black Sabbath guitarist and he was looking for somebody who could look and sound like Ozzy and, well, it wasn't a hard decision.
You guys started doing this 25 years ago. There weren't a lot of tribute bands around back in those days, were there?
No. Tributes were in their infancy. There were maybe two or three. Maybe. Now, you have tribute bands paying tribute to tribute bands. There's too much spice in the soup these days.
You're not a big fan of the trend.
Back in the day, it was a phenomenon to go see a tribute band. Now, it's all watered down. These bands used to look and sound exactly like the original. Today, you have these self-proclaimed tributes that look nothing like the people. They don't play the instruments that the people played. We actually have the same equipment that Black Sabbath used. Well, we'd buy the vintage amps and stuff from England and have them converted to our electrical system.
Every city or town seems to have five tribute bands to the same band. So we spend all our time [going all out] and these half-asses are doing "tributes" and getting recognition. It kind of puts a [damper] on things. People are so desensitized to tributes because there are so many schlubs these days.
How have you managed to stay together for 25 years? I mean, it's not like you guys are printing money here.
Well, the guitar player, myself and the bass player are from the original lineup. At one point the bass player left because of the self-centered drummer. Later, the bass player came back, and the drummer left and started his own Black Sabbath tribute band. Before that, some of the people in the band had a Led Zeppelin tribute band, but I refuse to pay tribute to a band that doesn't write their own music but takes credit for it. Anyway, the self-centered drummer is the only original member not with the band now.
It's always the drummer.
No, it's always the singer. But I'm not going to damn myself.
Favorite song to sing?
I honestly can't pick. But my favorite album — their heaviest — is Master of Reality. Least favorite is Never Say Die. Too experimental. I mean, what the fuck? It's like Captain and Tennille or something.
You used to pack them in at Sweeney's in Northeast Philly for years. Why are you now playing in Fishtown?
Remember the self-centered drummer? His "new-and-improved" Black Sabbath tribute band plays there now.
Ever bitten a head off any small animals? Or at least a fake small animal?
No. I once smoked something in Tennessee and wound up running around the parking lot naked. Then I go into what I thought was my hotel room, where I thought my bandmate was under the covers of one of the beds. And I start jumping up and down on the bed screaming. And then this guy says, "I think you're in the wrong room, buddy."
You have to do wacky shit. It's the essence of Ozzy. He's off the charts. A tribute band's job is hard. You have to look like him. You have to sound like him. You have to act like him. But it's very satisfying. It makes me happy.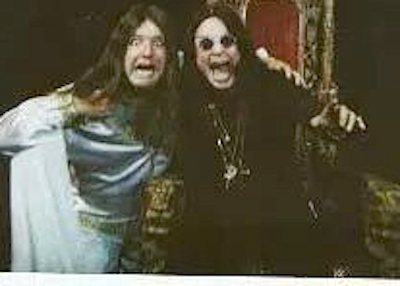 Any brushes with the real Ozzy Osbourne?
Yes. Everybody in Black Sabbath knows of us. I once met Ozzy at the old Tower Records on the Roosevelt Boulevard. Probably early 2000s? He was doing a signing. I dressed up like him as he looked in the 70s. He starts screaming, "It's me from the 1970s!" He groped me. "This is fucking beautiful," he kept saying. Yelling and screaming. And we took a photo. And he actually wore one of our t-shirts on his Osbournes show.
And other people in the business know who we are, too. If I see Dave Mustaine or James Hetfield walking around in San Francisco and say hello, they'll say, "Hey, Joe!" We might not be Metallica or Slayer or that kind of stature, but at least people know who the hell I am.
The biggest show we ever played was a Black Sabbath tribute at the Roseland Ballroom in New York City. We were the main band, and all these guys came up and played with us. Rob Zombie, members of Anthrax. This short little guy in a safari hat comes up to me and asks me, with a British accent, if he can sing "Sabbath Bloody Sabbath" with us. He asks me to write out the lyrics. To myself, I'm saying, Who the fuck are you, bro? And then he introduces himself. It was Bruce Dickinson from Iron Maiden. So I sure did write out those lyrics right away.
How much more of this do you have in you? It's not easy being Ozzy.
No, it's not. They say it's better to burn out than to fade away. I don't want to be 50 — Christ, that's two years from now. OK, I don't want to be 60 and playing in front of girlfriends and parents. Whenever we play out, it's a packed or nearly-packed house. It feels good.
But I can't really move around like I used to. I'm getting old. Wearing six-inch, 60-pound platform boots… I can't do that so much anymore. And I have a steel rod in my leg. But we still have a few tricks up our sleeve before I decide to give it all up so I can go make synthetic hairballs for ceramic cats.
---
---