Philly Blogger Curates Amazon's First Series of Artist Prints
RJ Rushmore wangled one-of-a-kind works from street artists around the world — including Philly's own stikman.
---
Over the weekend, Amazon launched an online gallery showcasing limited-edition prints from seven international street artists. They'll be available for purchase starting December 7th.
This is the mega online retailer's first foray into commissioning and selling one-of-a-kind works of art. I know what you may be thinking: Amazon choosing to begin with street artists was a bit presumptuous, considering the art form and commercialism don't exactly go hand in hand, but organizers were smart enough to hire a curator who could bring some credibility to the project while still being able to cull a group of artists who could attract buyers.
That guy was RJ Rushmore, a Haverford College graduate, creator of street art blog Vandalog, and co-founder of a great new gallery space in Fishtown called LMNL. For his day job, he serves as social media and marketing manager at the City of Philadelphia Mural Arts Program.
It was Vandalog that caught the attention of Amazon, plus Rushmore says he connected with a woman running the site's Fine Art division a couple years ago. At the time, he was heading up a mural program in New York City, where he formed contacts with several artists involved in this project and established himself as a fixture in the street art community. He was even featured as a talking head in HBO documentary Banksy Does New York in 2014. So Rushmore's involvement was an incentive for some of the artists who may have had second thoughts about working with a brand like Amazon. "A couple of them said, 'I'm not usually a commercial artist, but if you're behind this, then why not,'" he says.
Another motivation was Amazon's hands-off approach; the artists were given free rein to do almost anything they wanted. "The only content restriction was no nudity," Rushmore says. "Honestly, the flexibility they were given is more than I can say for a lot of galleries I do shows with."
Of the seven artists, Rushmore chose one from Philly: stikman, whose iconic robot stencils decorate crosswalks and street signs across the city and globe. "Why not pick one of the most important street artists?" Rushmore says when asked about his decision to include stikman. "He is a great cult figure — and a great entrée into street art. His work is immediately interesting and immediately recognizable — always different, but always the same. I never tire of it."
For the project, stikman is doing his first-ever screen print, with the help of Philly screen printers Masthead Studios. He began with a traditional music score, Handel's "The Messiah," and then printed his ubiquitous green figure on top of it. Shadowing around the figure creates the illusion of three-dimensionality, and by using the Christmas-themed piece, Rushmore says, the artist is cheekily positioning stikman as the Messiah.
---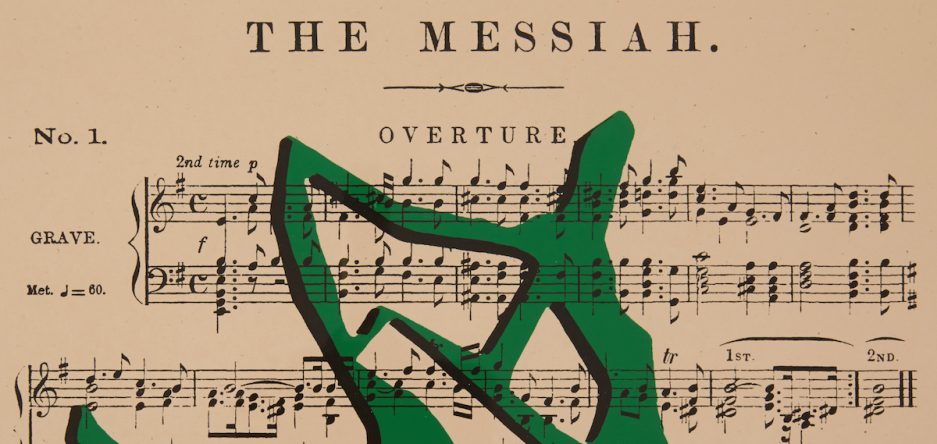 ---
He chose the rest of the project's artists based on who could contribute eye-grabbing, colorful pieces, and whose works were considered political and contemplative in nature. "I wanted stuff that you wouldn't necessarily expect to see on a website next to the latest Christmas Tickle Me Elmo doll," he laughs. "I also wanted a diversity of voices, techniques and styles."
Among them is South Africa-born Faith47; Logan Hicks, a pioneer on the New York City street scene; Japanese pop artist Lady AIKO; "POPaganda" artist Ron English, who you may remember from his guest-starring role on The Simpsons a few years back with Shepard Fairey; and Gaia, who is behind two prominent murals in Philadelphia: one, called Frontiers, at the corner of Belgrade and Susquehanna streets in Fishtown, and one of celebrated city planner Edmund Bacon at 13th and Sansom streets in Midtown Village.
The works run the gamut from deceptively cutesy to comic-book-like and kind of eerie — but they all convey some sort of socio-political message. Gaia's work, for instance, was made with a hatching effect that "alludes to traditional printmaking techniques like etching to render a striking portrait with strong social, economic, and political undertones." The image is that of a young African-American girl who, as the description on Amazon says "dares to construct a larger-than-life persona, redefining viewers' ideas of innocence and virtuousness."
AIKO's Bunny (left) shows an adorable pink rabbit holding a graffiti spray can. In the background, the text "Potsdamer Platz" is emblazoned in German medieval typography, recalling the historic square in Berlin that was once dissected by the Berlin Wall.
This is work you'd typically see on the street — in the subway, on an abandoned bridge, or even on some of the remnants of the Berlin Wall that still stand in the German capital, but Rushmore believes it doesn't lose its meaning on a site operated by the largest internet-based retailer in the country. In fact, it brings the art form to people who may not be familiar with its culture, and gives the artists a chance to spread their work and message to a wider audience. "Amazon can break down barriers and create a more accessible platform to buy and sell art," he says.
The prints will be available for purchase starting December 7th, and, in the spirit of exclusivity, will only be available for one week. Each artist has contributed 50 prints that vary in size and range in price from $150 to $550. To learn more about them, and to sign up for an alert that will let you know as soon as you can purchase them, go here.
Keep up to date with Ticket's local arts, culture and events coverage. Here's how:
---