84-Year-Old Philly-Born Photographer, Dave Heath, Finally Gets His Due
The Philadelphia Museum of Art is opening an exhibition of his work this Saturday.
---
Photographer Dave Heath's start in life wasn't easy, but maybe it provides a clue to understanding his soulful, empathetic and moving body of work, on display at the Philadelphia Museum of Art beginning this Saturday, September 19. When you look at the work, the loneliness and gentle observation clearly stand out as artistic motifs. His black-and-white photographs are gorgeous and stark, and yet so deeply human that they easily connect the viewer to subject. Heath taps into our collective identification with times of loneliness, self-absorption and longing. These images are not ironic. There's no arch cleverness. And that's one of the strongest qualities of this work.
Born in Philadelphia in 1931 to a teen mother, Heath was abandoned by her four years later. His maternal grandparents, who had disowned his mother, were unwilling to take care of the four-year-old boy. He was next rejected by the foster family he'd come to live with. The couple had taken in two foster children, but after a year decided they only wanted one child. Not him. By the time Heath was eighteen, he was on his own. This harsh beginning had the result of sending him down an artistic path of great richness as he searched photographically for the connections that eluded him during his formative years.
Keith Davis, the senior curator of photographs at the organizing institution, the Nelson-Atkins Museum of Art in Missouri, says, "Heath is entirely deserving of new attention and awareness. In my mind, he is one of the most important photographers of the 1950s through the 70s who hasn't had a career survey in any real way. I believe profoundly in this work. It's not well known enough and the time is right take this artist seriously." Despite being a winner of the prestigious Guggenheim Fellowship and having work in the collections of the Philadelphia Museum of Art, New York's Museum of Modern Art, The Art Institute of Chicago and the National Gallery of Canada, Heath has remained out of the cultural lexicon.
Known primarily as a street photographer, Heath's images of urbanites on subways, in parks, witnessing the aftermath of drownings and accidents, his close-ups of strangers or couples on the street, all reveal an acute eye for the quiet moments of solitude even among the hordes.
---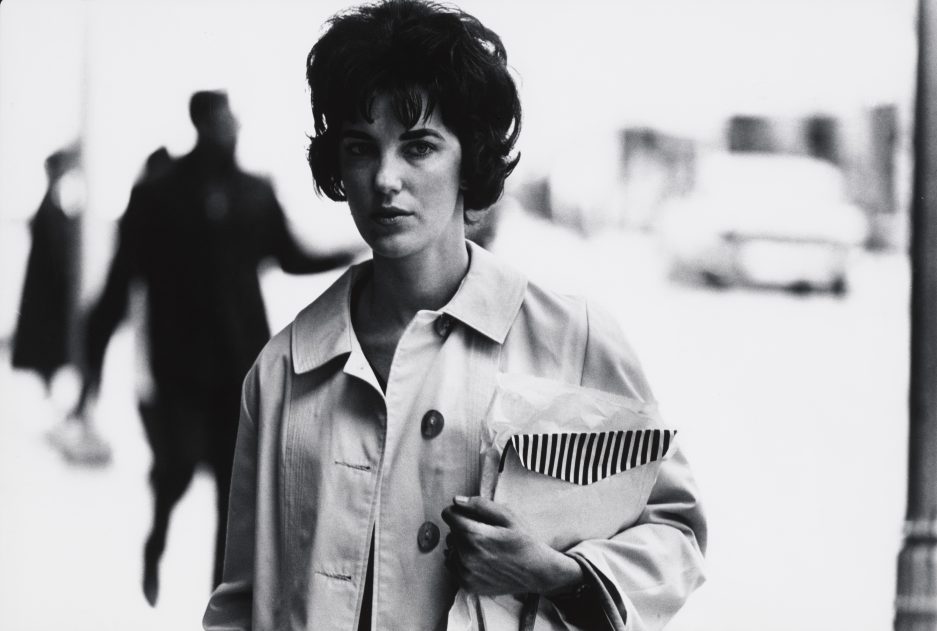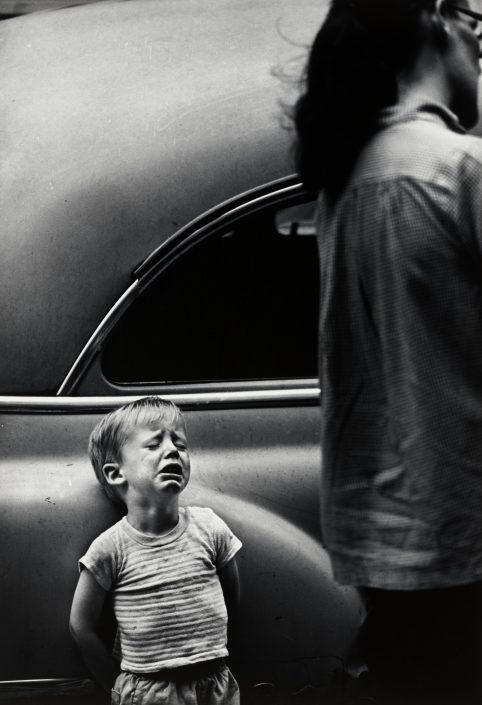 ---
In the catalog that accompanies the exhibition, Multitude, Solitude: The Photographs of Dave Heath, Heath explains, "What I have endeavored to convey in my work is not a sense of futility and despair, but an acceptance of life's tragic aspects. For out of acceptance of this truth: that the pleasures and joys of life are fleeting and rare, that life contains a larger measure of hurt and misery, suffering and despair — must come not the bitter frustration and anger of self pity, but love and concern for the human condition."
Whether it was the pictures Heath shot in Rittenhouse Square, the Mummers Parade, Chicago, New York City or during his stint serving in the Korean War, they all reflect the same outsider's perspective of someone searching for what he felt on the inside mirrored on the faces of his subjects.
There's a nice symmetry of Heath's work being exhibited now in the same museum where, as a young man, he began the education of his artistic eye. "It boils down to this," says Davis. "Heath's work seeks a basic sense of connection — knowing oneself and how to fit into a larger society. He photographed, in essence, as if he were an alien, but he knew his own loneliness was shared by those around him. He felt alone, but he also knew that the strangers around him shared his sensibility. That paradox is very powerful."
'Multitude, Solitude: The Photographs of Dave Heath' runs from September 19 through February 21. A talk-back with the artist is taking place on September 19 at 1 pm. For more information, click here.
---