Here's Where to Find Amazing Japanese Food Locally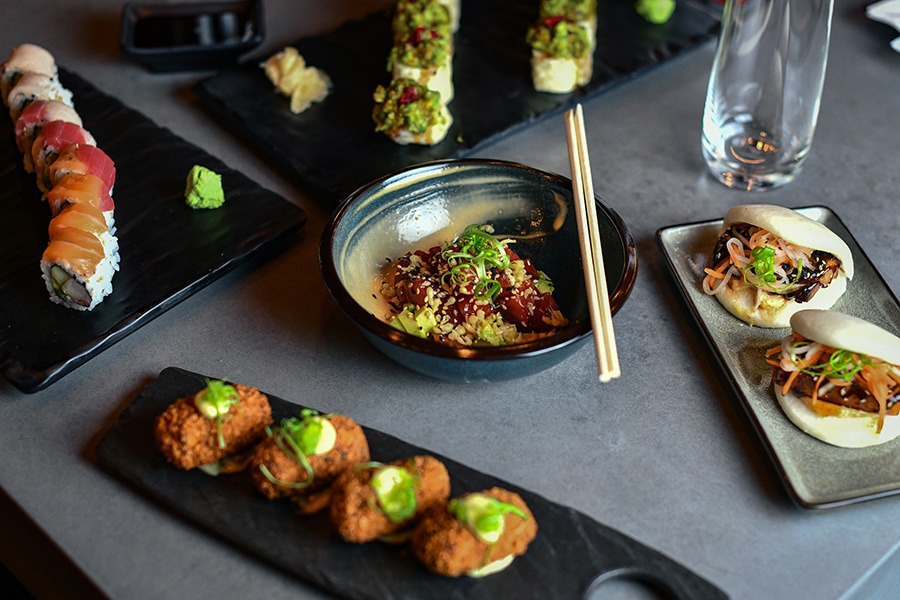 While California rolls are now crowd-pleasers, it wasn't long ago that Japanese dishes were still new and boundary-pushing for American palates. (Even at the end of the last century, raw fish as an ingredient was still a little bit surprising to some people more accustomed to charbroiled red meat.) But at this point, Japanese cuisine has proven that it can be enjoyed as a favorite of people of all stripes, adopted more or less as whole-heartedly as Italian or Chinese food as the center of a fun night out.
That's what makes the new identity of Ossu, the popular Atlantic City Japanese restaurant that re-opened in July, so exciting for diners looking for elevated but accessible Japanese dishes that help them keep the good times going in a chic but friendly space. From sushi to robatayaki to sake, Ossu, reimagined by the Tropicana culinary team and Chef Michael Buckley, is the place where anyone looking to get into Japanese cuisine, or expand their appreciation of it, should head in the region. As one of Tropicana's four restaurants that are ranked in the top ten Atlantic City restaurants on Open Table, it's already earned a Diner's Choice Award from the site.
"We have something to please everyone," Patrick Sterr, executive director of fine dining, says. "If you're looking for an educational experience, if you're looking for a cocktail, if you're looking for tremendous sushi, if you're looking for the right vibe, we can provide all of that."
Ossu sets the tone upfront for the meal through its decor, which is both inviting and distinct. The entrance, inside Tropicana Atlantic City, is decorated with pink- and orange-, spray paint-inspired lettering and an illustration of Mount Fuji, and transitions smoothly into an interior inspired by late-night Tokyo, full of soft lighting and clean lines. The music is low but with a strong beat (there's a DJ on Friday and Saturday nights).
"There's a clean, edgy, rugged feel to it," says Sterr of the ambience.
If it sounds like a great vibe to sample Japanese spirits in, then you're in luck. The sake and Japanese whisky lists are both extensive and carefully selected. Sterr brought in a sake sommelier from New York to go over the sake program, and the effort brought to making the whisky list accessible is impressive. When selecting a whiskey, the staff will make recommendations based on your preferences for American whiskies, and they provide a detailed digital menu that breaks down the flavor profiles of the spirits available.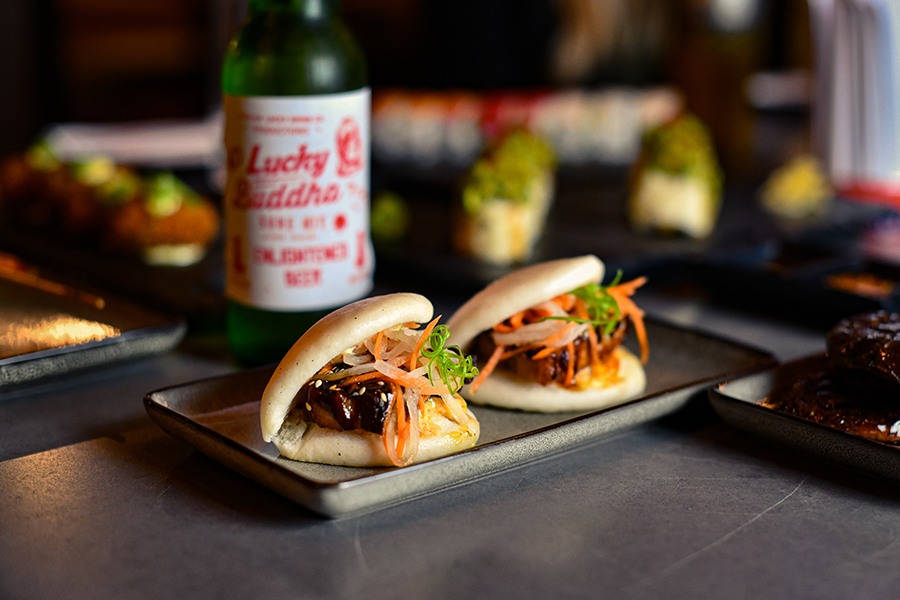 "We try to prepare you with correlations, so that if you're a Jameson drinker, for example, you'll know what to get," Sterr says.
The cocktails serve as another great option to introduce you to the spirits. Favorites include a sidecar that incorporates plum-infused whisky, and a shishito-pepper spritz that features a chili-infused vodka.
"We carry elements from the kitchen into the beverage program, for a unified feel," Sterr says.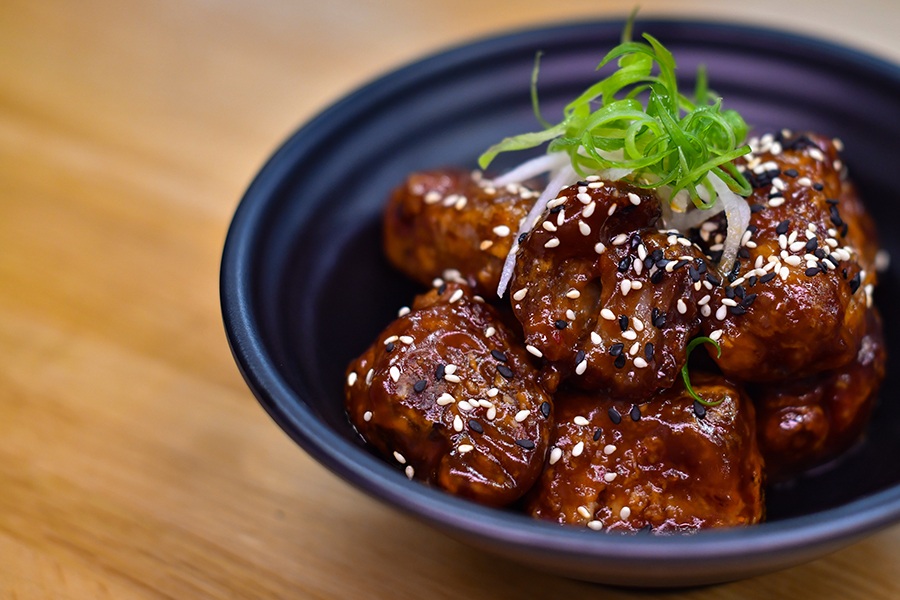 Regarding that shishito pepper, it also makes for a popular appetizer.
"They're very quickly fried with a sweet chili-hoisin glaze on them," Sterr says. "They've taken off like wildfire."
The menu by Chef Buckley specializes in those kinds of creative crowd-pleasers. Buckley previously worked as a sous chef with the Garces Group at Philly-favorites like Amada, the Olde Bar, and Distrito, and later led Northern Italian restaurant il Verdi to being named a top restaurant in Atlantic City on Open Table. His previous education in making creative approaches accessible shines in the small plates. Another veggie option that gets snapped up is the eggplant tonkatsu, which uses light frying to give diners a crispy, meaty, but still vegetarian experience. Other favorite small bites include crab croquettes with yuzu, and edamame served with a white truffle-sake reduction. And, of course, the sushi, which Sterr notes reflects an unusual degree of training by the staff.
"There's a dedication and focus on the actual craft, of how exactly to hold and work the knife," Sterr says. (It's something that even impacts their tuna poke bowl, which Sterr notes is a highlight of the menu as a result, even in a crowded market for poke.)
In addition to serving a variety of robatayaki dishes, Sterr and Buckley have also put the robatayaki grill to good use in support of large plates. A two-pound whole lobster is done on the grill, imparting a distinctive charcoal flavor, and a 16 oz. ribeye preparation leaves the natural flavor of the steak as the highlight by complementing it with miso butter and pickled kotaki mushrooms.
Buckley's creativity is fully on display with their daily whole-fish option, which is fried and complemented with a marinade that's actually a riff on a traditional Japanese approach to pickling. It's something that Sterr says puts an emphasis on his team's care for going the extra step.
"We're always talking to the customer, so we take pride in giving them an experience that's always an inch ahead," Sterr says.
Excited to dive in? Our recommendation is to head over after dark. Ossu is now offering one of the area's first and only late night happy hours. On Fridays, Saturdays, and Sundays, order up $7 small plates and $6 drink specials, all while bobbing your head to music by the region's top DJs (starting at 11 p.m. on Friday and Saturday and at 9 p.m. on Sundays.) It's the perfect spot to grab shared plates and cocktails before or after a night out with friends.
This is a paid partnership between Tropicana Atlantic City and Philadelphia Magazine's City/Studio
---