UpLyfting Stories: The Passengers Who Lyfted this Driver's Christmas Spirit
Lyft driver, Amanda Overmiller is a self-admitted lover of driving during peak weekend night-out hours. "On weekend nights, I play a Spotify playlist called 'Turn Up' for my riders," she laughs. But on one particular Saturday before Christmas in 2016, she wasn't feeling like her usual chipper self—not even the sweet sounds of hip hop's greatest hits could lift her spirits. "I had a really bad day at work (she works a 9-5 in addition to her driving), and wasn't having much luck with rides," she explains. Little did she know that her luck was about to change and she wouldn't need a playlist to boost her mood.
Just as she was about to wrap up her shift, she had one last ride request. It was only one minute away (according to Google maps) from her Manayunk home. "I was torn," she admits. "I wasn't in a great mood but I figured, I'll do one more ride to try to clear my mind and earn a little extra cash before the holidays." She set off for the location just a few blocks away and picked up a group of girls around her age. But they weren't your average set of passengers— "The all had hilarious ugly Christmas sweaters on, antlers, Rudolph noses and were carrying stacks of paperwork," Overmiller laughs. The four passengers were about to embark on their yearly tradition—caroling through the streets (and bars!) of Philly and they wanted to hold choir practice in Overmiller's car.
"They politely asked if they could practice. I said, sure and they started serenading me with a whole selection of songs," says Overmiller smiling. "Then they asked me to pick the song and eventually, to join in." As Overmiller and the girls made their way downtown they sang their hearts out, all while laughing and having a great time. "We sang carols the entire drive down 76," she says. "I totally forgot about my bad day."
As Overmiller pulled up to their destination, an Irish pub on Walnut street, the girls decided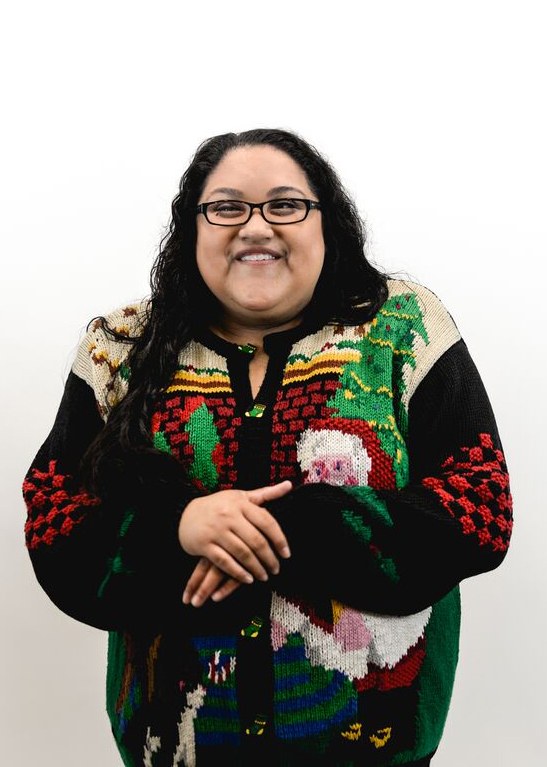 their night together shouldn't end just yet. "They were like PLEASE come in with us! You have to! Why not? Just come inside!" she explains. "I thought, what else am I going to do? Sit at home? So, I told them I'll park the car and meet them."
When she returned, the girls were all waiting outside so the new-found friends could walk in together. Inside, was an even larger group of Christmas spirit-filled songbirds singing for the rest of the bar. Amanda joined right in—singing, eating, drinking and sharing stories. Before she knew it, it was midnight and she was full of too many Christmas spirits to be able to drive home. "I was in no shape to drive. I actually had to call myself a Lyft," she laughs. She bid farewell to her new friends and let her holiday happiness sink in. "I never thought I'd do anything like that," she admits. "But they were the same age as me, made me feel so comfortable and it was so much fun. It completely turned my mood around for the rest of the weekend."
Although Overmiller and the group of girls lost touch (thanks to lost contacts after a phone mishap later that year), she's forever grateful for their time together. "It's sometimes easy to lose faith that there are good people out there," she says. "This experience totally changed my perception. It was a simple act, it was cheesy and corny but it was so nice to meet nice people. There's still so many good people out there."
Amanda's story is just one example of the many ways Lyft and their drivers touch the lives of so many people—building stronger bonds within our community and inspiring meaningful connections across all walks of life. Follow our UpLyfting Stories series over the next month for more heartwarming, heroic and happy moments.
This is a paid partnership between Lyft and Philadelphia Magazine's City/Studio
---