UpLyfting Stories: He Drove His Future Wife…Twice
In April 2016, Voorhees, New Jersey native Alex Navarette was driving his usual Lyft route around the busy Charlotte, North Carolina night scene when he picked up Mencia Abreu, who had also recently moved to the area from New York. The two quickly realized how much they had in common as they chatted about their Northeast upbringings, love of hip hop music and similar age. "It was so nice to talk with someone from up north, especially being new and not really knowing anybody," says Mencia. Alex agrees saying, "We had an instant connection."
But thirty-seven minutes later (Alex remembers the exact ride time!), Alex dropped Mencia safely off at her door and went on his way…without her number. "I was totally kicking myself for not getting her number but I didn't want to be weird," he admits. "But I couldn't stop smiling as I drove away. She left such an impression on me."
As for Mencia, she was feeling the sparks but also too shy to speak up. "He wasn't even flirting, he was just such a gentleman—which was really nice," she says. "I couldn't really see his face because he was driving but I knew he was cute," she laughs.
As fate would have it, just a few weeks later, Alex got a ride request from none other than Mencia while once again driving his night shift. "I couldn't believe it—I knew this was my chance," he says. The two picked up where they left off and this time around, Alex worked up the courage to ask Mencia out. "I just thought, this is meant to be. I need to do this now because this probably won't happen again." The couple met for coffee a few days later and have been inseparable since.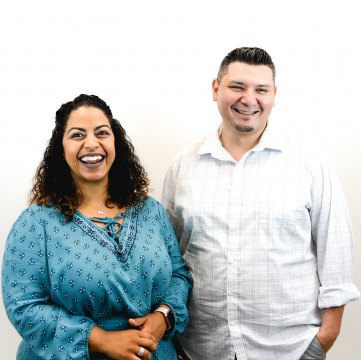 In 2016, Alex returned home to New Jersey after a few months of dating, leaving them to work through the dreaded long-distance relationship. Thanks to FaceTime and a bunch of rides back and forth, the couple grew closer despite their distance. After a few months of being apart, Alex made a surprise visit to Charlotte, this time in a rented Maserati with a shiny diamond ring. "I felt like I was dreaming when Alex proposed," gushes Mencia. "I had never experienced anything so wonderful."
Mencia made the move up north with her daughter, mother and brother after Alex popped the question and the two began to build their life together as a blended family (Alex has three children from a previous relationship and Mencia has one). They've settled down in Wilmington, Delaware and are set to wed in September 2018.
The best part? They both now drive Lyft full-time. "It works for us," says Mencia. "It gives us the flexibility to spend quality time with our kids and we meet up for lunch every day." The two still laugh about finding love in a Lyft. "With everyone meeting on social media and always on their phone, it was so different to have a genuine conversation with her," says Alex. Mencia agrees, "Who knew Lyft would be the start to our love story?!"
Alex and Mencia's story is just one example of the many ways Lyft and their drivers touch the lives of so many people—building stronger bonds within our community and inspiring meaningful connections across all walks of life. Follow our UpLyfting Stories series over the next month for more heartwarming, heroic and happy moments.
This is a paid partnership between Lyft and Philadelphia Magazine's City/Studio
---