Two Beloved Cocktail Bars in University City Have Reopened. Here's What to Drink First.
Grab a socially distanced drink—or two—this month in University City, where a couple of chic restaurants serve bourbon cocktails that taste as good as their decor looks. Dinner, lunch or brunch, the Kentucky whiskey is flowing again at Louie Louie and White Dog Cafe. Pre-pandemic, we sent local fashion lifestyle blogger Davida Janae of Vida Fashionista west on Walnut Street to scope out the scene, and now, in celebration of their reopening, we finally get to show you our inside look.
Separated by just a few blocks, both spots offer an unmistakable vibe. The drinks provide two distinct takes on a classic spirit, too, so mask up and head out on a walkable cocktail crawl this April and try these two exclusive specials for yourself.
Kentucky Queen—Louie Louie
Walk into this plush University City bistro (3611 Walnut Street) and let the retro-inspired decor take you away. "I feel like I just stepped into the '70s," Davida says. "I love all the different patterns." And if the colorful space designed by Kate Rohrer doesn't lift your spirits, there's an inventive drink that will. Made with Bulleit Bourbon, the Kentucky Queen honors the spirit's roots in the Bluegrass State. Yellow chartreuse, a bitter aperitif, lemon juice, honey and ginger beer also get added to the shaker. "It gives it a little bubble," Davida says. "With the mixtures of the flavors, it's way easier to drink."
Last but not least, the cocktail is strained over crushed ice and topped with an orange blossom. "I love crushed ice," Davida adds. "You don't see many drinks with crushed ice in it. It's almost like an adult slushie."
Cinderella Story—White Dog Cafe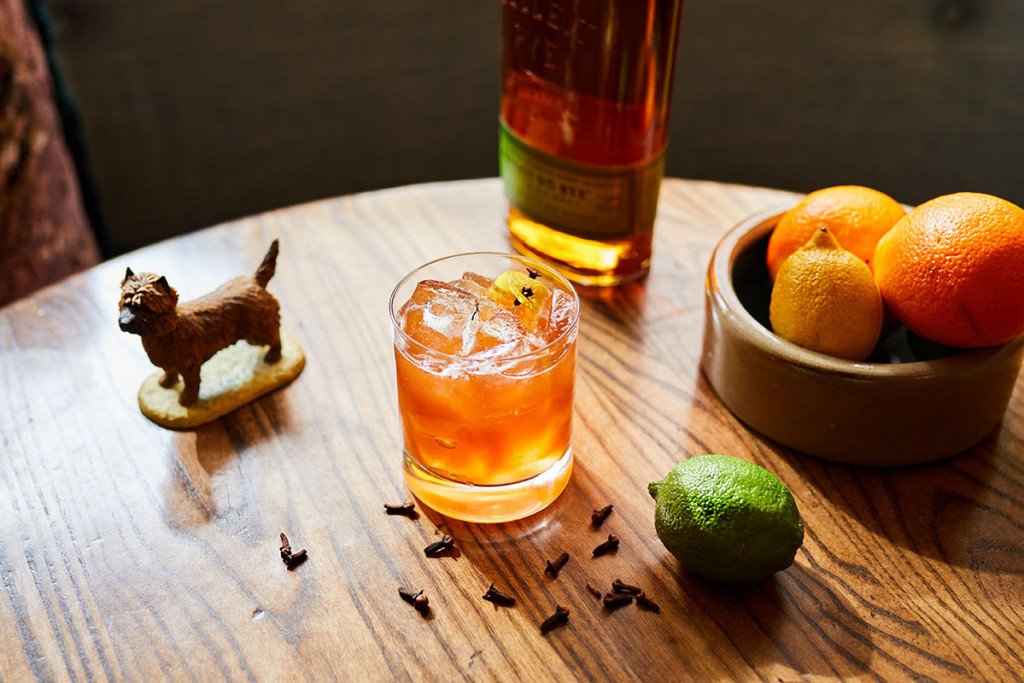 A few blocks away, the cozy rooms of the White Dog Cafe (3420 Sansom Street) offers plenty of spaces that work for both after-work meetups and proper date nights. "Between here and Louie Louie, both are very homey restaurants," Davida says. "You want to come and hang out."
Kick back with the Cinderella Story, a riff on the famous Caddyshack line. The cocktail combines in-season citrus—both blood orange and lemon—with Bulleit Rye. An Italian amaro, sweet vermouth and a hint of clove complete the drink.
"When it first hits your tongue, you taste the bourbon," Davida says. "Everything else just complements." And compared to the Kentucky Queen, this cocktail takes a slightly different approach.
"The other one was sweeter," Davida says. "You could order it for brunch. This drink would be like an after-work cocktail because you can taste the bourbon a little bit more."
Sip it by the old-fashioned parlor bar or in one of the myriad of artfully decorated dining rooms. Either way, you won't miss the theme. "It's all so unique because there are dogs everywhere," Davida says. "I love it."
Taste these two signature cocktails yourself (brought back for this month only) at White Dog Cafe and Louie Louie.
This is a paid partnership between Bulleit Frontier Whiskey and Philadelphia Magazine
---