Philly Doctors Are Leading Global Change in COPD Treatment. Here's How Their Research Impacts Philadelphians
With climate change, a recent uptick in wildfires and smog, and increased pollution worldwide, many people are concerned about the quality of their air. In Philly, a city that continues to rank amongst those with the poorest air quality, unhealthy air conditions are concerning for a number of reasons. On that list is the increased risk of chronic obstructive pulmonary disease (COPD): a progressive lung disease that can be caused by unhealthy air exposure, whether that's through the environment or smoking cigarettes. Our poor air quality, coupled with demographic factors like the fact that nearly 400,000 smoking adults live in Philly (a higher rate than any other major US city), means that the risk of COPD for Philadelphians is high. Because the disease's rates are rising, our city needs an urgent and committed response.
The Temple Lung Center in Philadelphia is leading that response, driving an effort to improve life for patients with this disease through groundbreaking research, both on a regional and global level. The team of physician-researchers at the Temple Lung Center have made significant advancements in therapies and treatments for patients living with COPD—they've pioneered new treatments that are minimally invasive and targeted, expanding the possibilities of the care and management of COPD across the globe.
These innovations have established the Temple Lung Center—and Philadelphia—as a prominent hub in international COPD research and care advancement. The director of the Temple Lung Center in Philadelphia, Dr. Gerard Criner, MD, FACP, FACCP, is a board member of the Gold Initiative for Chronic Obstructive Lung Disease (GOLD), who uses research to determine guidelines for COPD care across the globe. Criner and his colleagues bring that contemporary expertise to each patient they treat.
As a result of this authority, Temple partners with the GOLD to host an annual international conference that brings respiratory care providers from all over the world to Philadelphia, to learn about and discuss key advancements of the clinical guidelines for COPD. The GOLD International COPD Conference, now in its eighth year, delivers key insights into updated guidelines for the care and management of COPD, and is globally recognized as the leading source for standards of care and advancements in research.
Expanding Treatment Access
An important part of the Temple Lung Center's approach is based around accessibility of care. With the new standards of care they set through research, Temple aims to maximize the number of patients who receive these innovative treatments. That means that Temple strives to reach the full scope of people affected by COPD—a population which includes many people who lack adequate access to treatment and diagnosis.
In Philly, an estimated 75,000 people live with COPD, and that concerning number may be higher when factoring in an undiagnosed population.
"It's a disease that's about 50 percent underdiagnosed, and undertreated as a result," says Criner. With this in mind, Criner and his team advance COPD treatment and outcomes by increasing access to diagnostic care and innovative treatment for all patients—especially those with marginalized identities, who have historically been excluded from clinical research and treatment opportunities.
"If you have a patient who is suffering, who has maxed out on the options, we may be able to suggest new therapies or treatments they wouldn't have access to elsewhere," explains Criner—things like new clinical trials and breakthrough therapies. That access is cultivated in two ways: Temple's physician-researchers support access to treatment for everyone across populations, and they provide innovative care that surpasses the standard of other hospitals.
Temple's team is ingrained within the Philly community, so they connect with patients in an authentic, compassionate way. "We have a staff that really mirrors our patient population," says Criner. "And we're agnostic. We have brought COPD research to minority patients and to more women than most centers have throughout the world."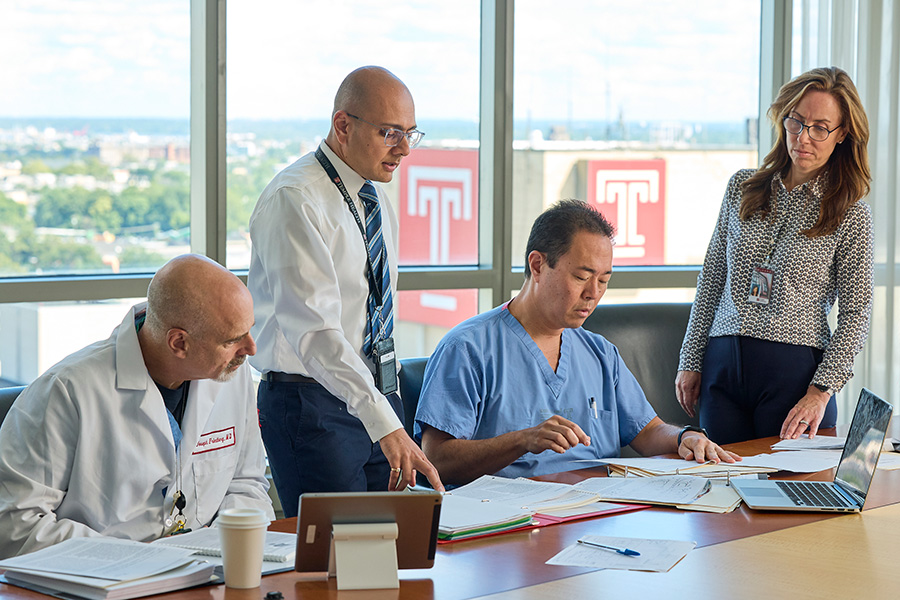 The Research That's Changing the Field
As one of the country's most active hubs in lung research and treatment, Temple is involved in a high volume of clinical trials that study new medications, devices, and techniques designed to bring relief to COPD patients. Almost every COPD patient at Temple is eligible for at least one clinical trial.
These trials include minimally invasive treatments like inhaled therapies. According to Criner, special inhalers prescribed to patients have been shown to substantially reduce disease flare-ups and improve lung function, quality of life, and exercise performance for COPD patients.
"We lead a national study right now looking at a high-flow, air-gas blend to be used at home," says Criner. Previously only accessible in a hospital setting, Temple is removing barriers to this state-of-the-art therapy— which will improve patients' symptoms, help them avoid hospital stays, and support prolonged access. It's a patient-centered approach that facilitates stronger outcomes, both in terms of symptom management and overall quality of life.
But every patient is different, and inhaled therapies won't solve every patient's symptoms—which is why Temple is looking into deeply personalized care options that target individual cells.
"Targeting certain cells may be beneficial, and that's opened up the field with different pathways being explored to see if we can also mimic that with other types of treatments," Criner says, noting that the development of targeted therapy could present a wave of new, revolutionary treatments for patients who lack options.
Temple's International Reach
Through its research, Temple advances the standards of care and management for COPD that are adopted by physicians globally. This is why they partner with GOLD to host the GOLD International COPD Conference in Philly. Now a two-day event with a free and first-of-its-kind patient education session, Temple seeks to deliver education and access to the community of patients and caregivers, both regionally and internationally, through live and virtual attendance. Over the two-day conference, researchers and providers discuss new treatment guidelines, outline case studies and promising innovations, and connect the various disciplines involved in COPD patient care: pulmonologists, primary care physicians, respiratory fellows, surgeons, pharmacists, therapists and more.
The GOLD Conference fosters collaboration among doctors and researchers from all over the world, so they can share and discover the most effective ways to help patients. For the physician-researchers at Temple, the conference is a chance to share their knowledge and research findings, and improve the patient experience for all COPD patients—even those who they'll never meet or serve directly. According to Criner, the reach is profound: In addition to those who travel to the conference in-person, satellites broadcast the event to thousands of people in places like Spain, the UK, Italy, South America and China.
Both in-person and virtually, patients and their caregivers are also invited to attend the conference. Through a dedicated education session, they'll receive important education that deepens their understanding of disease care, listen to interactive discussions between patient advocates and providers, and meet fellow patients and caregivers living with the disease.
This global impact is the best way Temple's COPD team can continue making meaningful differences in patients' lives. "We have a focus on helping patients," explains Criner. "Not only the patients we have in front of us in the office, but the greater population at large."
This is a paid partnership between Temple Health and Philadelphia Magazine
---