Sweet Dreams: How to Craft the Ideal Sleep Environment
A good night's sleep is essential for maintaining a healthy lifestyle and just as important as eating right and exercising. But for more than 60 million Americans, it's nearly impossible to meet those goals. If you're struggling with falling asleep and staying asleep, here are six simple tips to help you get a solid seven hours in:
Lose the light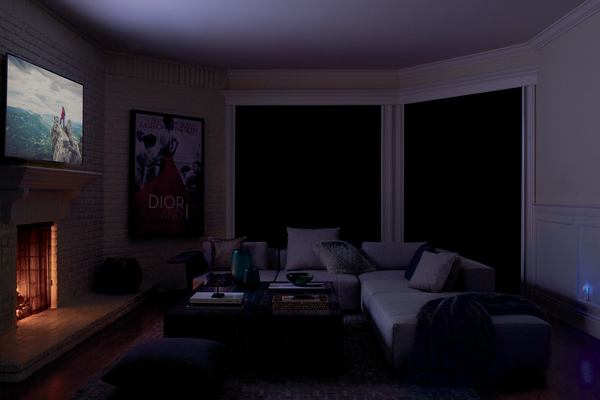 Duette® with LightLock™ with PowerView® Motorization
The most important key to getting some serious shut eye is by blocking out any distracting light. Investing in a light blocking system is one of the best buys you can make to enhance your bedroom's Zen. Duette honeycomb shades with Lightlock from Hunter Douglas blissfully blocks out incoming light, delivering unparalleled darkness while also muffling disruptive sounds from outside.
Keep your cool
Pirouette® Window Shadings
Once you've crafted a dark and cozy space, you'll want to consider the temperature. Not too hot, not too cold. Your temperature should be set to 60-75 degrees Fahrenheit for the optimal environment for sleep. Any temperature extremes could prohibit you from finding the restful night you need most. One easy way to regulate interior temperatures is to insulate your windows. Hunter Douglas offers a variety of shade styles that offer superior energy efficiency at the window to keep rooms cooler in the summer and warmer in the winter.
Add a little aromatherapy
Aromatherapy can set the stage for a good night's sleep. Lull yourself into a sweet slumber using essential oils like lavender, chamomile, sage and patchouli. Buy a bedside diffuser to circulate subtle spritzes of relaxation all night or simply dab a touch of the oil behind both of your ears, on your wrists or on your pillow to wake up feeling refreshed and well-rested.
Clean out the clutter
The presence of distracting stacks of paperwork or messy piles of clothing can actually add to anxiety and stress, enhancing the chances you'll experience a restless night ahead. Keep your bedroom neat and tidy. Never use your bedroom as a place for watching TV, eating, discussing emotional/upsetting topics or worst of all—working! Treat your room as your own personal sanctuary with its sole purpose to promote relaxation and comfort.
Consider changing colors
Believe it or not, something as small as the color of your walls could be affecting your sleep quality. Research shows that bedrooms painted in a blue hue work wonders on your slumber. Why? The color blue is most often associated with relaxation and calm. Your eyes pick up on the soothing shade and relay the message to your brain that it's time to power down. Neutral colors like browns, grays and subtle yellows can also have a similar effect.
Make your mattress a priority
Splashing the cash for a new mattress can seem like an expensive and unnecessary investment. But the difference a good mattress can make is priceless. Research shows that bedding can enhance your sleep. You'll want to replace your mattress and bedding every 5-8 years. If you're tossing and turning, or waking up with a back or neck ache, it might be time for a new mattress.
Ready for a restful night sleep? Try energy-saving and sleep-enhancing Hunter Douglas window treatments. For more information and to find a local retailer visit hunterdouglas.com.
This is a paid partnership between Hunter Douglas and Philadelphia Magazine's City/Studio
---