This Contemporary American Grille in Atlantic City Will Be Philly's Go-To Summer Favorite
American food is nothing if not broadly defined. The staples that are typically understood as shaping our cuisine—the hamburger, french fries, pizza—even in their names, derived from global languages, demonstrate that American's food culture, like our culture at large, is rooted in many different communities.
That expansiveness, when based on local ingredients and reflecting the communities that comprise it, is what gives American food so much potential. At American Bar & Grille—a new restaurant featuring classic grille favorites, seasonal ingredients and globally influenced flavors—Executive Chef Aram Mardigian has developed an exciting menu by highlighting that fact, digging into American food's international roots and the local New Jersey community. The restaurant will celebrate American-style food mixing local produce with global ties, for a far more American experience than the standard New American restaurant.
As a result, in a summer when the prospect of going back to the Shore and partaking in cultural pastimes and community feels incredibly vital, the approach of the American Bar & Grille makes dining out in Jersey more exciting than ever.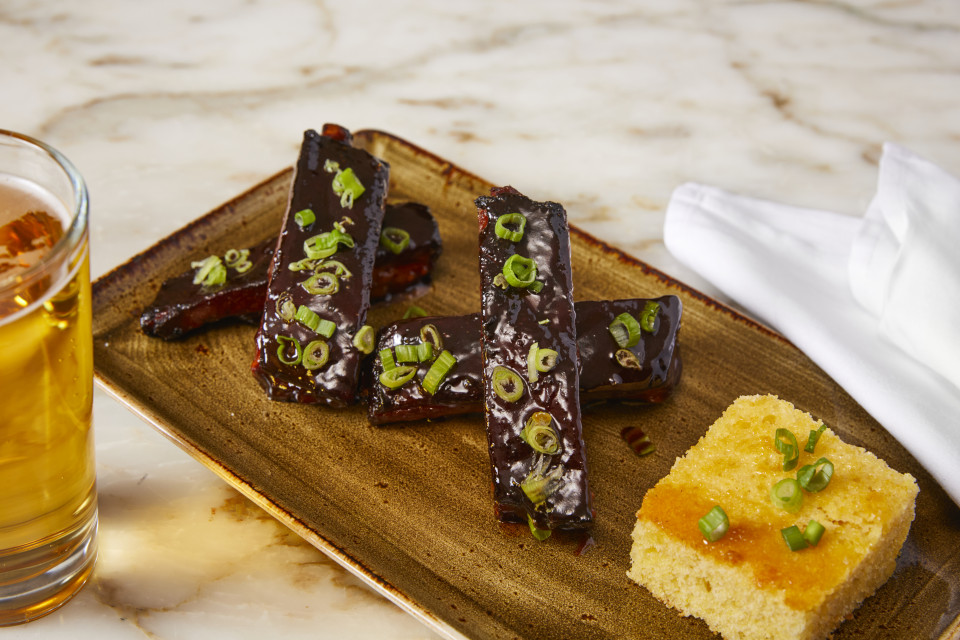 A Menu with Roots
At the core of Mardigian's vision is an emphasis on modern and classic cooking techniques, blending local ingredients with global flavors, for a combination of intricate flavors and new and interesting approaches that best reflect New Jersey's local tastes and diverse culinary traditions.
A 16-ounce ribeye steak, for example, comes with Argentinian chimichurri, while native New Jersey fluke is served with an Italian-inspired white wine, garlic and lemon sauce. Even a side dish of caramelized corn, while made with produce from New Jersey, is prepared "with southwestern flavors like an achiote aioli—almost like a Mexican street corn but off the cob — and [a squeeze of] lime and garnish[ed] with a little cilantro," Mardigian explains. "So you still have that amazing New Jersey product, but globally influenced."
The breadth of inspiration allows Mardigian's creativity full expression to create entirely original combinations. Think intriguing preparations like a madeira-olive sauce, which tops the lamb chops three ways, and interesting garnishes like shishito peppers and pulled pork that adorn the Butcher's pizza.
But it's important to Mardigian that his food ties back to the flavors of different cultural heritages. The reason for that is reflected in another highlight of American Bar & Grille's menu, one of Mardigian's specialties: house-made sausage. The chef's love for sausage-making comes from watching his family make them, and it's key to how he manages to highlight the cuisines of different cultures. Whether it was the Italian side of his family making Calabrese or the Armenian side making dried sausages, Mardigian learned to care deeply about preserving the integrity of the food he's making. "Someone has to carry on this tradition, because [otherwise] it's going to go away," he says.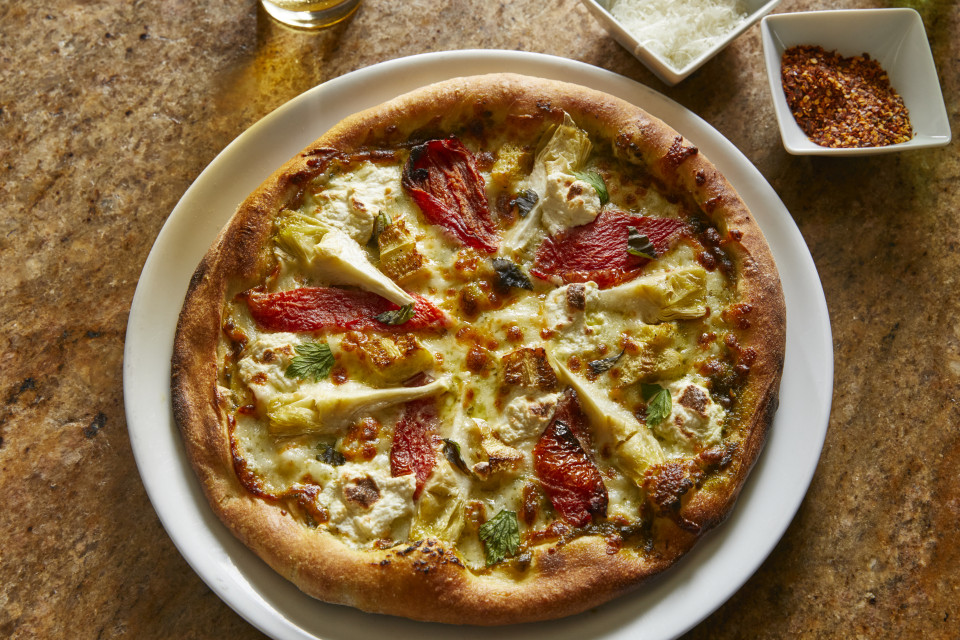 Keeping It Timely
Putting local ingredients at the forefront means that seasonality is another important aspect of American Bar & Grille's approach to American cuisine—which means the food is rooted in not just place, but time. The main items will remain the same year–round, but there will be a rotation of seasonal specials based on what produce is at its peak.
"We're always going to have chicken and pork chops and lots of great seafood," Mardigian says. "But what is accompanying those?"
For example, this summer will feature a Jersey corn soup with jalapeno cream and cilantro and a summer heirloom tomato salad with Bufala mozzarella and fresh basil. Both items feature local, in–season produce straight from the Garden State. This fall, you might see a pumpkin soup or a side of parsnips based on the local harvest.
A Restaurant for the Community
Mardigian says that since American Bar & Grille is centered on the community, it has a little something for everyone, noting that guests can "create their own experience." Whether you're looking for a delicious tuna crudo plate with fingerling potatoes served in a quiet dining room or a juicy burger with aged white cheddar and fries at a barstool, American Bar & Grille will have an option to fit your needs.
Part of what allows the restaurant to offer such a variety of experiences, other than its wide-ranging menu and the presence of a full wood-burning pizza oven, is its layout. There are three spaces from which to enjoy Mardigian's creations: a main dining room right off of the casino floor for a more formal dining experience, a bar at the front of the restaurant for a more casual meal or cocktail, and a private dining area for events. While each of these spaces has a relaxed vibe — Mardigian notes that "we don't have white table-cloth" — the different ambiences of the rooms give customers flexibility and options.
Regardless of where you sit, you might notice Mardigian walking around. He believes that an important part of being a chef for a communal restaurant is listening to customers, noting that it often inspires new ideas for the menu. "Depending on the restaurant, some chefs spend most of their time in the kitchen, and others spend a lot of time in the dining room," Mardigian says. "Whenever possible, I like to do both. I like to meet and form relationships with our customers."
So next time you're down at the Shore, take some time to stop by American Bar & Grille at Borgata Hotel Casino & Spa. It's located at the north end of the casino floor and is open Sunday through Tuesday from 5 p.m. to 10 p.m. and Friday and Saturday from 5 p.m. to 10:30 p.m. (The restaurant is closed Wednesday and Thursday.)
Click here for more information on the American Bar & Grille at the Borgata.
This is a paid partnership between Borgata Hotel Casino & Spa and Philadelphia Magazine's City/Studio
---