Prevent and Recover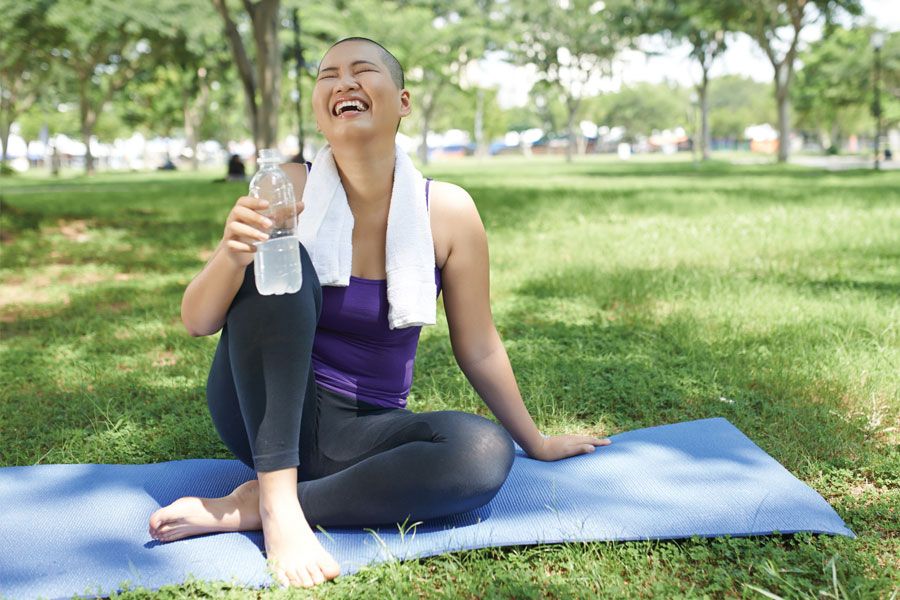 The work of Dr. Erika Rees-Punia, a physical activity researcher at the American Cancer Society, is the central piece of the HEALED Movement, which encourages cancer survivors to live healthier lives through smart eating habits and regular exercise.
She notes that at least 18 percent of U.S. cancer diagnoses are related to physical inactivity, excessive alcohol consumption, poor nutrition and excess body weight. With a recently expanded pilot study that includes 400 individuals, she examines the relationship between consistent exercise and health in survivors of multiple myeloma, breast, bladder, endometrial, kidney and colon cancers. "We're looking at things like mental health, depression, anxiety and cognitive health," Rees-Punia says. "The goal is really just getting people with a history of cancer to move more and sit less to help them benefit from that type of activity."
3 Tips to Get Moving
1. Start Slow
If you're new to exercise, try a brisk half-hour walk or a beginner yoga class, which you can find online. Regular exercise can regulate hormones that are linked to cancer development, support your immune system and control your body weight, thereby lowering your risk of cancer and heart disease.
2. Level Up
If you're looking for a more intensive workout routine, ACS recommends 75 minutes of vigorous-intensity activity instead. Try swimming, jogging, taking a class at the gym or an online dance class!
3. Be Consistent
Set a goal of 20 to 30 minutes of activity a day, and start with low-intensity exercises. You can always make things more strenuous as you get stronger—but the most important part is that you stay moving.
Healthy Eats
The Mediterranean diet is high in healthy fats and omega-3 fatty acids, which can reduce your risk of some cancers. Try out recipes like this grilled fish.
1 (15-oz) can navy beans, rinsed and drained
4 (4- to 6-oz) lean white fish, rinsed and patted dry
Salt and freshly ground black pepper
1 (14.5-oz) can diced fire-roasted tomatoes
12 small pimento-stuffed green olives, chopped
1/2 tsp fresh or dried rosemary, chopped, optional
1/4 cup chopped fresh parsley
1/2 cup crumbled feta cheese
Coat both sides of fish with cooking spray and season with salt and pepper. Heat a skillet over medium-high heat. Cook fish 3 minutes per side, or until it flakes easily. Divide the beans between four shallow bowls; place fish on top of beans. Bring tomatoes, olives, and rosemary to a boil in the skillet over medium-high heat. Cook for 1 minute. Remove from heat and spoon over the fish and sprinkle with parsley and feta.
To learn more, visit cancer.org/healthy.
This is a paid partnership between Think Pink and Philadelphia Magazine's City/Studio
---