Women Take the Lead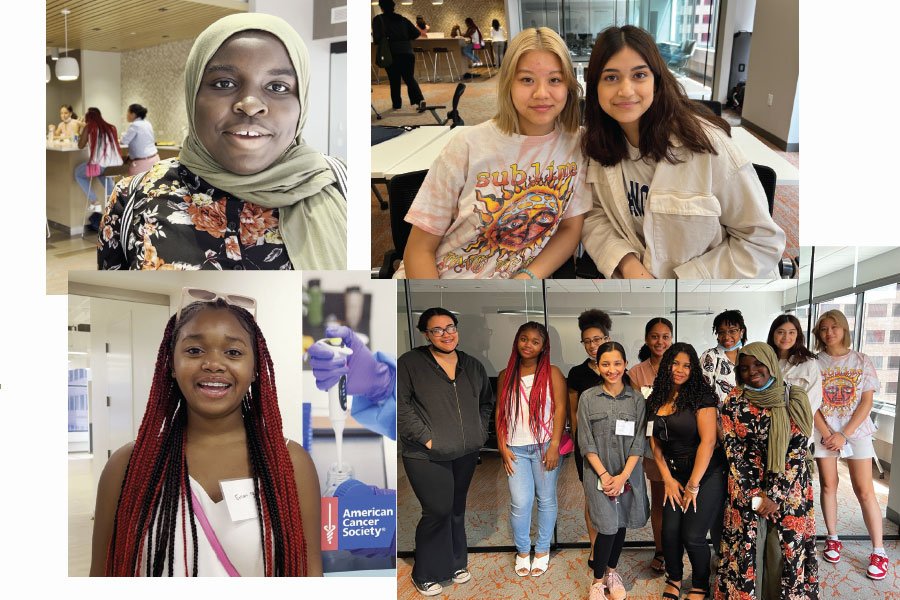 Seventeen-year-old Atoishy Dayve has loved science since she was little. Surrounded by the impacts of cancer in her community growing up, she felt drawn to healthcare. But after her grandfather passed away from cancer, she decided to explore oncology. So, she was ecstatic when she was selected to join the Summer Healthcare Experience (SHE) in Oncology program at University of Pennsylvania and run her own experiment, testing how lifestyle impacts your cancer risk.
Dayve is part of the 13 percent of high school senior girls planning a career in STEM—half the figure for boys of the same age. While the number of women in STEM has grown significantly in the last few decades—especially at the college level, where women are overrepresented in health-related degrees such as nursing—dropout rates remain high and leadership rates low for women. These differences are exactly what ACS's ResearcHERS: Women Fighting Cancer programs are striving to correct.
The approach of ResearcHERS is two-pronged: first, to give young people who identify as women opportunities to explore science and, second, to ensure that early-career women researchers get the support they need through research grants, paid parental leave and more.
SHE in Oncology—a national, multi-institutional program sponsored in part by the American Cancer Society ResearcHERS—aims to get girls involved in STEM careers early. The two-week program tackles the research and clinical sides of oncology. Students were sent a science kit that included a microscope, a micropipette and vials of fruit flies. Each student was placed in a control or variable research project group, and was given a supplement to feed their flies. The purpose was to test the effects of healthy and unhealthy foods by measuring data related to carcinogens.
Despite being almost entirely virtual, the program connects students from across the country to each other, providing time for discussion and connection through online panels and classes. It presents them with women role models—validating their interests and career goals.
Getting girls interested in science is just one element of building a diverse STEM pipeline. Creating an environment that supports them is just as important. According to the U.S. Census Bureau, women make up only 27 percent of STEM workers. Research also shows that they drop out of STEM careers at a disproportionately higher rate than men—whether it's due to caretaking responsibilities, lack of paid maternity leave, too few women role models or pay disparities.
"Women are going into the pipeline, but then dropping out along the way and not advancing to becoming leaders and durable members of the scientific community," says Dr. Karen E. Knudsen, the first woman CEO of ACS.
Receiving grants early on is imperative when it comes to building a career. Dr. Shannon Lynch, co-director of the Center for Biostatistics and Epidemiology at the Lewis Katz School of Medicine at Temple University and an assistant professor at Fox Chase Cancer Center, credits an ACS grant that she received with establishing her career. There aren't many grants that focus on funding early-career women, she says, and the findings from her research helped her to procure another. Recently, she received another grant from ACS—to study racial and ethnic disparities in metastatic pancreatic cancer patients.
"If it wasn't for them, I wouldn't be where I am today," she says. "When you make one small investment, like the ResearcHERS program, it really can snowball into something bigger."
From her time working with women in labs, she also learned the importance of empathy and flexibility in the workplace. As a mother, Lynch has family responsibilities—but she has been lucky to work with understanding leaders who have allowed her to focus on both her career and her family. Creating a similar work environment in her labs has become one of her priorities.
In addition to providing a crucial perspective in the lab, diverse professionals in the field are necessary for patients to get proper treatment in the doctor's office. "There's multiple data-driven discoveries that show that cancer patients have a desire to be treated by a trusted member of their own community, someone who looks like them and understands their cultural sensitivities," Knudsen says.
This is Dayve's goal after college, where she plans on majoring in public health. Growing up in the U.S. as a Bengali immigrant, Dayve went to all of her mother's doctor's appointments to translate. During SHE in Oncology, she realized this could be her superpower. She hopes to make healthcare accessible to her community—an idea inspired by one of the program's panelists.
"I want to provide primary healthcare door-to-door for people," Dayve says. "A lot of people have jobs and can't commit to going to a doctor's appointment, like my dad. I've seen him struggle through that. People like my dad, even though they are trying to support their family, they're still deteriorating their health by not going to their doctor's appointments."
This is a paid partnership between Think Pink and Philadelphia Magazine
---