Philly's Favorite Spot to Find the Most Fashionable Gifts for Everyone on Your List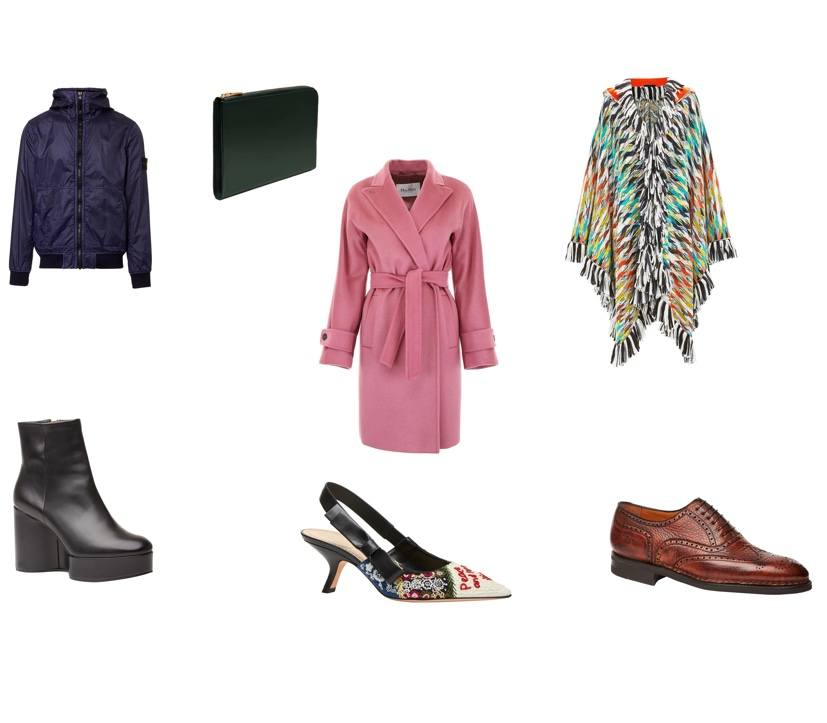 Tis the season to be stylish! Or gift fabulous, fashionable finds. But deciding on the right fit for everyone on your list can be hard. Which is why we sought the advice of our friends at Boyds Philadelphia, the go-to source for Philly's most stylish individuals. From bonfires to black tie, the expert staff have the know-how to make sure you and those you're gifting are festive but fashionable at any seasonal soiree. Here, they break down trendy gifts at the top of every style personas list. Happy Shopping!
For: The Statement Maker
It's official—pink is the new neutral, especially in the closets of statement-making fashionistas. Why wear a boring black topper all winter long when you can shine in a colorful wrap coat, like this Max Mara Nevada one? "A luxurious camel hair pink wrap coat is a must-have for the season," says Boyds' Women's Personal Shopper, Ramonita Farnesi. "Plus, it compliments every skin complexion."
For: The Boho Chic
Boho chic is all about blending comfort and style. Case-in-point—this vibrant and super snuggly Missoni Watercolor Hooded Fringe Cape. "Capes are one of this season's must-have items—especially one that incorporates the rainbow and fringe trends," says Boyds' Women's Personal Shopper, Andre Mitchell. "It's so warm and cozy, and pairs well with leather or coated jeans and boots."
For: The Trendsetter
For your friend or loved one who absolutely loves to
stay up-to-date on the latest and greatest trends, gift "anything with a platform!" insists Boyds' Women's Shoe & Accessories Personal Shopper, John Leon-Laboy. "This season you're going to see the style in everything from sneakers, to loafers and of course platform boots." Leon-Laboy suggests, finding a pair that brings the traditional boots of the '70s and '90s back in a more sophisticated way, like these Clergerie Paris Belen Booties.
For: The Athleisure Enthusiast
Skip the usual sneakers or track pants present this year and gift something that elevates his classic athleisure look. "The Stone Island Lamay Flock Jacket is an essential piece for fall/winter time," says Boyds Men's Personal Shopper, Gavin Karp. "It's lightweight, easy to carry around, versatile and has an awesome shine look to it brought by the nylon fabric that is oriented through a magnetic field."
For: The Minimalist
A minimalist's dream gift? This Ettinger Portfolio Case—it cuts out clutter and simplifies their day by ditching their usually bulky briefcase or bag. "It holds everything they need but is simple, sleek and stylish, and a great alternative to a briefcase," says Boyds' Men's Personal Shopper, Janet Woolman. "It's the perfect gift for someone who has it all."
For: The Traditionalist
You can't go wrong when it comes to Wingtips, especially for the traditional guys on your gift list. "The tan color of these Bontoni Libertino Wingtips is so versatile—he can wear them to work with a suit, with jeans or slacks and a sports coat, day or night," says Boyds' Men's Footwear Personal Shopper, Mohammed Razaki. "The soft leather and Vibram sole give him the comfortability he needs as well."
For: The Shoe Lover
Looking for something for the shoe fiend who has it all? Boyds' Director of Business Development, Missy Dietz swears the shoe lover in your life will have never seen anything like the Dior Sweet D Patchwork Slingbacks (only available in-store). "They are beautiful," says Dietz. "Any woman would love to own them."
Find something special for everyone on your list at Boyds. Shop in-store at 1818 Chestnut Street, Philadelphia, PA or online at boydsphila.com.
This is a paid partnership between Boyds Philadelphia and Philadelphia Magazine's City/Studio
---