Move Over Kentucky Derby—Philly Is Hosting Some of the Biggest Racing Events of the Year This May
One thing we've gained from a year of social distancing is that there are more options for attending events we love than ever before, from participating digitally to taking part in person with the proper safety measures. As a result, more Philadelphians are embracing a specific type of horse racing, known as harness racing, as their favorite sport. Harness racing offers the unique flexibility of being fun to bet on and participate in digitally from home, then going out and participating in a great, outdoor spectator sport where people can stay safe while enjoying some amazing race days at Philadelphia's very own racetrack at Harrah's Philadelphia.
Wondering where to get started? There's no better introduction than the Harrah's Invitationals on Sunday, May 30th, featuring three invitationals in which racers will compete for hundreds of thousands of dollars in prize money. To help you get in on the action, we've put together everything you need to know about where to go and what to do on race day in Philly.
Racing is back as an in-person sport in Philadelphia.
Philly dwellers are undoubtedly feeling the need for live sports, time with friends, and maybe a bit of adrenaline. Luckily for them, going to the racetrack, betting on a race and having the excitement of a live, in-person competition has returned.
Fans can now step back into Harrah's Philadelphia racetrack, one of the fastest 5/8-mile harness racing tracks, with what Harrah's calls the "miracle turn," which fully extends over the Delaware River thanks to a uniquely-constructed bridge. They can also take advantage of Harrah's Philadelphia's extensive indoor wagering area, which features a vast seating space and simulcast viewing of all the major tracks.
Speaking of betting, the wagering menu from Harrah's Philadelphia has improved for spectators. With plenty of wagering options from Super Hi-5 wagers to Pick-5s, you might find that betting this year is even more fun than in years past.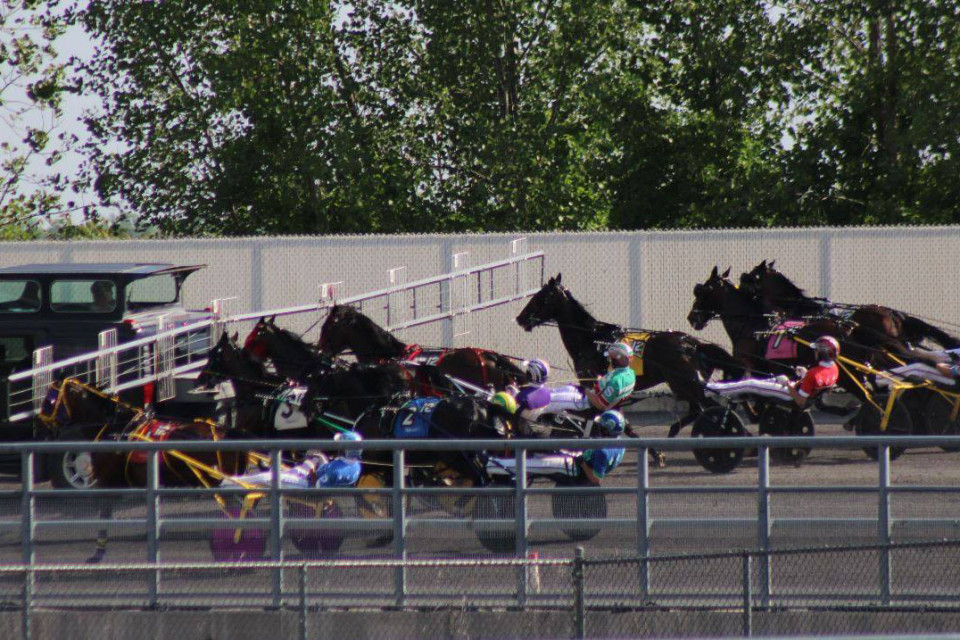 The Invitational Sunday offers everything you could want in a race, right here in Philly.
Harrah's Philadelphia racetrack will showcase some of the best pacers and trotters in North America as part of the big day.
The Invitational Sunday will focus on harness racing. Unlike thoroughbred racing, the riders in harness racing are called drivers, not jockeys, and sit in a cart, called a sulky, behind the horse. It's the perfect sport for Philly's historical spirit, as the tradition has ties to the chariot races of antiquity. Horses can top speeds of 30 miles an hour.
The race day will reflect Philly's groundbreaking and diverse nature with its main event, the Maxie Lee Memorial Invitational. A highly competitive free-for-all trot (horses of any age can enter), the race's namesake, Maxie Lee, was a trainer and driver in the Philadelphia area who, as one of the few African-Americans in his sport at the time, became the first African-American to start in the Hambletonian, one of the most important races in the sport. Lee passed at age 70, but his son, Greg Lee, presents the trophy to the winner each year.
Some of the best horses and drivers should turn out for the race, so pay special attention to each horse's past performance in its class, as well as the record of the driver: The right combination could net you a good day.
The Betsy Ross, which, of course, honors the famous Philadelphian flag-maker, will feature only filly and mare (old and young, female) pacers, and the event can be quite competitive. Past races have featured neck-and-neck upsets and some of the winningest mares of all time, so make sure to read up before placing a bet: This one has the potential to be anyone's race.
It's then on to the Commodore Barry Invitational, which continues the Revolutionary theme in honor of its namesake, a Revolutionary War admiral and "Father of the American Navy." The race will feature older pacers.
You can still watch and participate digitally.
Fans can still tune in virtually. Websites like Harrah's Philadelphia make it possible for spectators who wish to continue to enjoy the thrill of the sport from their home to do so. Their website offers a full schedule of races.
Plus, if you want to prepare yourself for success, the Pennsylvania Harness Horsemen's Association provides plenty of digital resources, including past performance pages throughout the season. The ever-popular Players' Guide tip sheet also returns for its fifth season, available in the on-track program and at the-players-guide.com.
This is a paid partnership between Pennsylvania Harness Horsemen's Association and Philadelphia Magazine's City/Studio
---