These Stunning NoLibs Condominiums for Millennials Prove They Can Live in Luxury Too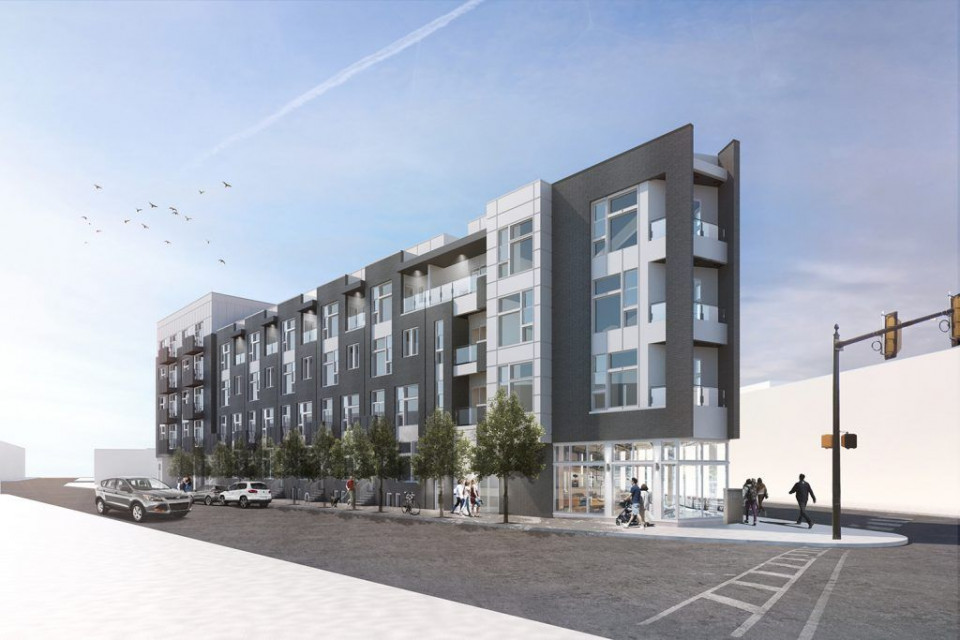 The Millennials have officially become the largest generational group in Philly, just as they've all more or less fully entered into adulthood, which means their hold on the city's identity is stronger than ever (Gen Z can go ahead and have Tik Tok). As a result, the young neighborhoods they flock to are now not just trendy, they're at the heart of Philly culture, where the city's leaders live, work and play—and the real estate is starting to reflect that.
The exemplar is the gorgeous new North Liberty Triangle building, located in the heart of the neighborhood, steps from modern Philly classics like Pizzeria Beddia and Frankford Hall. Each of the 85-unit project's newly furnished condominiums boast beautifully open indoor and outdoor spaces — right in front of to-die-for city views. We took a peek at Streamline's renderings of these condos to see how Millennials are living in luxury today.
The Interior
The condominium comes with a stylish living room-dining room setup with modern traditional finishes, recessed lighting and incredible views. The living room features an open layout complete with floor-to-ceiling windows and wood floors.
The open layout includes a top-of-the-line kitchen with a large island with space for seating, dining and prep. The design is superb here, with soft-close cabinetry, ample lighting, and quartz countertops. The in-unit laundry is discreetly behind a pair of folding doors.
Upgrade your contemporary bathroom, complete with a large, glass-walled shower and tub and expansive vanity. Thoughtfully placed lighting and ample sink-space will help with your morning prep.
You won't want to leave the bedroom. The spacious setup will let you maximize your bed size, and leave room for comfy seating and other furniture—a peaceful oasis that health-focused Millennials will love the good night's sleep.
Want to check it out in depth? You can feel like you're there with Streamline's virtual reality experience, which goes beyond a remote home tour. It includes home pre-construction, design, and development, along with detailed pictures and information about the space, so you can actually start touring your dream space before it's even built.
Neighborhood and Amenities
The Northern Liberties neighborhood, besides being one of the hippest neighborhoods in Philly, provides convenient access to Center City. The North Liberty Triangle takes full advantage of the area's accessibility, being just off Girard Station, Second Street and close to the Delaware Expressway.
At the same time, in true Northern Liberties fashion, it maximizes both amenities and neighborhood culture. The development also includes a residential lobby, fitness center, courtyard and commercial retail. For outdoor space, check out the building's multiple patios and roof decks. The building is also conveniently near an ACME supermarket and lively entertainment options such as Schmidt's Commons and The Fillmore.
This is a paid partnership between Streamline and Philadelphia Magazine's City/Studio
---