Behind the Scenes of Longwood Gardens' $90 Million Fountain Revival (And When to See It in Action)
Sunny skies and spring blossoms aren't the only way Longwood Gardens is welcoming warmer weather this year. After two years of careful restoration, its Main Fountain Garden is making its grand return just in time for the summer season.
On May 27, Longwood Gardens unveils its highly anticipated revitalization of the hallmark fountain with a series of summer shows, fireworks, tours, and programs to celebrate the $90 million revamp in a major way. Because not only was the 5-acres of Renaissance-inspired Main Fountain Garden space meticulously preserved, its groundbreaking engineering was also brought into the 21st century with state-of-the-art theatrics (read: 31,865 gallons of water pumped per minute, 1,389 LED lights on display, and 30 flame nozzles on top of 10-foot water jets).
"The revitalization of our iconic Main Fountain Garden is the largest project in Longwood's history since the passing of our founder in 1954," Paul B. Redman, Longwood president, and CEO, said in a press release.
Sure, there are the more than 5,000 pieces of carved, ornamental limestone, loggias, arches, sculptures, and perfectly draped horticulture that make the space look incredible during the day, but to truly take in the revamped splendor you have to catch an Illuminated Fountain Performance at sundown.
The new suite of fountain effects at Longwood Gardens includes basket weave patterns and flame nozzles, as well as swirling and rotating jets, creating a show that pushes both physics and aesthetics to the next level of awesome.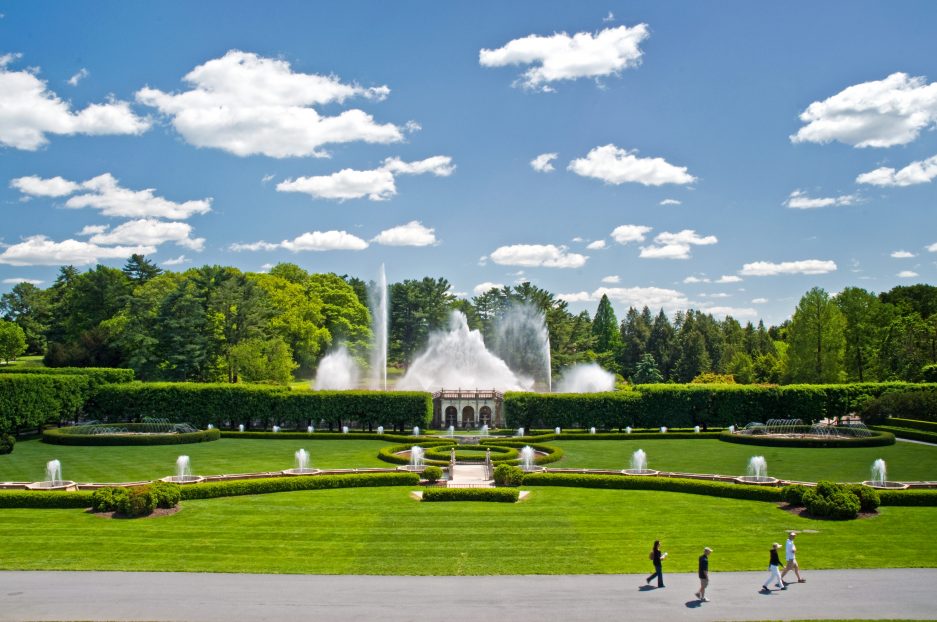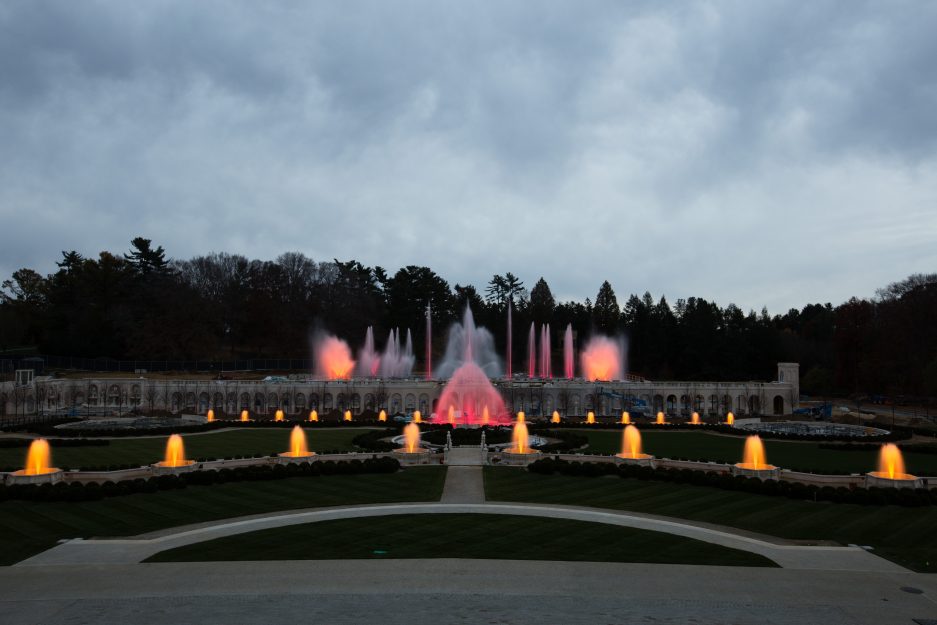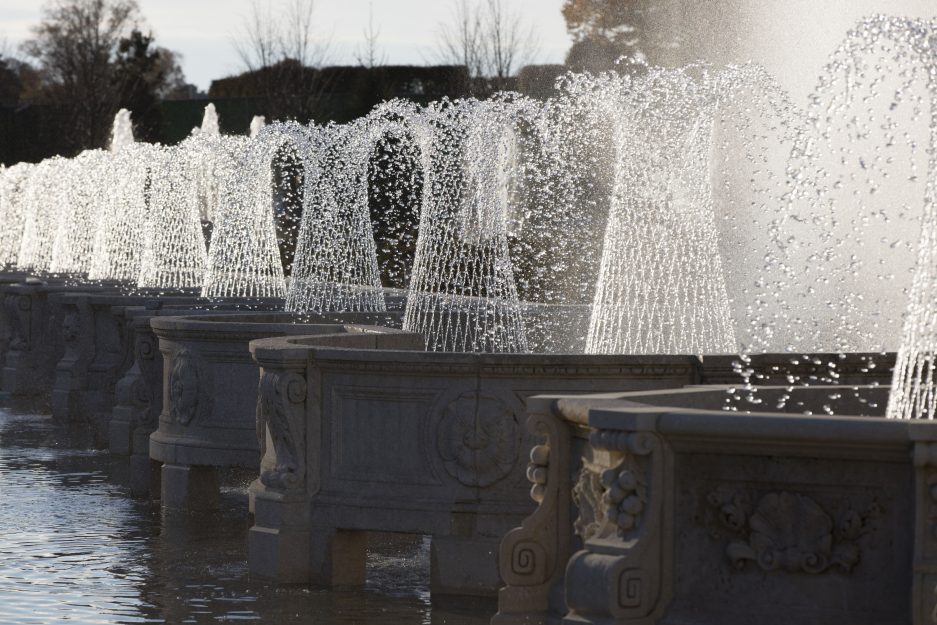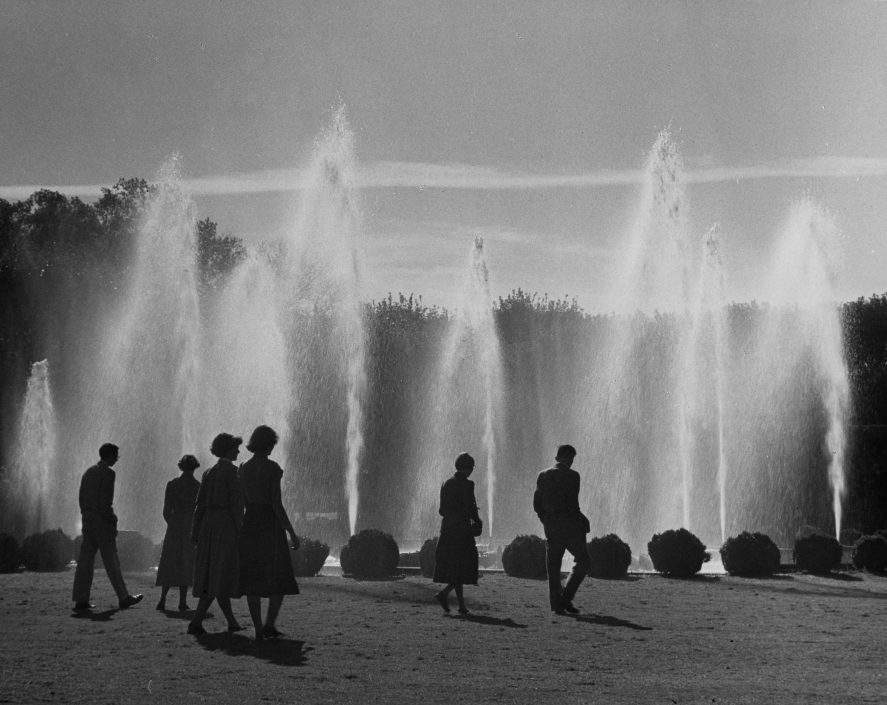 The Main Fountain Garden now includes spinning and spiraling fountain features, jets that propel water up to 175 ft. in the air, new lighting with infinite color combinations, and more than 5,700 ft. of garden paths and walkways. It's the type of innovation that transports you to another world, while still giving a nod to its historic past.
The fountains perform daily throughout the summer. You can visit the Gardens from 9 am to 6 pm Sunday through Wednesday and 9 am to 10 pm Thursday through Saturday for the Illuminated Fountain Performance at 9:15 pm.
Your first chance to catch the Main Fountain Garden is the Summer of Spectacle Premiere Weekend, May 27-29. You'll be among the first to see the Main Fountain Garden perform again, and one of the lucky guests to receive a free commemorative ticket for catching its big debut. Of course, if the anticipation is too much you can sign up for a Longwood Gardens membership to catch preview shows May 24-26.
For more information about Longwood Gardens and planning your visit to Summer of Spectacle, click here.
This is a paid partnership between Longwood Gardens and Philadelphia Magazine
---