These Islands Are a Dream Destination for Travelers. Here's How to Plan a Trip from Philly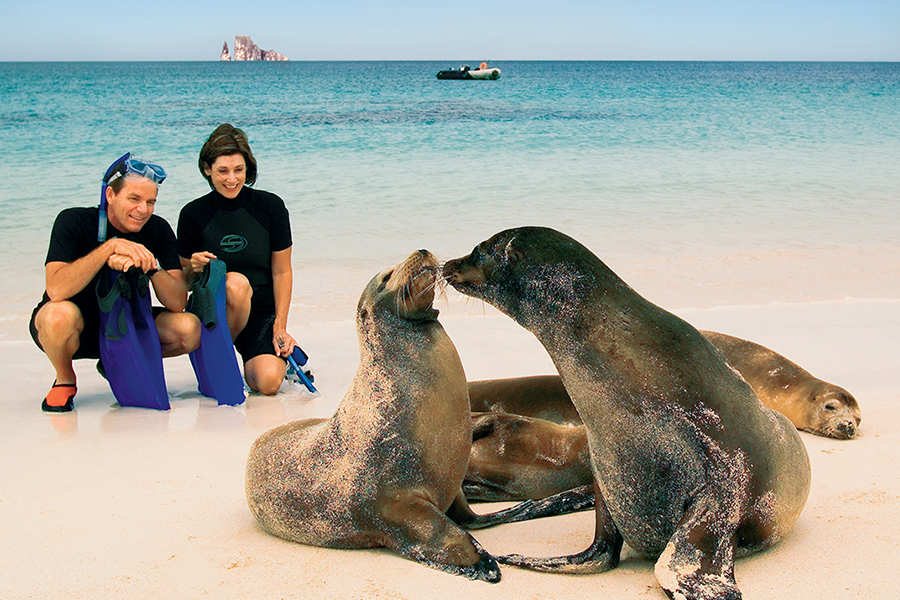 Philadelphia is a beautiful city with a generous scattering of natural sites within just a five mile radius of Center City. But at the end of the day, the city's bustling atmosphere and organization, though a modern miracle, can inspire an urge to escape. Plus, let's face it: We love and care for our parks and wildlife to the best of our ability, but humans have disturbed nature for about as long as we've been around.
However, there are parts of the world where we can actually experience nature and wildlife as it was more or less before we moved in, before squirrels started eating cheeseburgers or microplastics started invading our vegetables. Ask any travel advisor for one of those places where wildlife is still relatively undisturbed, and within their top destinations, they're bound to mention the Galapagos Islands.
A volcanic archipelago in the Eastern Pacific 600 miles west from the coast of Ecuador, the Galapagos is "remote, it is mysterious–it's a very unique, one-of-a-kind place," says Susana Romero, Director of Galapagos Sales and Communications at Celebrity Cruises, whose three Galapagos ships sail year-round in the Galapagos Islands. "It's like a living laboratory for you to truly see how it all works together." And while traveling there might seem complex at first, if you choose the right approach, getting there–and having the experience of a lifetime–can actually be pretty easy.
Getting to the Galapagos Islands
Susana explains that experienced travelers commonly view traveling to the Galapagos as an achievement—it's a "graduation" of sorts, she says. But even for those experienced travelers, ensuring you're getting the most out of your trip requires having a professional travel advisor to guide your planning and offer their seasoned advice.
Annette Stellhorn, founder and owner of Accent on Travel, recommends being prepared in ways you may not expect, like buying travel insurance with medical coverage (as mandated by the Galapagos government); double checking your passport to make sure there are at least six months between your return date and your expiration date; and investing in new technology for luggage trackers in case of the dreaded suitcase misplacement. Putting essentials like some toiletries, medicines and identification in your carry-on is also a good idea in case of luggage loss.
Once you arrive in Ecuador (usually Quito), you'll need to piece together travel to the islands, accommodations on the island, and plans for activities and adventures to see the wildlife. It can take a lot of time and moving parts to get from place to place once you're there, so Stellhorn says that a cruise is your best option. Celebrity Cruises even has packages that begin in Quito with luxury two-night stays at the JW Marriott Quito. These packages include exclusive, private round-trip flights between Ecuador and the Galapagos Islands.
As a bonus, the Celebrity Cruise packages include a full-day guided tour to explore Quito, a UNESCO World Heritage Site. You'll take a journey through the old colonial city, enjoy a curated lunch in the center of town and a gourmet dinner in Quito, and a museum tour before you even arrive at the Islands.
And, when you do arrive in the Galapagos, you won't have to waste time in cars or small boats getting from island to island. "On a cruise ship, you wake up in the next destination, and you enjoy it, and then it takes you to the next one while you're having lunch or dinner. Then you wake up and do it again," Stellhorn says. The bottom line: Cruising the Galapagos saves you so much travel time you could be spending with the wildlife.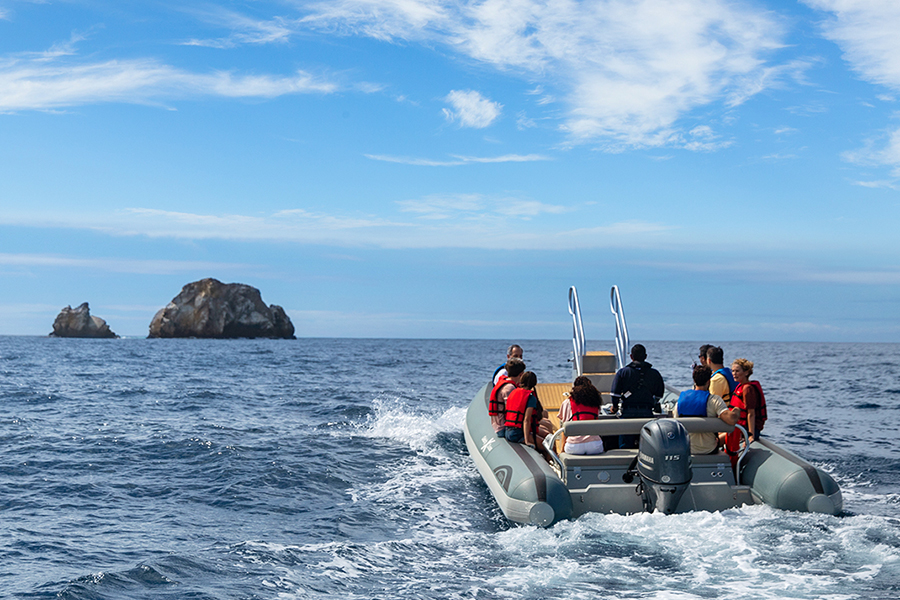 Flora and Fauna
The plants and wildlife of the Galapagos are the crown jewel. Although the animals and sea creatures are often regarded as the main attraction, the plant life is arguably just as important, as the two work in symbiosis. Without one, says Susana, the other wouldn't thrive. "These animals are eating, they have waste, they fertilize–it's all a very delicate balance that happens in the Galapagos Islands," she says.
The flora, she explains, is incredibly diverse. In the highlands of Santa Cruz you'll see a lush sprawl of bougainvillea, and in Fernandina, lava fields sprout with cacti in the same place where Galapagos penguins—the only penguin species found north of the equator—waddle around and hop in and out of the water.
Many observers theorize that the animals are friendlier with visitors because of the abundant food, so they don't view them as a food source. Susana also explains that their friendliness could be a result of never being truly harmed by humans because of how well they've been protected. "These animals don't run away from you; it actually almost feels like they open the door and say, 'Hey, how are you?'" Susana says.
Susana has even witnessed snorkelers come face-to-face with a family of sea lions. "They blow bubbles in your face, they pull your fins, and they run around and do circles around you," she says. "It's a very fun and welcoming feeling."
It's no wonder Stellhorn says most of her Galapagos clients are wildlife enthusiasts, birders, and other experienced travelers. Whether you're solo, honeymooning with your travel partner, or taking a trip with your family or friends, as long as you're prepared for an intimate wildlife experience, there's no better destination to come face to face with the wonders of the natural world.
The Galapagos By Cruise
Both Stellhorn and Susana are proponents of opting for a cruise when you visit the Galapagos. Besides the aforementioned convenience and time-saving advantages, you can trust that both you and the natural environment you're visiting are in good hands.
Part of the effort to maintain the natural environment comes from people who visit the Islands. Susana explains that before you arrive at the Islands, you'll have comprehensive information outlining the rules and regulations for being a patron of the Galapagos. You should be prepared to stay six feet away from the animals, use sunscreens that don't contain certain chemicals, and avoid bringing certain foods.
"Our guests are incredibly respectful," she says. "They welcome the fact that this is the way that it is." She explains that you can even become involved in actively supporting the community: Guests contribute money, help build soccer fields, and participate in an especially popular program–reforestation. They have planted more than 65,000 seedlings in the highlands, which has even prompted the return of certain bird species to come back to their natural habitat because of the new tree growth.
"It's truly a win-win for all of us," says Romero.
Celebrity Cruises has three Galapagos-exclusive ships you can choose from for your trip. Celebrity Xploration® is an especially unique option, as it is smaller in size and has the capacity for only 16 guests. If you are planning a large family or friend getaway, the Xploration is intimate, cozy, and personal while still offering stunning luxury amenities and unobstructed views. Celebrity Xpedition® is a 48-guest ship with a restaurant (appropriately named Darwin's), lounge, panorama deck, sunrise deck, and five different suite options to choose from.
Celebrity Flora® is the newest and most innovative ship, named a Forbes Travel Guide Four-Star Rated Resort at Sea. Flora was designed with the natural Galapagos environment in mind—its dynamic positioning system lets it remain in place without dropping an anchor, protecting the seabed, and there are no single-use plastics onboard. The ship's solar panels also reduce emissions by lightening the electric load, and the non-toxic silicone paint helps the yacht to glide with less fuel.
Each of the three ships gives you opportunities to enjoy rest and relaxation, especially in the evenings when you're not exploring the Islands—you'll have access to massages, cold towels, music and refreshing drinks while you reminisce about your day and share stories.
"The ships allow you to come in, wash up, leave your wetsuit, refresh, and share," she says. "Did you get to see that whale? Did you get to see that sea lion, the blue footed boobies diving?"
Susana says guests come away from their Galapagos cruise with a deepened understanding and appreciation for life on the island, for the oceans, forests, and the entire planet. Guests often discover that The Galapagos Islands is more than a bucket-list destination, but a place that changes your entire outlook on life itself. "There is a lot to learn from this place," she says.
If you would like more information about visiting The Galapagos, please join Susana and Annette on September 16 at 6:30 p.m. for a virtual webinar.
This is a paid partnership between Celebrity Cruises and Philadelphia Magazine's City/Studio
---