Living With Stage 4 Breast Cancer: One Mom's Story
Erica Griffiths talks about death more than any mother of a four-year-old should have to. She's discussed what she wants to happen to her body when she dies. Whether her family will have enough money to cover her medical bills. How she can best set up her young daughter for a happy, successful life, no matter how long she's around to be with her.
She has no choice. At 42, Griffiths has been fighting metastatic breast cancer for more than three years.
"There's a 97 to 99 percent chance metastatic breast cancer will be the cause of my death," Griffiths says. "No matter how good I'm feeling on any given day, that's just the reality." According to the American Cancer Society, the 5-year survival rate for women with metastatic breast cancer is 27 percent. While treatment to limit and control the disease exists, there is no known cure.
Cancer never comes at a good time, and Griffiths' story is no exception. She and her partner Joe have known each other for decades, and even tried dating in their early 20s, but it wasn't until nine years ago, after both of their previous marriages ended, that they reconnected, fell in love and had their daughter, Isobel. Griffiths took a new job as a marketing manager for a tech company, and felt like she was finally living the life she was supposed to. Then, while breast-feeding her 16-month-old, she felt a lump.
"It was a whirlwind diagnosis," she says. "I thought it was going to be early-stage breast cancer, but within a week they told me I had stage 4 metastatic breast cancer, and it had spread to my spine and my liver, and later we figured out it had also spread to my femur."
She had one week before chemo, and she spent it trying to wrap her head around
the diagnosis and what it meant for her family, her still-nursing baby and her new job.
Griffiths had an immediate response to treatment, and after four rounds of chemo switched to maintenance drugs. With metastatic cancer, though, that's rarely the end of the story.
Metastatic breast cancer, also called stage 4 breast cancer, occurs when cancerous cells travel to organs such as the lungs, liver or brain. As long as the cancer stays in the breast, it doesn't kill the patient, but when it spreads, or reaches metastasis, it's hard to control. An estimated 155,000 Americans are living with metastatic breast cancer, and it accounts for more than 40,000 deaths annually. There's no cure, but new treatments are prolonging and improving quality of life, and more women are living for decades with metastatic breast cancer than ever before.
"While research in metastatic breast cancer has made great strides in prolonging patients' lives, there is still urgency to find a cure," says Dr. Alison Obr, a researcher at Rutgers University funded by the ACS. "ACS has placed an emphasis on funding innovative scientists to identify treatments for metastatic disease."
Griffiths was initially plugged into traditional breast cancer communities and support groups, which helped for a time.
"You don't really meet a lot of metastatic breast cancer patients immediately," Griffiths says. "Which I was fine with at first. I certainly was not looking forward to having hard conversations about my mortality when I had literally just weened my baby."
After almost two-and-a-half years on maintenance drugs, cancer reappeared in Griffiths' breast. Surgery was successful, but then seven months later she had a seizure, and cancer was found in her brain, for which she underwent radiation in June. That same week Griffiths found another breast tumor, underwent surgery, and started radiation in September.
With no finish line in sight, Griffiths has been unable to put her life on hold during treatment, which she calls an "endless game of whack-a-mole." She has continued working full time throughout treatment, even bringing her laptop to chemo treatments.
"It's exhausting," she says. "There's regular cancer fatigue and Izzy is little. Joe's always worked a lot, so I can't just sit back and say 'Oh, someone do this for me.'"
While metastatic breast cancer patients automatically qualify for disability benefits, if you work full-time, like Griffiths, you're disqualified from receiving any assistance. ACS has stepped in to help research grants, but Griffiths and her partner are still working extra hard to make sure their daughter is taken care of no matter what happens.
On top of treatment, work and family obligations, it never occurred to Griffiths, a lifelong runner, to stop when she got her diagnosis—especially the Broad Street run, which she and Joe have been running together for years. Instead, she started running it as a fundraiser for the American Cancer Society with DetermiNation Team CMMD. As the charity partner for Broad Street for 38 of its 40 years, ACS has the largest team at the race each year.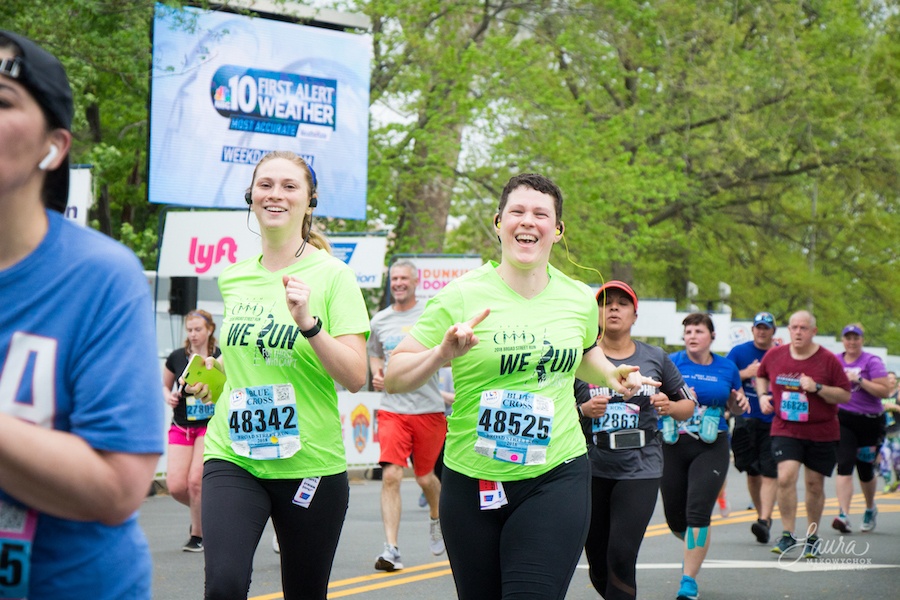 "There's such a genuine connection with the running group," Griffiths says. "The people I've met through DetermiNation have either experienced cancer themselves or been touched by it in some way, and you can physically feel that in each other's presence."
While it's not alway easy to make time for fundraising or training, Griffiths says the DetermiNation community makes it worth it, and she's committed to furthering research in any way she can. Griffiths' friends joke that they know Broad Street is coming up because she starts selling things on Facebook to raise money for ACS.
Mike Brady, who leads ACS' local DetermiNation efforts, says Griffiths has inspired others to train and fundraise harder. "Erica gets out there even though she doesn't feel great and has this chronic issue," Brady says. "She's taken this in stride and has been such an inspiration to the staff and our volunteers and participants."
As her treatment stretched on past a couple of years, Griffiths plugged into the metastatic community more. She realized she can relate to other metastatic survivors in a way she can't many of her friends, even those with traditional breast cancer who are focused on "beating" this disease, something which she can't do.
"Most of my friends are in their 30s or 40s, and the normal stuff they talk about, like careers, going back to school, growing their family, I just can't relate to anymore," she says. "The only thing I focus on is preparing a life for Izzy that I may not be a part of."
Being around other metastatic patients, however, is different.
"You'll meet and click with someone, and 10 minutes later say I love you," Griffiths says. "We just get each other. We're forced to think about our mortality. We're forced to think of end-of-life things and how laws impact us, how our suffering might be. The people around us aren't always comfortable talking about that."
Griffiths has grown into an advocate for metastatic breast cancer patients. She raises awareness and funding, and admins several patient support Facebook groups.
While she says some friends have fallen away during her journey—"It can just be too much for some people to handle," she says—others have stepped up to help. Griffiths was unable to drive for several months after her seizure, so one parent at her daughter's school set up a three-month spreadsheet coordinating rides for Isobel to and from school every day. Often, however, it's her DetermiNation Team CMMD and metastatic friends who step in to help when she needs it most. When she had to be in the office to train a new employee, one such friend drove from New Jersey to take her from Wilmington to her work in Malvern—and then home again at the end of the day. Griffiths does the same, too. Earlier this year, she helped clean a friend's house who was undergoing chemo and made dinner for patients staying at the American Cancer Society's Hope Lodge.
Despite the daunting statistics, Griffiths is hopeful. She's thankful for her goofy, loving daughter, her devoted partner, her community, and for being alive. For making it as long as she has, and the prospect of making it much longer.
"This isn't just a sad story," Griffiths says. "That's important to know. There are people that have been living with metastatic breast cancer for 20 years. There's lots of hope, inspiration and strength. And there's change. We're changing laws. We're changing the way clinical trials are being conducted. We're getting loud, and people are listening."
For more information, visit phillymag.com/thinkpink.
This is a paid partnership between Think Pink and Philadelphia Magazine's City/Studio
---