CBD Cat Treats and Oils: 5 CBD Cat Products for Holistic Wellness Benefits
Your cat's your best friend, which is why you want him to be as happy and healthy as possible. Whether your cat is struggling with anxiety or has some mobility issues, then CBD cat treats may be exactly what they need. CBD cat treats don't just taste good — they can also help your pet be nice and comfortable.
CBDfx

Lab-Tested

Broad Spectrum CBD

Natural Chicken Flavor

60-Day Guarantee
Penelope's Bloom

Moisturizes Skin

All-Natural Ingredients

Full Spectrum CBD

Lab-Tested
CBDistillery

Full Spectrum CBD

Cold-Pressed Hemp Oil

Non-GMO

60-Day Guarantee
If you aren't sure where to buy CBD cat treats, don't worry. We've rounded up five of the top CBD cat treats to help your BFF live his best life.
Summary of the Best CBD Cat Treats
1. Best Overall: CBDfx CBD Oil Cat Tincture
2. Best Value: Penelope's Bloom CBD Pet Balm for Dogs & Cats
3. Most Potent: CBDistillery CBD Pet Tincture
4. Most Innovative: CBD American Shaman CBD Cat Kitty Nugs
5. Best Tasting: FOCL CBD Pet Drops
What is CBD?
CBD, or cannabidiol, is a naturally occurring compound found in the cannabis plant. It is just one of the many cannabinoids present in the hemp plant. CBD does not typically have psychoactive effects or induce a high sensation. THC is a different cannabinoid, and it's the one that causes psychoactive effects.
CBD cat treats are infused with CBD to provide cats with the potential benefits associated with CBD consumption. CBD cat treats are safe for feline consumption and typically contain a carefully measured amount of CBD. Once cats consume CBD treats, the CBD interacts with their endocannabinoid system (ECS), which is a regulatory system that maintains balance and promotes overall well-being.
The ECS has cannabinoid receptors located throughout the body, including in the central nervous system, immune system, and organs. CBD may influence these receptors, potentially offering various therapeutic effects. CBD cat treats may promote relaxation, ease anxiety and stress. They could also support joint and mobility health, improve appetite, and enhance overall mood.
Best CBD Cat Treats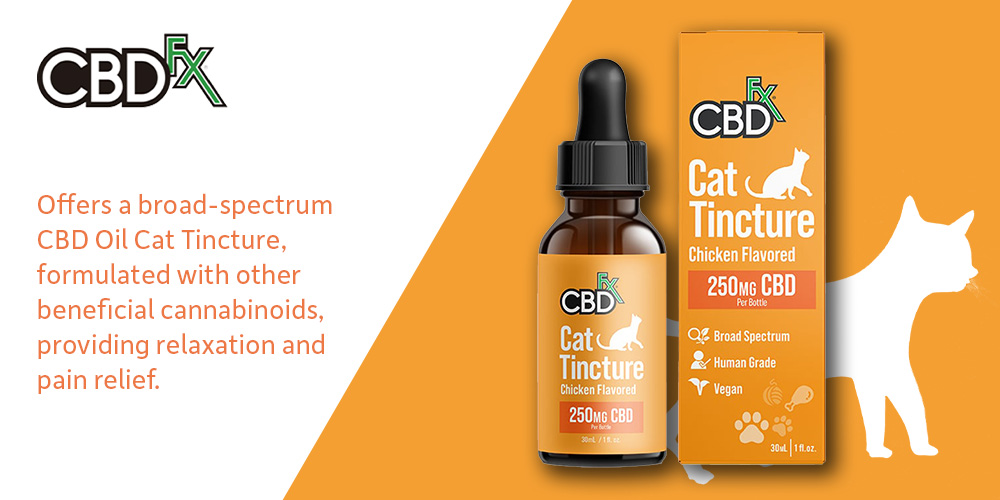 What we love
The CBDfx CBD Oil Cat Tincture is a lab-tested, broad spectrum CBD oil tincture that relaxes the nervous system of your feline friend. It contains only three ingredients: CBD hemp oil, MCT oil, and natural chicken flavor to ensure your cat consumes a full dose.
This CBD oil tincture is formulated with other beneficial cannabinoids in addition to just CBD. This hemp-derived CBD oil is effective and acts quickly. CBDfx's CBD Oil Cat Tincture is good for treating anxiety and relieves pain.
What customers love
Customers love the results they get from this CBD oil for cats. They love how easy it is to mix into their pets' food and cat treats.
About CBDfx
The company offers a 60-day guarantee made from 100% organically grown hemp. This CBD tincture uses human-grade MCT oil as a carrier for fast absorption.
Pros:
Human-grade, vegan, non-GMO, and organic ingredients
Natural chicken flavor
60-day money-back guarantee
Cruelty-free
Cons:
Doesn't ship to all 50 states
Specs:
CBD type: Broad spectrum CBD
Size: 30 mL
Strength: 250 mg CBD/bottle
Flavor(s): Chicken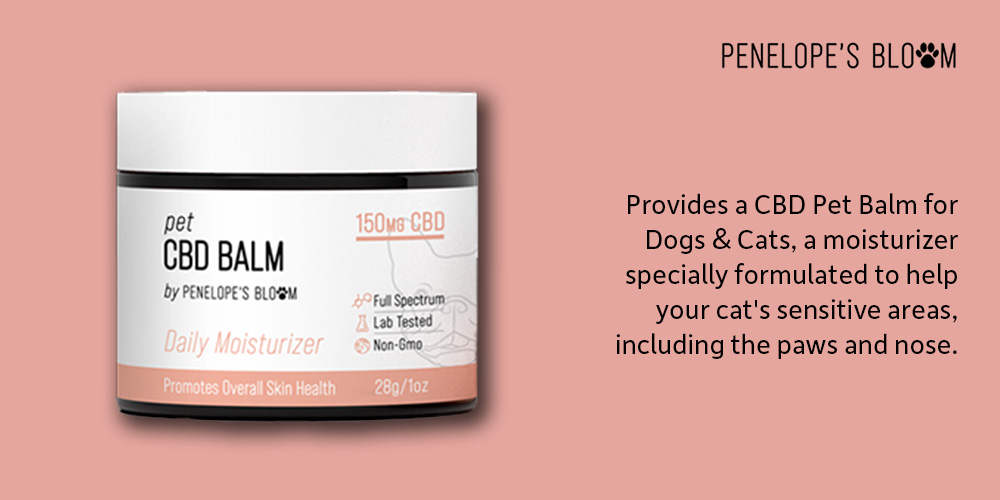 What we love
Penelope's Bloom CBD Balm is a moisturizer specially formulated to help your cat's sensitive areas, including the paws and nose. Many cats suffer from cracked noses, paws, rashes, and hot spots.
This balm contains all-natural ingredients, including shea butter, and it's infused with essential oils like lavender and jojoba. It also contains organic full spectrum CBD extract. When this moisturizer is used daily, it increases elasticity and hydrates targeted areas.
What customers love
Customers love how much this balm helps their cats with scabs and skin and coat issues.
About Penelope's Bloom
All of the hemp used by Penelope's Bloom is grown in the US. They choose only the best hemp plants for CBD oil production. The hemp is 100% organic and lab-tested by a third party for exceptional quality and transparency.
Pros:
Vegan, organic, all-natural, non-GMO ingredients
Lab-tested
US-grown hemp
Infused with essential oils
Cons:
Contains trace amounts of THC
Specs:
CBD type: Full spectrum CBD
Size: 1 ounce
Strength: 150 mg CBD/container, 300 mg CBD/container
Flavor(s): N/A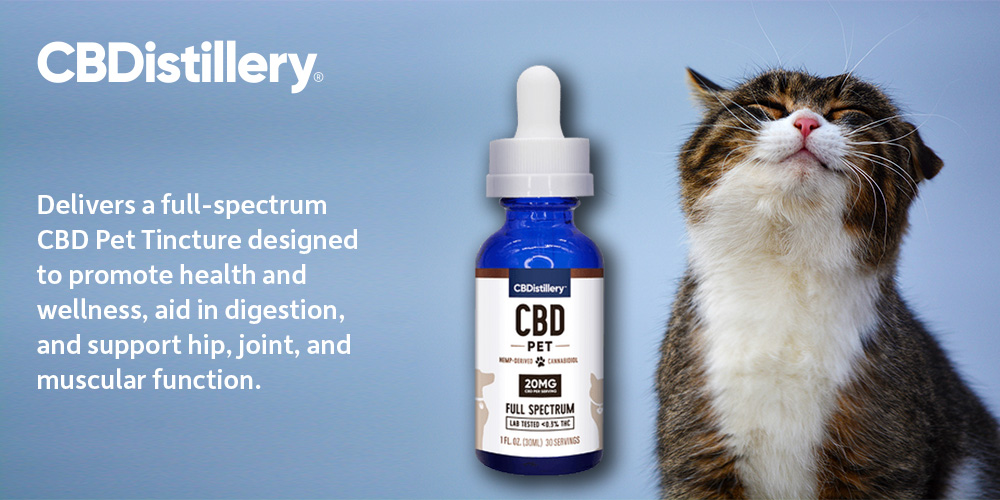 What we love
CBDistillery CBD Pet Tincture is a full spectrum CBD oil for cats that is formulated specifically with your pet's needs in mind. It has just two ingredients: cold-pressed hemp seed oil and CO2 Hemp Extract.
This CBD oil for cats is designed to promote health and wellness, aid in digestion, and support hip, joint, and muscular function. It may also provide pain relief and relaxation. This CBD oil tincture is carefully formulated from non-GMO, industrial US hemp by an expert botanist.
What customers love
Customers love this CBD oil for cats for their senior cats. Pet owners say it helps their cats act and feel like kittens again.
About CBDistillery
All CBDistillery products are third-party lab-tested for the highest quality and consistent serving sizes. The company is dedicated to providing customers with honestly labeled, hemp-derived CBD products.
Pros:
100% clean ingredients
US industrial hemp
60-day money-back guarantee
Non-GMO
Cons:
May contain traces amounts of THC
Specs:
CBD type: Full spectrum CBD
Size: 30 mL
Strength: 600 mg CBD/bottle
Flavor(s): Unflavored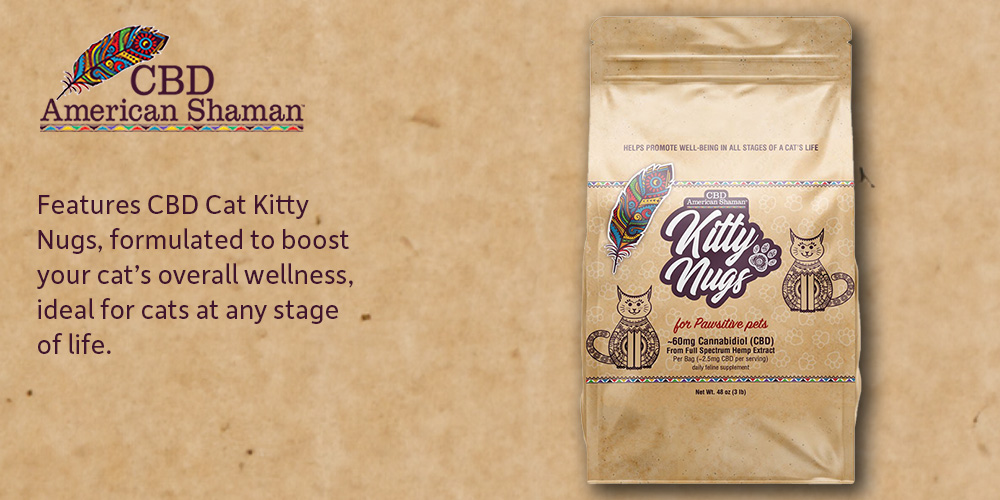 What we love
CBD American Shaman CBD Cat Kitty Nugs are formulated to boost your cat's overall wellness. These CBD cat treats are ideal for cats at any stage of life.
Each CBD cat treat is made with full spectrum CBD oil and a tasty chicken flavor. These CBD soft chews for cats use top-grade hemp plants in the U.S. that are grown on agriculturally responsible farms.
These CBD cat treats are made with nanotechnology, proving to be an innovative option for your kitty.
What customers love
These soft chews for cats are loved by even the pickiest cat. Cat owners say these are great cat treats for particular pets.
About CBD American Shaman
CBD American Shaman follows standards that are certified by the US Hemp Authority. This company also has charitable programs designed to help veterans and artists.
Pros:
Formulated with top-grade hemp
Made in the US
Ships to all 50 states
US Hemp Authority Certified
Cons:
May contain traces amounts of THC
Specs:
CBD type: Full spectrum CBD
Size: 3 pounds/bag
Strength: 60 mg CBD/bag
Flavor(s): Chicken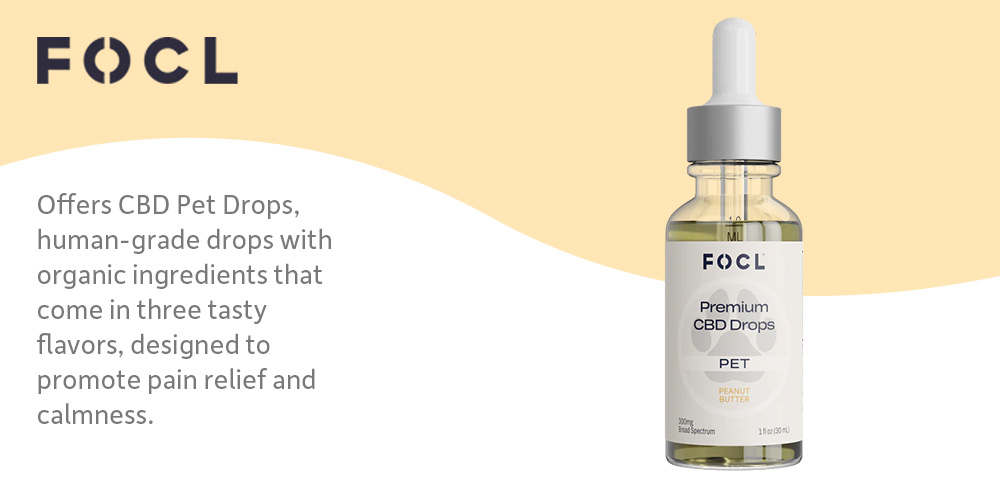 What we love
If you're in the market for a good CBD oil for cats, FOCL CBD Pet Drops could be just what your pet needs. These are human-grade drops with organic ingredients that come in three tasty flavors. They're also designed to promote pain relief and calmness.
What customers love
Cat owners love how much this product helps calm their anxious pets. They say this cat CBD oil has worked wonders for pain relief, too.
About FOCL
FOCL's goal is to provide customers with high-quality wellness products and supplements to help with their everyday needs. They're GMP compliant and use third-party lab testing on their products, so you know their only giving you top-tier cat CBD oil.
Pros:
60-day money-back guarantee
Third-party tested
Non-GMO ingredients
Free shipping
Cons:
May cause an upset stomach for some cats
Specs:
CBD type: Broad spectrum CBD
Size: 30 mL
Strength: 300 mg CBD/bottle, 600 mg CBD/bottle
Flavor(s): Peanut Butter, Wild Salmon, Chicken
How We Picked The Best CBD Cat Treats
To select the best cat CBD treats, we considered a few factors:
Quality
There are no FDA guidelines about the quality of animal health products. Therefore, we review the lab reports published by each manufacturer to determine their commitment to delivering high-quality and safe products. All CBD brands on our list are transparent about their testing. They have a strong reputation for making safe, palatable, and effective CBD treats for cats.
Ease of Use
Cats tend to be picky eaters. Getting them to try something new is difficult. As a result, we focused on CBD brands with products cats like. You'll always find a cat that's going to dislike the texture, flavor, or smell of CBD oil. However, most cats don't have issues with these CBD treat products.
Effectiveness
The effectiveness of these CBD cat treats exceeds the expectations of pet owners. They have a fast absorption of CBD oil into the digestive system. From there, it goes quickly into the bloodstream, reducing inflammation. All of these products have shown that they can provide long-term relief of symptoms. They must be used correctly to help improve your cat's quality of life.
How to Find The Right CBD Treats for Your Cat
It may be challenging to find the right CBD treat for your pet, but there are some considerations to help you:
Pet's Needs
To find the right CBD cat treats, you should understand your pet's needs and what you want the supplements to achieve. Does your pet have anxiety, joint pain, or another problem? When you understand their needs, you can find CBD products that have been specifically designed to help with those things.
Quality
You want to find CBD treats that are made from high-quality and organic hemp. You should also find a treat that's been through third-party lab testing. This ensures your cat treats are free from harmful chemicals and contain CBD content.
Price
If you find a treat your pet loves and you give it to them multiple times a day, you want it to be affordable. Price matters when you are choosing the best treat for your pet.
Types of CBD Products for Cats
CBD Oils
CBD oils are a popular option for cats. These products come with a dropper which allows pet owners to administer the CBD oil into their cat's mouth or mix it with food. CBD oil is easy to dose accurately, according to your cat's needs.
CBD Treats
CBD-infused treats are formulated with a specific dosage of CBD. This makes it easier to ensure your cat receives the appropriate amount. They come in various flavors and textures to appeal to cats' taste buds.
CBD Topicals
CBD topicals are applied externally and are beneficial to address localized issues in cats. These products come in balms, creams, or salves that can be gently massaged into the area. CBD topicals may help soothe skin irritations, relieve muscle or joint discomfort, or promote healing. Many also contain premium ingredients like organic coconut oil.
Benefits of CBD Cat Treats
Between scientific research and anecdotal evidence, it seems there may be a few wellness benefits associated with cat CBD treats, like:
Anxiety Relief
Cats can suffer from anxiety due to abandonment at a young age, starvation, abuse, and illness. Anxiety causes a cat to tremble, have food aggression, and hot spot grooming. CBD cat treats may reduce anxiety and help your cat maintain clear-headedness. This can help your cat be less afraid of his triggers.
Pain Relief
Cats can conceal their pain to the point that you may not know how much pain they are in. CBD treats give your cat relief from pain on a long-term basis. These non-prescription CBD products may even contain additional ingredients that help your cat heal or move easier.
Overall Health Improvement
As cats age, they may become painful or achy. They often slow down and sleep more. They probably aren't leaping as high as they once did. These changes can be a result of increased inflammation. And the good news is that CBD could potentially help reduce inflammation.
Potential Side Effects of CBD Cat Treats
CBD oil is well tolerated by cats, but it may have mild side effects. If the dose is too high, your cat may have stomach upset or diarrhea. It's possible the cat's digestive system cannot absorb the CBD oil.
FAQs
Is CBD safe for cats?
Yes, CBD is safe for cats. You want to ensure that you are administering the proper dosage for your cat. In addition, you want to select one with the highest quality ingredients. Some options you can give your cat include CBD oil, tincture, or cat treats.
How do I give my cat CBD?
At first, you want to start with the lowest dosage possible to monitor how your cat reacts. The best way to give CBD to your cat is orally such as with CBD oil. There are many CBD cat treats available that your cat will love. You can always mix CBD oil into your cat's food. An alternative is also Penguin CBD cat treats, which are gummies for cats.
What happens if I give my cat too much CBD?
If you give your cat too much CBD oil, you could see the opposite effects occur. Your cat may be lethargic and drowsy. Your cat may also have an upset stomach. Cats are more sensitive to some CBD oil than others. Anytime you give a new CBD cat treat you want to monitor your pet.
Conclusion
CBD cat treats have been shown to deliver excellent results when addressing inflammatory conditions caused by anxiety, aging, chronic health conditions, and stress. Whether you're looking for a CBD oil you can mix in with your cat's food or CBD soft chews to use as treats, we've found five of the very best CBD supplements for cats.
Related content:
This post was produced and paid for by Originated Media
---