CBD for Cats: 5 Products To Naturally Relieve Pain and Anxiety
When your cat shows signs of physical or emotional distress, it's imperative to find fast-acting, effective relief. That's why so many cat parents use CBD oil for cats to alleviate their cat's ailments.
While CBD oil for cats is most often used to treat anxiety, it can also be used to treat a wide spectrum of health problems, including allergies, inflammation, cancerous tumors, aggression, and more.
Read on below to learn more about how CBD oil for cats can help your pet achieve a more healthy life and what product best suits you and your furry friend!
Top Five Summary
What Are the Health Benefits of CBD Oil for Cats?
Though CBD oils are newer and there aren't many studies yet, the scientific community knows one thing; CBD benefits cats who struggle with health problems. This cannabis plant extract provides feline friends (as well as dogs and humans) with many health benefits, namely pain relief and anxiety control. However, there are many more health benefits for your cat to discover when you buy the best CBD for cats.
Pain Relief and Control
Many cat owners report that their pets experience relief from pain after being given CBD oil. The body (in both cats and humans) produces endocannabinoids, neurotransmitters that bind to cannabinoid receptors in the nervous system. When CBD oil is introduced to the body, the oil affects endocannabinoid receptor activity, relieves inflammation and interacts with pain neurotransmitters.
Aiding Anxiety and Emotional Problems
C​BD oil has gained clout by helping cats deal with debilitating anxiety disorders and emotional problems. But CBD oil can also be used as a preventative measure if you know your cat will soon undergo a stressful situation, like adding a new family member or pet to the household, moving homes, or simply being taken to the vet.
Inflammation Relief
Like humans, inflammation (and the pain caused by such) can rear its ugly head in felines the longer they age. Diseases like arthritis or allergies are the main results of inflammation, though inflammation can also cause other problems like skin rashes and some autoimmune disorders.
There's growing evidence to support that CBD for cats can interact with hormonal and neural pathways in such a way that it creates an anti-inflammatory response. I​f your cat suffers from inflammation, it's a safe bet to try CBD oil to reduce or eliminate their pain.
Cancer Treatment
Cancer: one of the most insidious diseases in both humans and animals. Though medical research has been forging ahead in cancer treatment for hundreds of years, we've yet to find a single cure for a disease that can be so devastating.
Yet high-quality CBD oil for cats offers glimmers of hope. Though there are few studies, the preliminary research on CBD for cancer treatment is promising. One study reports that CBD might be an effective anti-cancer treatment as it can induce cell death and decrease tumor size.
Since excessive regeneration is what fuels cancer, the idea of hemp-derived CBD oil reversing cell growth is more than a little promising. If your cat has been diagnosed with cancer, it's well worth a shot to buy pet CBD oils.
Epilepsy Treatment
I​f your cat suffers from epilepsy, it can be a frightening experience for you and your pet. Though rare (studies estimate a mere 1% of cats are diagnosed with epilepsy), this affliction can be a devastating diagnosis.
Short of putting your cat on a rigorous course of anti-seizure medications (that may or may not work), epilepsy is nearly impossible to treat with conventional medicine. Though this science is still catching up, anecdotal research proves that hemp CBD products are effective for treating cat seizures. Additionally, one of the only canine CBD studies found that natural CBD oil reduced seizures by a startling 90%.
Though this is only one study, the results are exciting, and the adverse effects are nearly none (when dosed correctly). Therefore, hemp CBD appears to be a favorable treatment for feline epilepsy.
Improves Stomach and Digestion Issues
As cats age, they become more prone to a GI disease called IBD (inflammatory bowel disease). This disease is uncomfortable for cats as it leads to nausea, vomiting, inability to digest food, and diarrhea.
Luckily, a mountain of evidence suggests that CBD can alleviate or even reverse GI diseases in humans. Since human and feline cannabinoid systems have many parallels, there's strong reason to support that CBD oil can alleviate IBD and other stomach and digestion issues. When you administer CBD oils, pair it with high-quality food that contains essential fatty acids for smoother digestion.
Overview
What began as a small company in 2014 soon bloomed into one of the largest CBD enterprises in the United States. Now, CBDfx is synonymous with ultra-quality CBD products as the company consistently delivers high-performing, organic, pesticide-free oil for humans and their furry friends.
CBDfx is so successful because of its admirable and unwavering dedication to transparency. The company only uses a premier CO2 extraction method when deriving CBD oil from cannabis plants. The result is a contaminant-free, safe product. And for even more assurance, the company tags each product with a QR code so buyers can read a full, detailed lab report on each product.
But there are more reasons why CBDfx offers such an effective CBD oil for cats. It's no secret that cats are picky eaters. This oil is great because it's bacon flavored (or try the chicken flavor) enticing those fussy kittens to consume the CBD for cats.
Ultimately, CBDfx cat oil makes cats feel more energetic, social, and playful. And, because of the limited list of ingredients, it's soothing on the stomach and easy for cats to digest. Lastly, the tincture is so effective that it can even make cats cuddlier and more affectionate.
CBDfx also provides buyers with installment plans for anyone struggling with payments.
Like with anything, there are drawbacks to CBDfx. The primary concern here with this product is its hefty price tag. However, if you want top quality, expect to pay a higher premium.
Pros:
CBDfx offers owners to pay through payment plans to make the oil more affordable.
This CBD oil for cats uses natural bacon flavors for easy, stress-free consumption.
The oil is also completely vegan and cruelty-free.
Because of its minimal ingredients, CBDfx is easy to digest and alleviates stomach pain.
Cons:
The CBDfx oil for cats tends to be more expensive due to premium ingredients and production.
S​pecs
CBD Type: Broad spectrum
Size: 30 mL
Strength: 250 mg CBD/bottle
Flavor: Bacon or Chicken
What Customers Are Saying
Customers are happy that this oil makes their cats more comfortable and calmer. Other pet owners swear by this oil, saying that it has made their elderly cats more energetic and playful and has relieved digestive issues.
2. Most Effective Full Spectrum Oil: Penelope's Bloom CBD Oil for Cats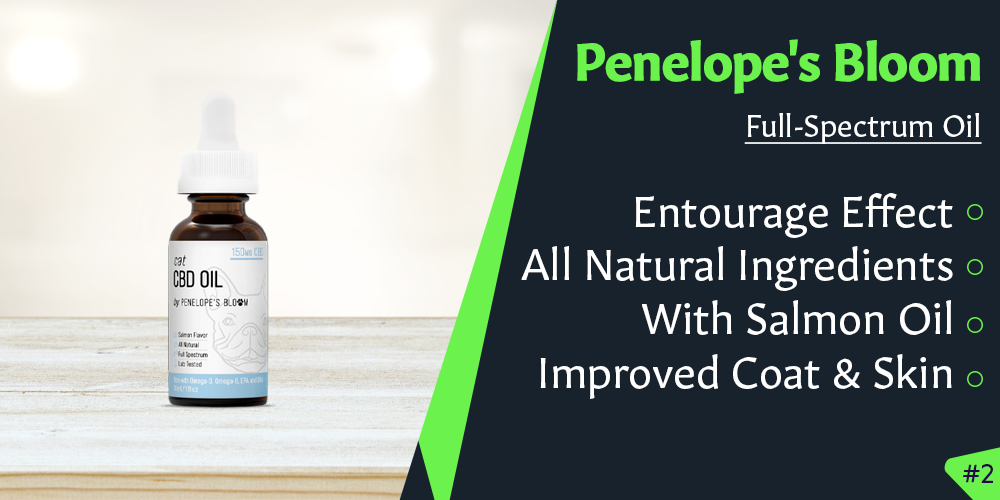 Overview
Penelope's Bloom crafts a vibrant blend of organic full-spectrum CBD oil, MCT oil, and chamomile oil.
The terpenes and cannabinoids lead to an "entourage effect," which ultimately delivers a more powerful oil.
Studies have long backed this entourage effect. Multiple reports detail that full-spectrum CBD oil for cats has longer-lasting results than pure CBD oils and tinctures.
Penelope's Bloom packs these extra vitamins and nutrients by loading up its product with wild Alaskan salmon, promoting anti-inflammatory properties. This salmon also improves your cat's coat and skin, boosts the digestive system, supports brain development and cognitive function, fights dementia, and slows tumor growth.
The other ingredient Penelope's Bloom uses is Medium Chain Triglycerides Oil. This good fat is anti-inflammatory, anti-bacterial, and provides your pet with enough fuel to ensure that your cat's body will absorb the CBD to the maximum.
The downside with Penelope's Bloom is that the scent of the tincture is enough to turn some cats off. As any cat owner knows, getting cats to ingest any medicine, whether homeopathic or not, can be challenging. If you choose to go with Penelope, have some tasty cat food on hand to make the CBD oil go down a little easier.
Pros:
This CBD oil for cats creates a powerful entourage effect.
All natural ingredients like MCT Oil to ensure your cat better absorbs CBD.
Bonus ingredients like Wild Alaskan salmon improve your cat's coat and skin.
Penelope's Bloom usually provides buyers with many coupons and codes that lower the price of their products.
Cons:
This hemp-derived CBD oil can be hard to accurately dose out.
Specs
CBD Type: Full spectrum CBD
Size: 30 mL
Strength: 150 mg CBD/bottle
Flavor: Salmon
What Customers Are Saying
On average, pet owners praise Penelope's Bloom for helping cats cope with many of their cat's health problems, like loss of mobility, inflammation, and decreased appetite. Other customers like Penelope's Bloom for their speedy, friendly customer service.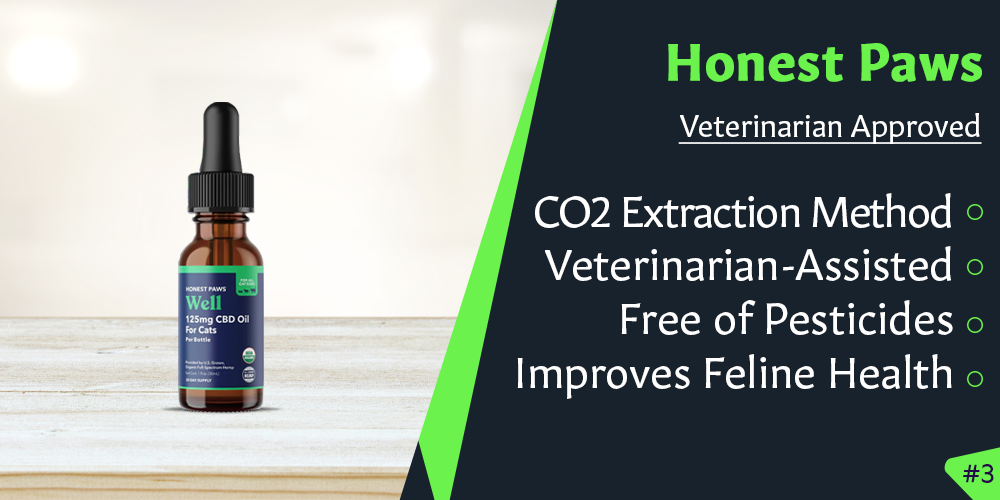 Overview
There's a lot to love about Honest Paws cat CBD oil. Its rich blend fortifies bone health, strengthens joint health, supports digestion, reduces stress and anxiety, and improves cognitive and immune system functions.
Honest Paws is free of pesticides, contains no artificial flavoring or coloring, is third-party tested, NASC certified, and crafted in the United States. Additionally, the oil is only made with two ingredients: CBD from full-spectrum hemp oil and Organic MCT Oil.
This pet-exclusive CBD brand is made with the insights of veterinarians, so you can have complete confidence knowing that you're giving your cat a veterinarian-assisted formulation that adheres to strict testing standards. Honest Paws utilizes a CO2 extraction method, and each drop contains a signature blend of CBD oil and rigorous nutrients to optimize feline health.
Pros:
Honest Paws uses CO2 extraction methods to create their hemp CBD oil.
Their CBD oil for cats is made with the help of veterinarians, so it's an oil you can trust.
This CBD oil for cats is entirely free of pesticides and artificial coloring.
Because of the MCT oil, your cat will absorb the CBD as efficiently as possible
Cons:
The dropper has no tracks or markings, so it can be difficult to dose.
S​pecs
CBD Type: Full spectrum
Size: 30 mL
Strength: 125 mg CBD/bottle
Flavor: Unflavored
What Customers Are Saying
Customers are happy with the results, with many pet owners citing noticeable improvements in their cat's skin rashes and allergies. Other customers say they've seen their fur babies with a gentler, less anxious temperament and have even seen some cats convert from hostile and pugnacious to purry and cuddly.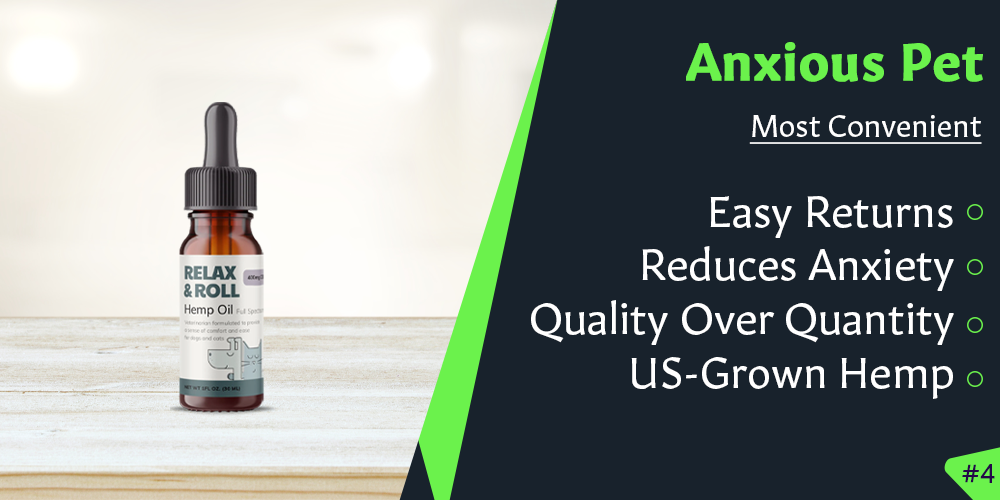 Overview
Anxious Pet extracts CBD oil from hemp plants for a truly sublime experience. The Relax and Roll cat CBD oil helps your feline friend reduce anxiety, improve mental health, bolster brain function, and aid the immune system. It also battles seasonal allergies as it reduces inflammation and skin irritation.
Where Anxious Pet excels is its logistics; the company offers free shipping and easy returns, setting itself above its competitors in terms of convenience and practicality.
There are some drawbacks to The Anxious Pet's CBD oil. The company uses oil tinctures to deliver the CBD into your cat's system, which isn't the most user-friendly delivery method. If you're having a hard time dropping the oil into your cat's mouth, mix the product with wet food for a stress-free, claw-free experience.
Though administering this CBD oil for cats can take a while to master, the Anxious Pet is the best choice if you're looking for convenience.
Pros:
Free shipping, easy returns, and automatic refills make a streamlined experience for those cat owners with hectic schedules.
CBD oil is effective and reduces both anxiety and physical ailments.
The company focuses on quality over quantity and provides a small, though high-quality, assortment of treatments.
All their products are grown in the United States.
Cons:
The smell alone can be enough to turn your cat off.
S​pecs
CBD Type: Full spectrum
Size: 30 mL
Strength: 400 mg/bottle
Flavor: Unflavored
What Customers Are Saying
Customers love how effective Anxious Cat CBD oil is, mainly how well it relieves anxiety, depression, and separation anxiety. Cat owners find this oil to be a little tricky to consume, but find their cats quickly lap it up when it is buried in enough treats or wet food.
Other customers praise Anxious Pet for its streamlined ordering and delivery process. It is mentioned that some cats don't like the flavor of their CBD oil for cats. In fact, many felines find the scent so off-putting owners find their cats scampering away as soon as they whip out the bottle.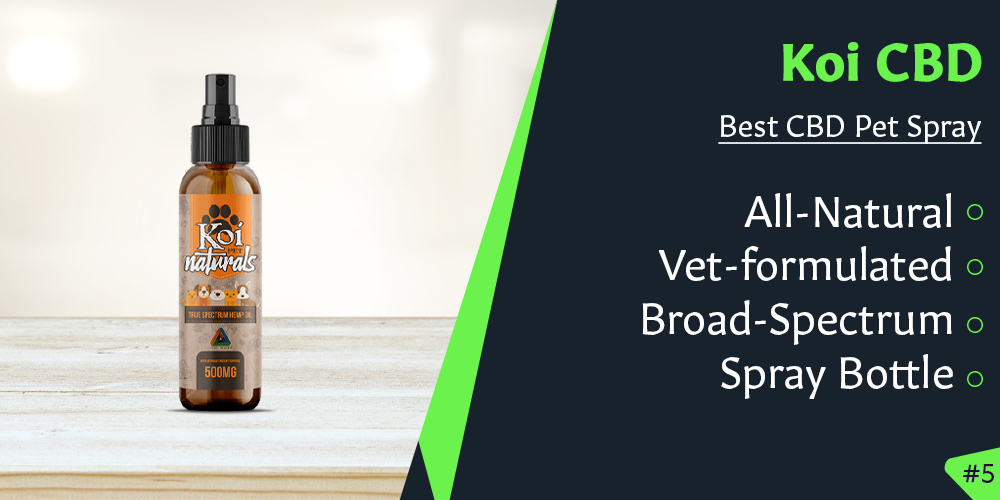 Overview
Koi CBD oil for cats is a leading pet CBD oil with an emphasis on safety. Not only is it all-natural and non-GMO, but the formula is formulated by veterinarians so that you can fully trust what you're giving your cat. This broad-spectrum hearty CBD oil with all natural ingredients delivers a premier therapeutic experience and utilizes a light aroma and delicate flavors to ensure your cat will lick it right up.
Koi provides its CBD oil for cats in a spray bottle, which means you won't have to wrangle with your cat's mouth to get them to ingest it. Also, the spray is completely gluten and dairy-free and does not contain artificial flavors, colors, or preservatives. Koi also presents buyers with several variations so you can customize your experience.
Pros:
Koi's unique hemp CBD oil spray design makes measuring doses easy.
Koi also allows you to customize your experience based on your cat's symptoms.
The formula is designed by vets for better quality assurance.
Koi donates a portion of your proceeds to the IPittytheBull Foundation
The Koi CBD product is a broad-spectrum oil, so cats can enjoy its full benefits.
Cons:
This organic CBD oil company can get a little expensive, although their quality products are worth the price.
S​pecs
CBD Type: Broad spectrum
Size: 60 mL
Strength: 500 mg CBD/bottle
Flavor: Unflavored
What Customers Are Saying
Ultimately, customers are happy with the Koi CBD pet spray. Pet parents especially appreciate that the spray is flavorless, which makes it much easier for their pets to consume the product. Because it's tasteless, many cat owners say that Koi CBD is the only CBD oil their cats will finish and that they see tangible results in their cats' health and behavior.
How We Found Our Favorite CBD Oil For Cats
With so much disinformation swirling around the Internet, it can be hard to trust what you read. We take the guesswork out of the buying process because we take the time to ethically and carefully source our lists. For total transparency, we've detailed our methods so you can see how we've arrived at our list should you want to explore alternative treatments.
Industry Experts
Our industry-veteran experts comb the Internet to find the best CBD oil for cats. Our staff is heavily trained and well-versed in cannabis and CBD so that we hand select only the best options. As a result, our lists only contain information that you (and your cat) can count on.
Reviews
Locating accurate, honest online reviews can be challenging but not impossible. Because customers base so many buying decisions on reviews, companies have responded by handpicking the best reviews and showcasing them on their websites. Instead of only relying on one source, we visit many websites like Amazon, YouTube, or Reddit to take the time to find valuable, authentic reviews.
Product Description Analysis
The key to sourcing a great CBD hemp oil is to thoroughly analyze the product description page. Assuming the company is being truthful in its product description list (which is where understanding the company's reputation and third-party lab results come into play), finding what ingredients are used in the product is paramount to understanding its quality level.
Regarding CBD oil for cats, our team prioritizes products that use minimal ingredients without pesticides, synthetic fertilizers, or inorganic materials.
How to Choose the Best CBD Oil for Cats
As pet parents, finding the highest quality CBD hemp oil for your cat is crucial. But how do you choose the best CBD oil for cats? How do you ensure it will positively affect your pet's health?
Opt For Certified Organic CBD Oil
Certified organic products aren't better just because they're trendy; they're better because they are free from toxic chemicals often used during mainstream farming and extraction processes. It's essential to verify the ingredients and fact-check the company.
The most important thing to prioritize is finding CBD brands that stray from inorganic materials or preservatives.
Find (Reputable) Third-Party Results
Third-party results are paramount to inspect during your shopping experience. Third-party results mean that a separate lab studied the oil to ensure safety and proper practices. The lab report will help you understand if there are any filler ingredients or worse, toxic metals in the tincture.
I​f the company you're browsing has nothing to hide, it will proudly showcase its third-party results on its website. If you're struggling to find their reports or it seems like they don't exist at all, best to skip to the next company.
When searching for lab reports, make sure that the reports are up to date (within the last three to five years should be okay) and that they come from a reputable lab. It also will help to know if the lab is located in one of the states where cannabis plants are legal, as these labs have a bit more knowledge and are generally more accustomed to testing protocol.
G​o For Full Spectrum CBD Oil For Cats
When you can, you should buy full spectrum oil over broad spectrum CBD oil. This means that cannabidiol contains all the components from the hemp plant, including flavonoids, terpenes, and cannabinoids. The culmination of ingredients boosts CBD oil potency.
Alternatively, broad spectrum CBD oil refers to oil that removes the already nearly untraceable amounts of THC that is found in full spectrum oil, and CBD isolate refers to oil that has extracted all materials but cannabidiol. While broad spectrum CBD oil and CBD isolates are fine, full spectrum oil is the best.
Pay Attention to Extraction Methods
Separating compounds from a hemp plant is more challenging than flicking a magic wand. Over the years, scientists have developed various extraction methods, all of which have benefits and drawbacks. The safest method is the CO2 extraction method, which uses pressurized carbon dioxide to pull specific compounds from the plant.
CO2 acts like a solvent without any harmful side effects when used at a specific temperature. Because of this, it is the premier way to extract CBD oil and is the method you should prioritize when buying your cat CBD oil. As you might imagine, the drawback of this method is that it costs more money as this extraction requires specialized, expensive equipment. Still, it's certainly worth the money.
How Much CBD Should I Give a Cat?
You do need to be careful to give your cat the proper amount of CBD oils. Parents can easily overdose their cats by mixing CBD products. For example, sprays and treats together are typically too potent of a combination.
In that vein, check with your vet about how much CBD oil you should give your cat. Before buying CBD hemp oil, it's a good idea to check with your vet to see if CBD is even the right choice for your cat. They should advise you on the proper dosage.
Still, if you are waiting to see a vet, some basic rules exist when dosing your cat. You should only administer 1–5 mg CBD oil for cats per 10 pounds of body weight. However, be aware that potencies vary by the product, so the label should point you in the right direction on how much you should give to your pet.
Be aware that different application methods are easier to dole out. That's why companies that utilize bottles like a spray nozzle are great because you don't have to measure out the liquid like you would with a tincture. If you do buy a product with a tincture, make sure that the dropper has markings so you can properly dose your cat.
Potential Side Effects of CBD on Cats
When you give cats the proper dosage, CBD oil for cats helps with numerous health problems and has many positive effects. However, when improper dosing, there can be adverse side effects from CBD hemp oil products.
Most cats can get dry mouths with too much CBD. When your cat has too much hemp extract, it decreases saliva production, resulting in a dry mouth. This is uncomfortable for your cat and can lead to dental issues, tooth decay, and excess bacteria in the mouth. How can you tell if your cat has a dry mouth? If you notice changes in the smell of their breath or a drastic uptick in water consumption.
Another side effect of an incorrect dosage is that it can make your pet's blood pressure drop, resulting in dizziness or lightheadedness. While it can be difficult to diagnose low blood pressure, you should be able to determine if your cat is suffering from low blood pressure based on their gait. If you notice your cat becoming dizzy, unstable, your cat's blood pressure is too low.
Ultimately, taking precautions when giving your cat CBD is imperative, especially if you're buying CBD products for the first time or are using a new brand. Observe your cat carefully for abnormal behavior, and always start with the smallest dose and work your way up.
FAQ
I​s CBD oil safe for cats?
C​BD oil is indeed safe to give to cats (as well as dogs and humans). CBD oils are relatively new (or at least, the stigma is finally leaving the medical community), so there's not much research on CBD oil and its effects on the body. Still, labs and veterinarians report that CBD appears to be very safe for cats.
Occasionally, cats can develop digestive issues and lethargy, but this can be rectified by lowering the CBD oil dose.
How much CBD oil is too much CBD oil?
Cat parents can overdose their cats on hemp extract CBD oil. While too much high-quality CBD oil isn't deadly, too much CBD oil typically leads to cats suffering from uncomfortable side effects like dry mouth, dental issues, and dizziness, and can even make your cat prone to falls or accidents.
That's why paying close attention to the correct CBD dose for your cat's weight is essential for your cat's well-being.
What is the difference between hemp seed oil and CBD oil for cats?
Although hemp seed oil and CBD oil for cats are used interchangeably, there are large differences between the two products. The biggest difference is that hemp oil has nutritional benefits while CBD oil is more geared toward alleviating anxiety and depression.
Additionally, as its name suggests, hemp oil is extracted from the hemp plant seeds, whereas CBD oil is extracted from flowers, stalks, and leaves of hemp and cannabis plants.
Conclusion
The best C​BD oil for cats can be a godsend for your pet's health when they suffer from chronic health problems.
But as a cat parent, adding CBD oil to your pet supplies cart can be overwhelming as there are such a surplus of options on the market.
Ultimately, any pet CBD oil on this list is worth checking out. Buy the best CBD oil for cats today to give your beloved kitten some much-needed relief.
Consider throwing in some dietary supplements in addition to the carrier oil for even more health benefits.
And if you have a picky cat at home, make sure to buy yummy flavored CBD oil to make the delivery process more manageable!
Top Five Summary
This post was produced and paid for by Originated Media
---