Cat Food for Sensitive Stomach: 5 Dry and Wet Cat Food Options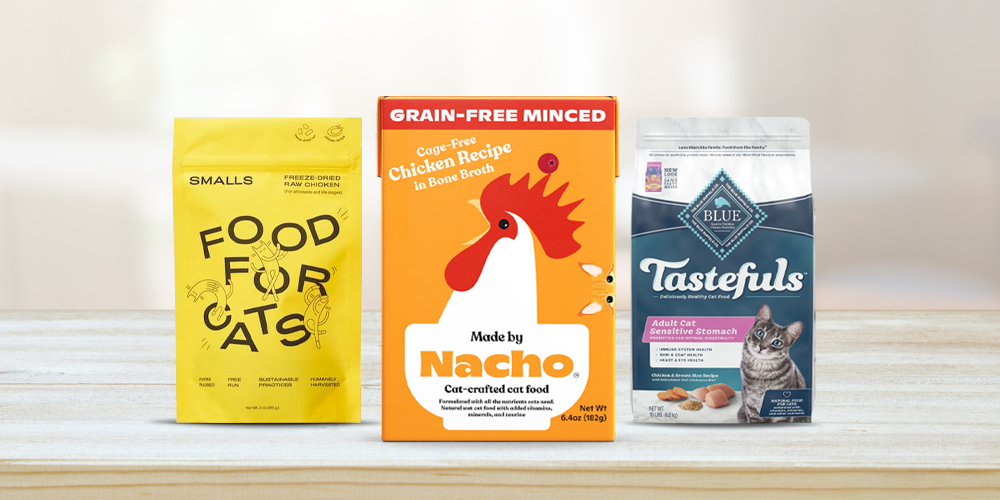 Does your cat suffer from a sensitive stomach? Or does she have food sensitivities that you have to keep in mind?
If your cat is struggling to keep her meals down, you're probably in the market for food for sensitive stomachs — aka cat food specifically made with ingredients that are less likely to harm your kitty's sensitive stomach, while still offering balanced nutrition (and a delicious taste!).
While it can be hard to figure out exactly which cat food is best for your individual situation, we've compiled a list of our 5 favorites that our cats love — perfect for those suffering with food sensitivities.
Top 5 Cat Foods for Sensitive Stomachs
1. Made by Nacho – Overall Best Cat Food for Sensitive Stomachs
2. Smalls – Best Human-Grade Cat Food for Sensitive Stomach Problems
3. Blue Buffalo – Best Cat Food for Digestive Health
4. Purina Pro Plan – Most Widely-Available Cat Food for Sensitive Stomachs
5. Halo Holistic – High Protein Sensitive Dry Cat Food
Brand Reviews
1. Made by Nacho – Overall Best Cat Food for Sensitive Stomachs
Pros
Chicken as the first ingredient
Signature hydrating bone broth for taste
Affiliated with celebrity chef Bobby Flay
Nutrient-rich with added vitamins, minerals, and taurine
Product Review and Features
The word "Nacho" in Made by Nacho refers to celebrity chef Bobby Flay's own cat. Nacho the cat is the face and voice of the Made by Nacho cat food brand, but the influence of Bobby Flay is felt fully in spirit in the Grain-Free Minced Chicken recipe. This wet cat food is made for a cat's sensitive stomach without sacrificing taste, as the signature hydrating bone broth is a core ingredient.
This sensitive stomach cat food is a digestive health all-star, rocking prebiotics for your cat's gut health and helping maintain balance while avoiding grains and artificial things that don't belong in high-quality wet food. You won't find corn, soy, or wheat, nor will you find any artificial flavors or colors in this cat food, at all. Preservatives are not even spoken of in this place, as Made by Nacho means it's cat food made in a safe space.
Chicken is the main animal protein in the Minced Chicken recipe, and chicken as the first ingredient in this cat food means it's the most prevalent ingredient overall. Nacho and Bobby Flay choose cage-free chicken, with an eye toward a more humane ingredient source.
We also loved that this enriched cat food also includes flaxseed and fruit, which overlay benefits for your cat's coat and immune system.
Sizes, Discounts, and Promotions
Get the new-to-Nacho discount of 15 percent off your first order when you sign up for the Made by Nacho email newsletter. You will also be the first to hear about exclusive cat food offers and other news from the brand as well.
The Minced Chicken wet cat food comes in a 12-pack of 6.4 oz containers.
Subscribe for recurring deliveries and save five percent on every order. You can choose the frequency of deliveries in 4, 6, 8, 10, or 12-week intervals.
The Bottom Line
Among the sensitive stomach cat foods on our list, Made by Nacho comes in first with a sensitive stomach formulation the taste of which drives cats wild. This is exactly the kind of combo you're looking for in a cat food for sensitive digestive systems, as you want your cat to be crazy about its food.
Giving a cat a special diet often means sacrificing a drive-your-cat-crazy taste and relegating your feline friend to a cat food that fits the bill but isn't necessarily exciting, but we found Made by Nacho to be the best of both worlds.
Learn more about Made by Nacho
2. Smalls – Best Human-Grade Cat Food for Sensitive Stomach Problems
Pros
Huge variety for the pickiest of eaters
Wet food or freeze-dried diet option
Money-back guarantee if not satisfied
Cons
Subscription service only
Product Review and Features
Smalls is a subscription cat food service that has wet cat food and freeze-dried cat food. Becoming a customer with Smalls is a piece of fish cake with their easy-to-use service and website.
You may have seen Smalls on Buzzfeed, Business Insider, New York Magazine or others if we need to name-drop, but they like to speak for themselves in terms of representing who they are as a company. And as a company, Smalls would like everyone to know that they serve cats human-grade food.
Smalls has goals they hope their customers and their cats reach, and reviews from customers that follow some improvements in their health after making the switch to Smalls cat food.
After a month's transition, some cats have better digestive health and healthier bowel movements. Two months have cat owners boasting that a cat food diet consisting of Smalls has resulted in improved coat health, less shedding, and soft silky kitty snuggles. At the three-month mark from a consistent diet of the best cat food for sensitive stomach problems, an overall improved quality of life has been noted, with cats eating happier, playing harder, and enjoying more restful slumber.
At its core, Smalls is a subscription food service for cats. The process to initiate this subscription is simple. First, you need only share some details about your cat in a fun little quiz. Then you choose the meats and other treats you know your cat is into or maybe try something new and see how they like it! After these initial steps, you then get your food trial delivered and start the transition.
After that, you simply keep serving up the sample foods included in the trial and note which flavors and textures your kitty likes best. You can make changes, switch it up, hold shipments, or cancel anytime with Smalls. They understand. Any changes necessary are fine with them, even if it means changing the recipe completely. Cats are fickle and unpredictable. They get it. And their service is nimble to reflect this understanding.
During our team's new customer quiz questionnaire, a pop-up that seemed concerned the quiz hadn't been finished yet said that I was eligible for cat treats for life!
Customers should be aware the first-time box is considered their sample box. In this shipment, your initial quiz answered about your pet, including what types of proteins they liked and textures, helped pick out the kinds of food that would be in their sample box. A sample box does include a Welcome Kit One Sheet, Welcome Kit Booklet, 10 of their Smooth Wet Food options, and a package of their Shameless treats with Catnip.
Sizes, Discounts, and Promotions
Smalls Fresh Cat Food offers their customers free shipping with free small trial food orders by just entering an email in the email signup service.
Holy cats! It turns out that the treats for life special is also included in the order summary! We will also add that the order includes an extra 20 percent off coupon for, well, for no reason at all. There's no explanation for this extra discount, other than that Smalls can feel how awesome their customers are through the screen and they want to share the love.
Customers should also be aware that Smalls is determined that your cat will like something their company has to offer, and if they don't – then fine. They actually offer an entire money-back guarantee if your cat is a brat and thinks they are better than Smalls.
The Bottom Line
Smalls we love. The name makes us quote the movie The Sandlot (you're killin' me smalls!), which is always a good time.
This company might be on the higher end of the price point for cat food but their food is fresh, healthy, and conveniently frozen for ease of thawing and serving. It is made with human-grade ingredients and they value their cat customers so highly that they guarantee you will find the perfect combination – or your money back. Smalls is, ironically, a huge favorite!
3. Blue Buffalo – Best Cat Food for Digestive Health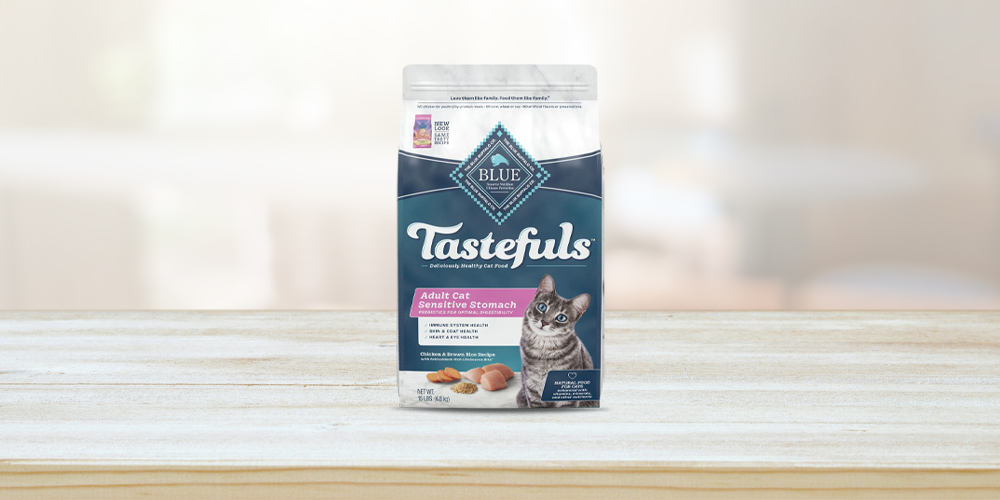 Pros
Made for sensitive stomach cats that need dry cat food
Includes proprietary LifeSource Bits packed with vitamins, antioxidants, and minerals
Prebiotics promote digestive health for cats with sensitive stomachs
Cons
Product Review and Features
Blue Buffalo Tastefuls Sensitive Stomach is a dry cat food for adult cats created and formulated specifically to help cats with iffy tummies and food sensitivities.
Chicken is the first ingredient in this best dry cat food, which is always a good start. Blue Buffalo takes things far beyond this, though, with both prebiotics and probiotics to promote gut health in your cat — an underrated feature for cats with sensitive stomachs to begin with.
Blue Buffalo prides itself on avoiding things like corn, soy, wheat, preservatives, and artificial flavors in its dry cat food while providing a tasty food that cats are drawn to. The balance attained in their recipes also does a great job of keeping taste and nutrition aligned, which is why it's one of the best dry cat food for sensitive stomachs.
Blue Buffalo is made in the USA and also includes its patented LifeSource Bits, which are dry cat food kibble nuggets that are packed to the brim with antioxidant-rich ingredients to help soothe your cat's sensitive stomach while bolstering its immune system.
Also included are omega 3 and 6 fatty acids to benefit kitty's coat and keep her skin healthy. Taurine in this dry cat food boosts health points in both cat hearts and eyes, and minerals support both bladder and kidney health.
Sizes, Discounts, and Promotions
One to three-day shipping is free for this dry cat food purchase on Chewy.com, and auto-ship customers receive 5 percent off each month's ongoing purchases. Blue Buffalo Tastefuls Sensitive Stomach dry cat food comes in multiple bag sizes, including 5 lb, 7 lb, 10 lb, and 15 lbs. Each size has "bundle of 2" options available for multiple bag purchases in one transaction.
The Chewy.com site was also running a promo for 25 percent off on treats when select foods (like this one) are purchased. Get this discount with promo code TREATS while it lasts.
The Bottom Line
Blue Buffalo is a solid, stalwart dry cat food option for cats with sensitive stomach issues and for owners who want an option that tends to be very widely available in local pet stores and chains alike.
4. Purina Pro Plan – Most Widely-Available Cat Food for Sensitive Stomachs
Pros
Pate format wet cat food
Made for sensitive stomachs and skin problems
High protein content
Cons
Some cats may not like the duck flavor
Product Review and Features
Purina Pro Plan Focus Sensitive Skin & Stomach is a highly digestible wet food in pate format. This version is the Duck & Sweet Potato formula and it is formulated specifically for sensitive stomachs.
Pro Plan Focus includes antioxidants for immune system health and a prebiotic fiber for digestive health and a balanced gut biome. Taurine is included for vision support along with vitamin A, and a whopping 25 essential vitamins and minerals balance out the overall health and nutrients list.
Pro Plan also adds the amino acid taurine while avoiding grains and artificial additives like colors or preservatives. Your cat's coat and skin also benefit from the inclusion of fatty acids.
This is high-protein cat food, which is often of great use to a cat with sensitive stomach issues, as they frequently don't get enough protein. This is often the case because the ingredient a cat most often tends to be allergic to is the protein itself.
Sizes, Discounts, and Promotions
Purina Pro Plan comes in 3 oz cans, in cases of 24 cans. Flavors include duck, arctic char, or a variety option featuring both duck and arctic char in a variety pack. Purina's Pro Plan Focus is also available in a dry cat food version.
All customers are eligible for the Chewy.com promo offering a seven percent discount off of the full price, free 1 to 3-day quick shipping is available, and the auto-ship program saves an extra 5 percent on each order.
The Bottom Line
Purina Pro Plan rounds out our list of best cat for sensitive stomach issues with a wet cat food formulated for digestive health and sensitive cat stomachs that is widely available and affordable (and a dry cat food version if your cat prefers).
Learn more about Purina Pro Plan
5. Halo Holistic – Best High Protein Sensitive Dry Cat Food
Pros
Specially formulated for adult cats with sensitive stomachs or cats with food allergies
High-protein dry food
Cons
Product Review and Features
Halo Holistic from the well-respected pet food brand Halo is formulated specifically for cats with food allergies or sensitive stomachs. This dry cat food is gluten free and contains a high level of animal protein from Wild-Caught Salmon and Whitefish.
Sizes, Discounts, and Promotions
With Chewy you have free shipping on orders if they spend over $35. With Auto-Shipping you save an extra 5% on each order. Their Dry Cat food comes in multiple sizes, ranging from 3-lb up to 20-lb.
Learn more about Halo Holistic
How Did We Make the List?
In order to make this list of the best cat food for sensitive stomachs, we pulled together a review panel of experts. This panel consists of researchers, cat owners, nutrition and health researchers, and knowledgeable volunteers.
Cat food brands were reviewed by comparing multiple cat food brands on the same criteria. Everything from manufacturing practices, packaging, and third-party associations and endorsements were considered, as were pricing, availability, and customer reviews.
What's recommended here are the best brands and best products that provide the best cat food to benefit cats with sensitive stomach issues.
What is Sensitive Stomach Cat Food?
Sensitive stomach cat food is a type of cat food that is specially formulated to meet the needs of cats with sensitive stomachs. These sensitivities can come about through food allergies, adverse reactions, unbalanced feline gut biomes, or a variety of health conditions.
The best options for cat food for sensitive stomachs should contain high-quality ingredients that are easy to digest and help prevent digestive issues in cats. This type of cat food often also contains probiotics and prebiotics, which help promote healthy digestion in cats. Additionally, sensitive stomach cat food often has added nutrients to support a healthy immune system and reduce inflammation.
With the right sensitive stomach cat food, cats can enjoy all the benefits of a healthy diet without any digestive issues, especially if your cat is both an indoor and an outdoor cat. In fact, if your cat lives solely indoors, it may be beneficial to consider looking for the best cat food for indoor cats.
Why Your Cat Might Need Sensitive Stomach Cat Food
A wet sock, stepping on a plug of a vacuum cleaner, being woken up by your cat at 3 am with the sounds of dry heaving, and somehow knowing your cat is going to throw up on the one area that needs to be dry cleaned are the three things that could be the worst things in your life right now. We are only going to talk about the vomiting cat. The wet sock could be avoided, probably after reading this article.
Let's just clear the air. If you have wet socks because you are stepping on unknown sources of wetness from your vomiting cat and you aren't quite sure why your cat is sick…this is always a good time to go to the vet.
Usually, when people throw out the old "I think my cat has a sensitive stomach" it's because they have joined the 3 am wet sock club because of their vomiting cat. And it's become too often. Vomiting is more often than not the most common and chronic symptom of cats that are having a reaction to an ingredient in their food to which they are sensitive.
Although all pets have their own weird quirks and some pets dry heave or gag because it's Tuesday, some known vomit-inducing, food-related things that can cause nausea, especially with cats include:
Inconsistency of temperature or drastic temperature change in food.
Overindulging or being overfed which tends to happen when owners choose to free-feed with multiple cats in a home and no feeding schedule.
Food texture or sudden change of food texture from dry cat food to wet cat foods; or wet cat food to dry cat food.
Freshness or spoiled food. If purchasing fresh pet food, especially human-grade pet food, or if feeding from an already open container of wet cat food make sure to follow proper storage instructions and use before the spoil date.
Feeding your cat food with preservatives, additives, or extra ingredients can make your cat vomit. These ingredients aren't easily digestible, inducing the need to vomit for your cat.
Usual NoroVirus or other stomach bugs or parasites. Sometimes your cat, much like other pets or humans, can simply have come across a virus or parasite and have a stomach bug and just be facing a short-term or temporary sickness.
What To Look For in Cat Foods for Sensitive Stomachs
As you nurse your wounds from your latest attack from your loving Mr. Wigglesworth and the bites and scratches he gave you just from trying to clean the vomit off of his face, it may not surprise you that you aren't sure what you should be looking for when trying to find better food for the sensitive stomach that your cat has.
What makes sensitive stomach cat food the best option for cats with tummy issues? Should you purchase hypoallergenic cat food?
One major thing to remember when looking for cat food that is going to be high-quality cat food for a cat with a sensitive stomach is being aware of animal by-products and other protein sources.
Although an animal protein listed first on the ingredients list is always what you want to see, chicken meal, meat meal, corn gluten meal and meat or chicken by-products may also be included in the formula as a source of protein. Corn gluten meal in particular is very easy to digest, making it a good choice in dry food.
Animal by-products can include less of the animal protein needed and consist of ingredients like chicken bones. It's debatable, though, as some cat foods use meat by-products that are often quite good sources of protein — including organ meat that pet parents might not like the sound of, but that cats love.
Sensitive stomach cat foods should have minimal ingredients. Not only should there be minimal ingredients but they should be natural, high quality, naturally fed, or sourced proteins or organic grains/greens. Since these types of ingredients are frequently human-grade quality ingredients, they are often prepared in FDA-approved kitchens and cooking facilities.
All of these specialty choices for the ingredients contribute to less contamination, and better quality eating, which can improve the quality of life for your pet.
Making sure the foods include all the essential nutrition needed for your cat is extremely important to ensure your cat's diet is balanced.
What are the Benefits of Sensitive Stomach Cat Food?
If you happen to have a cat in your life that needs cat food for sensitive stomach issues that you and your whiskered friend have to treat on a daily basis, then just having that piece of mind is worth it to find a sensitive stomach cat food that could offer relief.
There are other benefits that can improve overall health for your cat when choosing sensitive stomach cat food. Here are some that might surprise you.
Less odor in the litter box
Sensitive stomachs or food allergies might mean chronic diarrhea. This means chronic litter cleaning more often than you probably would like to. Finding sensitive stomach cat foods that work can result in less stinky stools and less upset tummies so that's a win-win for both owner and cat.
High protein is achieved with sensitive stomach cat food
Cat food that is specifically catered to diets for sensitive stomachs is going to be minimal in ingredients and extremely high in protein which is great for cats. Adult cats especially require a high protein diet, even more so than canine and human adults.
Even though a diet may be designed to help assist a sensitive stomach, it can yield excellent overall health benefits.
Help with weight maintenance
Much like the protein levels, a sensitive stomach diet cat food is one that is limited in ingredients and doesn't include additives, preservatives, and unnecessary ingredients that don't promote a healthy balanced diet.
Having a cat that is needing to drop necessary weight for a healthier lifestyle or for necessary health reasons is easier to adhere to and maintain a healthier weight with a sensitive stomach diet.
Reduces other gastrointestinal symptoms (vomiting, diarrhea)
Switching over to cat food that helps a sensitive stomach or removes ingredients that cause symptoms in your cat like vomiting or diarrhea would be such a relief as a pet parent. There are many moments when your pet is sick and it feels like you are just helpless because it is not much you feel like you can help with.
If switching over to cat food can eliminate symptoms or even just reduce them, making your pet have a better quality of life with a limited ingredient diet, that is worth it.
Conclusion
Sometimes having more information is just what is needed to take the next step to a healthier lifestyle, including with your pets. Garfield preferred lasagna and although our team and veterinarians, in general, tend to advise against feeding your cats lasagna, we do love our pets enough to make sure they have the best food, even if that means food for a sensitive stomach.
Summary of Top Cat Foods for Sensitive Stomach
1. Made by Nacho – Overall Best Cat Food for Sensitive Stomachs
2. Smalls – Best Human-Grade Cat Food for Sensitive Stomach Problems
3. Blue Buffalo – Best Cat Food for Digestive Health
4. Purina Pro Plan – Most Widely-Available Cat Food for Sensitive Stomachs
5. Halo Holistic – High Protein Sensitive Dry Cat Food
This is a paid partnership between Originated Media and Philadelphia Magazine
---