Do You Judge Your Beer By Its Cover? Maybe You Should Start
Creativity doesn't have to start with paint and an easel to create a masterpiece. Sometimes that creative spark hits you when you least expect it. At least, that's what happened to Blue Moon brewmaster Keith Villa.
A simple trip to Belgium, a sip of wit beer, a slice of bright orange and Villa's imagination brewed one of the most widely recognized beer glasses nationwide. For Blue Moon, beer is their easel. Each seasonal brew is inspired by the people they clink glasses with, the cities they're on taps and the adventures a night out with friends will take you on. Beer, in a sense, is like free form art.
So, it makes sense that a company that prides itself on being "artfully crafted" would come to a city like Philadelphia. From the Avenue of the Arts to the home of the oldest art museum in the country, the Philadelphia art scene never stops creating. That's why Blue Moon partners with The Barnes Foundation to host "Young Professionals Night" and keep their brew on tap for fellow art lovers year-round.
Once a month "Contemporaries" of The Barnes Foundation, young patrons and art enthusiasts, host Young Professional Nights as well as lectures, receptions and social events throughout the year. Their aim? To embrace creativity and foster the arts in Philadelphia.
The same can be said for Blue Moon's most recent upgrade to its labeling. In April, the beer company redesigned its logo to put its iconic slice of creativity front and center. Note: The bright orange slice.
The company also opened its label design to artists around the country to submit their work and showcased their inspirations on special edition labels. While these paintings might not be hanging on a gallery wall (yet), their placement on the center of a beer glass shows art can–and should–live in everything we do.
Check out the incredible artwork below.
Blue Moon
Blue Moon
Blue Moon
Blue Moon
Blue Moon
Artwork by Erin Lux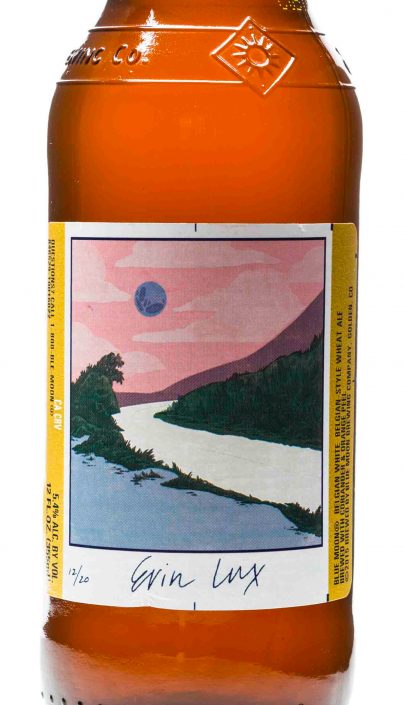 For more on Blue Moon's artfully-crafted mission visit them online.
This is a paid partnership between Blue Moon and Philadelphia Magazine's City/Studio
---