Around the World in 30 Gifts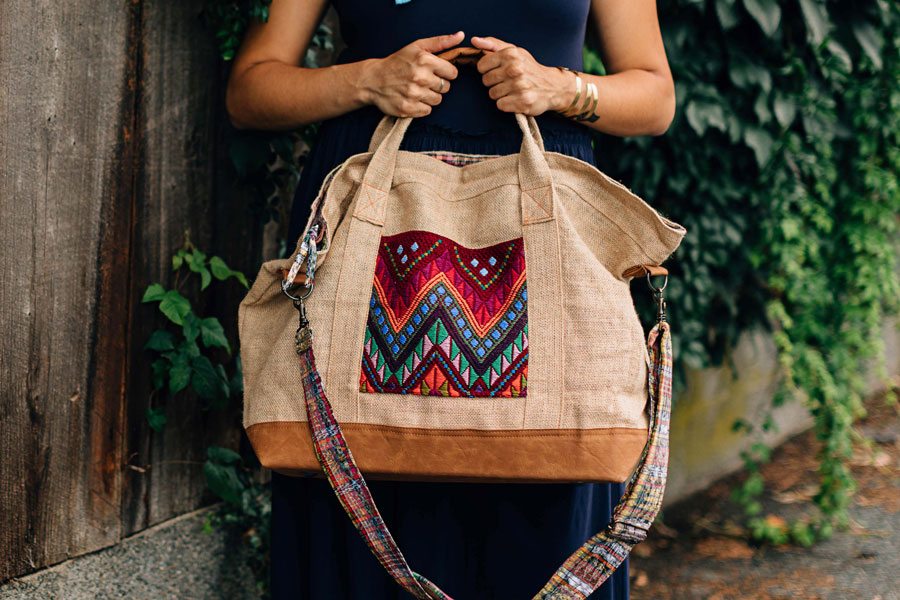 Love the idea of gifting a never-before-seen and unique gift but don't have the time or budget to travel? Fortunately, you can uncover some of the most one-of-a-kind treasures from all over the globe without ever leaving Philly at Ten Thousand Villages. The online and brick and mortar retailer work with makers from across the world and markets their extraordinary art to the Western world—while supporting these groups efforts to improve women's rights, social welfare, healthcare and maintain cultural tradition.
Nix the fast fashion and mass-produced memorabilia this year and give ethically made gifts you'll feel good about giving. Here are 30 wow-worthy finds (from near and far) and their awe-inspiring backstories:
Cambodia
By repurposing brass, originally used in bombs and bullets into powerful statement pieces, the Rajana Association
of Cambodia artisans have transformed reminders of a dark past into wearable pieces of hope. Whether you want to encourage resilience, courage and following your passions and dreams, or share a token of love, any of these symbolic keepsakes will do the trick. Profits earned from these unique jewels goes into educating the next generation of Cambodians in their traditional and cultural craft-making skills, as well as accounting, marketing and English.
Chile
Give the gift of good luck with a handmade terracotta three-legged pig that's a whimsical symbol of good fortune in Chile. The artisans mold these trinkets, representing love and good fortune, from clay dug from mountainside villages.
Guatemala
Add a little color to your loved one's life by gifting them a vibrant weekender or purse. Traditional handwoven huipils have been repurposed and added to these modern designs. They've transformed handwoven skirts into signature pieces like dog toys, coin purses, and yoga bags. Each of these truly unique pieces has been crafted by a group of widows working to support their families on one income.
India
These bold and beautiful handmade items, showcasing the centuries-old Indian art form of block printing, will wow any member of your family and friends. Gift napkins or a tablecloth for the hostess with the mostest, a luxe cotton robe for your mother-in-law and a block print journal for the teen who has it all. For the men in your life, consider a one-of-a-kind piece of artwork. Artisans in Moradabad transform ordinary bike chains into extraordinary pieces of art. There's a one-of-a-kind wine rack, or industrial inspired bookends and clocks. They're perfect for dads, brothers, or bosses and support Indian women's effort to become for economically self-sufficiency.
Bangladesh
Using sustainably-sourced materials and traditional weaving skills, female artisans from Bangladesh create beautiful and functional baskets. Gift your
closest girlfriends a sturdy and stylish tote or a simple decorative planter made from woven kaisa grass taken from the riverbanks during monsoon season. Using recycled materials from saris, plastic, hemp and terra cotta, the artisans have also lovingly created colorful baby blankets, nativity scenes and cozy cat habitats. There's something for everyone on your list from newborn babies to your furry friends and all profits provide artisans with education sponsorship, health care, savings programs and early marriage prevention support for their adolescent daughters.
Nepal
Handmade Nepalese blanket scarves and hats will warm way more than heads and necks, the story of the artisans who made them will surely warm a few hearts. For starters—these winter-weather pieces give opportunities to the women of Nepal to maintain a job and improve their socioeconomic status.
Vietnam
Stuck on what to get your hard-to-buy-for boss or colleagues? A handmade pour-over coffee maker and modern ceramic or traditional hand-painted mugs will totally make their mornings. The mugs provide scholarship money to artisans and sustain their efforts to preserve cultural art practices.
Uganda
Anyone on your list will appreciate a handwoven basket from Ugandan artisans. By weaving fibers of palm leaves, raffia and long strips of banana leaf stems, they craft everything from candy cane-inspired to bold color blocked creations—perfect statement-making pieces to showcase on your table or wall. Plus, the proceeds go to more than 80 independent women's groups located throughout Uganda working to improve health care, social welfare, lobbying and advocacy, microfinance and education.
Shop with intention this holiday season at Ten Thousand Villages. Don't miss their bag sale at all Philadelphia area locations and online on November 10th—all merchandise is 25% off.
This is a paid partnership between Ten Thousand Villages and Philadelphia Magazine
---