10 Meaningful Gifts Mom Will Love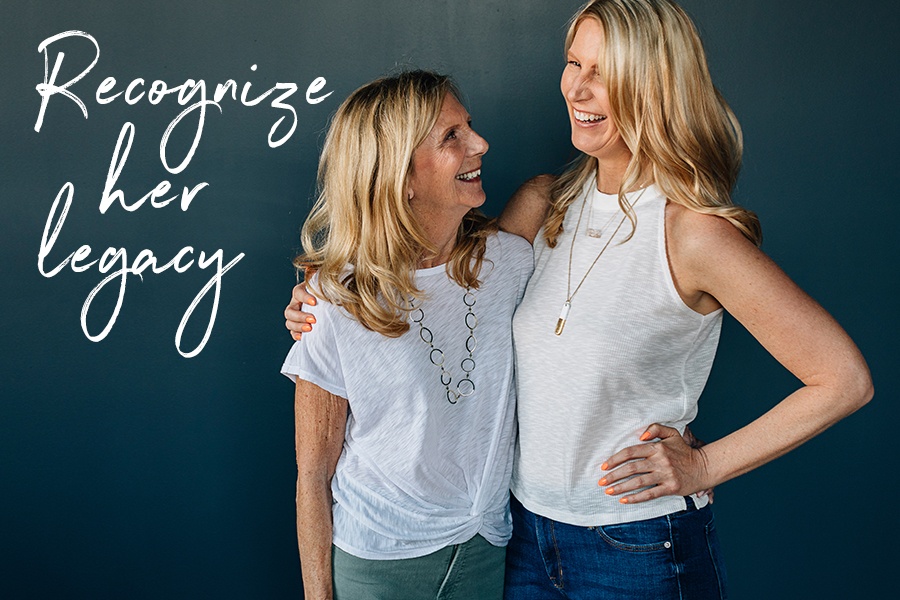 This Mother's Day, step up your gift-giving game with something special. Ten Thousand Villages has provided ethically sourced, handmade gifts since 1946. Partnering with artisan groups to create jobs in economically challenged communities, the organization helps break an intergenerational cycle of poverty by helping women achieve financial independence.
Celebrate Mom and female empowerment with 10 unforgettable gifts she'll cherish forever.
This gorgeous brass and bone pair offers a play on positive and negative space with gold luster and an off-white hue. These earrings were handcrafted in India by CFM Market Linkages, a new group to the world of fair trade that is already impacting the local community.
A classic staple for Mom's spring wardrobe, this gray scarf can add a touch of class to any casual weekend outfit. The scarf is handcrafted by makers from the Craft Resource Center (CRC), a group seeking to develop economic self-sufficiency through traditional handcrafting skills.
Exotic and colorful, this sari is eco-friendly! Made from recycled cotton sari fabric with running kantha stitches, the kimono-inspired top is also handcrafted in India by CRC Exports.
Wear one piece, five different ways. This necklace is made of sari fabric-wrapped beads with a velvet extender, brass snaps and a metal ring. Wear the long strand looped once or twice around your neck, several times around your wrist, in different combinations with the extender, or wear the extender alone as a bracelet. This multifaceted piece was created by makers of the TARA Projects, a group that provides access to sustainable employment, as well as medical insurance, interest-free loans and advances, a savings program and skills training.
Winter is over, but you can enjoy the tranquil peace of a snow day all year long with this mug and tea strainer set. A project from Mai Vietnamese Handicrafts, a nonprofit organization that provides income generation and marketing services to local artists, the ceramic set was created in the pottery-centric village of Bat Trang. (And since she's bound to ask: yes, Mom, it's dishwasher AND microwave-safe!)
This delicate, hand-embroidered napkin is the perfect spring accent for your Mother's Day brunch or breakfast in bed tray for Mom. It's handcrafted by women at St. Mary's Mahila Shikshan Kendra, a group founded by the Dominican Sisters following the closure of textile mills in the area of Ahmedabad to provide local women with employment. The talented team utilizes mirrorwork embroidery in the tradition of the 1,000-year-old craft of the Kathiawadis.
Another eco-friendly addition to the list, this apron is handcrafted from upcycled cotton sari fabric that has been diverted from a landfill. Reversible with a handy pocket on each side, the apron comes from the Bangladesh group of Prokritee, an agency providing employment and marketing assistance to local handicraft organizations in need. Just like Mom, these gifts are one-of-a-kind; colors and patterns vary in each apron.
For mothers with a green thumb, this whitewashed terracotta planter and saucer goes with any home décor and comes in three sizes. Ceramic masters from Corr-The Jute Works in Dhaka, Bangladesh showcase their skills. The nonprofit organization works with rural women to provide job training and promote gender equality.
Sourced locally in Ghana, this hand-processed shea butter is an excellent moisturizer with anti-inflammatory properties. In addition to the harvesting and production of the butter, the ceramic container and decorative recycled glass beads are also handmade by fairly paid artisans. The Ele Agbe Company crafts ornamental beads, original jewelry designs and handmade home décor; they added shea butter cosmetics to the product line in 1999 to provide additional employment options for rural Ghanian women.
This woven palm leaf fiber shopping basket with sewn leather straps can match any outfit and carry everything Mom needs on the go. Made in Bangladesh by Rishilpi Handicrafts Limited, the woven medallions add a decorative touch to the sturdy bag. Founded in 1977 by two Italian missionaries, Rishilpi employs more than 1,580 artisans who otherwise wouldn't have access to safe and dignified work.
Now through May 12, buy one get one 50 percent off on jewelry and scarves (not valid with any other offers). Shop the newest store in Bryn Mawr, opening on Wednesday, May 8, just in time for Mother's Day. Explore their unique product collaborations, find the perfect gift and wrap it up with their DIY eco-wrapping station.
Give her a gift with meaning. When you shop with Ten Thousand Villages, you amplify the voices of women across the world, making an impact in their communities. Explore your local store or shop online.
This is a paid partnership between Ten Thousand Villages and Philadelphia Magazine's City/Studio
---