Living in Mt. Airy: A Neighborhood Guide
The neighborhood that built its reputation on integration remains one of the city's most welcoming.
---
Sign up for our weekly home and property newsletter, featuring homes for sale, neighborhood happenings, and more.
Mount Airy is the middle sibling of a trio of Northwest Philly neighborhoods, sitting between Germantown and Chestnut Hill in both elevation and status. It remains one of the city's most racially and socioeconomically diverse areas, with a multicultural vibe and homes on its East and West sides ranging from $250,000 to $1.5 million. Brooke Willmes of Space & Company says she's seen many urbanites move here recently in search of "more trees, more house and more quiet."
Back in Colonial times, Mt. Airy was Philadelphia's original summer resort. In fact, the neighborhood takes its name from its very first "vacation home": Mount Airy, the summer estate built by prominent local merchant and provincial Chief Justice William Allen, who gave it that name because of the refreshing breezes that blew past his hilltop home. (Today the Lutheran Theological Seminary calls the site of Mount Airy home.)
Allen's summer retreat soon had company as other Philadelphians built summer homes in the area. Two villages eventually grew in the valleys above and below Allen's hill: Cresheim and Beggarstown, the original settlements of what is now Mt. Airy.
The community earned a special place in American history in the 1950s. As real estate agents both here and elsewhere reaped profits from playing to white fears of blacks moving into their neighborhoods, the agents and residents of Mt. Airy made the conscious decision that blockbusting and panic selling would be actively discouraged and that they would welcome their new black neighbors. To this day, African-American and white families alike choose Mt. Airy because of its reputation for integration.
Mt. Airyites also pride themselves for their tolerance and acceptance of people from all walks of life. From aging 1960s hippies to lefty vegan radicals to young professionals to LGBT families to service workers, and maybe even the occasional conservative, you'll find someone matching that description living in Mt. Airy.
---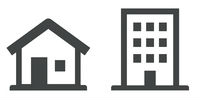 Mt. Airy Housing Prices at a Glance
Median single-family home value: $273,700
Median monthly rent: $1,349 (East Mt. Airy) / $1,662 (West Mt. Airy)
---
House Hunting in Mt. Airy
What You Can Get for … $1,000,000+
This dramatic manse sits on 2.73 acres and comes complete with high ceilings, marble flooring, and a wood-burning fireplace. $1,495,000; 7 BR, 4/3 BA, 7,376 sq. ft. BHHS Fox & Roach Realtors.
What You Can Get for … $800,000+
Originally built by local developer Ashton Tourison Jr., this picturesque 1920s colonial has since been updated with 21st-century features. $869,000; 5 BR, 3/2 BA, 5,582 sq. ft. Long & Foster Real Estate.
What You Can Get for … $300,000+
It's all about location with this remodeled townhouse—it's situated in the heart of Mount Airy Village, near shops and restaurants. $339,900; 3 BR, 2/1 BA, 2,142 sq. ft. RE/MAX Action Realty-Horsham.
---

Public Transportation in Mt. Airy
SEPTA Regional Rail: Washington Lane, Stenton, Sedgwick and Mount Airy stations, Chestnut Hill East Line; Upsal, Carpenter and Allen Lane stations, Chestnut Hill West Line
SEPTA Bus Routes: 18, on Chew Avenue, Phil-Ellena Street and Vernon Road; 23, on Germantown Avenue; 53, on Wayne Avenue; H, on Greene Street, Johnson Street, Lincoln Drive, McCallum Street and Mt. Pleasant Avenue; L, on Stenton Avenue; XH, on Washington Lane
---
Food Shopping in Mt. Airy
Supermarkets: Acme, 7010 Germantown Ave.
Specialty grocers: The Weavers Way Co-op (559 Carpenter Lane) has been a Mt. Airy institution since its founding in 1972. Emphasizing sustainably produced, organic and fair trade foods, the co-op also supports a number of healthy eating and community agriculture programs in Northwest Philly and environs and has branched out into Chestnut Hill and suburban Ambler as well as helped launch a co-op in Elkins Park.
---
What a Real Estate Agent Says About Mt. Airy
"Mt. Airy is comprised of East and West Mt. Airy, with Germantown Avenue as the divider. What draws people to the area is the urban feel with larger yards, trees, a bit more space in between homes and a lively restaurant and bar scene, most of which caters to families with kids. There is a strong sense of community with a lot of diversity, access to public transportation and community gardens, a co-op grocery store (Weavers Way) and incredible playgrounds. The local elementary school catchments have a great deal of community investment and involvement and are well regarded. It's an easy commute into Center City on the train with several lines that run through it as well as easy access to the suburbs.
"The housing stock in the Airys trends towards eclectic and it's not uncommon for the artists, musicians and makers that live here to gravitate more towards bright colors, handmade, earthy finishes and non-cookie-cutter-type renovations like you'd see regularly in other neighborhoods. It's unlikely that if you fall in love with one home on the market, you'll see another one like it maybe ever.
"The housing market in Mount Airy is seeing incredible gains in recent years. Bidding wars with buyers paying over asking, over appraised value and waiving repairs are incredibly common. It's not uncommon to see a house that shows well and is priced at market value to receive 10-plus offers. In this last housing boom, it was a bit of a late bloomer, so while there have been incredible price gains in the past few years, what you get for your money in Mount Airy is still a bargain compared to many other neighborhoods."
—Brooke L. Willmes, Team Lead, Fresh Quarters Team, Space & Company
---
Local Color
Restaurant Boomlet
Newer establishments have joined longtime favorites like Earth Bread + Brewery (7136 Germantown Avenue) and Malélani Café (6734 Germantown Avenue). In 2016, ex-Four Seasons chef David Jansen launched ritzy spot Jansen (7402 Germantown Avenue). The Breakfast Boutique (6833 Germantown Avenue) opened up this year, joined by vegetarian restaurant and concert venue Milo-the Meeting House (7165 Germantown Avenue). The latest addition: the Mount Airy Tap Room (300 West Mount Pleasant Avenue), in September.
A Strong Artsy Vibe
The area is notable for having two well-known community arts centers. The Allens Lane Art Center (601 West Allens Lane) was founded in 1953 to further the neighborhood's successful effort to prevent white flight and welcome black residents. The younger Mt. Airy Art Garage (6622 Germantown Avenue) is an artist-run workshop and gallery with an activist flavor. The entire neighborhood celebrated the reopening of the Free Library's Lovett Memorial Branch (6945 Germantown Avenue) at the end of 2017 after prolonged renovations. Originally opened in 1887, it now serves as the beloved anchor of a community park that hosts festivals and events all year long.
---
Did You Know?
Mt. Airy is the site of the only Revolutionary War battle to take place within the present-day Philadelphia city limits. The most intense fighting in the 1777 Battle of Germantown* took place on the grounds of Cliveden, the residence of Allen's successor as Chief Justice of Pennsylvania, Benjamin Chew. Every October, the battle is re-enacted on the grounds of Cliveden and Upsala, the house across Germantown Avenue from which American troops launched their assault on British forces holding Cliveden. The house itself (6401 Germantown Ave.) is a historic museum open to the public year-round.
*Mt. Airy is one of three Northwest Philadelphia neighborhoods that together comprised Germantown Township, the second-oldest community in present-day Philadelphia, settled by German religious dissidents in 1683 and extinguished in the consolidation of 1854. The other two are Chestnut Hill and Germantown itself. Because of the way the original Germantown was settled, many "Germantown" institutions now lie in Mt. Airy, and the two neighborhoods blur together at their edges.
---