Living in Spring Garden: A Neighborhood Guide
Once home to the captains of nearby industries, this elegant neighborhood boasts a wide variety of architectural styles.
---
Spring Garden is Philadelphia's original ritzy suburb. The land that now comprises it was where William Penn established an estate called Springettsbury Farm. How this morphed into "Spring Garden" is lost to history, but by the early 1800s, after Penn's estate had been subdivided several times, Philadelphians were calling the area by that name.
Spring Garden began to take its current form around 1850, shortly before it and the rest of Philadelphia County was consolidated with the city to form today's City of Philadelphia. From 1850 to around the time of the Centennial, large Italianate houses went up on the subdivided tracts formed from William Penn's estates as the city street grid extended into the district. From the Centennial onwards to the 1930s, the city's new-money merchants, beer barons and captains of industry remodeled existing houses and built newer, grander ones in the popular styles of the Victorian period. As a result, Spring Garden's northern half, now a city historic district, has one of the widest varieties of 19th-century architectural styles in the city.
Something else it once had was industry. The district's southern half housed the sprawling Baldwin Locomotive Works, the nation's largest builder of locomotives in its heyday, plus a host of firms that thrived off the Baldwin factory's business. All of these have long since disappeared, replaced by newer houses, apartment buildings, civic institutions and cultural treasures like the Barnes Foundation and the Rodin Musuem.
---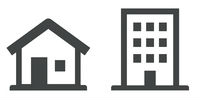 Spring Garden Housing Prices at a Glance
Median single-family house value: $780,500
Median condo/co-op value: $288,400
Median monthly rent: $1,688
---
What You Can Buy in Spring Garden
Extra-Spacious Atrium Home with Photo Studio and Workshop in Converted Livery Stable
2133-35 Mt. Vernon St. | 5 beds, 4 full, 1 half baths, 7,923 square feet,* $1,750,000
*Figures include a 1-bed, 1-bath guest suite and a 1-bed, 1-bath rental apartment included with the property.
Modern Bi-Level Condo with High Ceilings in Converted Meeting House
655-59 N. 16th St. #6 | 2 beds, 1 bath, 1,037 square feet, $359,900
Renovated Condo with Wine Cellar in Classic 1850s Townhouse
2033 Spring Garden St. Apt. 1 | 2 beds, 2 baths, 2,621 square feet, $595,000
---

Public Transportation in Spring Garden
SEPTA Broad Street Line: Spring Garden and Fairmount stations
SEPTA Bus Routes: 2, on 16th and 17th streets; 4 and 16, on Broad Street; 7 and 48, northbound on 22nd Street and southbound on 23rd Street, Pennsylvania Avenue, Hamilton Street and 21st Street; 32, on Ben Franklin Parkway and Pennsylvania Avenue; 33, on 19th and 20th streets; 43, on Spring Garden Street; 49, on 20th and 21st streets
---
Food Shopping in Spring Garden
Supermarkets: Klein's Supermarket, 2401 Pennsylvania Avenue, in the Philadelphian; Whole Foods Market, 22nd Street and Pennsylvania Avenue, in the Dalian
Neighborhood grocers: A&A Food Market, 1700 Walnut St.; Alejo Grocery Store, 1634 Mt. Vernon St.; Museum Market, 1800 Spring Garden St.
Specialty grocers: Tela's Market & Kitchen, 1833 Fairmount Ave., on the Francisville side of the street
---
What a Real Estate Agent Says About Spring Garden
"Spring Garden is perhaps the best location to live in the city. It is a comfortable walk to Center City, the Barnes Museum, the Art Museum or the Franklin Institute. Easy access to the Schuylkill bike paths and Boat House Row make Spring Garden a favored location by those who enjoy outdoor activities.
"In the late 19th century, Spring Garden became the neighborhood of the prosperous brew masters and city merchants like Wanamaker and Stetson. The wealthy Philadelphians built impressive Victorian homes on tree-lined streets with front gardens and carriage houses. Most of these historic residences have been restored to showcase the beautiful architecture of the past. The community is now a rich mixture of generations and the diverse Philadelphia cultures.
"Spring Garden offers a wide spectrum of home choices. There are low-rise and high-rise condominiums ranging from $200,000 to over $900,000 as well as renovated, restored and new townhomes from $500,000 to $2,000,000. The street, size, condition, outdoor space and parking determine the price.
"The Spring Garden area provides some of the best small shops and businesses in the city. Fairmount Hardware provides everything the weekend renovator needs. Coffee shops and neighborhood delis offer pleasant rest stops between errands. Area restaurants offer a spectrum of fine cuisine from the BYOB French bistro to exceptional hamburgers, fries and beer."
—Julie Welker, Coldwell Banker Welker Real Estate
---
Local Color
Cutting across Spring Garden's southwest quarter from Logan Circle to the northwest is the Benjamin Franklin Parkway, the grand boulevard that is the signature achievement of the City Beautiful movement in Philadelphia. The street is also one of the city's most popular sites for street fairs and festivals as well as races like the Philadelphia Marathon, held each fall. Another harbinger of fall on the Parkway is the annual Made in America Festival, which takes over the Parkway from Logan Circle to the Art Museum each Labor Day weekend. The two-day music festival organized by Jay-Z has become at once one of the city's signature events and one of the many banes of the Parkway's neighbors.
---
Did You Know?
No one would call Spring Garden a "college town," but the neighborhood is home to the largest institution of higher education in the Greater Philadelphia region. The Community College of Philadelphia, whose campus incorporates the historic former United States Mint on Spring Garden Street, enrolls more than 34,000 students in associate's degree, certificate, continuing education and career training programs.
Almost all of its students commute to the main campus or satellites in Northeast and West Philadelphia from throughout the city, but lately, the college has sought to attract international students as well. A key piece of that effort is The Hamilton, a new apartment building next to the campus in which the college is a major investor. Developed by Radnor Property Group and managed by Bozzuto Management Company, the Hamilton also welcomes long-term residents who wish to call Spring Garden home.
House price and rent data from Zillow Home Value Index and Zillow Rent Index, February 2019
---
---