Living in Kennett Square: A Neighborhood Guide
Interest in the historic, charming Chester County borough has mushroomed of late.
---
Chances are, when you were young, mushrooms, if your parents used them in cooking, came out of a can and tasted like mush.
Today, they're a tantalizing source of flavor and that "fifth taste" known as umami for foods that go well beyond soup and pizza. And they come in many different varieties too.
What does this have to do with a one-mile-square small town of 6,100 in southern Chester County? This: Half of all the mushrooms grown in America — a million pounds a day — come from farms located around Kennett Square. And like the mushrooms and the farmers who grow them have caught the attention of food lovers and home cooks, Kennett itself has landed on the radar screens of a growing number of visitors and would-be residents drawn by its historic charm.
Actually, many of them are probably drawn to next-door Longwood Gardens first, but Kennett then reels them into town with a charming-as-all-get-out Main Street filled with one-of-a-kind shops and restaurants, all homegrown. The famed botanical garden and the borough both promote packages that encourage visitors to come to Longwood, then hang around a while in Kennett — or vice versa.
Spend an hour or two or three on State Street and it's quite likely that you will want to hang around for a good while longer too — as a resident.
---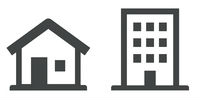 Kennett Square Housing Prices at a Glance
Median single-family house value: $244,700
Median condo/co-op value: N/A
Average monthly rent: $984
---
What You Can Buy in Kennett Square
(including surrounding Kennett Township)
Striking Custom Contemporary House, Designed by its Architect Owner
360 E. Hillendale Rd. | 3 beds, 6 baths (including guest/in-law apartment), 4,758 square feet, $1,099,000
Elegant, Recently Built Townhouse with Roof Deck Fireplace Near the Center of the Borough
612 Magnolia Court | 3 beds, 3 full, 1 half baths, 2,600 square feet, $614,000
Hilltop Hideaway in the Style of Frank Lloyd Wright
928 Creek Rd. | 2 beds, 3 full, 1 half baths, 3,076 square feet, $470,000
---

Public Transportation in Kennett Square
None. The closest SEPTA gets to the borough is Bus Route 111, which ends at Painter's Crossing outside Chadds Ford, nine miles away. The bus takes about an hour to get to 69th Street Terminal, making it a less-than-ideal choice if you want to travel to Center City. SEPTA plans to restore Regional Rail service to Wawa, another seven miles towards Philly on Route 1, sometime in 2020. While the borough itself is highly walkable, several basic services (such as a supermarket) require a car.
---
Food Shopping in Kennett Square
Supermarkets: Giant, 350 Scarlet Rd., just outside the borough to the west; Giant, 830 E. Baltimore Pike, 2.6 miles northeast of the borough center; Walmart Supercenter, 516 School House Rd., 2.6 miles northeast of the borough center
Specialty grocers: The Produce Place, 606 E. Cypress St.; El Nayarit Mexican Food Store, 520 S. Union St.; Talula's Table, 1o2 W. State St.
Convenience store: Wawa, 505 W. Cypress St.
---
What a Real Estate Agent Says About Kennett Square
"Kennett Square has really become a magnet. The borough is very walkable, with lots of charming shops and nice restaurants. We're finding that a lot of people want to live right in the borough, so houses there are selling fast.
"In town, it's mostly older houses that are in walkable locations. A little farther from the borough, there is a wider range of homes. There are some townhouses that you can get for $250,000, but most are $300,000 to $900,000. On the edge of the borough, Bentley Homes is building Walnut Walk, which is very popular.
"The other appeal of Kennett is that there are many parks around that have come into conservancy over the last few years. It's super convenient to both Wilmington and West Chester. There are two school districts serving the area, Unionville-Chadds Ford and Kennett Consolidated, and both are highly regarded. People are even coming into the area and commuting to jobs in King of Prussia, which is a greater distance away."
—Susan Manners, BHHS Fox & Roach Realtors
---
Local Color
They love to throw parades and festivals in Kennett Square. The biggest one is the annual Mushroom Festival, held the first weekend after Labor Day every September. For three days, the town celebrates the crop that put it on the map with a parade down State Street, an antique auto show, a street fair — and mushrooms. Lots of 'em. Local growers show off their bounty at a judging tent, there's a soup and wine tasting, an amateur mushroom cook-off and a fried mushroom eating contest, among the other fun things that celebrate these fungi. There's also a Cinco de Mayo festival, a highlight for the borough's sizable Hispanic population. Information about events throughout the year can be found at the website of Historic Kennett Square, the borough's Main Street management organization.
More Local Color
No Starbucks? No Gap? No kidding: every one of the shops, boutiques and restaurants that line State Street in downtown Kennett Square is independent and locally owned. If you're lucky, you might even run into chef-restaurateur Aimee Olexy at her original community café, grocery and hangout, Talula's Table.
They take their historic pedigree as seriously as they do local ownership, too: the downtown is a National Register historic district, and the borough has strict architectural standards governing new construction downtown. The iconic clock tower on the office building at State and Union, for instance, tops a building built in 1998 that looks like it went up 100 years before that.
---
Did You Know?
Longwood Gardens, Kennett's most popular visitors' attraction, actually traces its origins to 1700. That was when Joshua Peirce, a Quaker farmer, purchased the farmstead outside Kennett Square that eventually became the garden. In the 19th century, it boasted one of the largest and most-visited arboretums in the country. When the Peirce family lost interest in — and eventually ownership of — the arboretum, Pierre S. DuPont purchased it in 1906 to save it from being turned into logs.
You can still walk through woods at Longwood, but the main attraction now is the spectacular botanical gardens DuPont established. A succession of distinguished landscape architects have expanded and improved them over the years since DuPont's death in 1954, and today, more than a million people a year come to see the fountains and floral displays. Some of these people make a day of it by heading to Kennett Square proper for lunch and shopping before or afterwards.
House price data from Zillow Home Value Index, November 2018; average rent data from RentCafé, November 2018
Updated Jan. 4, 10:58 a.m., to correct the spelling of the Japanese word describing the "fifth taste." It had been incorrectly spelled as "unami."
---
---