Hard Hat Tour: 1423 N. Myrtlewood Street
This is how neighborhoods get transformed: one house at a time.
---
Most of the news you read on real estate and development sites like this one focuses on multi-unit projects that often take up the entire side of a block, or even a whole block.
That's one way to effect the transformation of a community. But there's another: One house here, another there, then another over there. Before you know it, builders working in this fashion can reshape an entire neighborhood, especially when their own projects encourage others to invest in the neighborhood as well by either building new or fixing up the homes they already own.
And so it was that we paid a visit to a single solitary brand-new house under construction on the 1400 block of North Myrtlewood Street in Brewerytown.
The block right now is snaggletoothed, to put it mildly. Vacant lots outnumber standing houses. But around the house being built on this block, one can spy other recently built homes as well as existing homes whose owners have spruced them up.
This all-new home just might spur other such efforts. It's one of 12 homes developers Vincent and Kimberly Viney are building on the 1300 and 1400 blocks of Myrtlewood through their company, V2 Properties.
This home is a neotraditional row home designed by architect Danilo Vicencio. The front windows have a touch of the Craftsman about them, though. On the day of our visit, the construction crew was idle, but the interior framing had been completed as the property was being prepared for an April completion date. In both size and features, they will stand out just a little from the existing homes around them, but they will be priced in the mid-$300,000 range, within reach of most middle-income and even some first-time buyers.
For that money, the buyer will get a very nicely outfitted home. The home will be wired for sound, with a five-speaker system in the living area and built-in speakers in the master bedroom and bathroom as well. There will be a wet bar with a beverage fridge in the third-floor master suite, just under the stairs leading to the roof deck, which will also be wired for sound with built-in speakers. The basement will be fully finished with a tile floor. The kitchen will be equipped with stainless steel appliances and under-cabinet lighting, and the home will also have a pre-wired alarm system.
The photos below show the home ready to receive its final fittings: wiring, drywall, stairs, and all the rest. The contractors have indicated where everything should go. That should make things simple for the crew when it comes back to prepare the home for its projected completion next month.
---
1423 Myrtlewood Street, Framed and Suitable for Hanging (Drywall)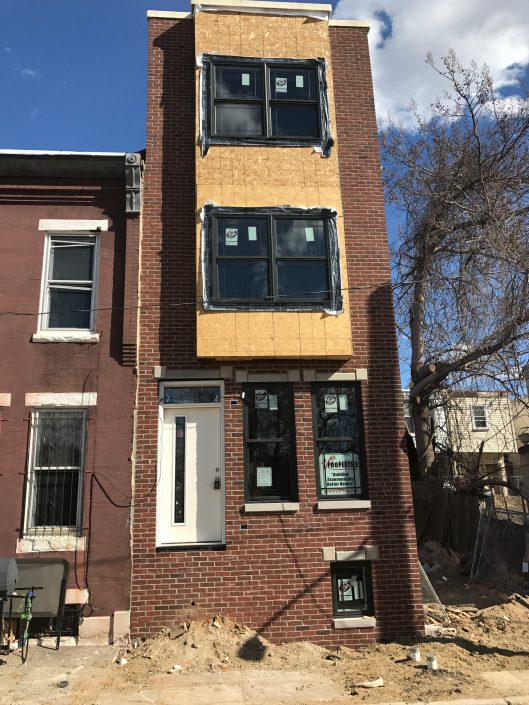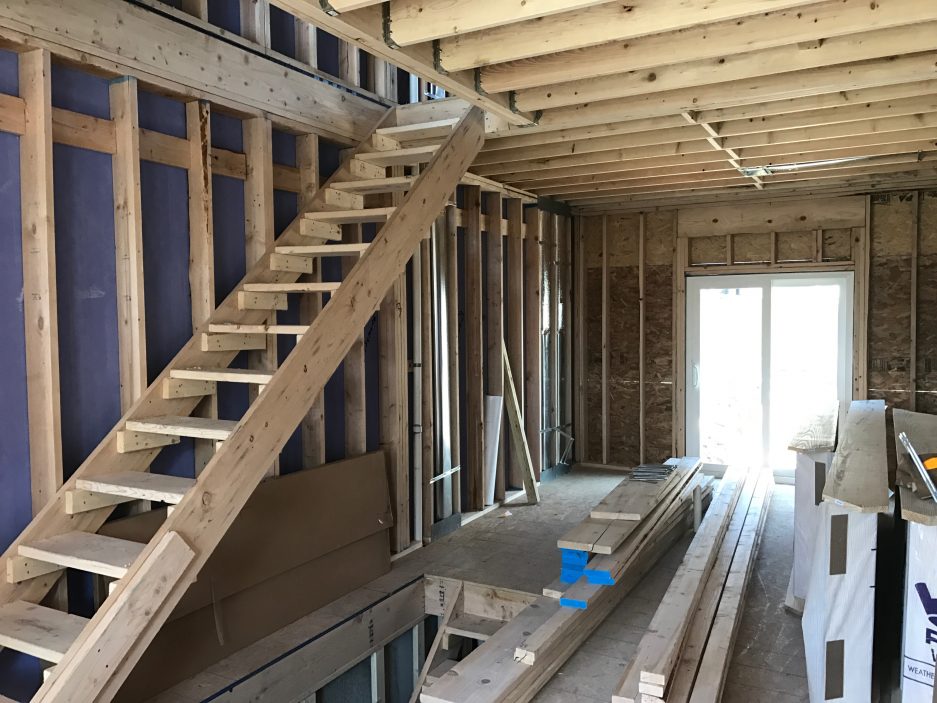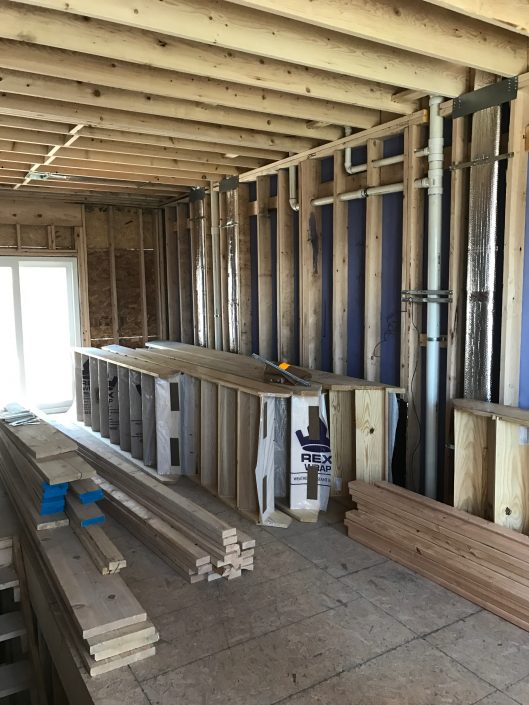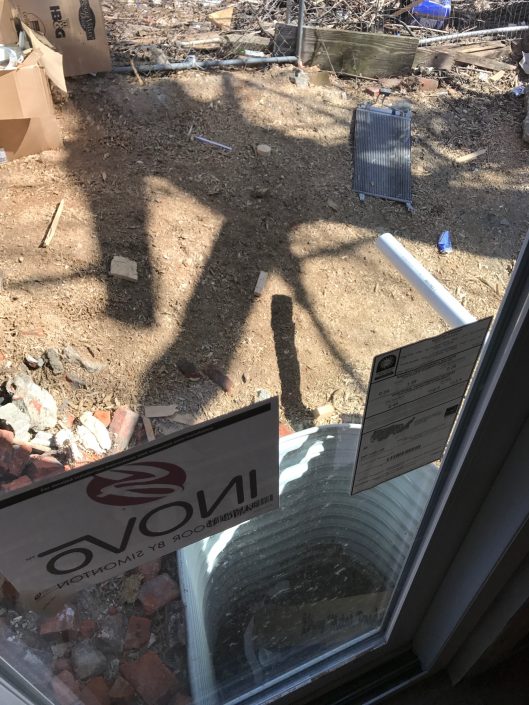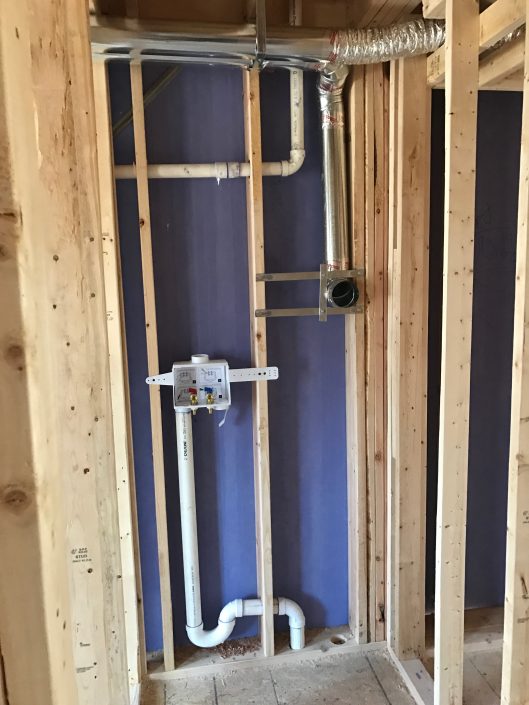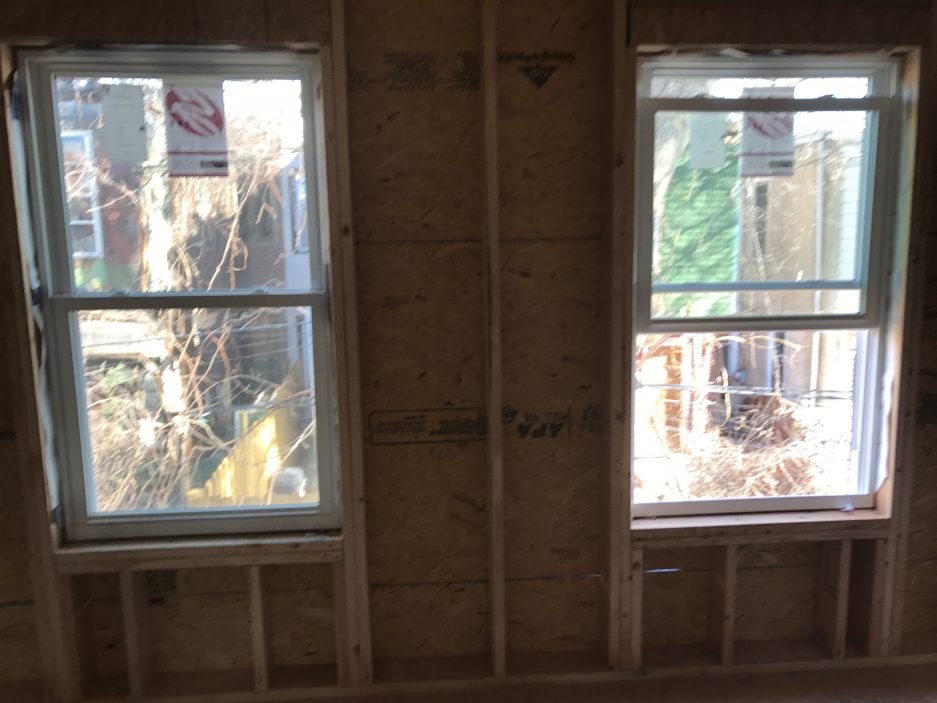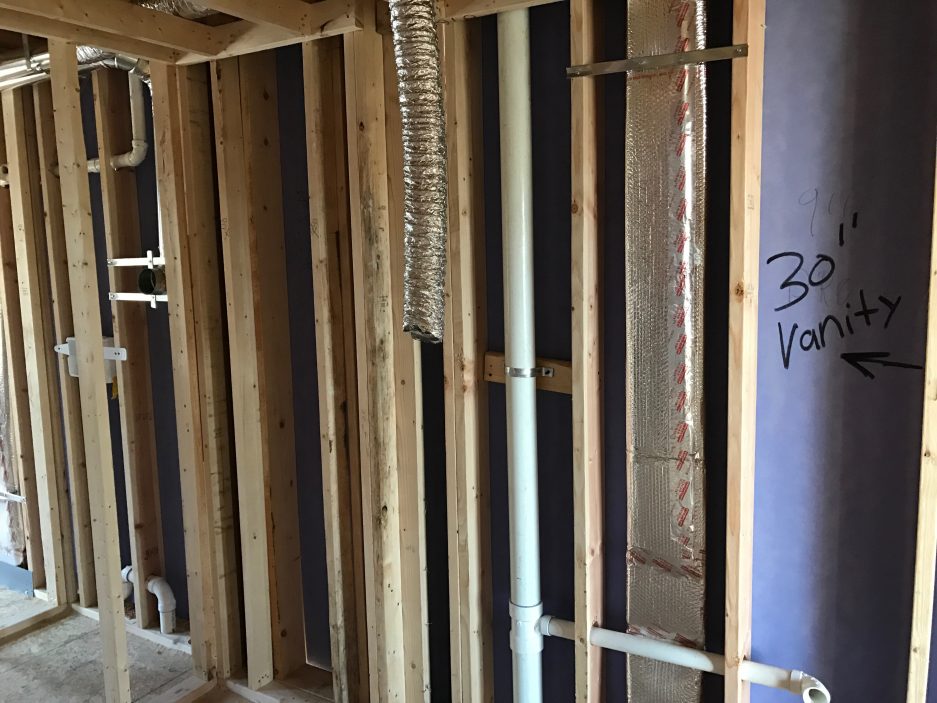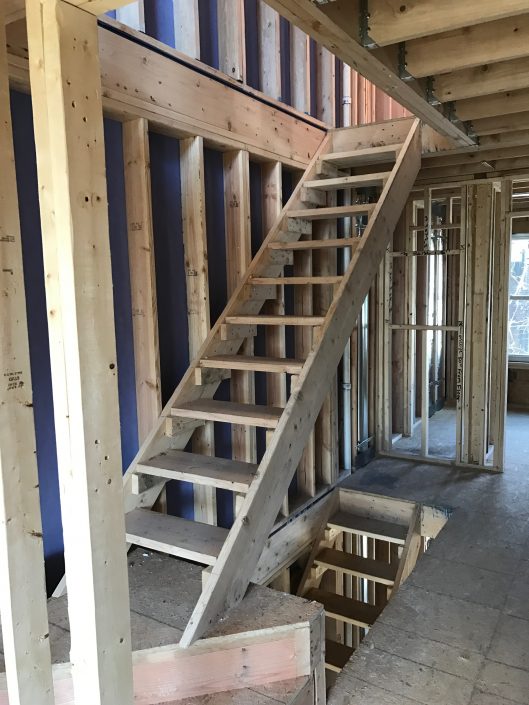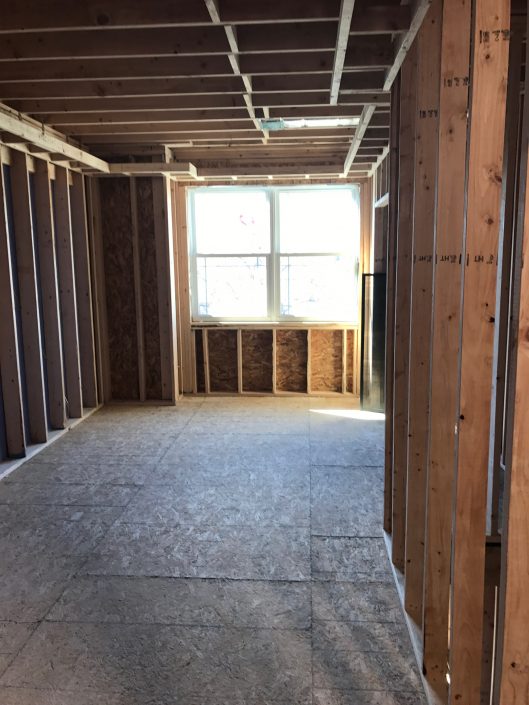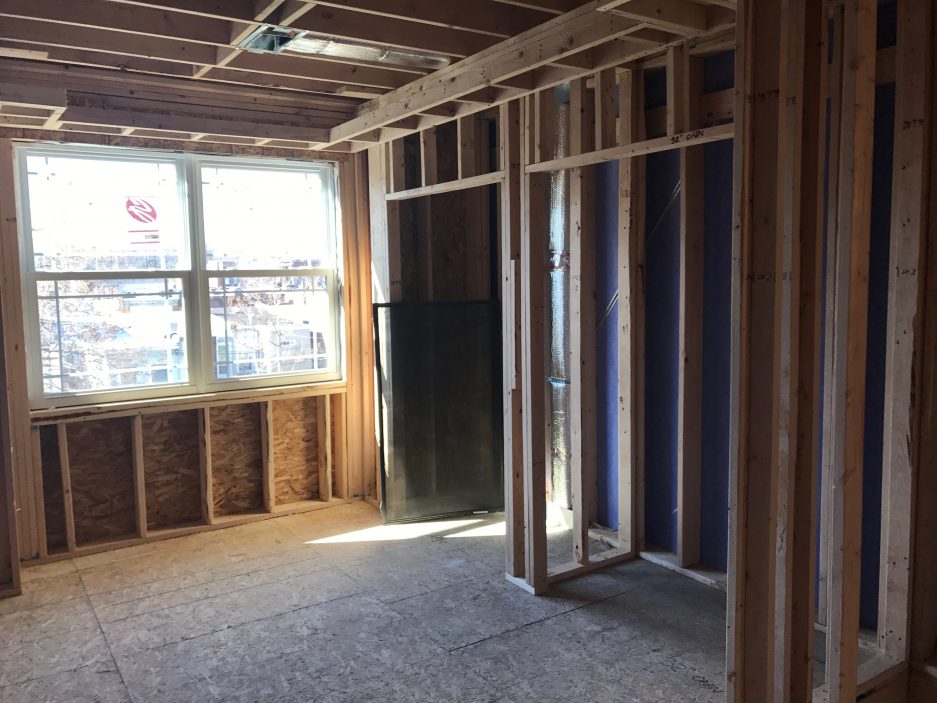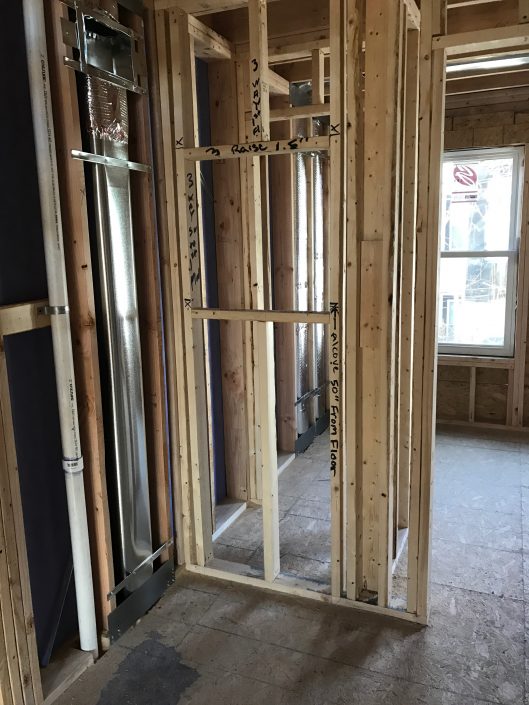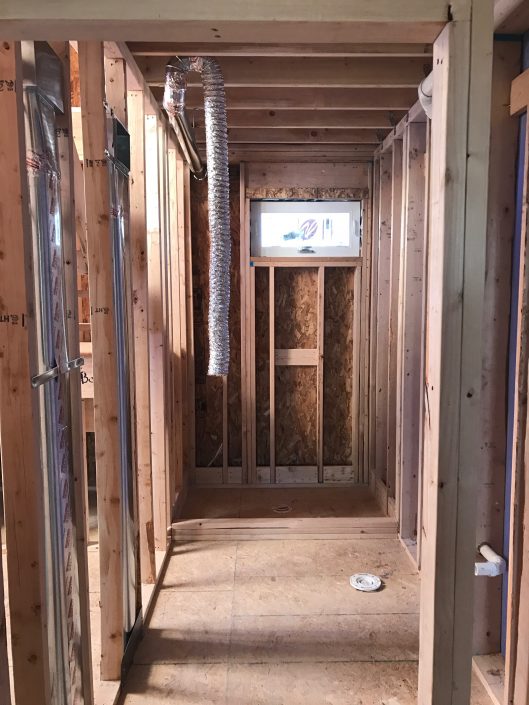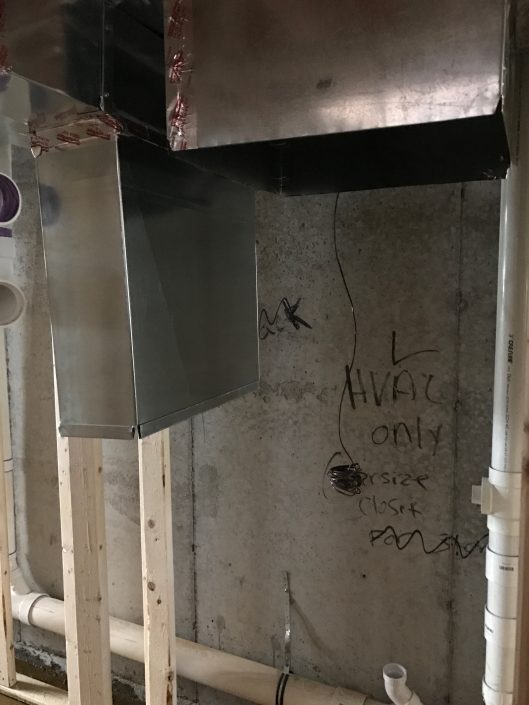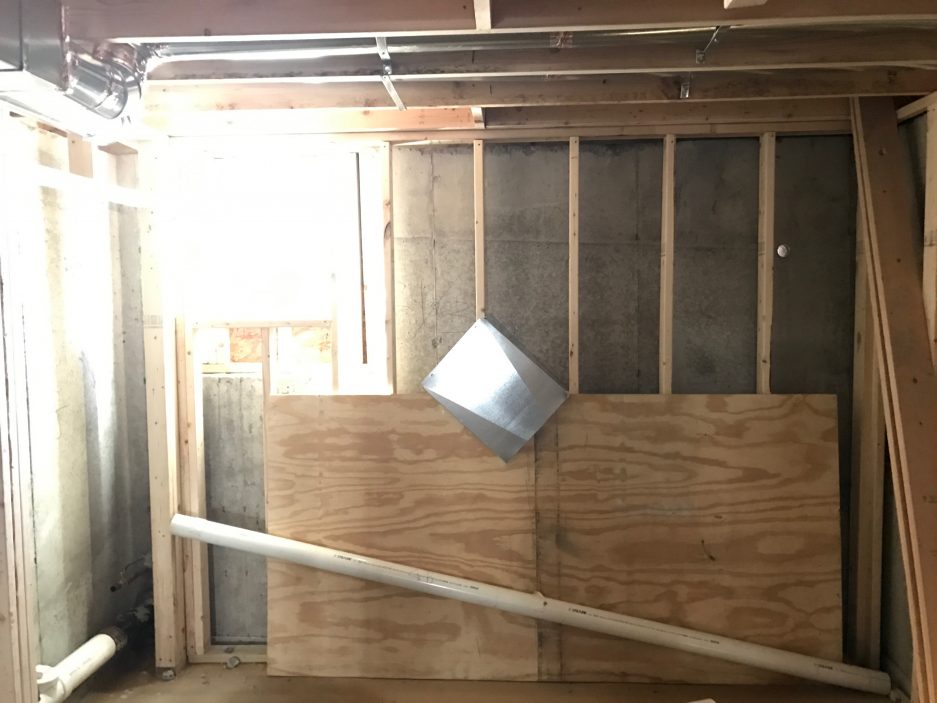 ---
This home is not yet on the market, but another home in this scattered-site development is. 1325 N. Myrtlewood, visible in the view to the south from the roof deck of this home (above), is complete and ready to tour:
1325 N. Myrtlewood St., Philadelphia, Pa. 19121 [Elan Elkaim Group | Philly Living Team | Keller Williams Realty – Center City]
(Elkaim is the agent marketing all the homes in this development. "Property" editor Sandy Smith edited the Philly Living Blog before becoming Home and Real Estate Editor.)
Follow Sandy Smith on Twitter.
---
---