Drexel, Brandywine Take Wraps Off Schuylkill Yards
The university and the developer will build not a ballpark, but a live/work/play innovation neighborhood at 30th Street Station's doorstep.
---
The next big step in the evolution of University City into Philadelphia's "second downtown" began this afternoon inside a tent next to One Drexel Plaza, where Drexel University President John Fry and Brandywine Realty Trust CEO Gerard Sweeney unveiled the master plan for the new mixed-use "innovation neighborhood" they will create together. They also announced its name: Schuylkill Yards.
The development, which will be built in several phases starting in a few months and stretching over 20 years, will contain about 5 to 6 million square feet of space when fully built out. About 55 percent of the total will be office space, with the rest a mix of laboratory space and residential buildings, with street-level retail throughout and a landscaped public park at its heart. The development will sit on 10 acres of land Drexel owns between 30th Street Station and its campus plus another four acres Drexel and Brandywine own between them on the block bounded by 30th, 31st, Market and Chestnut streets.
Brandywine will serve as the master developer for the project and market sites to other developers interested in putting up buildings consistent with the master plan. The Gotham Organization of New York will handle the residential development and Boston-based Longfellow Real Estate Partners will oversee development of the life sciences component; this is the first Philadelphia project for both firms. SHoP Architects, a New York firm whose projects include innovation districts in Miami and Botswana, will handle the district planning and development of architectural standards, and West8, an international firm with offices in Rotterdam, New York and Belgium, will create the public realm and develop landscape standards.
Fry said that Brandywine was a natural choice to spearhead the Schuylkill Yards development. "We looked at a lot of very talented firms, but in the end, Brandywine got three things really well. One was that this was not just a real estate development, that the idea of innovation was first in our minds. The second thing they really got was the emphasis on the public realm, that we wanted to make not only a successful innovation district but one that was a proper gateway to our campus and to University City. The third thing they got was inclusive growth – that when we populate these buildings with firms, we're doing this with people from, for example, the West Philadelphia Promise Zone, who should have significant opportunities to get jobs, to build their work, to buy homes and to benefit from it.
"The other thing that mattered was that they were already deeply invested in this area. [Sweeney's] already put a huge amount of skin in this game with Cira [Centre], which was a very risky development at the time, and now Evo and FMC."
The reasons Sweeney gave for Brandywine wanting to do this project mirrored Fry's reasons for picking his firm. But he also emphasized the location of the site: "The regional transportation hub, the continued growth of the huge economic engines of Drexel and Penn, and their need to push east towards the river, would all create a good connection between what we were doing on the real estate side and what they were doing to grow their campuses and their academic programs."
He also saw the public realm as key to the project's success. "An antiseptic office building that's not connected to anything, that's not what people want anymore," he said. "Our customers want an integrated lifestyle, and public spaces are key in that. Gathering places are key in that. Accessibility to mass transportation is key. High-quality space is key."
Accordingly, the central public space, to be called Drexel Square, is part of the project's first phase. Work on the 1.3-acre park across from 30th Street Station and the transformation of JFK Boulevard west of the station into a pedestrian-friendly promenade will begin later this year, followed by a reimagination of One Drexel Plaza, the former home of The Evening Bulletin, starting in early 2017. The first new building, a 700,000-square-foot office building with street-level retail across JFK Boulevard from Drexel Square, should get under way in late 2017 or early 2018.
Fry sees this project as a major step towards making the Schuylkill a focal point for a greater city center instead of a dividing line between Center City and University City.
Also speaking along with Fry and Sweeney at the formal unveiling ceremony were City Councilwoman Jannie Blackwell, Bruce Katz of the Brookings Metropolitan Policy Center and Jim Bean, vice president of retail at Apple Inc. and a Drexel alumnus.
---
Images of Schuylkill Yards from SHoP Architects and West8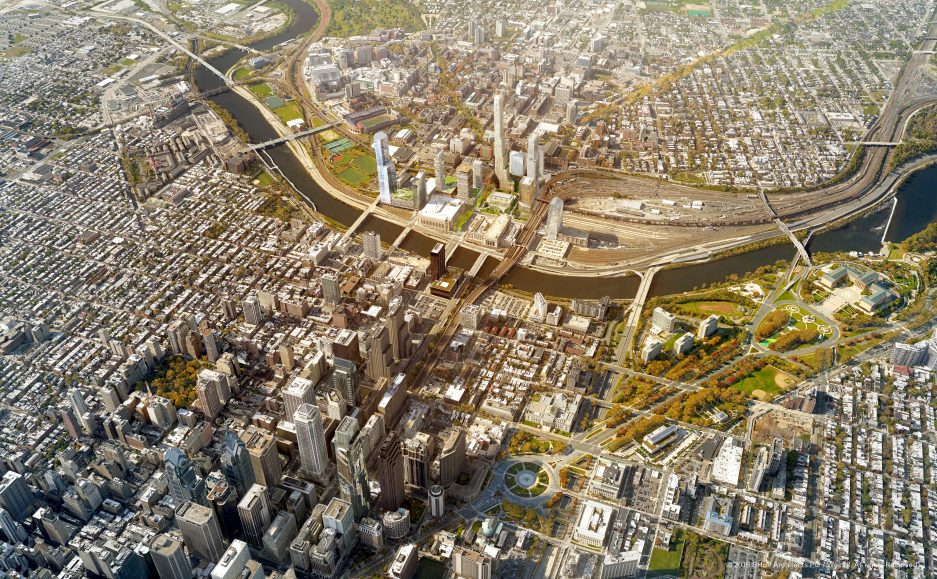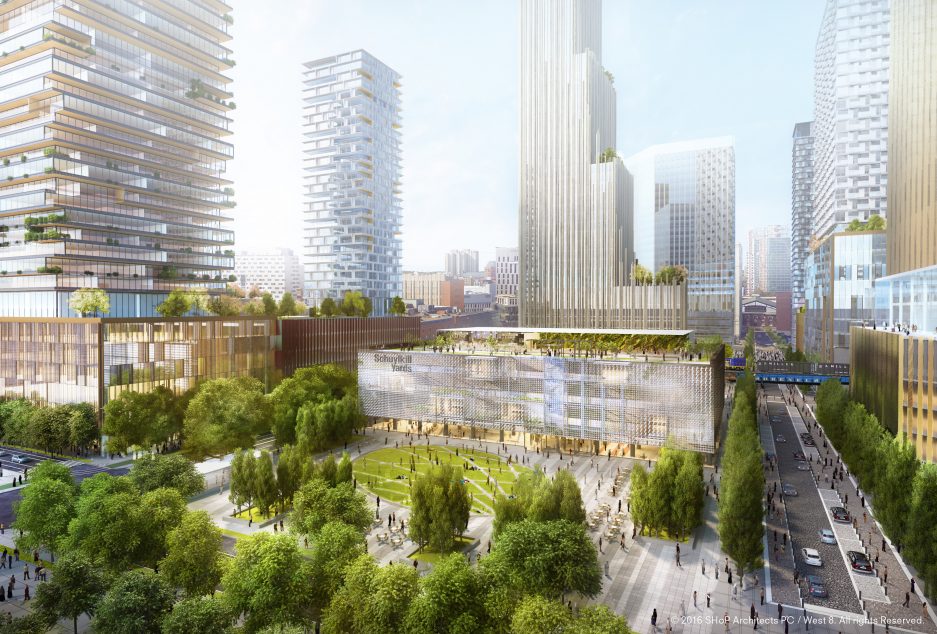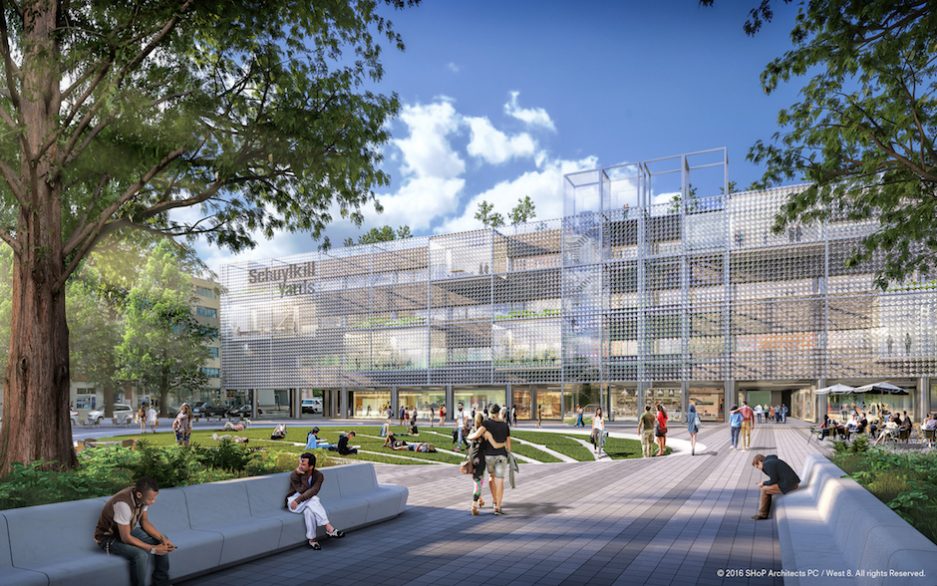 ---
---
---