Blatstein Revises Broad and Washington Proposal
The rooftop village in Provence remains, but one tower disappears. The podium has a less monotonous facade as well. But it's still a big box with a tower on top.
---
Developer Bart Blatstein's proposal for a mixed-use residential/retail megaproject at the northeast corner of Broad and Washington, which Philadelphia Inquirer architecture Inga Saffron bemoaned as a "bloated, auto-centric" big-box behemoth in her column of last Friday, has undergone some cosmetic surgery on its way to the Zoning Board of Adjustment.
The latest iteration of Blatstein's proposed development appears in the form of a Civic Design Review submission, required because of the proposed project's size; at the time Saffron wrote her column, the designs had not been released to the public.
The new design by Cope Linder Architects features only one high-rise tower and a smaller mid-rise building, where his earlier proposal, designed by Beyer, Blinder and Belle, had two similarly-sized towers.
While the packaging has been changed substantially, the contents remain pretty much the same. The proposed 1.8-million-square-foot project would include around 1,000 residential units, a 625-space garage, and roughly 143,000 square feet of retail space, including a space intended for a supermarket. The podium will contain parking on three levels and retail on two; as the site's zoning prohibits above-ground garages, the podium requires a variance. Atop the podium in both the first version and the revised one is an idea that has apparently gotten stuck in Blatstein's brain ever since he visited Provence several years ago:
"Additional commercial/ retail and dining establishments are proposed on the fourth level 'Village' with its main public entrance portal at the NW corner of Washington and 13th street. The 'Village' is contemplated to include graciously-sized, internalized outdoor gathering spaces and more intimate meandering landscaped exterior pathways lined with small retail boutiques and both formal and casual dining establishments, reminiscent of a village in Provence."
Readers may recall this as a distinctive feature of The Provence, his proposed casino-hotel that would have incorporated the former Inquirer building.
The Cope Lindner design has the slight virtue of breaking up the podium's facade and making it appear less monotonous. But it remains a single massive structure that does little to invite pedestrians into it, a drawback given its location at a major intersection and one block away from a Broad Street Line stop.
When Councilman Kenyatta Johnson introduced a bill that would have essentially spot-zoned this site to allow Blatstein to proceed with his intended design last summer, residents of the surrounding Hawthorne community expressed concern over the towers' height. Plan Philly reports that Blatstein has requested a meeting with the local community review board, the Hawthorne Empowerment Coalition, but it's hard to imagine that a single 34-story tower will be more acceptable to the neighbors than two of them were.
If Blatstein's proposal does get the OK from the neighbors and the ZBA, the building will emphasize water and energy efficiency. These initiatives, among others, "will provide a more efficient and healthier environment for the occupants and city." That's nice, but a design that would emphasize walkability in such a prime spot would be even nicer. Maybe Blatstein should move that French village down four floors.
Brett Klein contributed to this article.
Follow Sandy Smith on Twitter.
---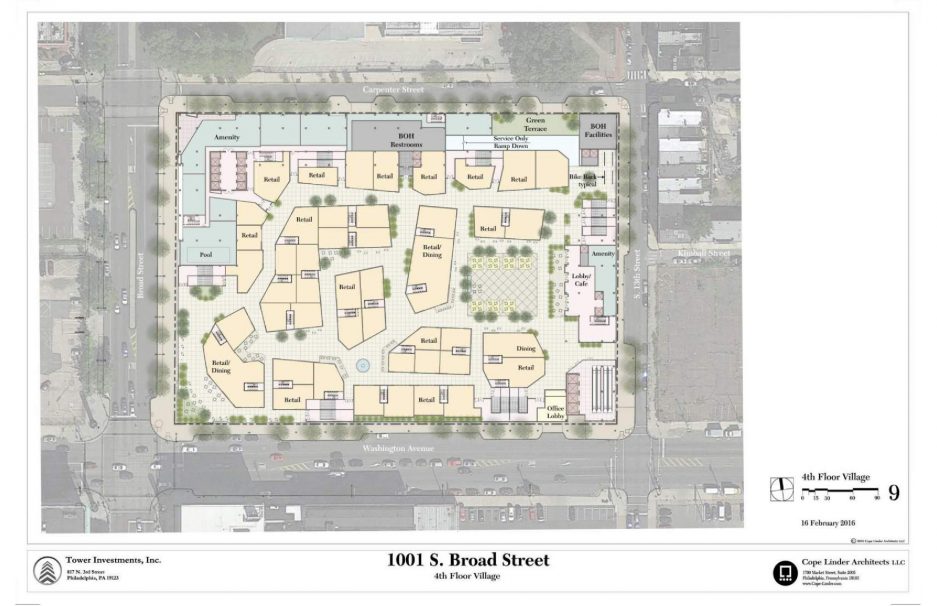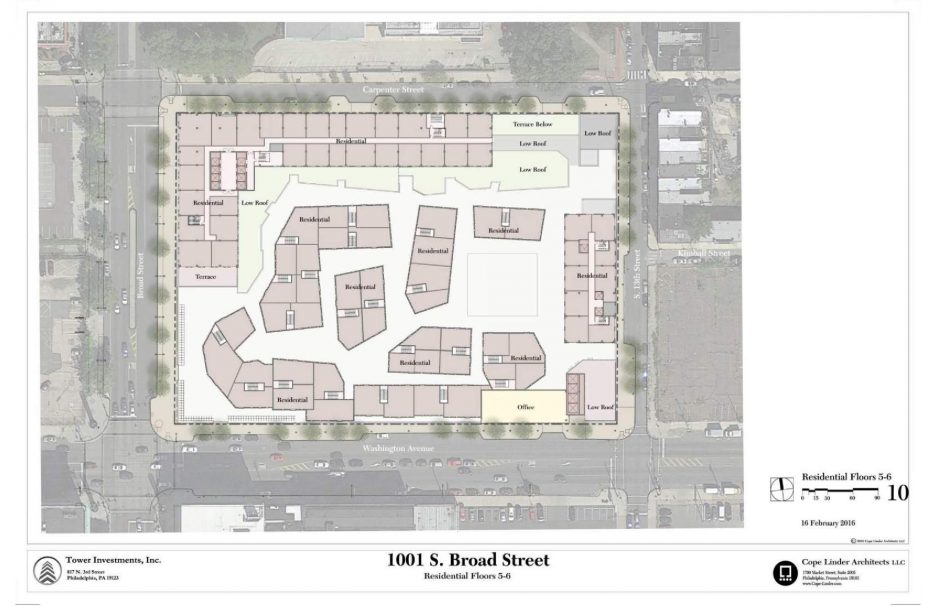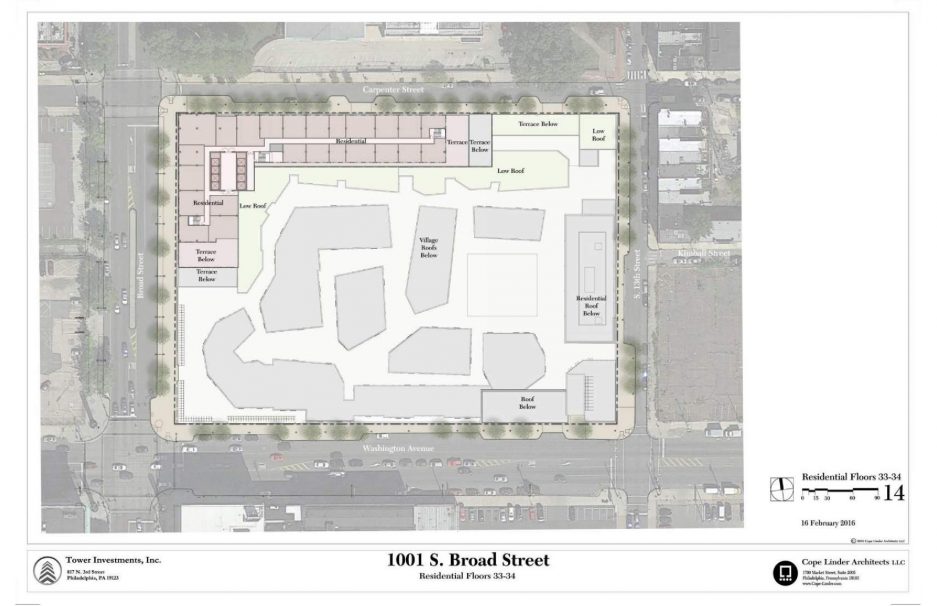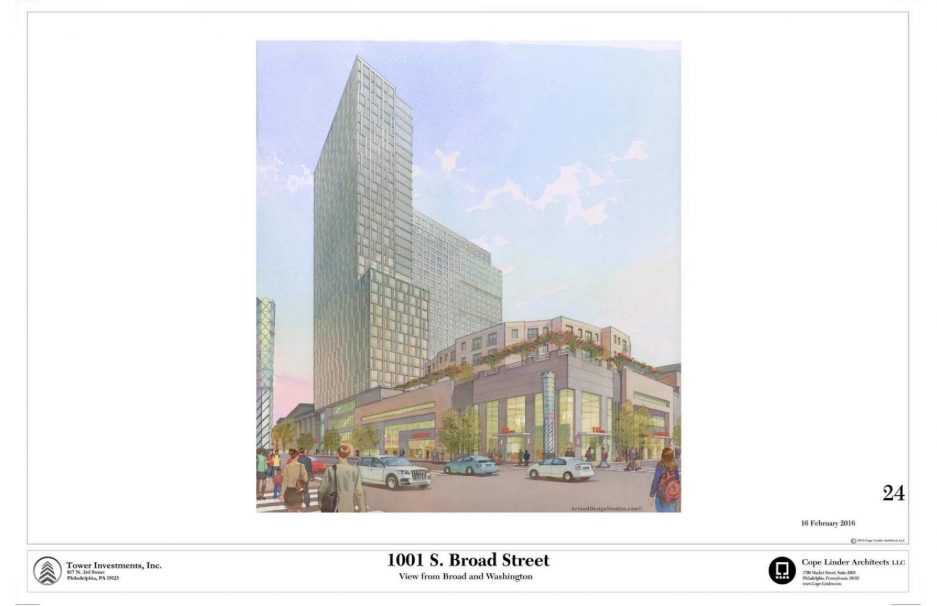 ---
---
---