Excitement Over Possible Fox Chase Lorimer Trail Grows in Northeast Philly
Fox Chase neighbors appeared largely enthusiastic at a recent feasibility study meeting.
---
As it turns out, Bridesburg isn't the only Northeast Philadelphia neighborhood getting to earnestly explore the viability of a new community green space. Further up the Great Northeast, Fox Chase has inched its way a tad closer to getting a long-desired amenity that's been in talks for some time: the Fox Chase Lorimer Trail.
"We want to hear your ideas and we want to make sure this is okay with you before we go for funding," explained Jeannette Brugger, Pedestrian and Bicycle Coordinator at the Mayor's Office of Transportation & Utilities, during a Tuesday feasibility study meeting with Fox Chase residents. Much like the Bridesburg waterfront park project, the proposed FCL trail is still in the wee early stages of concept development, so it isn't necessarily something that's going to "happen next week or even next year."
Should it come to fruition, however, the approximately half-mile trail would be a promising neighborhood amenity indeed. Extending from the start of the defunct Fox Chase-Newtown Line rail-bed (across from the Fox Chase Regional Rail Station) to Lorimer Trail in Montgomery County, which in turn links to the Pennypack Trail, the proposed FCL trail would be part of the Circuit Trail Network, a 750-mile regional trail system that connects Philadelphia to surrounding suburban and rural communities.
Currently, the Circuit Trail Network has about 350 miles built already and 50 miles in progress, said Chris Stanford, an engineering consultant from Michael Baker International, who is working with the feasibility study team. "There's a goal to build another 400 miles on top of it," he added. "This portion of the path could really connect a lot of different pieces for the neighborhood."
Connectivity aside, the proposed trail could boost Fox Chase in other ways too.
"Is it true that home values increase?" asked one resident.
"Believe it or not, there have been numerous studies that have shown that property values go up [about] 5 to 10 percent if you're within a quarter of a mile distance to a trail. So it's something to consider," replied Stanford.
Moreover, the would-be conversion would help banish neighborhood eyesores that are scattered along certain sections of the defunct track, which SEPTA owns: "More walking trails are always good, so it's definitely supported … get rid of that ugly brush junk that's sitting there. It's been there for ages," said resident Barbara Hee.
All in all, the feasibility meeting saw some 90-plus neighbors come out to hear the plan, which they listened to with rapt attention. Among concerns raised were the aforementioned areas of the site with brush or trash detritus, standing water, and the question of privacy, as several residential properties back up to the former rail-bed. These homeowners were reassured that their property and privacy would not be infringed upon, with Parks and Recreation Preservation and Development Specialist Rob Armstrong stating that the city would work closely with those residents during the design phase to ensure this.
The Fox Chase Lorimer Trail Feasibility Study meeting is getting a pretty good turnout. Lots more ppl coming in. pic.twitter.com/myPNSp6HGe

— angelly carrión (@carraujo) November 10, 2015
Loitering teenagers were another matter raised, as one local pointed out that some already hang out in open sections of the site. Monitoring and police rounds were mentioned as solutions, though, again, that issue would be dealt with at a later stage of the project's development.
In any case, Linde Lauff, President of Friends of Pennypack Park, believes the latter worry would be easily assuaged if and when things start moving forward.
"I do know, having been involved in these other kinds of meetings where trails have been along residential properties, people who were at first resistant or fearful that it was going to bring a bad element have found that it does just the opposite. It will bring in more eyes and visibility to the community and, if anything, more safety because there are more people around seeing things. And it does definitely increase property values, so it's a win-win situation," she told Property after the meeting.
George Bezanis, President of the Fox Chase Homeowners Association, expressed a similar sentiment, saying it'd be a great addition to the neighborhood. "The neighbors have been waiting for this for a very long time. Anything to make the city more green, more walkable, less dependent on cars, more sustainable…it's great. It's a win-win situation for the neighborhood," he said after noting the idea had been born out of a neighborhood meeting before making its way to Michael Thompson, a Northeast Philadelphia Planner at the city Planning Commission. "About three or four years ago they came up here to Knowlton Mansion and they [asked] what would we like to see [more of] in Fox Chase. So it's always more pedestrian stuff, more bike-friendly, everything like that, and that was one of the things that popped up. He highlighted it and I guess took it to the right people and they ran with it."
According to Armstrong, the feasibility study began to receive serious consideration a year ago and is being funded with grant money from the Transportation and Community Design Initiative, which is administered by the Delaware Valley Regional Planning Commission.
"I think more and more people are becoming aware of the trail system and whether or not it's used recreationally, the fact that it's an option available to people now is really moving the whole concept forward," Lauff said with regards to the generally positive reaction the project received during the meeting. "The rails to trails concept has been out for a pretty long period of time, [but] when this closed, it was kind of the status quo. [Now], as attitudes now with biking and the rails to trails movement coming into existence in many other parts of the country, it's started taking a hold here too."
Hitches in any project tend to be inevitable, but if the proposed Fox Chase Lorimer Trail plan moves forward without one, the timeline would anticipate a 2018 groundbreaking. Reaching a lease agreement with SEPTA, which would continue to own the property, would ideally happen next spring, with grant writing to raise funds for the project's later stages taking up the rest of 2016, followed by a track removal contract and the design phase in 2017.
"There are [93] people here excited about this trail. I really think this bodes well for this project and we hope to move it forward as quickly as possible," Brugger said later. "We need to pursue money next for final design and construction, so there's still a lot of hurtles to go ahead with, but because of this type of community interest, I think we're in a good place for this project."
Indeed, while 93 signed in, there were plenty more who did not.
To assist in pushing it along, she added that being vocal about it would help. "I encourage folks to continue to be involved and reach out to the project team and their elected officials and tell them that they really want to see this going forward," she said.
If it does, the next meeting would begin to discuss the trail's design.
Below, a selection of slides from the Tuesday presentation, which includes images of the proposed trail and the site's existing conditions.
---
Fox Chase Lorimer Trail Study slides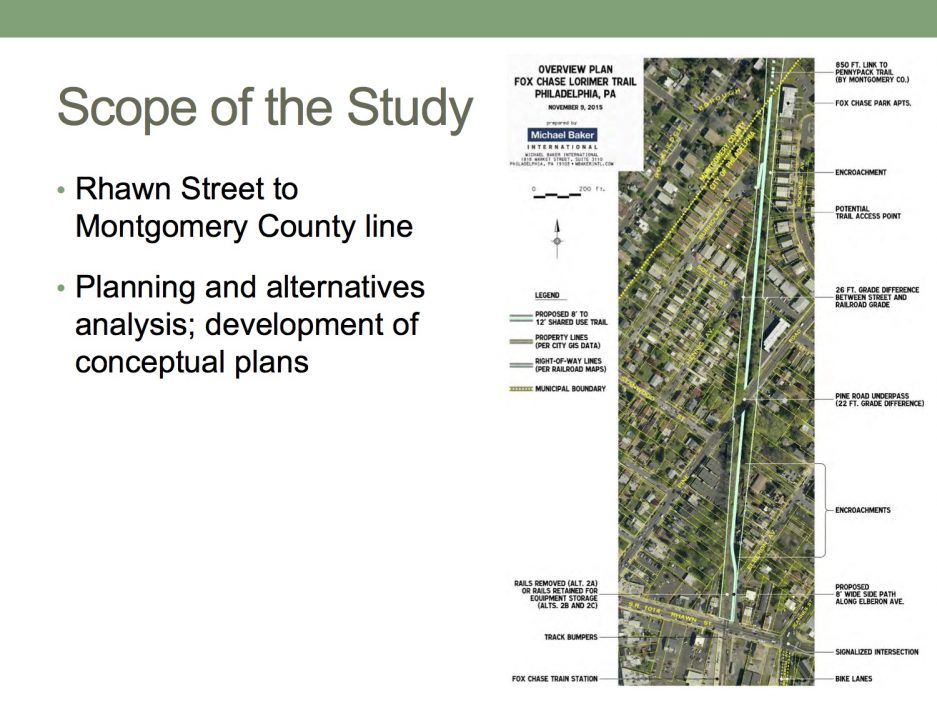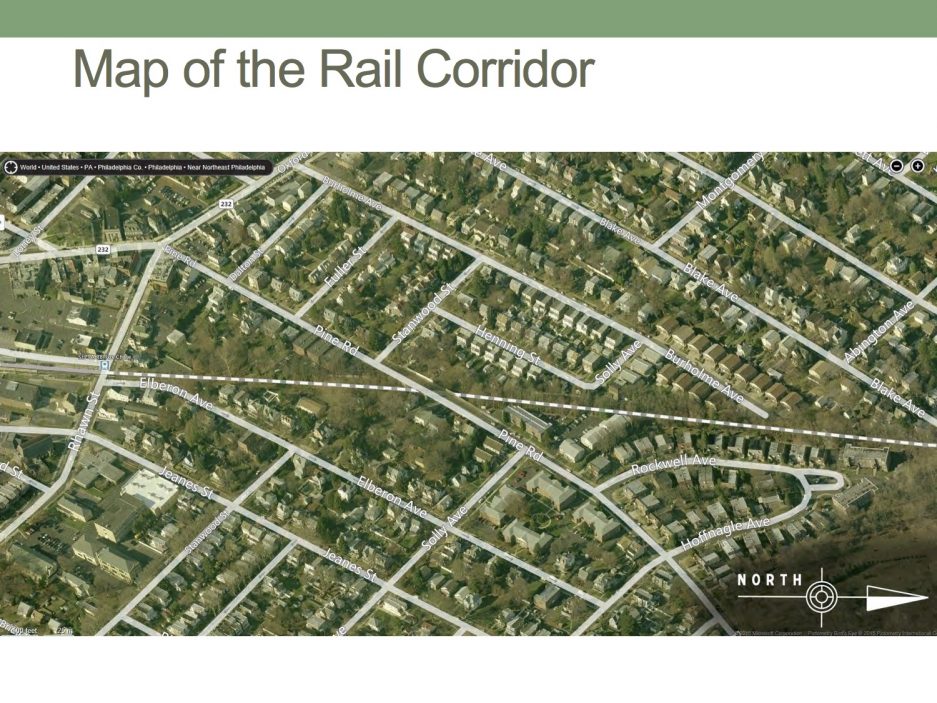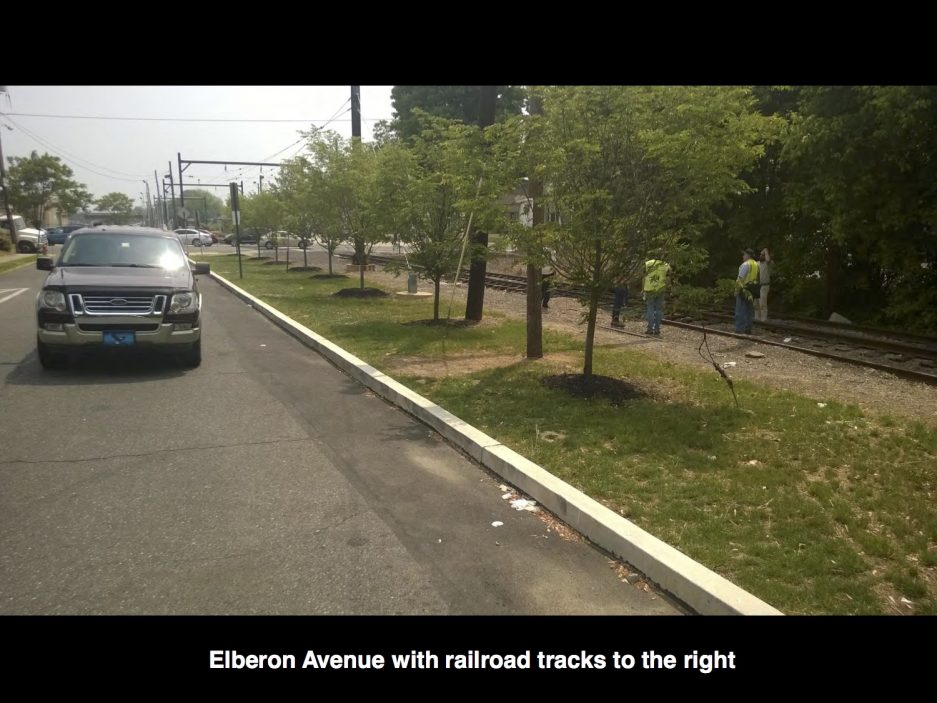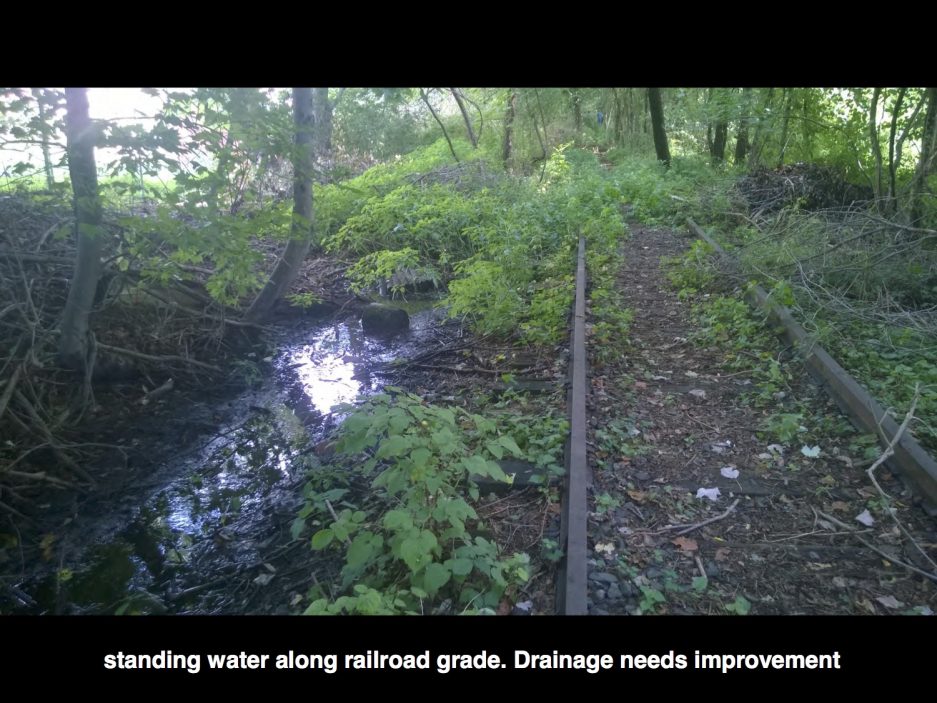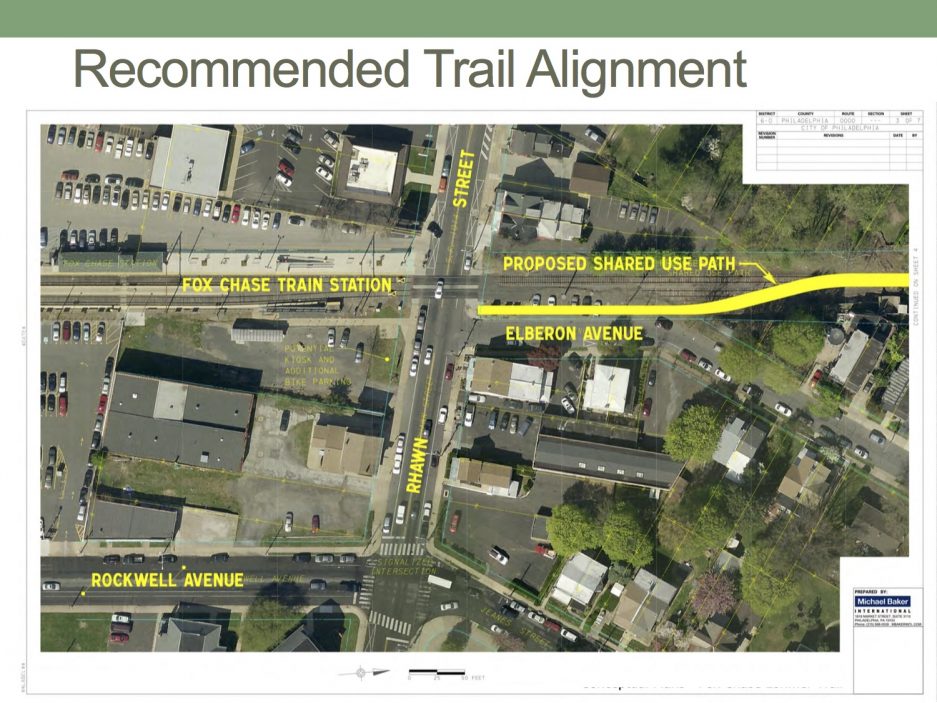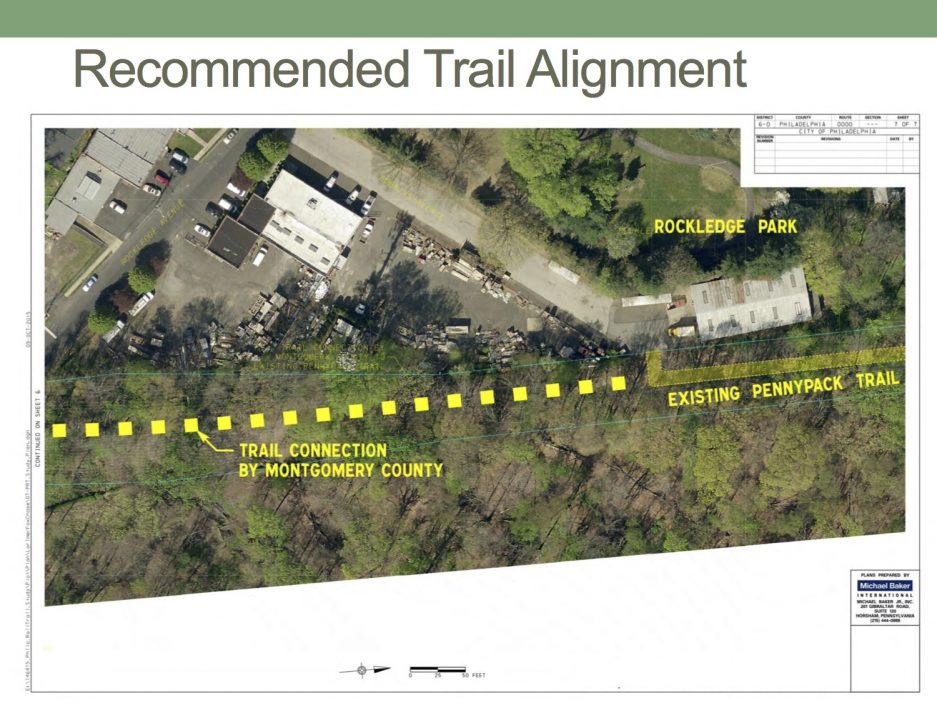 ---
Slides courtesy of Chris Stanford.
---