Farmhouse Friday: "World-Class" Whitewall Farm in Honey Brook
Looking for a massive equestrian estate? This place has a bunch of pastures and an indoor show arena.
---
This one is pretty straightforward.
If you're looking for a massive equestrian estate with multiple antique outbuildings, a plethora of pastures (17 in all) and paddocks and a handful of top-of-the-line equestrian facilities, then look no further than Honey Brook's Whitewall Farm in the northwestern edge of Chester County.
The estate is accessed via private entrance and features a main house with all the trappings of a classic farmhouse from the mid-to-late 1700s, including of four bedrooms, four fireplaces, gorgeous (and original) hardwood floors and deep sill windows. There is also a large in-ground pool out back, which must a great place to cool off after a hard days work tending to the horses and the surrounding 33-acres of land.
The spacious stable was built in 2007 and includes 27 large stalls, a large tack room, and office and a feed room. But it's not just the homestead and the stables, oh no sir-ree. The rest of the farm includes the following buildings:
Antique stone bank barn with two levels
1,800-square-foot Tenant House (3-bed, 2/1-baths)
100′ x 240′ outdoor ring
100′ x 200′ indoor arena
Stone summer kitchen
Spring House
Shavings Sehd
Manure Storage (farm livin'!)
Garden Shed
Impressed? Here's how the listing sums it up: "Whitewall Farm is a world-class equestrian estate rivaling anything you'll find in Wellington, FL or Tryon, NC!" Hit up the gallery for a better look.
THE FINE PRINT
Beds: 4
Baths: 4/1
Square Feet: 3,935 [main house]
Price: $2,795,000
---
1375 Chestnut Tree Rd, Honey Brook, PA 19344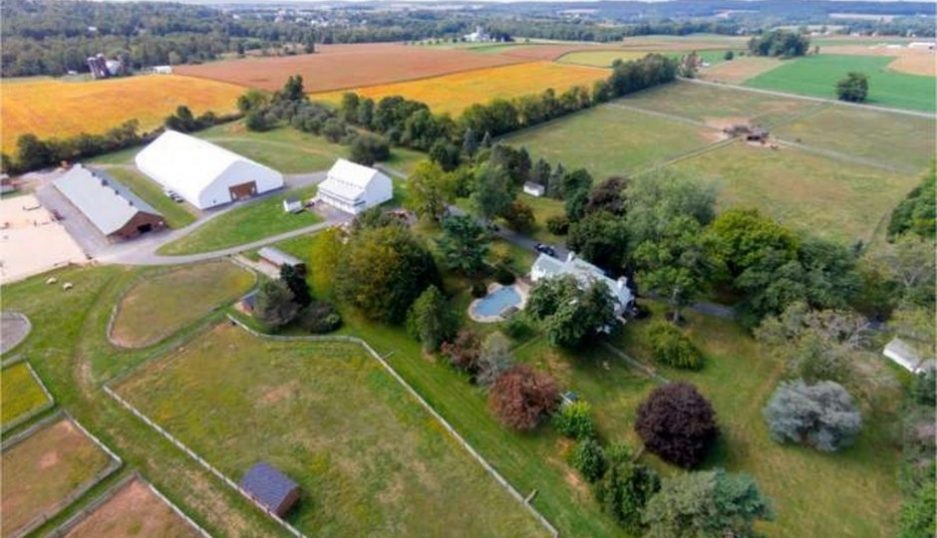 ---
---