Property Tour: The Skyscraping Residences at Two Liberty Place
We take you through the model units of Philadelphia's tallest, most exclusive condos on the market.
---
You know, it's interesting. With all of the attention being paid to the new condo towers going up around the city, specifically 500 Walnut and One Riverside, it's kind of incredible that more attention hasn't been paid to the one that's right in front of us. As in, the one taking place in the existing gem that is Two Liberty Place, one of Philadelphia's skyline defining buildings.
In fact, more attention has been paid to the upcoming observation deck at its sister tower, the spire-topped One Liberty place, than this impressive project that will transform a former office space into luxury condos with observation deck-like views from floors 48 through 57.
But the project is more than just about the breathtaking views of the city. "We've always been known for great views here," said Cynthia Tucker, senior vice president with iStar Residential, the development arm of iStar Financial, the project's owner. "That's a story everyone knows – the view – but we wanted to redevelop the property to where it wasn't just about the views. The layout and the finishes are really high end … we wanted to make sure the living spaces were comfortable, peaceful and sort of zen-like."
And so, with the condo market in the city booming and its current crop becoming increasingly outdated in terms of styling and finishes, Tucker said the market is right to introduce these unique new units to buyers, especially the condos from the 54th floor and above, when roofline starts to dramatically cut into the living space.
"Each building as striking lines," said Tucker. "Somebody now would have to go out of their way to build [a building] like this."
Work has already begun to reposition the entrance and lobby at 50 South 16th Street into a sophisticated space with a frameless revolving door, elegant custom lighting and planters and a more upscale, yet homey, feel. "We worked a long time on the lobby, it was probably the biggest design challenge for us," mentioned Tucker.
The first brand new units will be delivered to buyers starting on October 1, with the entire project wrapping up in March. That includes the 57th floor penthouse, as an unnamed buyer bought out the entire floor (four units) as a personal residence.
Tucker anticipates that they will sell out all 59 available units by Christmas 2016. As a benchmark, 30% have already been sold.
The models are now open and fully staged, and after a recent tour with Marianne Harris of Dranoff Properties, the firm in charge of marketing and selling these new units, we can tell you that they do not disappoint (see the multiple galleries below).
49th Floor Skyline Collection, Units 4907/4908
Floors 48 through 53 houses what they're calling the "Skyline Collection" of homes. They're typically smaller (roughly 1,100- to 1,800-square-feet) and are a more traditional layout than the aforementioned angled penthouses. Each floor contains eight units in this configuration.
iStar and Dranoff worked together on the successful 10 Rittenhouse project, and Harris said they used their experience at that luxury building as a "playbook" to know what people were looking for in a high-end condo: soaring ceilings, marble baths, wide plank floors, open floor plans and top notch kitchens.
Admittedly, it's difficult to not be stunned by the view at first (a helicopter was seemingly at window level when we first walked in). However, the quality of the finishes is evident and the design of each space is clean, modern and very comfortable. Harris credits Cope Linder Architects, and said that pretty much no expense was spared. "You could have great finishes, but if you don't have good bones, it's hard to make it sing," said Harris.
Miele appliances are found in the kitchen, where buyers can choose multiple types of fine marble for the counters and finishes for the Snaidero cabinets (the high-gloss white lacquer was sharp). Also, clever built-ins are found throughout the condo for everyday comfort. "Every square inch is totally functional," said Harris, who really loved the hidden drawer that holds the trash bags.
Adding to the panache and styling of each unit, Harris said they worked closely with Rick Snyderman of Snyderman Works-Galleries in Old City, who curated the original pieces of art inside each model unit.
The east and south facing Unit 4907 was priced at $825,000 and offers a 2-bed, 2-bath layout. Unit 4908, which also looks east and south, but with views of both rivers and Rittenhouse Square, is a larger unit, consisting of 3-bed, 3.5-bath layout. It's priced at $1.2 million for 1,763-square-feet of space.
---
The Skyline Collection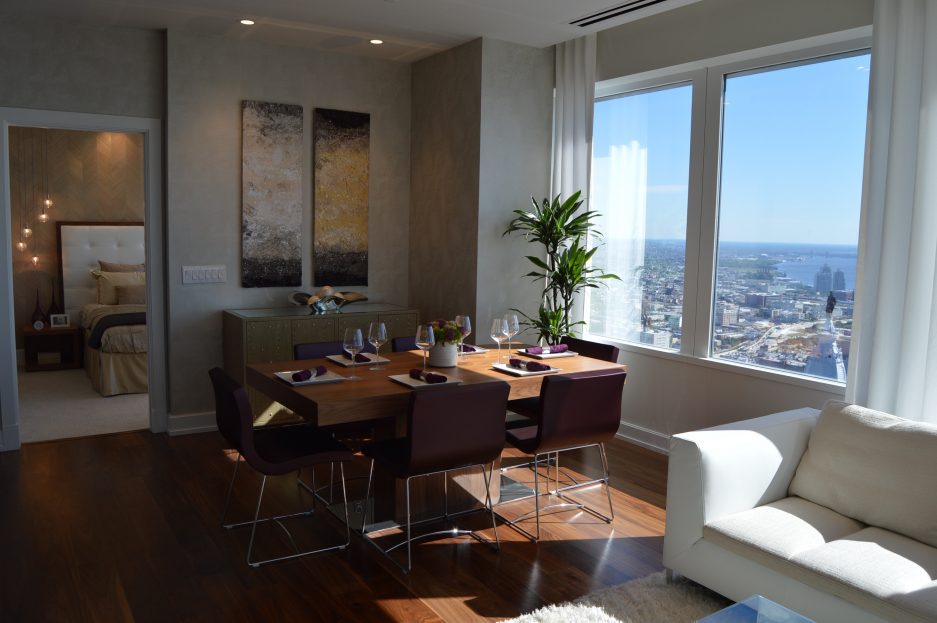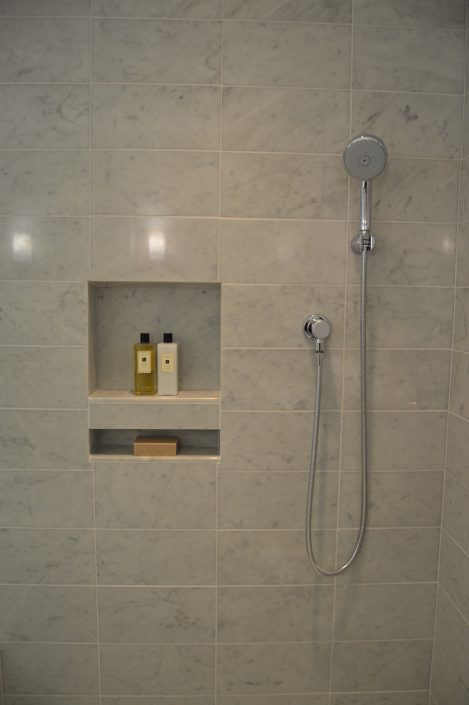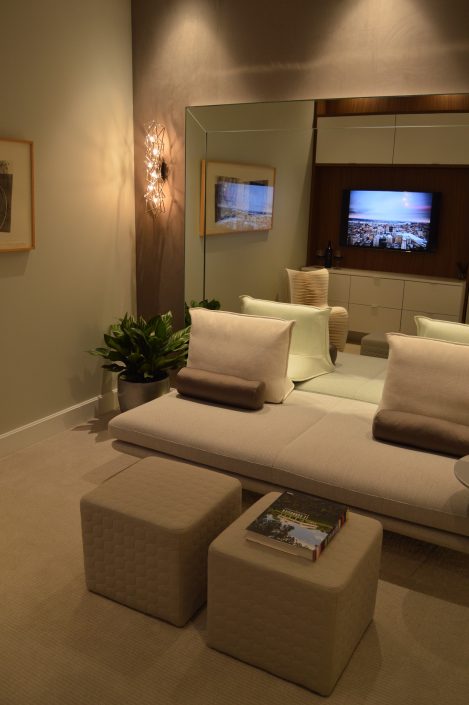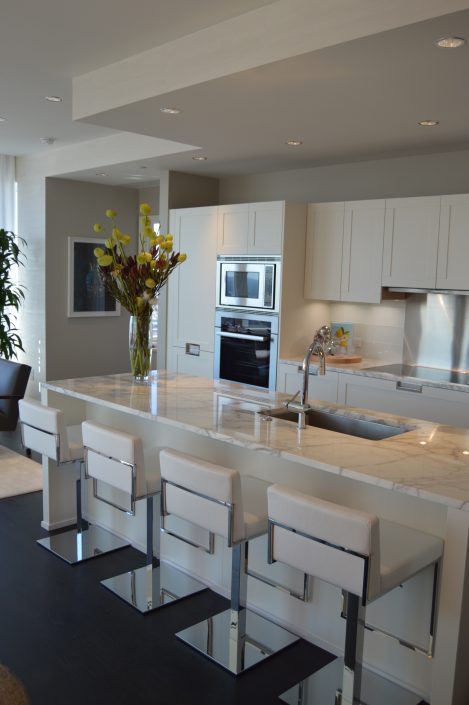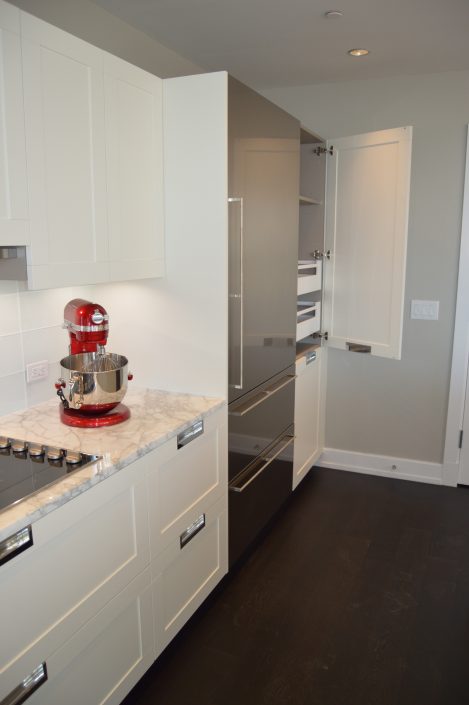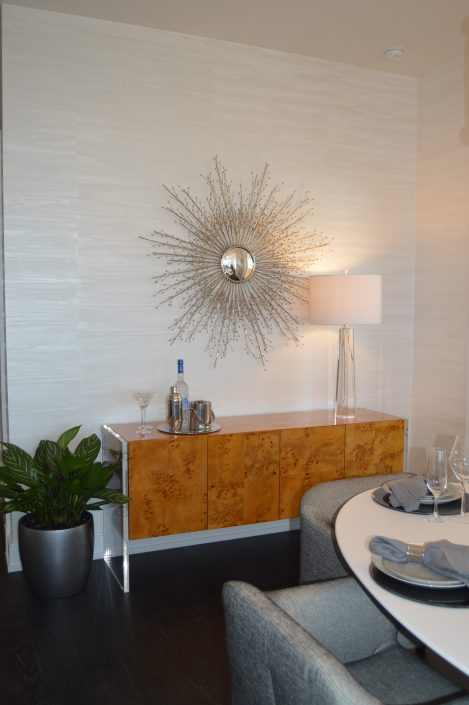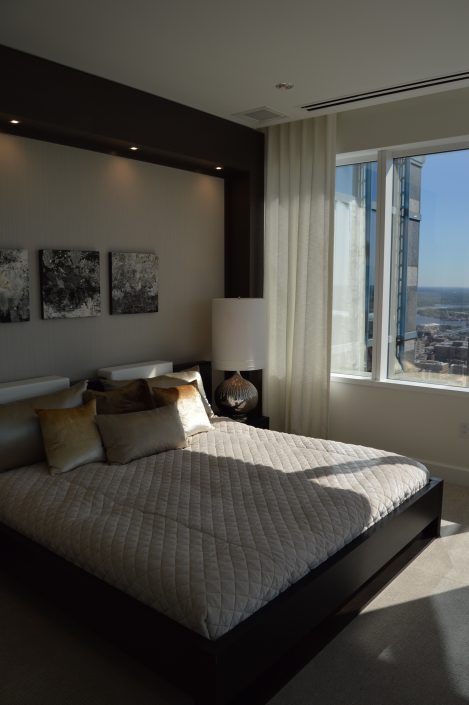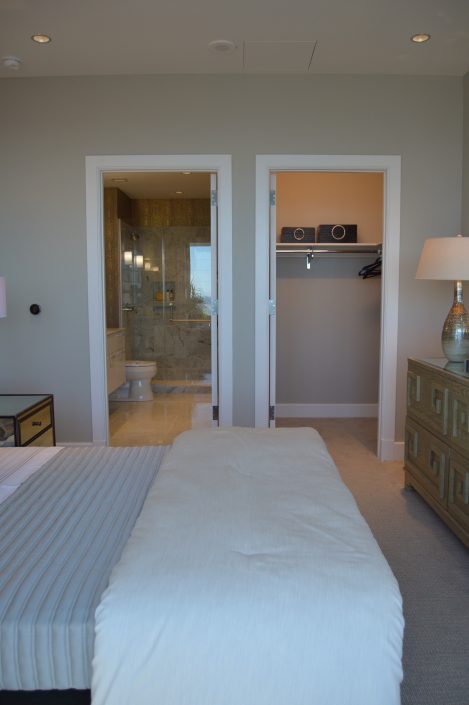 ---
54th Floor Penthouse Model, Unit 5401
Aside from the combined mega-penthouse on the 57th floor, the Penthouse Collection consists of a quadrant of condos on floors 54-56. The model unit at 5401 has been fully staged and wows from the first time you walk into the room. Window walls are one thing, and not unseen throughout the city (especially in office buildings), but the sloped roofline creates such a captivating feeling, especially when each room is decked out in luxury finishes, furniture and a baby grand piano.
The layout is super open, and the roofline allows for a unique atmosphere, creating an airy space, but also creates for distinct living areas. "We're able to have a very open layout, but a natural division of spacing," said Tucker.
Also, due to its former life as an office building, the privacy factor is taken to the next level, as the floors are about 3-feet thick. "You can basically jump around on a Pogo stick and not hear something between each floor," said Tucker. As if being 54 floors above the street wasn't secluded enough, there's high-grade sound proofing built right in!
The design allows for the private master suite to have its own wing off to the right, which includes his and hers baths, a powder room and a massive walk-in closet. Wrap around through the Man Men-esque staged office layout to find a wide-open living/dining room, which has a partial wall that isn't included in the plan, Harris noted, but was added to help show how buyers could organize the space.
The kitchen, decked out in robust walnut cabinets and white Calacatta marble counters, and showcases even more custom options for high-end buyers.
Unit 5401 is a 3-bed, 4.5-bath layout that comes in at 2,662-square-feet of space. Harris said it's currently listed for $2.25 million.
---
The Penthouses, Unit 5601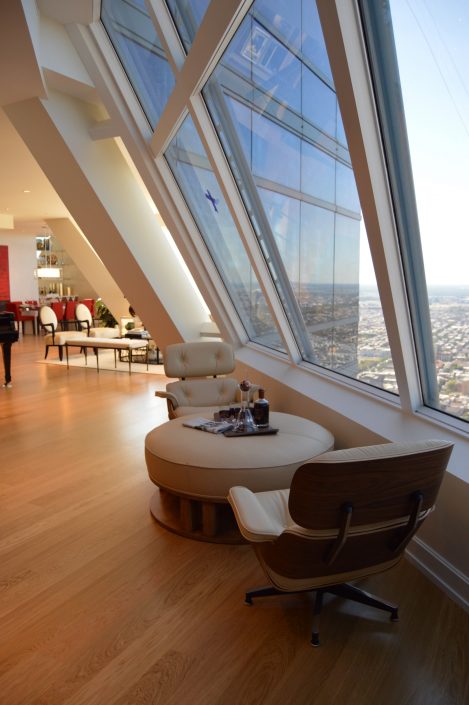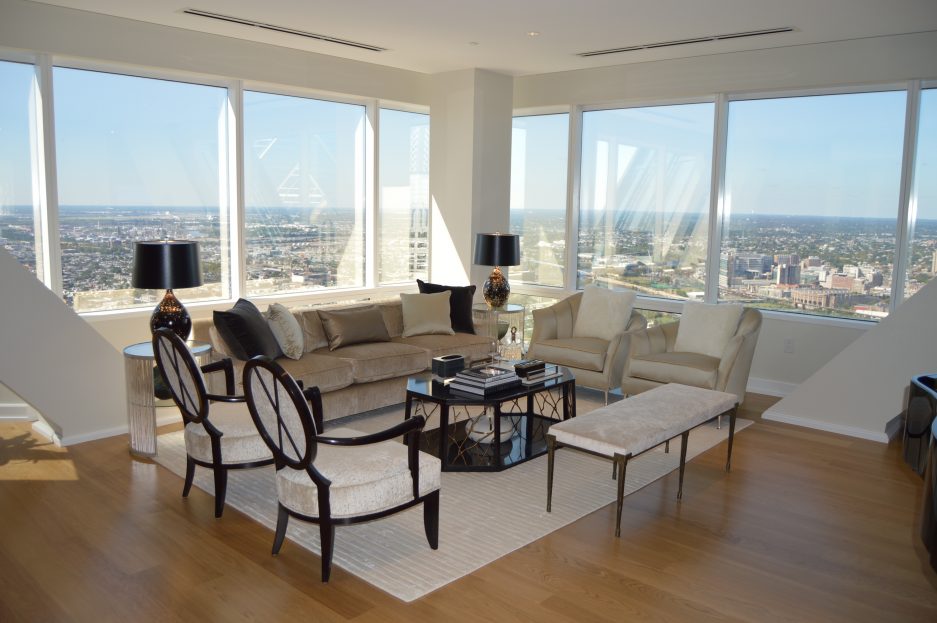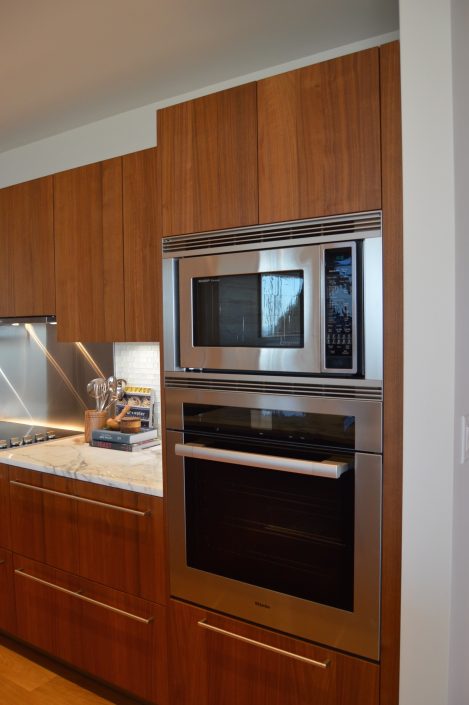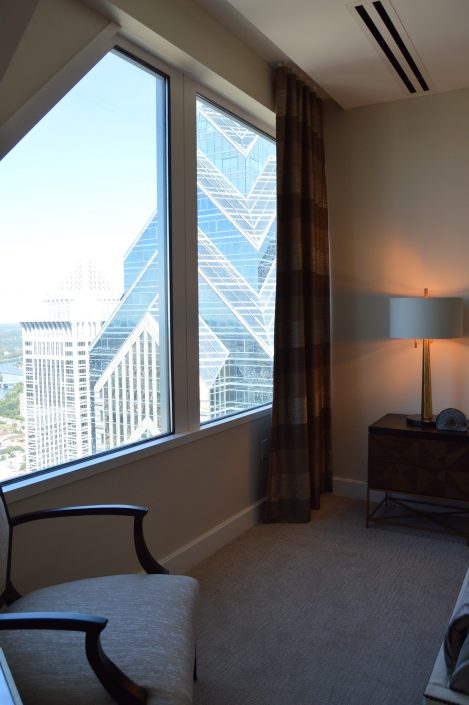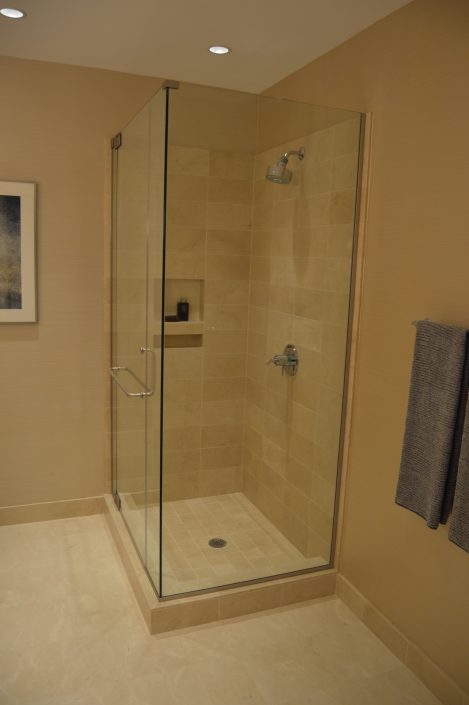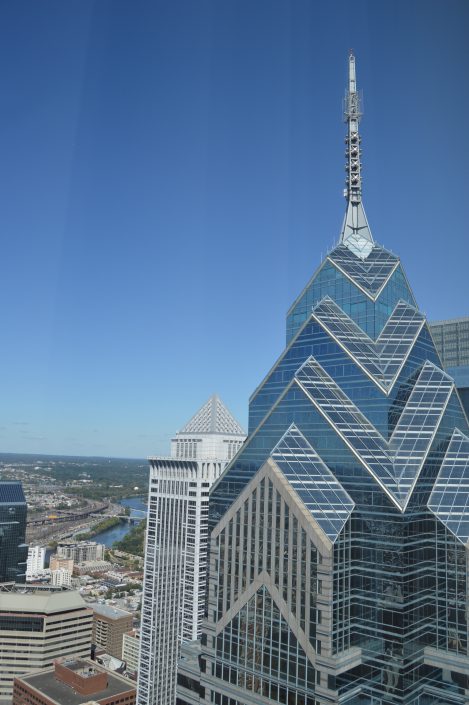 ---
BONUS: 56th Floor Penthouse
To top off the tour, we hopped on the elevator and Harris swiped a key fob to gain access to the 56th floor grouping of penthouses, where Intech Construction is handling the build-out. In case you were wondering, hard hat time is always the best time.
Again, aside from the person who has taken the entire 57th floor as their real-life fortress of solitude (we cannot stress this enough), these condos are probably the most spectacular of the lot, which is saying something, because they're not even finished.
For one thing, given the location in the building, these units will boast a fireplace. "It's very unusual to be able to have a fireplace," said Harris.
Better still, they'll feature V-shaped master suites that look out into the joint where two walls of glass intersect, almost like a cock-pit of a luxury jetliner. "There isn't anything like it in the marketplace," beamed Harris. "It just doesn't exist."
This particular unit comes in a 1,951-square-feet and is listed for $2.5 million.
---
Two Liberty - 56th Floor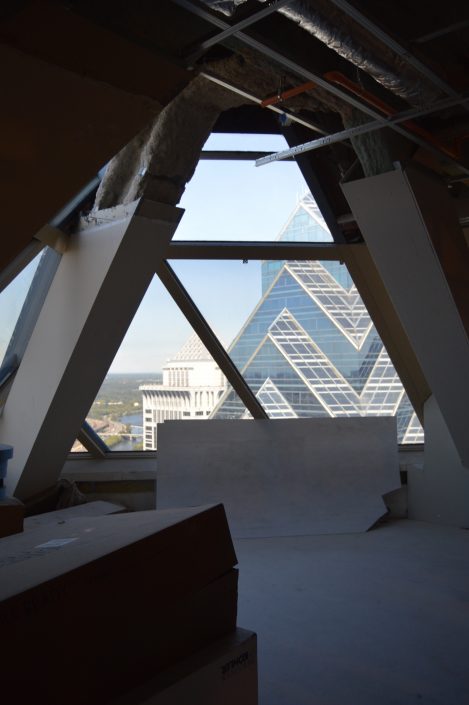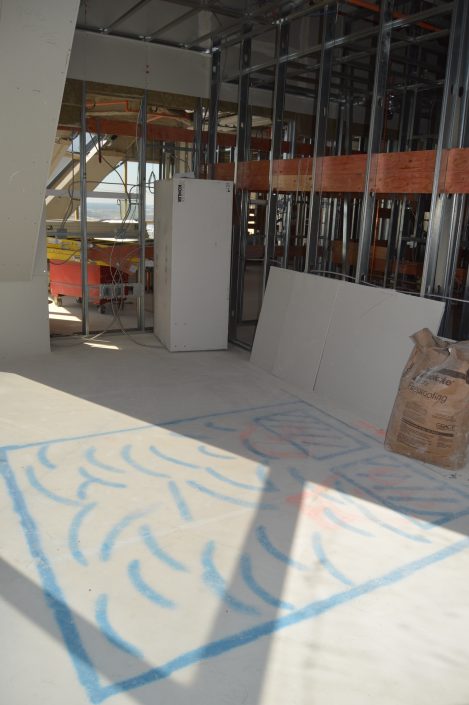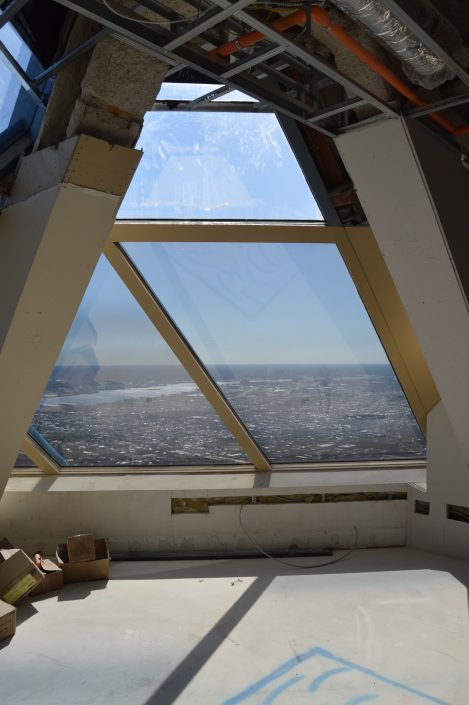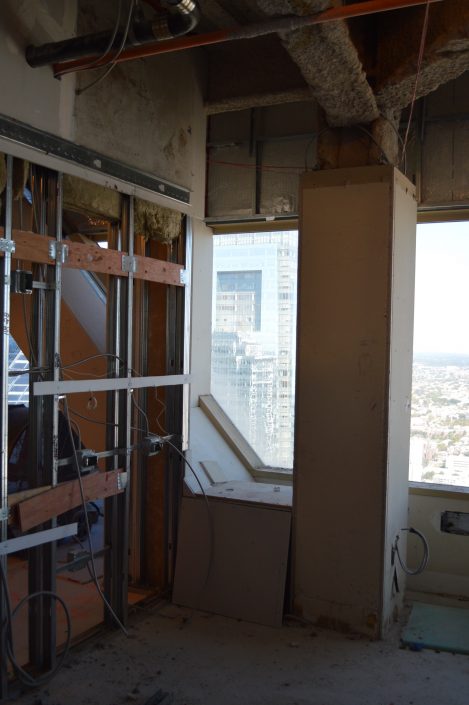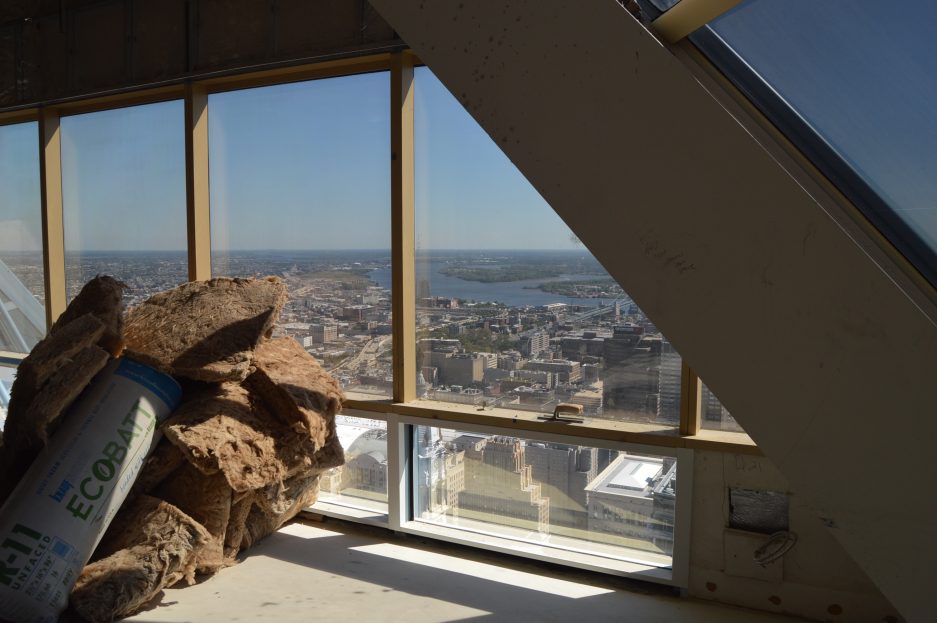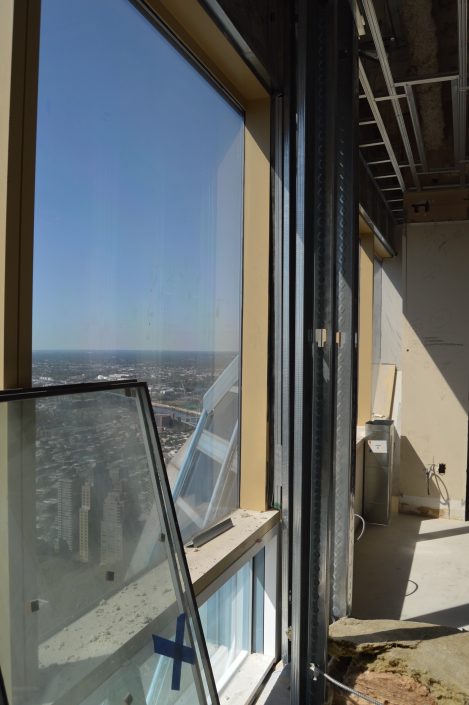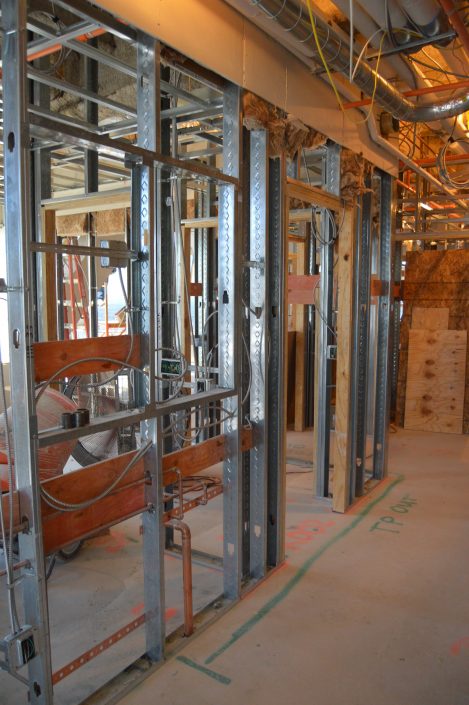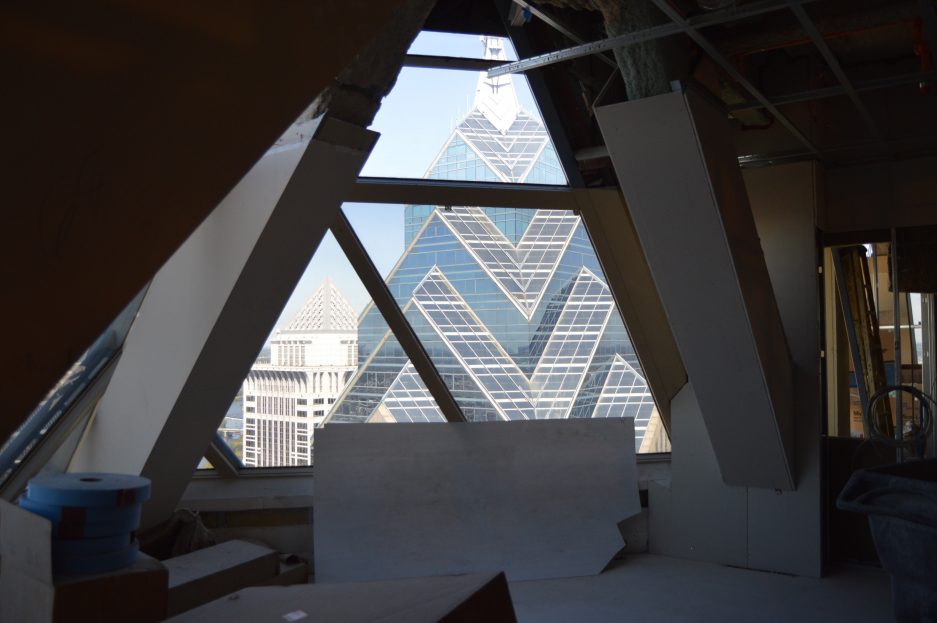 ---
---