An Inside Look at the New Presidential City Apartments
An iconic property has been rejuvenated with upscale apartments and will soon have a "world class" outdoor pool area.
---
If you tend to travel (or sit in traffic) on the Schuylkill Expressway, there is no doubt you've seen the transformation of the musty Presidential apartment complex that towers over the highway at City Avenue.
The project by Post Brothers–dubbed Presidential City–is quite massive. Four hulking, 12-story buildings are being re-skinned on the outside and getting a luxurious overhaul within. The complex will boast an outdoor pool club and amenity space–free for residents–that CEO and co-founder Michael Pestronk told us will be "really world class." It all comes together in a tasteful rebirth of a 1950's-era development by an iconic Philadelphia builder, John McShain. Known as "The Man Who Built Washington," McShain's work includes the Pentagon, the Jefferson Memorial and the Kennedy Center (to name a few). Oh yeah, the cost of the project is expected to by $100 million, when all is said and done.
Each building is named after a president, and the Washington was unveiled last week with much fanfare. Post Brothers threw a big bash at the finished building and toured people through some of the upscale apartments, about half of which are already leased. Pestronk said that most of the units are built with the younger renter (ie: millennial) in mind (compact units), though the complex features larger "established adult sized apartments," such as an 1,800-square-foot pad with two bedrooms. With monthly rents ranging from $1,000 for a studio to up to $4,000 for a 3-bedroom penthouse, Presidential City will appeal to a variety of people who might be looking for something a little different than a high rise in Center City, an apartment in Fishtown or even (gulp) moving back in with their parents.
The Sora Pool Club is under construction, and Pestronk is bullish about the Asian-styled, almost health club-like, amenity: "The pool club really blows away anything else of its kind." That sounds like a bold statement, but it will eventually have three separate pools (an Olympic-sized lap pool, a lounge pool and activity pool), waterside cabanas, massage services, a holistic treatment spa, dry suana, co-ed steam room and, yes, tanning beds. A fitness center is also in the works.
For now, it's Washington down and three (Madison, Adams and Jefferson) to go. Pestronk said that the entire complex is on track to be totally finished by the end of 2016.
It was a who's-who type event at the revamped apartment complex, and HughE Dillon of PhillyChitChat.com was nice enough to snap some shots of the completed apartments.
---
Presidential City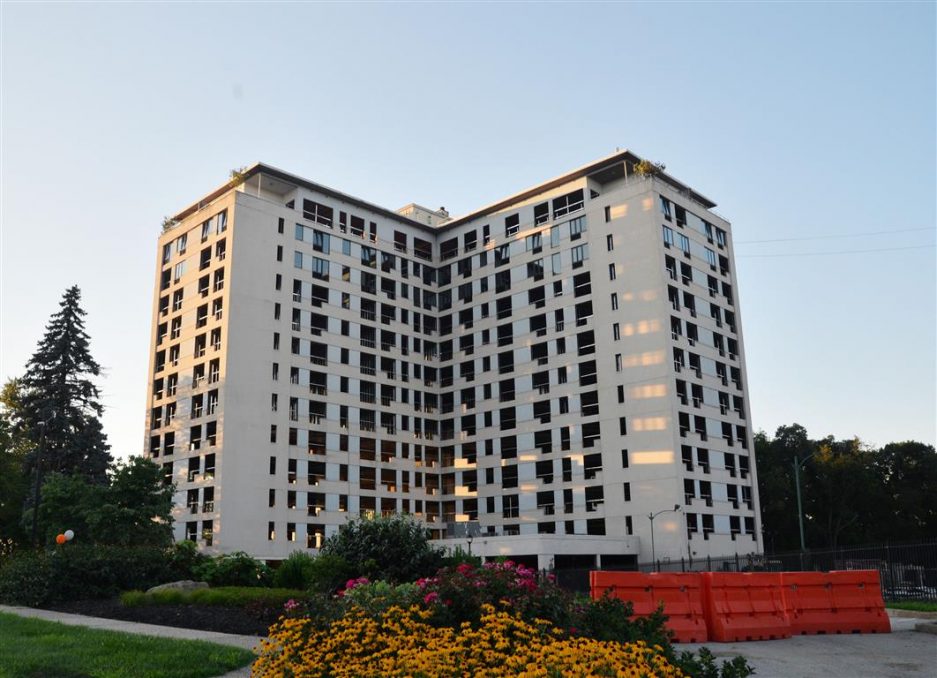 ---
---