Morning Headlines: June 2013 Building Collapse Judge Permits Attorneys to Speak with Reporters (Sort Of)
Lawyers of the accused will have "more latitude" when speaking to the media.
---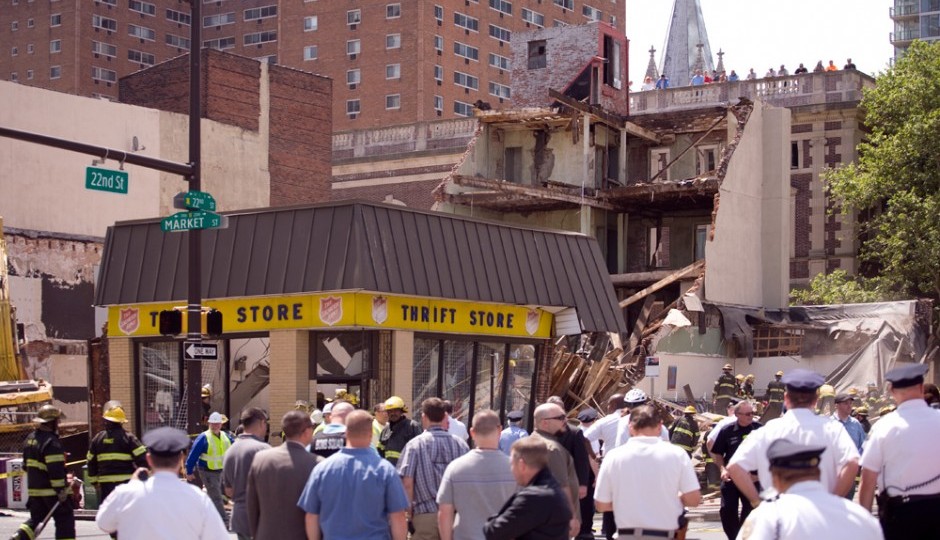 Common Pleas Court Judge Glenn B. Bronson who is in charge of the June 2013 building collapse case has switched to using the trial publicity guidelines set by the American Bar Association, which means attorneys involved in the case will have "more latitude" when it comes to responding publicly to comments others make about their clients.
Still, the Inquirer's Joseph A. Slobodzian reports that after ending the previous "blanket order" of no comments to the media on Monday, Bronson reminded prosecutors and attorneys that whoever violated the ABA guideline would be held in contempt because "[t]his case cannot be tried in the media; the case must be tried before Philadelphia jurors."
William D. Hobson, the lawyer representing building contractor Griffin Campbell, one of the accused "charged with six counts of third-degree murder and 13 counts of reckless endangerment", found himself in precisely this situation last month. According to Slobodzian was held in contempt and fined $100 by then Judge Benjamin Lerner for speaking with Philly.com and the Daily News about the case.
• Judge loosens gag order in Salvation Army collapse case [Inquirer]
In other news…
• Mount Airy apartments sell for $8.75M [Business Journal]
• The Gilded Mall Of Market Street: Gimbels Had It [Hidden City]
• Deadline nears for homestead exemption tax relief [Tribune]
• Villanova wins Radnor approval for $300M expansion [Inquirer]
• Mt. Airy co-housing group plans move to converted church [NewsWorks]
---