Gensler Will Design New Comcast Tower's Interior (RENDERINGS)
NBC10, Telemundo, and tech startups will work in a LEED Platinum-certified building.
---
A Monday press release has announced Gensler, a global architectural and design firm headquartered in San Francisco, will be working with Foster + Partners and Daroff Design Inc. to design the interior of the Comcast Innovation and Technology Center.
Among Gensler's accolades are the Architecture Firm Award, presented to them in 2000 by the AIA, and the Corporate Design Excellence Award, given to them by the IIDA in 2013, 2012, and 2011.
According to the press release, the collaboration is meant "to create a functional, aesthetic, sustainable and progressive interior environment that will effectively integrate with the architectural design of the building" at 18th and Arch. LEED Platinum certification from the U.S. Green Building Council is sought for the interior.
Natalie Kostelni at the Philadelphia Business Journal reminds us that the $1.2 billion tower, which is currently under construction, is looking at a possible early 2018 completion.
---
CITC interior renderings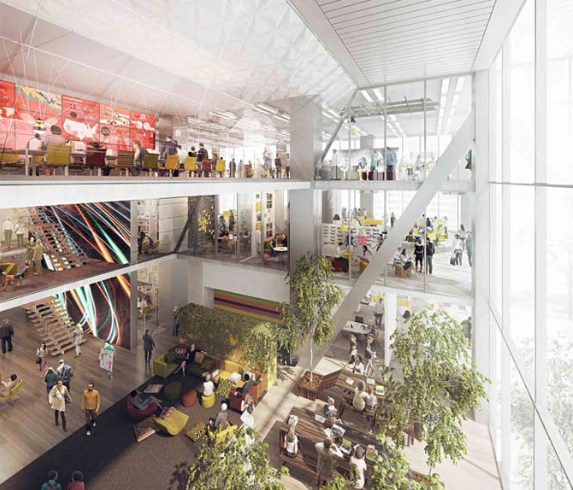 ---
Photos courtesy of Gensler.
• Comcast chooses firm to design interior of new Philadelphia skyscraper [Business Journal]
---