New Renderings of 205 Race Street
Will Old City finally get its tower?
---
The 197-foot 205 Race Street apartment tower to be located near the Ben Franklin Bridge has a long and acrimonious history. The developers, Jeffrey Brown and Greg Hill, have owned the site (now a vacant lot) for a decade, and this is their third attempt to develop it. In 2012, a version of the tower was opposed by the (now defunct) Old City Civic Association, which argued that its scale didn't fit the historic neighborhood.
Inga Saffron weighed in, in favor of the tower, and City Council ended up passing a bill designed to allow it to go through.
But then the owners of a nearby billboard structure became concerned that the tower would obscure views of the billboard, and the project seemed to fall apart.
But then, a few weeks ago, Brown and Hill brought it back with a revised design that would allow billboard views to be preserved. The developers are now pushing ahead rapidly: they've applied for a building permit, and hope to break ground by the first quarter of 2015.
In a Civic Design Review packet, they cite recent development in the area as a catalyst for their project:
The timely development of the property dovetails with redevelopment of the surrounding area. Specifically, the new Race Street Pier and Connector provide a public destination to the east of the site, providing pedestrian activity that previously didn't exist. Further, the neighborhood is developing rapidly to the north of the Bridge. The area is becoming a destination for the design industry, and this project will provide an attractive residential option for young professionals who desire to live in the city proper.
In many important ways the new proposal is the same as the previous ones: the tower will rise 197 feet, and it'll have wraparound retail with high ceilings on the first floor—-space ideal for a pharmacy or a grocery store, the developers have noted. And the architect is still Peter Gluck of GLUCK+. But in other ways, the proposal has changed considerably. The facade looks entirely different, and the building has grown a story (from 16 to 17) and gained 20 apartment units (going from 128 to 148).
The tower will also have underground parking for residents and an 8,000-square-foot green roof terrace. Its developers will seek a zoning bonus for including units affordable to people making 80 percent of the area's median income.
The full Civic Design Review proposal is here. Check our more renderings and plans in the gallery below
---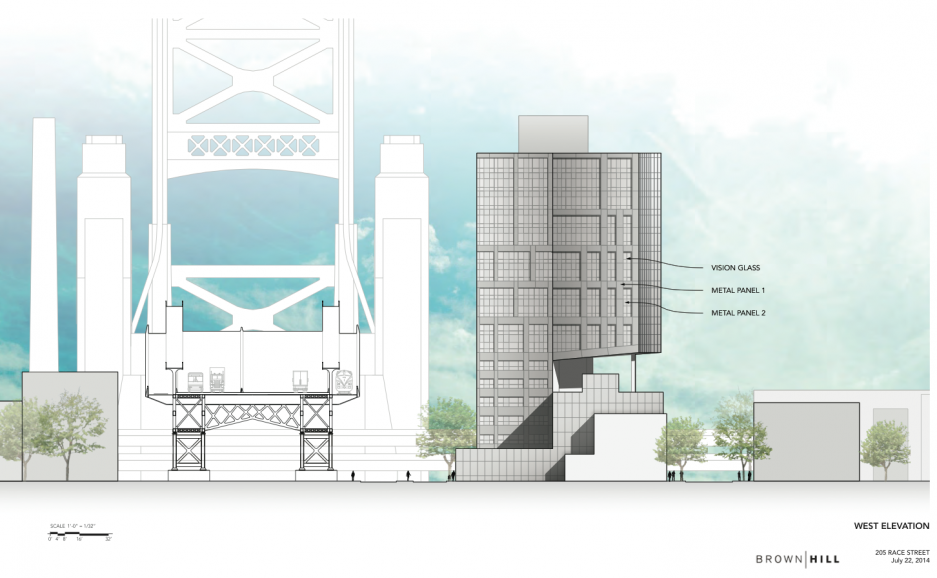 ---
---