News
This Funky Lancaster Wedding Included a Mid-Ceremony Science Experiment and a Tennis Court Photo Shoot
And the bride wore three (count 'em) outfits.
---
Why not go all out with your wedding theme? It's your Big Day, after all, and you should party like you want to. That's what this couple did during their Lancaster wedding, held at Tellus360. They mixed in a few of their favorite things, such as festival vibes, tennis, science, dinosaurs and costumes. The bride wore not one but three different outfits from start to finish. Photographer Madeline Isabella snapped the celebration. Check out the fun below.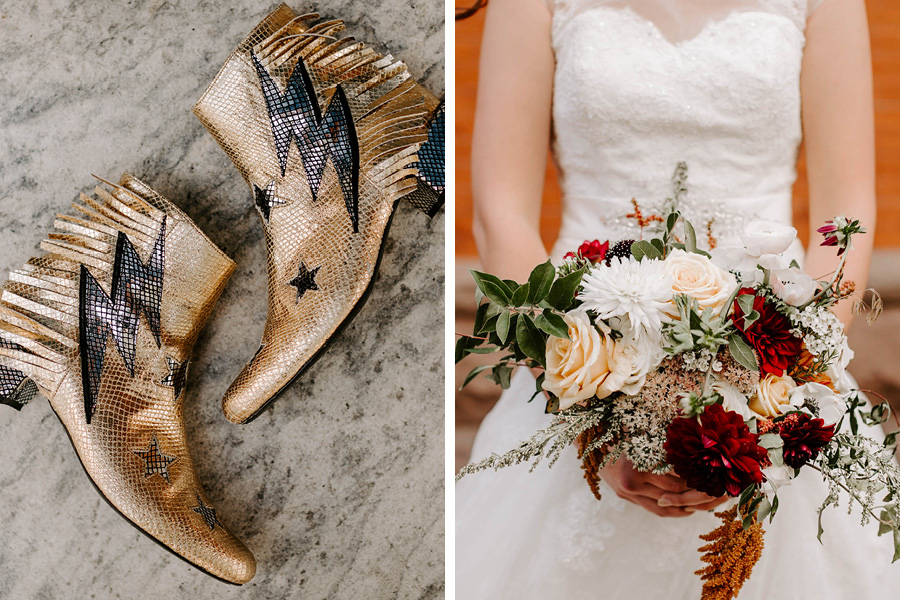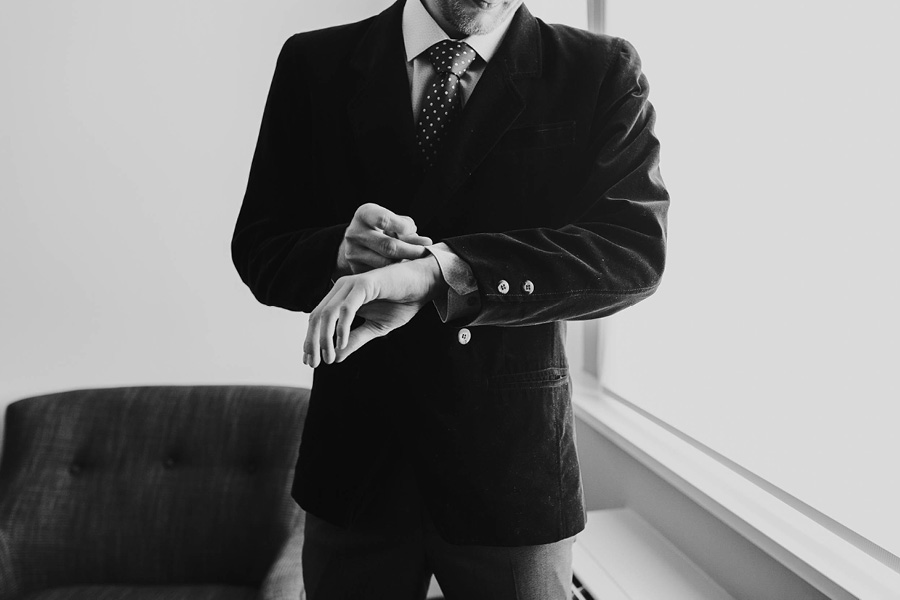 For New Mexico couple Christine Syvertson and Noah Jemison, it all began with a little bit of love-all — by way of tennis. They were playing mixed doubles together and won their match against a good team. They continued to hit the court together for a year or two before Christine, a software developer, pursued Noah, a geochemist.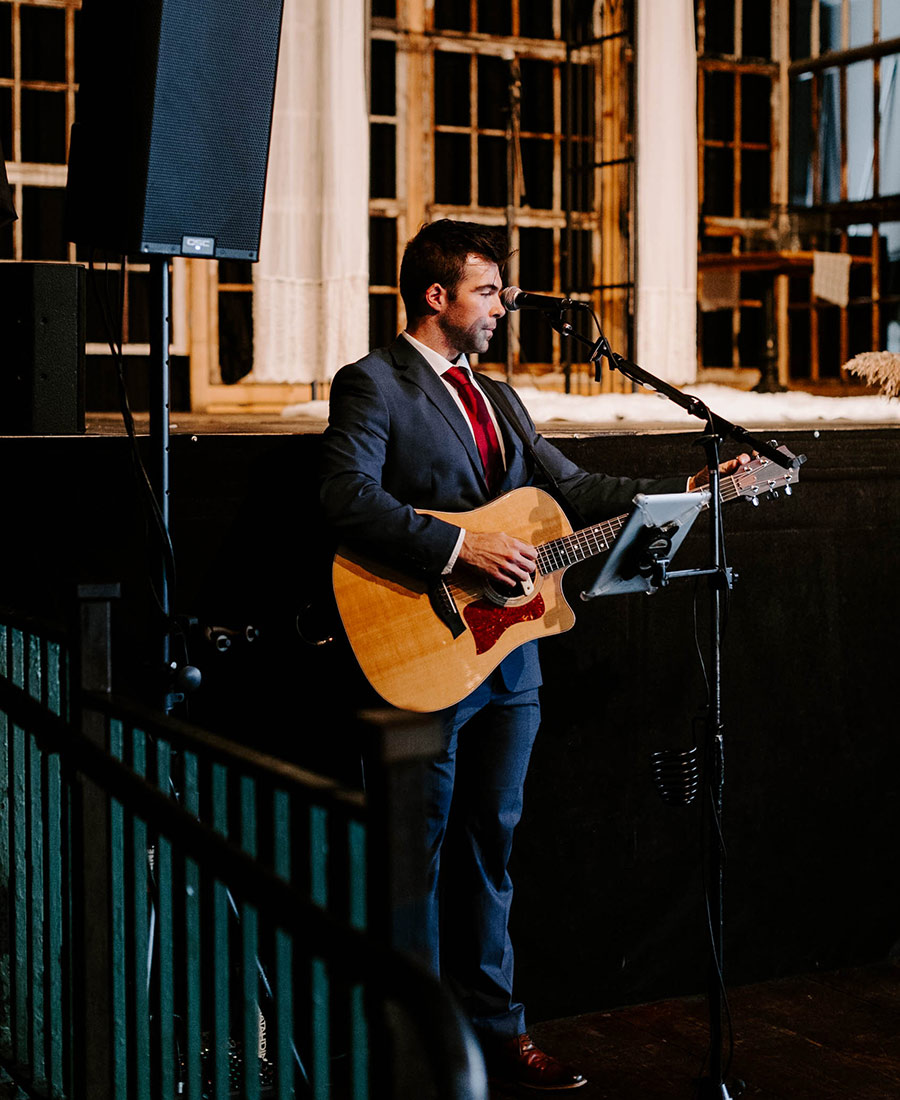 Their first date (well, the first time Noah realized they were on a date) took place at an indoor glow-in-the-dark mini-golf course. Christine won. "It annoyed him, but he was impressed," she says. He made what the couple calls an "incredibly awkward" first move, but it made her laugh, and they had their first kiss.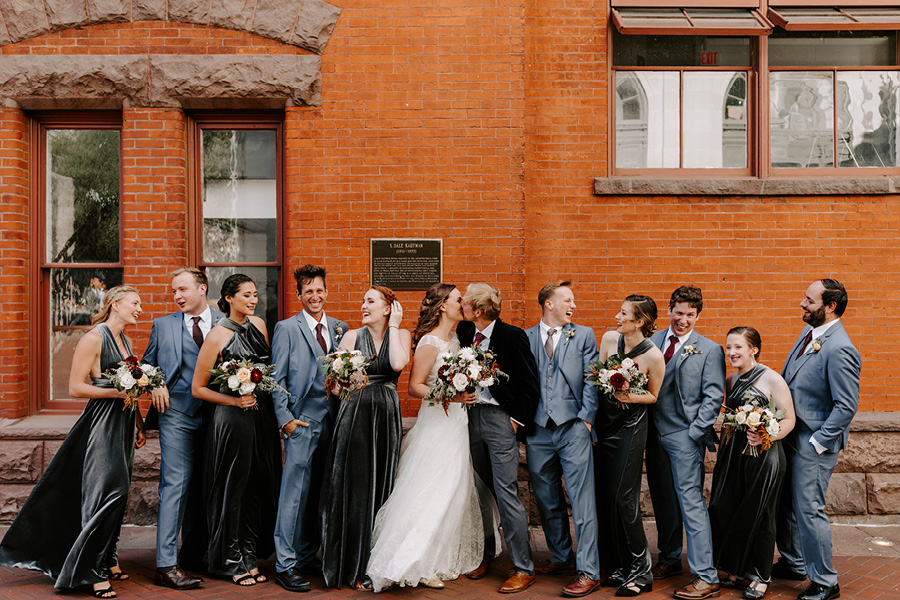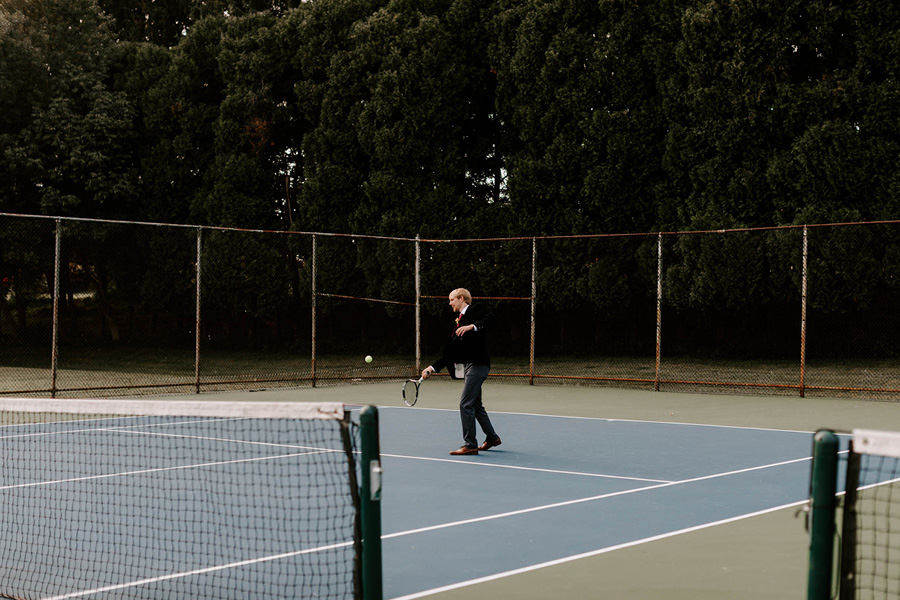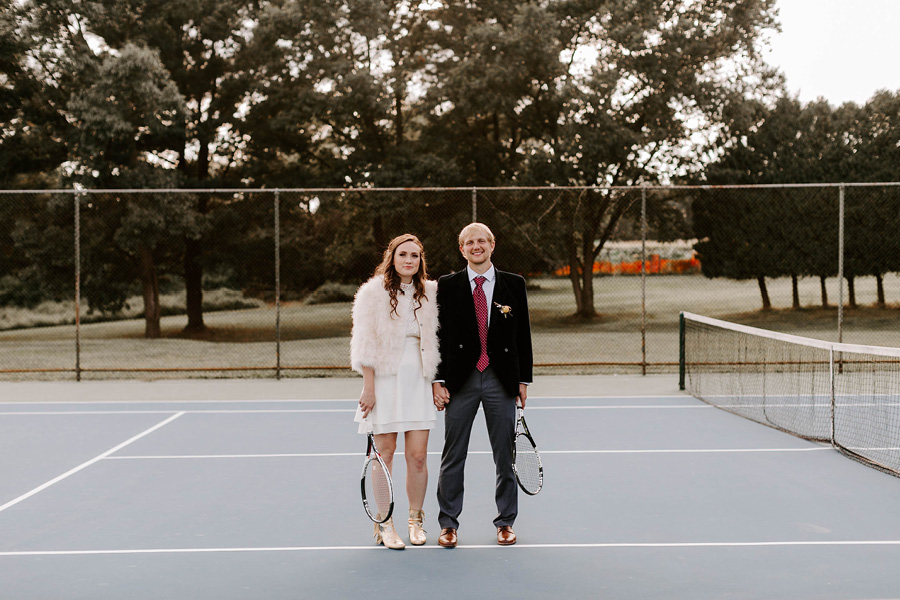 The couple dated for a year before getting engaged. Christine was living in New Jersey at the time and working at Rutgers. She had found a store in Brooklyn (Erica Weiner) that had engagement rings she liked, so they drove up to check it out. Noah made a purchase — so you can guess what happened next. As they strolled the neighborhood, Noah asked Christine when they should get engaged. "Well, maybe now," she answered. They went to a mini-golf course, and Noah popped the question on the 18th hole.
The duo was engaged for a year before getting hitched at Tellus360 in Lancaster, Noah's hometown, on September 7, 2019. (They also had a separate wedding in North Dakota, where some of her family and friends live, a month later.) The funky Irish pub and music venue was a perfect spot for their equally eclectic wedding. The theme was Carnival, with plenty of the couple's personality and passions, including tennis, science and dinosaur elements. "I was first influenced by The Greatest Showman and the idea of creating your own world and space," says the bride.
That they did: Christine wore three different outfits for it all — a formal gown, a party dress, and pants and a tube top, paired with vintage accessories and edgy booties bearing a lightning-inspired design. (She sourced much of her attire from a vintage store in NYC, where she says she got a real "bridal-appointment experience.") The groom donned a boutonniere made with yellow Billy Ball craspedia that resembled tennis balls, as did his father. And the couple took time between the ceremony and reception to snap a few photos at Lancaster County Park, where they played some Queen and danced around. The costume changes and the tennis photos were among Christine's favorite details.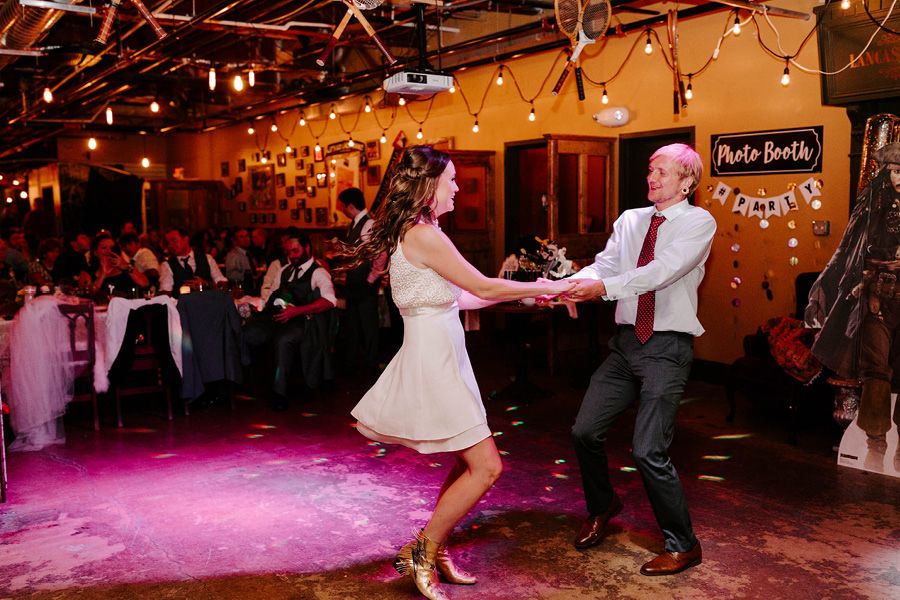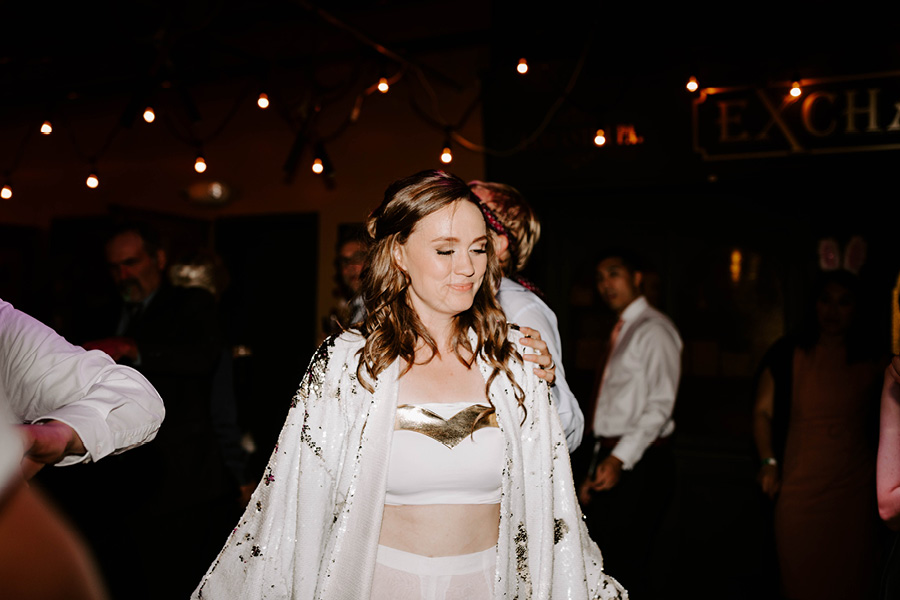 Fun was had at the ceremony, too. The couple's dog, Wilbur, rolled down the aisle in a Radio Flyer wagon, escorted by one of the bridesmaids. The duo performed a science experiment instead of lighting a unity candle. Later, during the reception, the 70 guests munched on cookies suited to the multiple themes (dinosaur shapes, atomic elements and cosmic styling) and toasted the happy couple. The evening ended with attendees donning crazy outfits (hats, accessories and more), snapping pics in the photo booth, and dancing the night away — still in costume.
THE DETAILS
Photographer: Madeline Isabella | Venue: Tellus360 | Planning/Design: The couple | Florals: Thistle Do Flower Co. | Catering: Cracked Pepper Catering | Bride's Attire: Adriana Alier from The Dressing Room West and vintage veil from Screaming Mimis (ceremony); Cache from ThredUp, vintage feather jacket and necklace from Screaming Mimis (reception); vintage pants and tube top and sequined kimono from Screaming Mimis (after-party) | Boots: Modern Vice | Bridesmaids' Attire: Valdenize from Etsy | Hair: Whitney Burkhart (bride and maid-of-honor); Nikki Stinson (bridesmaids) | Makeup: Hayley Clancy | Groom's Attire: Vintage navy velvet jacket; shirt, pants, tie and shoes from Dillard's | Entertainment: Ryan Shubert (ceremony); Noah's Uncle Dave Hershey (DJ) | Cake: La Dolce Vita | Cookies: Hunny Bunny Bakes | Invitations: Shutterfly | Rentals: GHR Event Rentals
Get more great content from Philadelphia Wedding:
FACEBOOK | INSTAGRAM | NEWSLETTER | PINTEREST
Getting married? Start and end your wedding planning journey with Philadelphia Weddings' guide to the best wedding vendors in the city.
---
---