News
The Star of This Morris House Hotel Wedding Was the 94-Year-Old Flower Girl
Then there were all the happy tears.
---
Family, for better or worse, is a major part of our wedding days. Sure, sometimes we deal with an overbearing mother or mother-in-law, or must figure out a way to accommodate an extra cousin who mysteriously appears day-of. But then there are the other, special elements — many of which can be found throughout this bright, colorful garden-inspired Morris House Hotel wedding and reception at Loews Philadelphia Hotel. Case in point: The bride's 94-year-old great aunt served as the flower bearer, and the couple paid homage to their family through the generations with a photo display. And then there were all of the happy tears. (Take a look at another one of our favorites here.) Experience all the sentimental moments, captured by JD Land from Salt & Sonder Studio, below.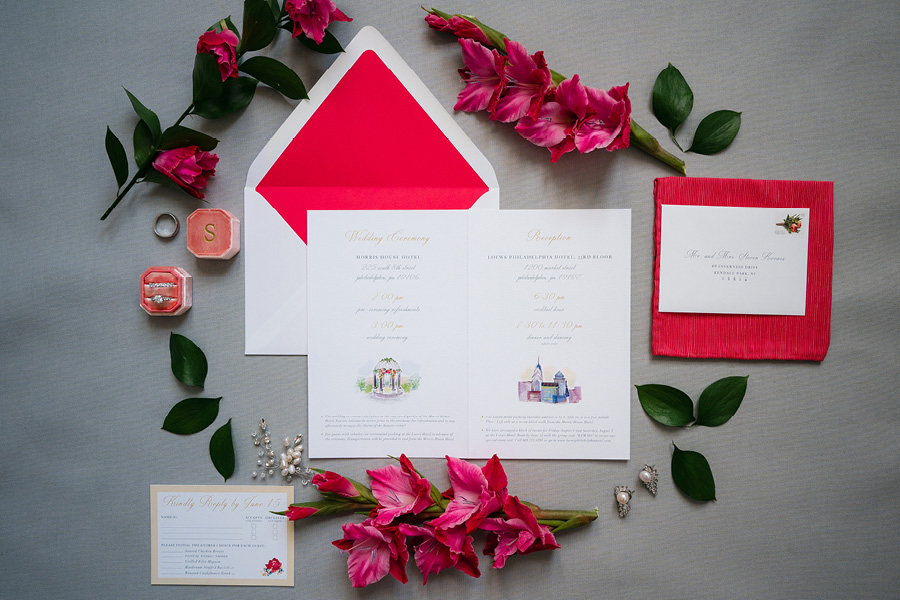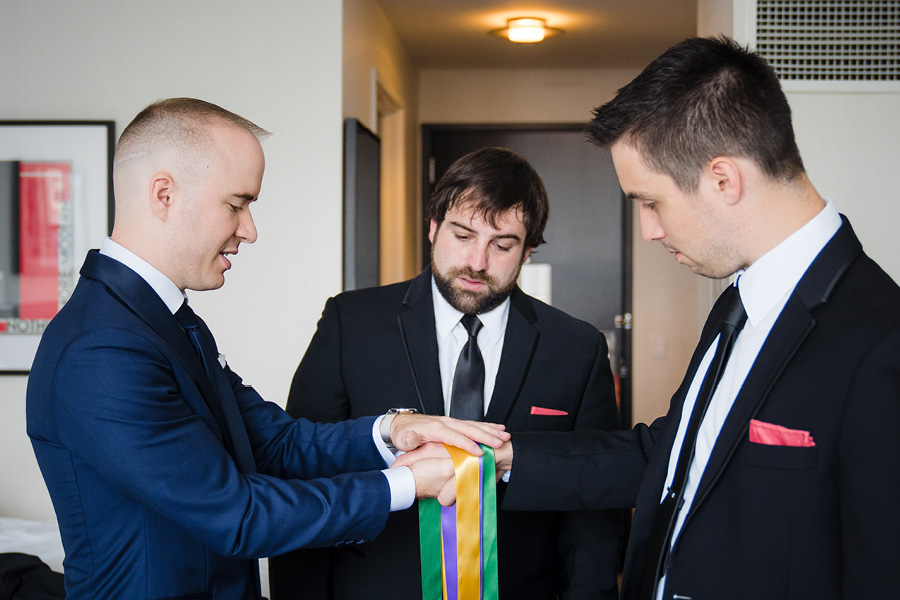 Stephanie Kovacs was just like one of the guys before she and future hubby Sean Flynn ever crossed paths. The summer after her freshman year at Drexel, she stayed on campus and became good friends with Adam Lynn, one of Sean's Lambda Chi Alpha fraternity brothers (and future groomsman). She also got to know many of the other fellas in the group. Sean didn't meet her till later that year (when she was hanging at his frat house), but it was an instant connection. "Conversation flowed so easily between us," says Sean, a civil engineer. "I was amazed that she actually wanted to talk about things — anything, everything." Friendship followed, and their first date took place in July 2013 — well, kind of. Sean asked Stephanie, a user experience graphic designer and freelance artist, to grab cheesesteaks at Tony Luke's, but Adam invited himself to tag along. "I don't think he knew Sean meant for it to be a date," says Stephanie with a laugh.
Their actual first date took place about a week later, at Route 6, followed by their first date as a couple on August 3rd at the former M restaurant at the Morris House Hotel. Sean had made the reservation a month in advance. "He was betting on us working out," says Stephanie.
They were together for four years (plus their nine months of friendship) before Sean proposed during a trip through the National Parks, including Zion in Utah. Their first hike of the trip was Angels Landing, which rewarded them with gorgeous views of the natural wonders at the top — also the site of Sean's proposal. "I had clutched the engagement ring through airport security, across the country, and carried it up a mountain checking every five minutes that it was still in my pocket," he says. "It was time to let it rip." He asked a hiker to take their photo, and dropped to one knee. "I could hear the camera shutter furiously clicking. This hiker did not let me down!"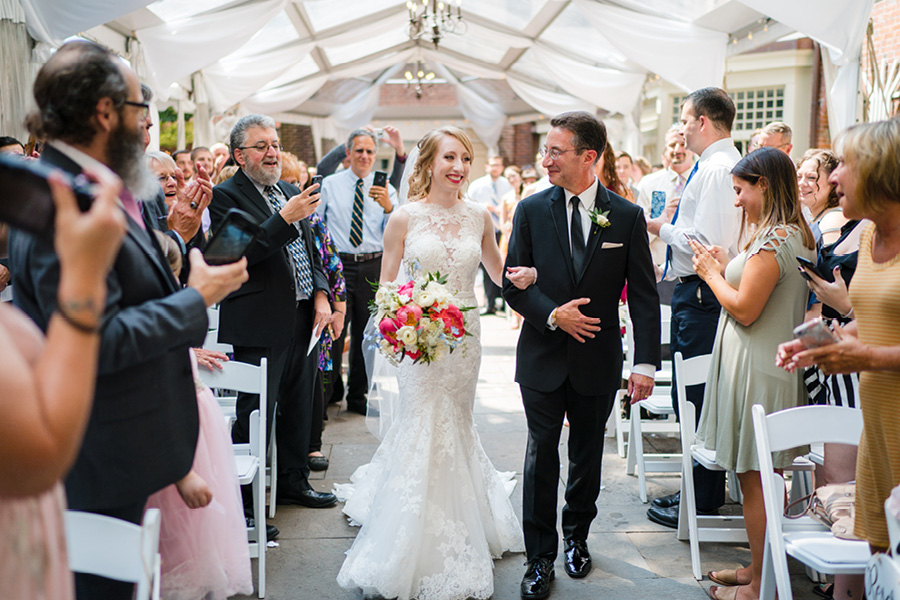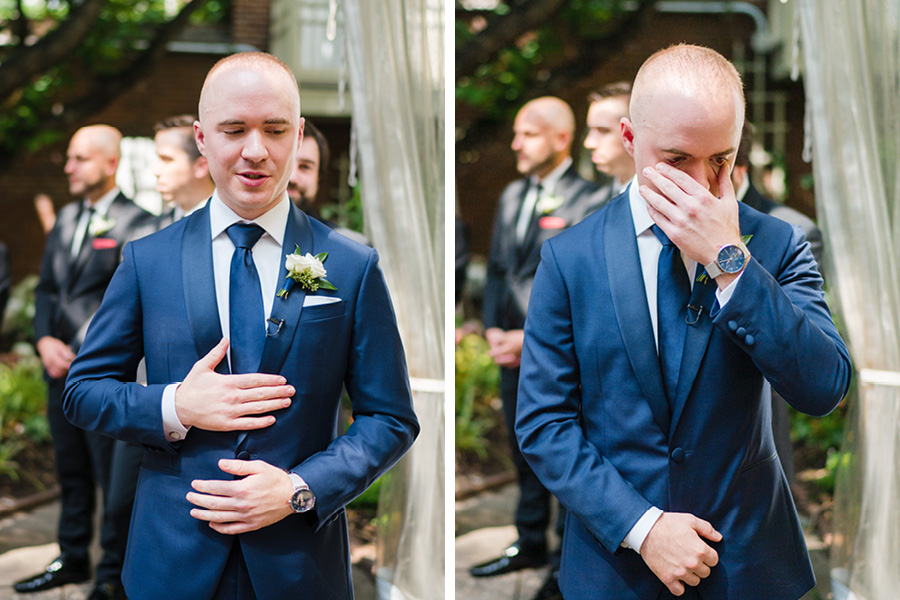 They set their wedding for August 3rd, 2019 — their six-year anniversary — in the courtyard at Morris House Hotel, already a special place for the duo. The decor had a romantic, classic and summery garden vibe, and the bright, poppy hues — florals in guava, white and powder blue, all with a mix of greenery — added a youthful, playful spirit to the touching, tear-filled moments. Take, for example, the processional, to "Here Comes the Sun." It was a fitting choice, given that morning's rain showers. "I was sitting inside and peering out a side door to get a glimpse at the guests, and as soon as our guitarist started to play the song, those happy tears of anticipation and excitement started to well up," says Stephanie. Then there was the ring bearer, Sean's godson, Flynn. He ran full-speed down the aisle, tossed the pillow, turned around and ran back. (The rings were actually in Sean's pocket.)
A surprise for the 123 guests: Stephanie's 94-year-old great aunt, who traveled from Ohio, was the flower bearer. "She has spunk — she doesn't fail to make us smile or poke fun (quite literally, with her cane)." And a surprise for Sean: When the groom walked down the aisle to take his spot at the arbor, someone shouted, "Yeah, Flynn!" causing a spontaneous eruption of cheers and smiles from the crowd. And when Stephanie walked down the aisle? Sean melted into tears. (The couple had chosen not to do a first look.)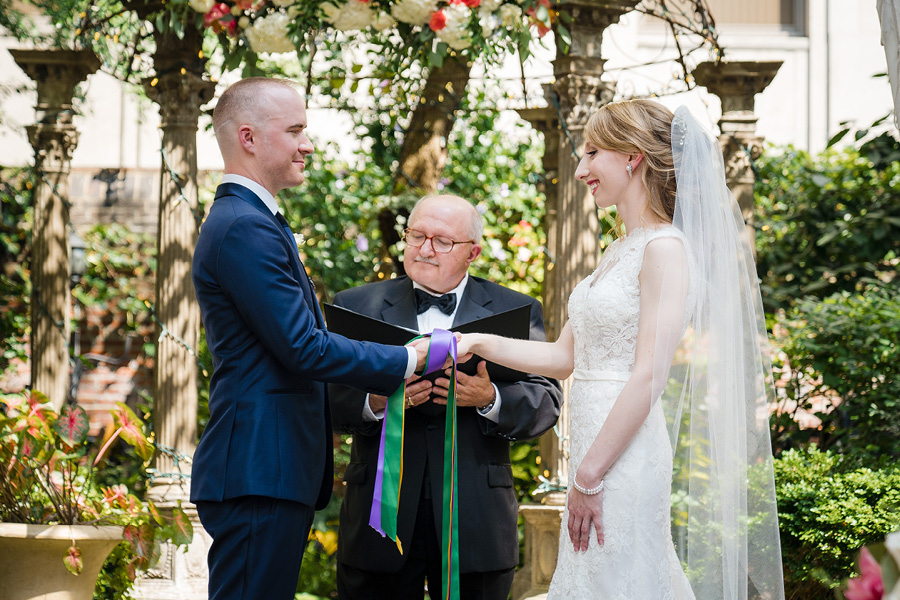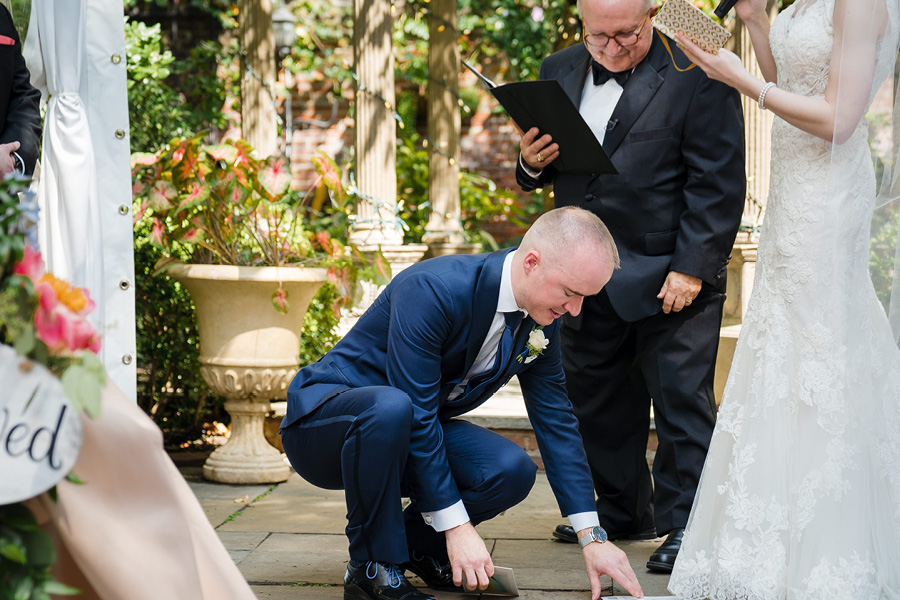 Both Stephanie and Sean agree that exchanging their vows at the same spot as their first date was one of their favorite moments. During her portion, Stephanie accidentally dropped something, and Sean picked it up. "I finally noticed what she had dropped and was in absolute shock," he says. "They were notes and cards I had written to her years ago, on our one-month anniversary and birthday. Time seemed to stop, because there was certainly no reason why these notes would be here at this moment." After he handed them back to her, she began to read them aloud.
The rest of the day was filled with unique, personal touches. Stephanie had designed and created the signage and stationery (from the table numbers to the drink signs to the place cards). She also hand-painted the illustrations inside the invitations and crafted the flower crest that made an appearance on programs, menus and welcome notes. (A few days prior to the wedding, the couple assembled everything on their Pennsport apartment floor. "The chaos was worth it," says Stephanie.) They used a U.S. National Parks book as their guestbook, and Stephanie designed a bookmark bearing their engagement date to help prop the tome open. And they assembled wedding photos from their parents and grandparents for a tribute table with a sign that read, "Generations of Love." (Jute welcome bags, by the way, were also assembled by the couple, with notes, programs, "happy tears" tissues and fun Philly-focused items.)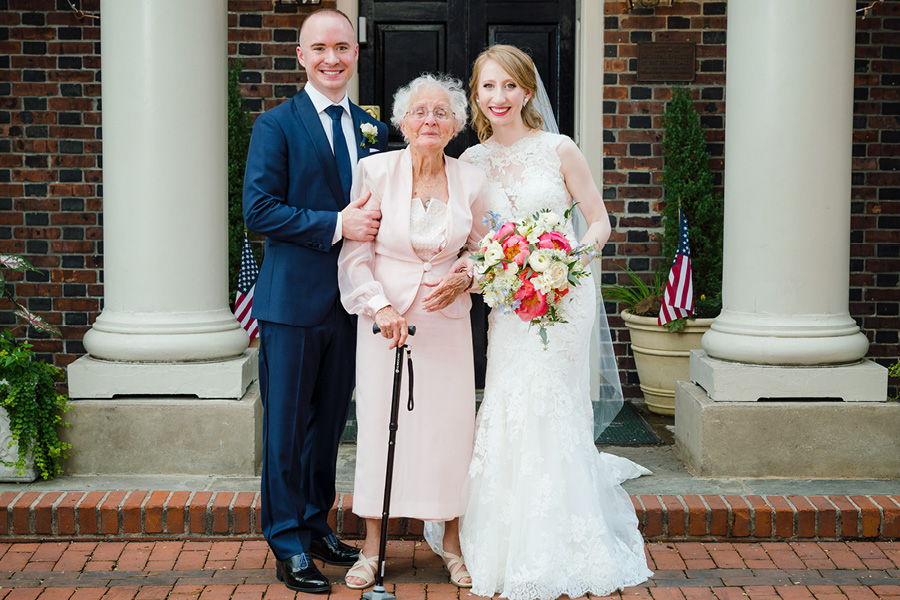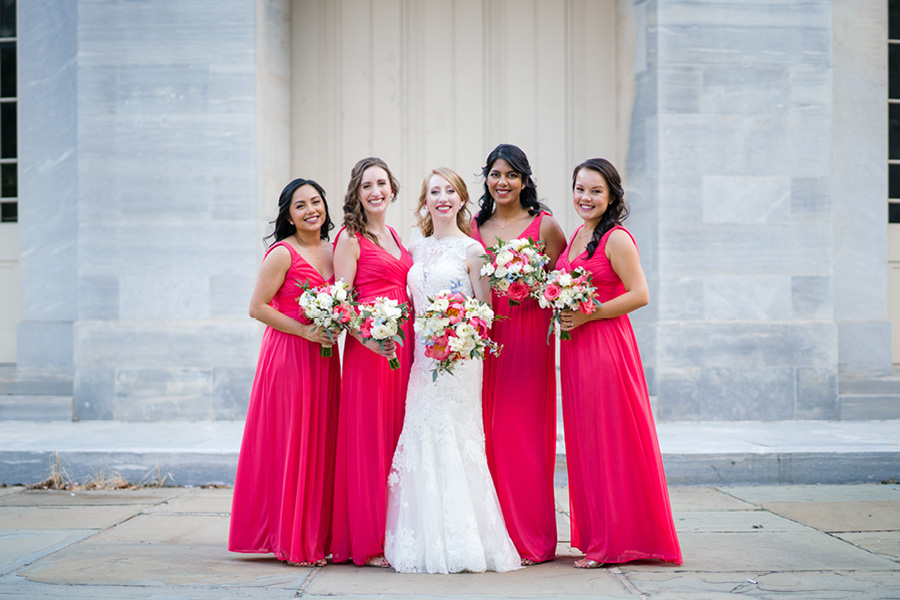 Technically, there were two cocktail hours: "Our family likes to have fun," says Stephanie. There were pre-ceremony refreshments at Morris House (fruit skewers, an open Champagne bar) and a post-cocktail hour at the Loews Philadelphia Hotel, complete with passed lollipop lamb chops, quinoa fritters and other bites, in addition to signature sips the Bourbon Smash and Elderflower Margarita (a nod to the homemade elderflower prosecco punch Stephanie made at her bridal shower).
The reception, held on the 33rd floor of the hotel, carried through many of the elements of the ceremony, including the florals — they were repurposed in various locations, like the place-card and cake tables. "That was very important to us," says Stephanie.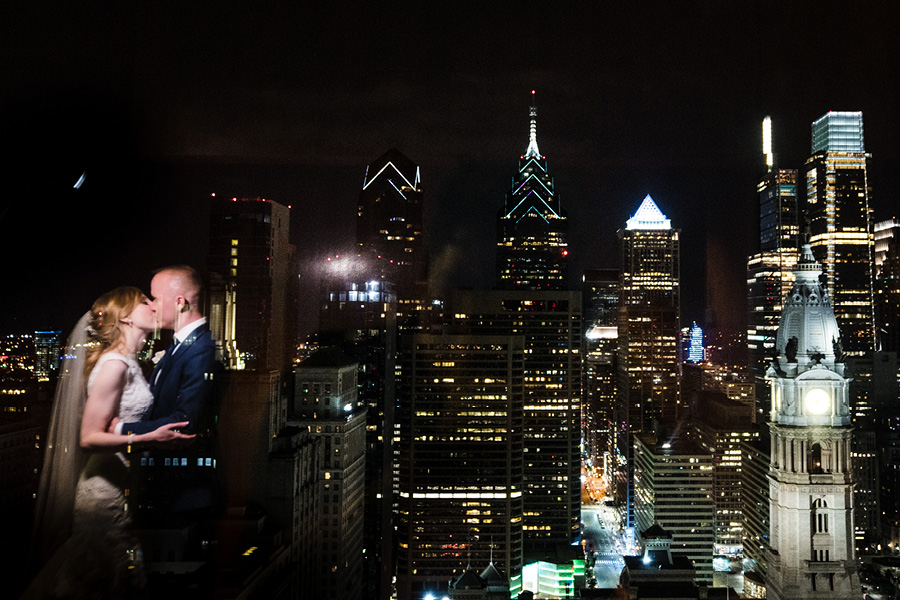 There was dancing (the couple picked "Music to My Eyes" by Lady Gaga and Philly native Bradley Cooper for their first dance) and sweet moments — vegan chocolate chip cupcakes, and a wedding cake with chocolate chip poundcake with chocolate Chambord mousse filling and almond spongecake with almond buttercream filling — all with skyline views of Philly in the background. "Philly is where we met, went to school together and have lived together, so celebrating right here in Center City felt perfectly 'us.'"
THE DETAILS
Photographer: JD Land of Salt & Sonder Studio | Venues: Morris House Hotel (ceremony); Loews Philadelphia Hotel (reception, lighting & cake) | Planning/Design: Arielle Fera Events (month-of coordinator); Carly Barron (former event coordinator at Morris); Elizabeth Lotz (event coordinator at the Loews) | Florals: Fabufloras Event & Floral Design | Catering: former M Restaurant (pre-ceremony appetizers & drinks); Loews (cocktail hour, dinner & dessert) | Bride's Gown: Pronovias Dril gown from Elizabeth Johns | Bride's Hair Clip: Hair Comes the Bride | Bridesmaids' Attire: David's Bridal | Hair: Alisha Nycole & Co. | Makeup: Aleksandra Ambrozy | Groom's Attire: Enzo Custom | Entertainment: Jackson Howard (rehearsal dinner & ceremony); DJ Benjamin Coleman of Remixologists (cocktail hour & reception) | Cupcakes: Sweet Freedom Bakery | Invitations: Bride (design, writing & acrylic paintings); The Papery & Smitten on Paper (print production & coordination) | Transportation: Philadelphia Trolley Works | Videography: Anthony Bezich of BeFilms Wedding Cinema | Photo Booth: Poser Photobooth Co.
Get more great content from Philadelphia Wedding:
FACEBOOK | INSTAGRAM | NEWSLETTER | PINTEREST
Getting married? Start and end your wedding planning journey with Philadelphia Weddings' guide to the best wedding vendors in the city.
---
---