News
We Brought in Our Own Artwork to Make Our Wedding at Cairnwood Estate Feel Like Home
"For a lot of Black people, being in those spaces — while they are beautiful, it's an emotionally charged experience."
---
Choosing a wedding venue is one of the first items to check off your list when you embark on planning your Big Day (ya know, after the proposal), and if a historic setting is the locale for you, then the Philly area has ample choices. But how do you make it your own? It's a question this couple faced when they decided to throw their "Black Gatsby"-themed reception at Cairnwood Estate in Bryn Athyn (after their ceremony at Bowman's Hill Wildflower Preserve). "The family that owned Cairnwood was white. In the late 19th century, few Black people would have had the opportunity to accumulate the wealth necessary to afford an estate of that magnitude," shares the bride. But the couple found a creative way to pay homage to their life — with art. Take a look at their approach below, photographed by Afrik Armando.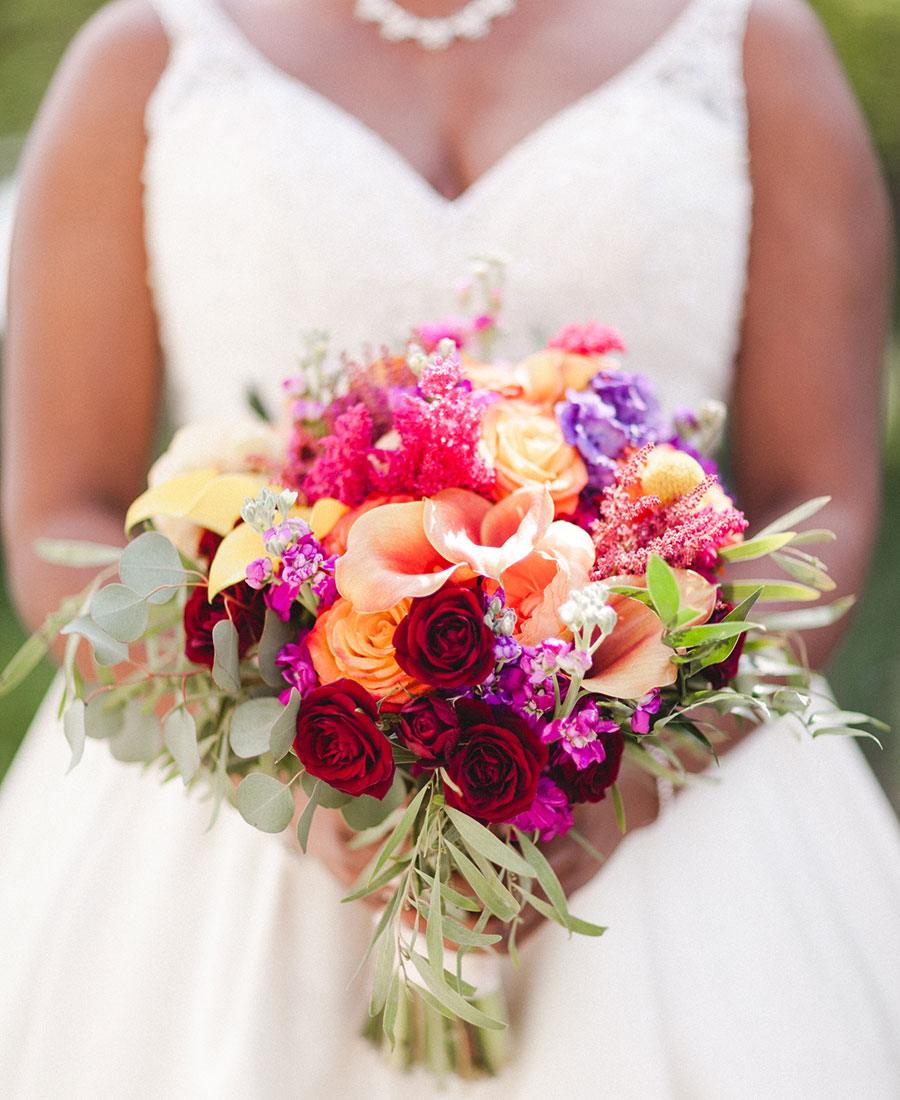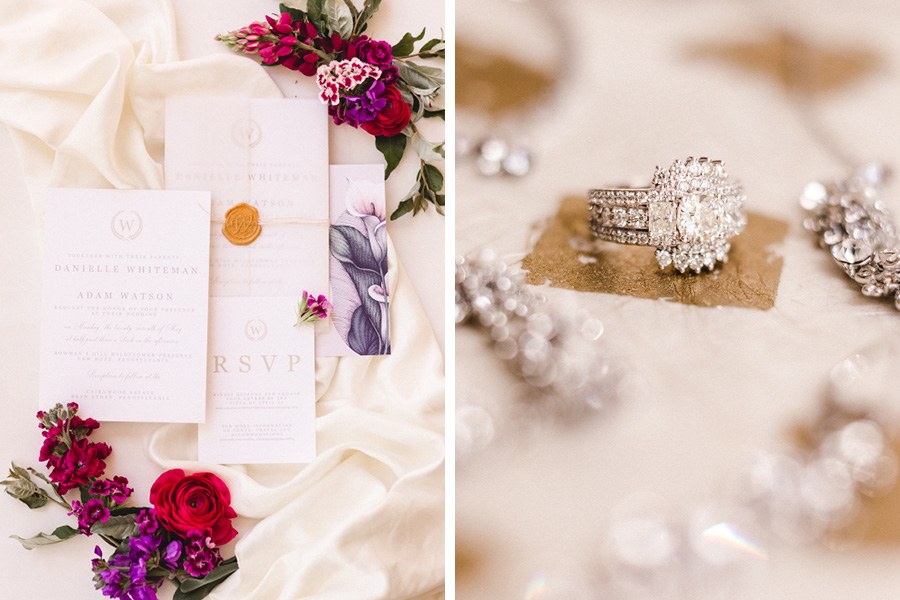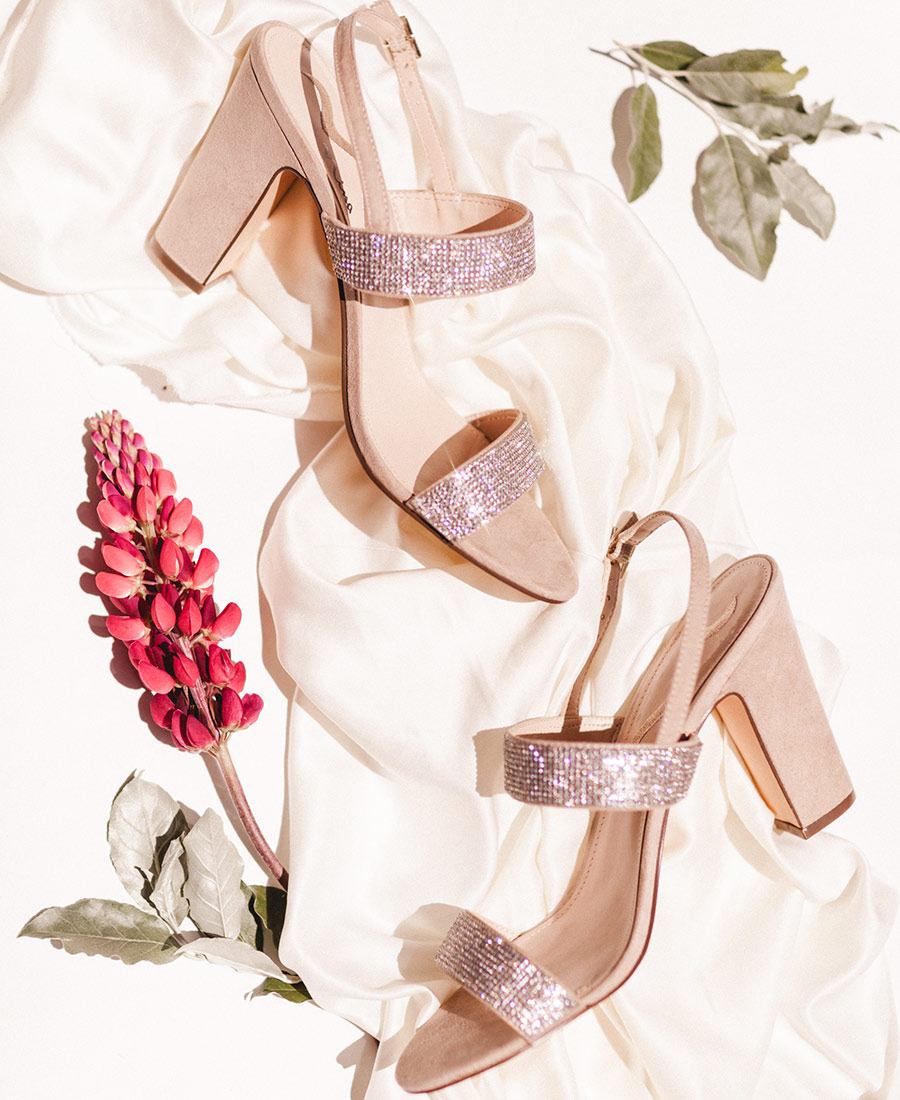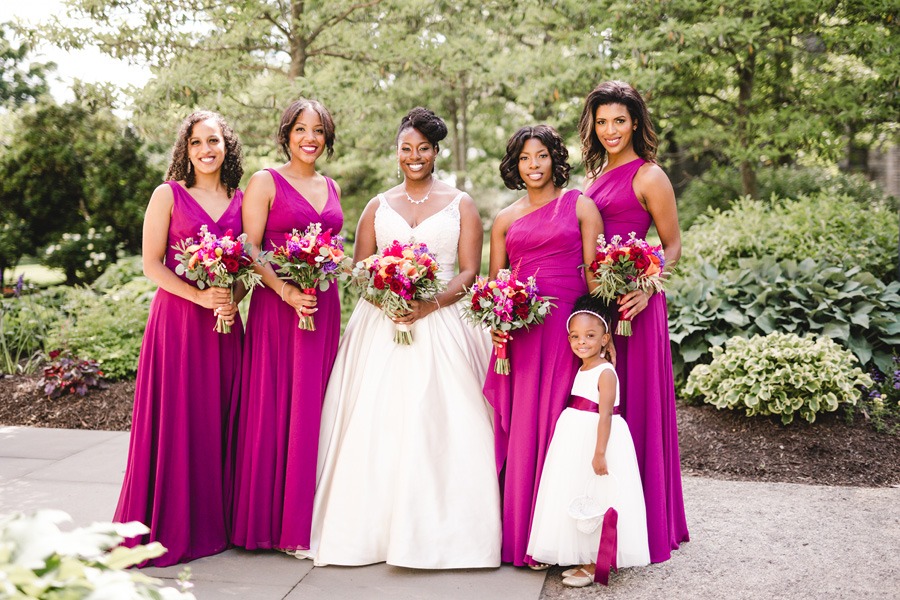 Danielle Whiteman will never forget the first time she saw Adam Watson. The Long Island resident was touring Boston College during Black family weekend. She was getting a peek at the gym facilities when she noticed him at the vending machine, "probably buying a Gatorade or something," recalls the public defender at The Legal Aid Society. "I remember thinking that if this is what college guys were like, I couldn't wait to get there." And when she did get to her future alma mater, she spotted him again, during an event featuring some bands on campus. Original Composition, Adam's group, was among them. She went to a number of their shows, but says she didn't have the courage to chat with him. That is, until an open-mic night in the freshman dining hall, when they ended up sitting next each other in performer's row. After she delivered her spoken-word piece, the Montclair-born Adam complimented her on it.
A few months later, Adam ran into Danielle, her friend Noèmie Hailu (who later played a key role in the Big Day) and his roommate outside his dorm building. That hangout turned into many more, including walks through Boston College's seminary grounds, and all its "hills and secret crannies," says Adam, now a senior recruiter at CohnRehznick. Their first date took place after Adam had graduated and the two had gone back to their family homes. They met in the middle (NYC) and spent the evening in Brooklyn, with a spontaneous train ride to Long Island, as well. "It was later that night, walking on the sand at Long Beach, where we had our first kiss," says Danielle.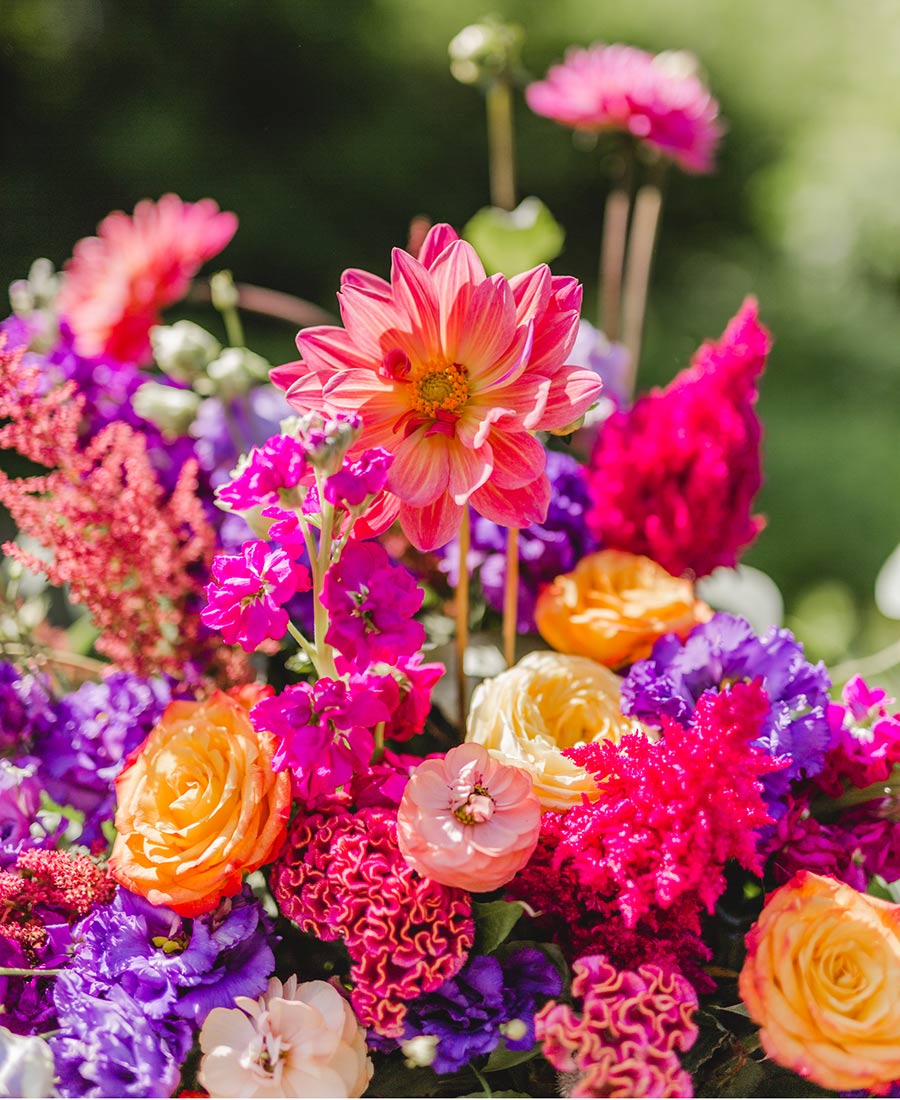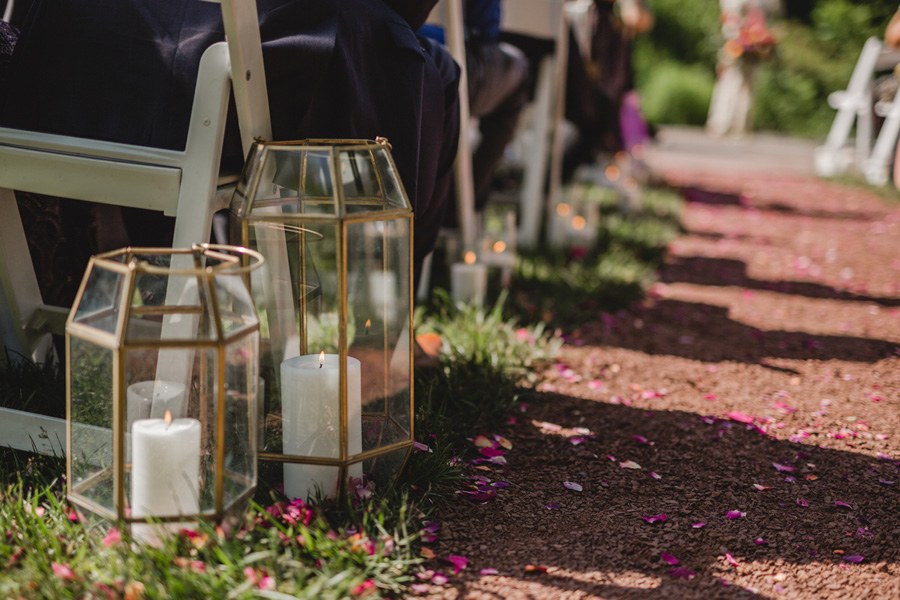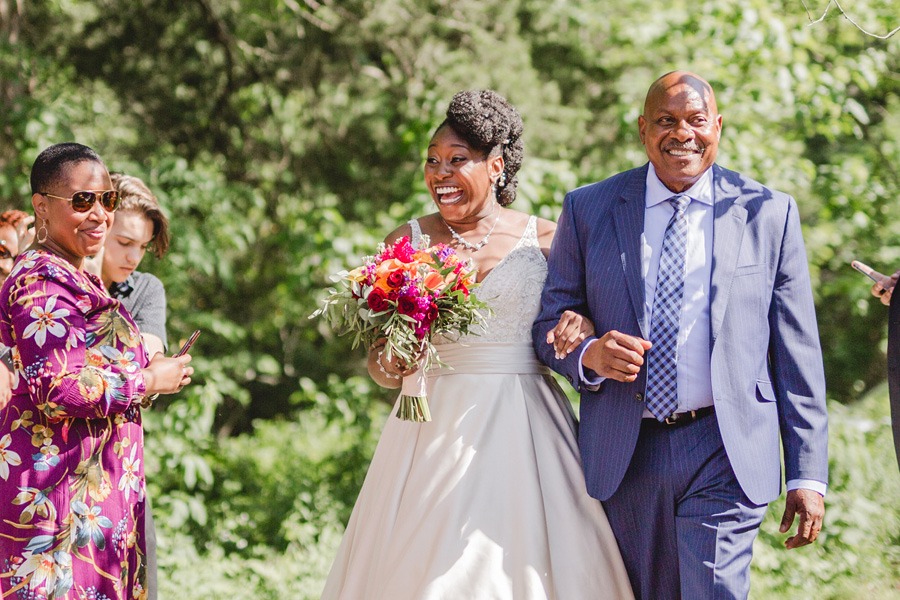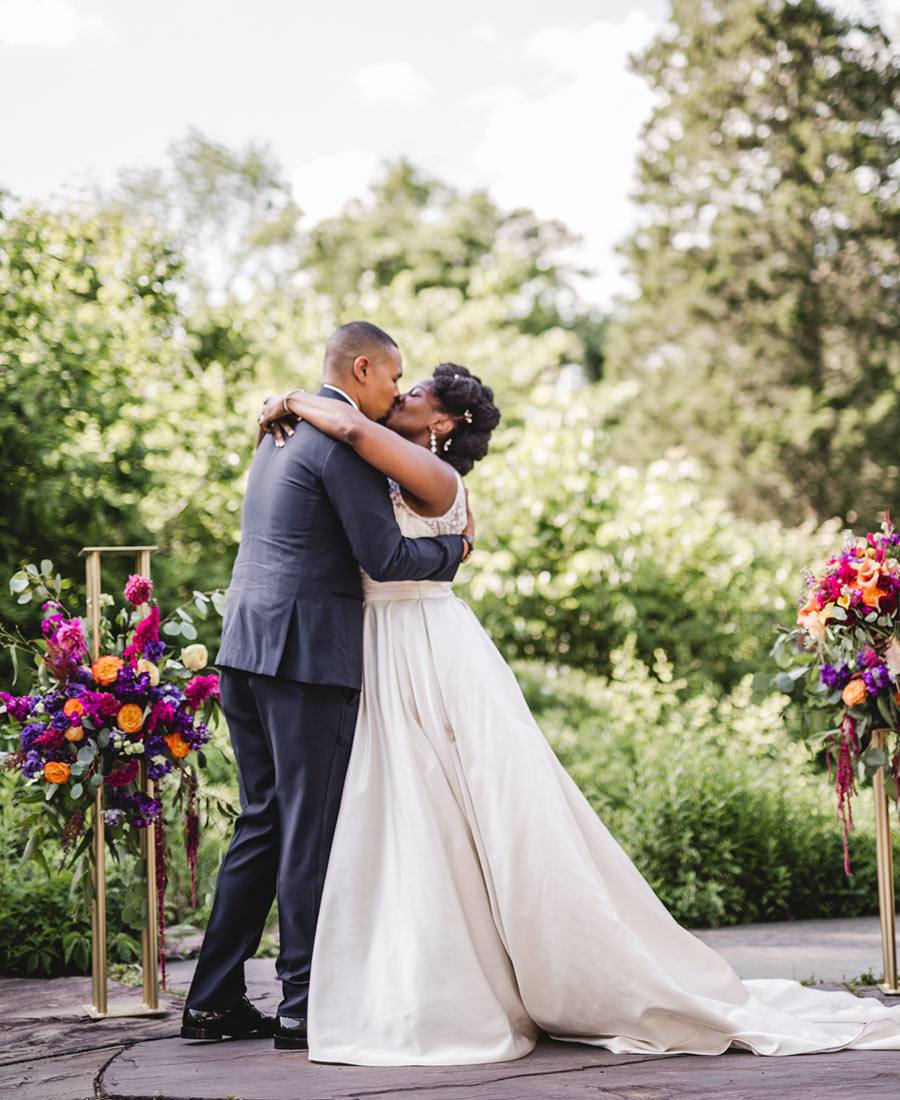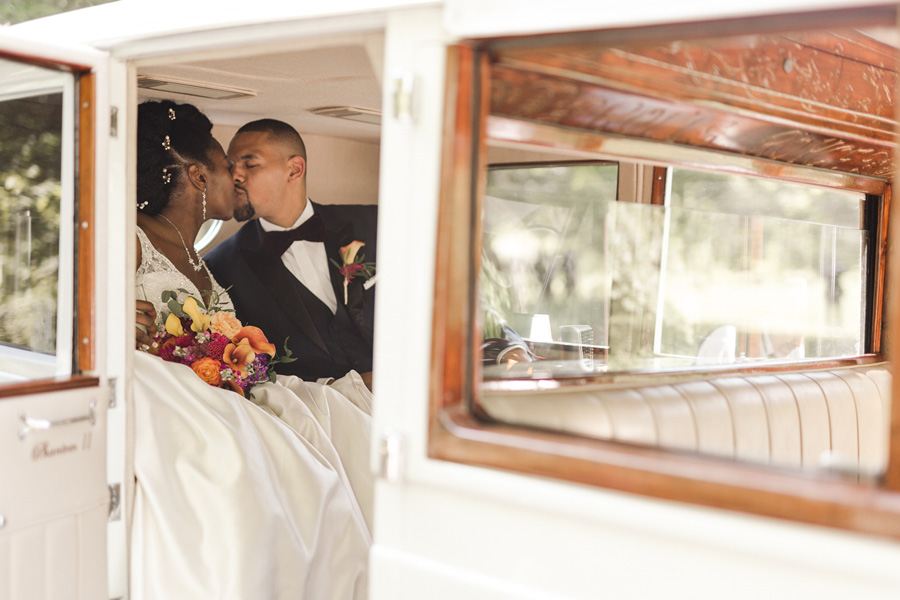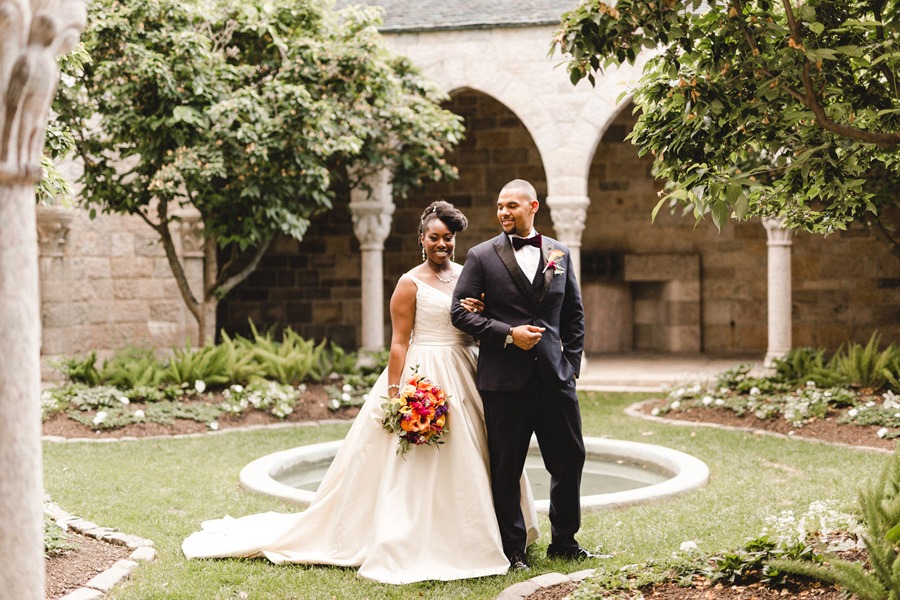 They dated for eight years before Adam proposed at the top of a bridge in Central Park, asking a passerby to capture the moment. "I handed him my phone with the video mode on and recording, and shot him a 'please play along' look," recalls Adam. Luckily, the easygoing fellow played his part and captured Adam asking Danielle to marry him. Dinner at Robert followed, and, for one last surprise, tw0 dozen flowers and petals were waiting at home.
The duo, who lives in Brooklyn, chose Bowman's Hill Wildflower Preserve for their self-uniting ceremony four years later. It was officiated by Noèmie (also one of Danielle's bridesmaids). Their fathers both spoke on marriage and love. They wrote their own vows and read them from their cell phones, and they ended it all with a signing ceremony: Their mothers served as witnesses and signed the license with the happy couple. The bride's favorite detail was "walking down the aisle as a married couple and seeing all of our family and friends gathered to celebrate us and shouting their congratulations," says Danielle. "The love and energy of that moment was so amazing!" (Adam felt the emotion of seeing Dani walk "down the aisle to me like a queen.") A Rolls-Royce from First Class Luxury Limos was waiting to transport them to their reception; they were served champagne as they stepped inside for a few private minutes as husband and wife.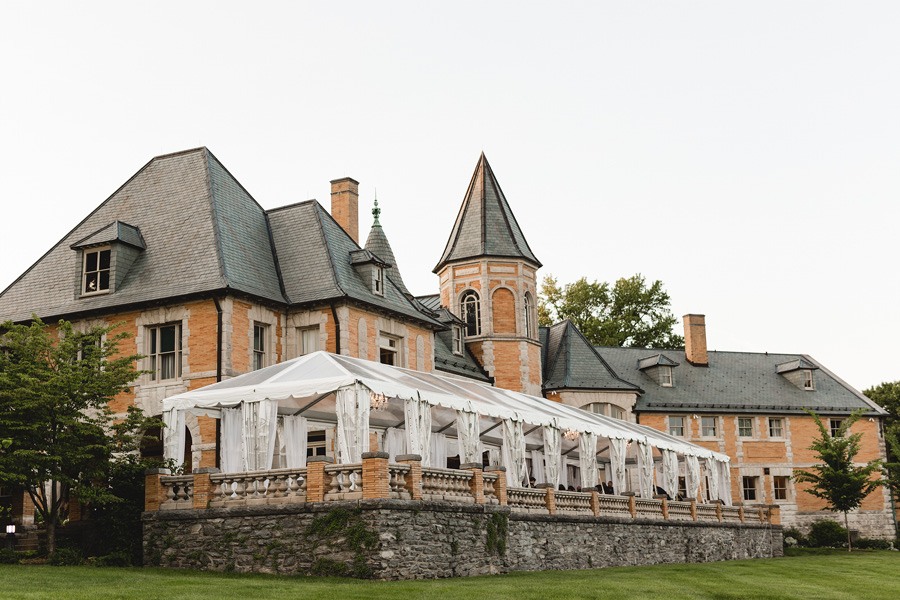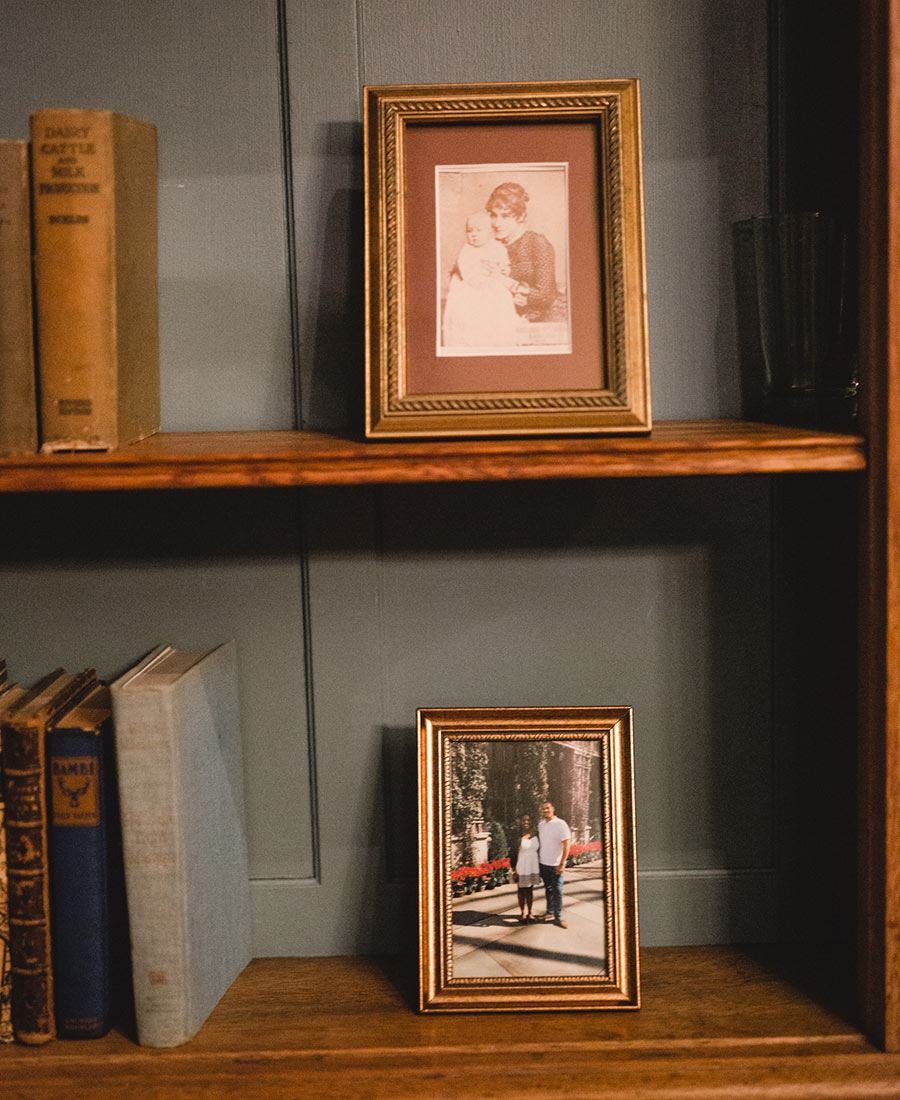 They then headed to Cairnwood Estate for their reception — and it's perfect for a number of reasons. "The Great Gatsby was one of my favorite books as a teenager," says Danielle. "I loved the huge party scenes." Her family is also from Grenada and love to throw large celebrations. "I wanted to use this opportunity to do a really fun, down-to-earth house party, but in an elevated space."
The one thing the couple wanted to change was the portraits; the family who owned the mansion was white, and in the late 19th century few Black people would have been able to afford an estate like Cairnwood. "For a lot of Black people, being in those spaces — while they are beautiful, it's an emotionally charged experience," notes Danielle. Because Danielle and Adam love art, they decided to bring in their own to make everyone feel like they were welcoming them into their own home. They placed pictures of themselves over the years on bookshelves and tables. They borrowed two paintings from Danielle's parents — Lilies from Charles, by Gilbert Young and Charles Bibbs, and Woman in Red, by Gilbert Young — to cover portraits in the library and behind the bar. (These couldn't be taken down because of rules to preserve the estate, which the couple of course wanted to respect.) To Danielle and Adam, the subject of Woman in Red is the embodiment of natural beauty. They were drawn to the "strength, pride and intelligence in her gaze."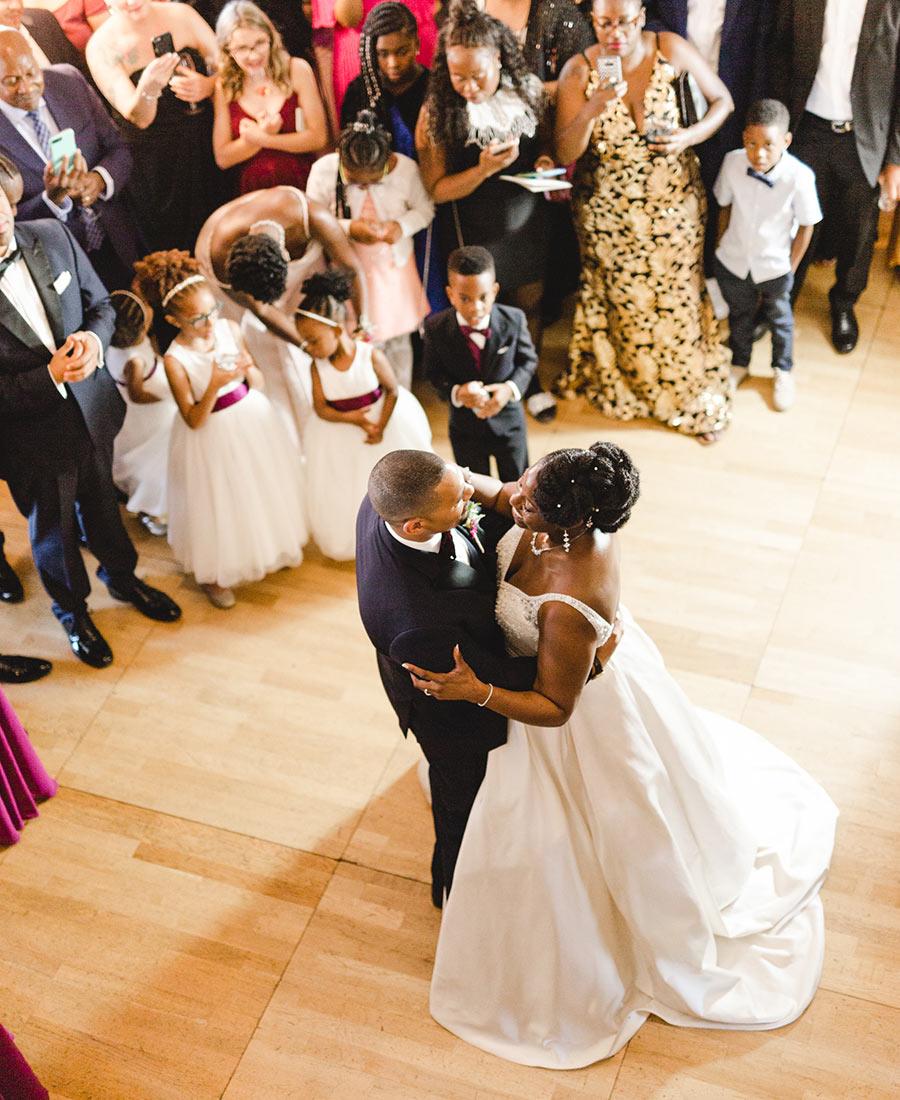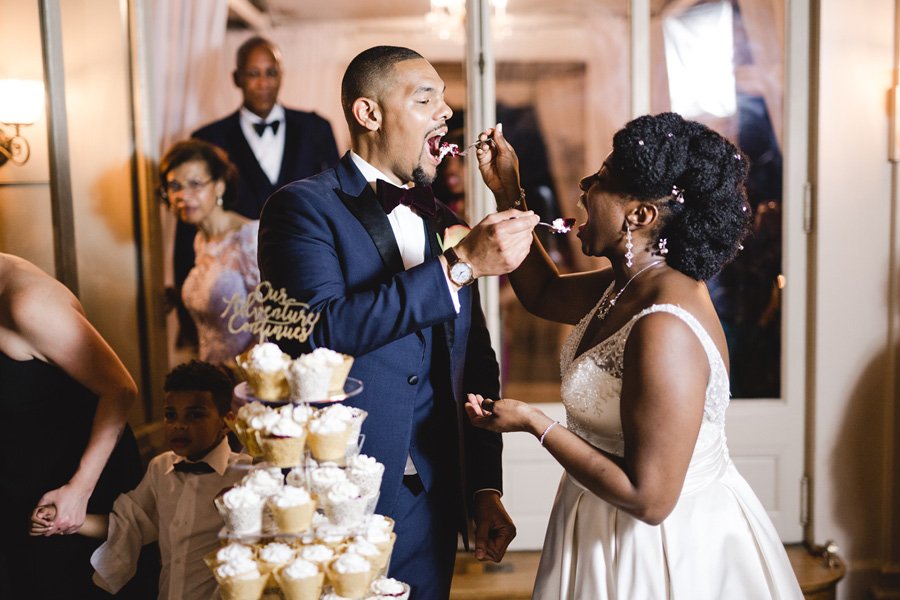 The painting also features calla lilies, a favorite of the bride. The blooms were mirrored in the paper goods by Afrik Armando (who also served as the photographer) as well as the main flowers by Robertson's Flowers. The two-toned calla lilies, circus and spray roses in orange, purple and pink hues added vibrant touches to the decor.
Guests snacked on bacon scallops and beef en croute, among other nibbles, during the cocktail hour. Signature cocktails (Gin Spritz, mojito, Manhattan and Moscow Mule) kept guests in the spirit. Dinner included four main-course choices: Pacific salmon, braised prime boneless beef short ribs, stuffed chicken breast and handmade ravioli.
Sure there were some unexpected elements, like when the DJ played Ed Sheeran's "Thinking Out Loud" instead of "Perfect" for the first dance (Adam had confirmed the wrong song in the final music review), but it was every bit the "authentic, stylish, lit" party the couple had dreamed of. The evening ended with cupcakes, dancing and Black rum cake, a Caribbean specialty. By the way: The couple's artistic additions to the mansion were a hit. Says Danielle: "I hadn't thought about how our guests would interact with them, but people Instagrammed them all night."
THE DETAILS
Photographer & Stationery Design: Afrik Armando | Venue: Bowman's Hill Wildflower Preserve (ceremony); Cairnwood Estate (reception) | Planning/Design: Ilona Belous from Gldn Soul Events | Florals: Robertson's Flowers & Events | Catering: Sage Catering | Bride's Gown: Stella York from The Wedding Factor | Bridesmaids' Attire: David's Bridal | Hair: Tamika Wesley | Makeup: Taysha Chantel | Groom's Attire: The Black Tux | Entertainment: Sweet Harmony Music (ceremony); DJ Maverick from JAM'N 94.5 Boston (reception) | Cake: Beiler's Bakery | Invitations: Zazzle (printing) | Transportation: First Class Luxury Limos
Get more great content from Philadelphia Wedding:
FACEBOOK | INSTAGRAM | NEWSLETTER | PINTEREST
Getting married? Start and end your wedding planning journey with Philadelphia Weddings' guide to the best wedding vendors in the city.
---
---