Coronavirus Wedding Diaries: We Went From a Wedding at The Lucy to a Backyard Elopement
"It wasn't the day we'd planned, but it was truly better than anything we ever expected."
---
For Fairmount couple Deepika Subbiah, 26, and Mike Cicoria, 30, their April 18th wedding date was nonnegotiable. The approach, however, was: move forward with a 300-person celebration (what she calls a "big, fat Indian and Italian wedding") at The Lucy or go another route. Their decision date: April 1st. But as coronavirus progressed, they knew the latter was the only way. "We were just focused on making our marriage ceremony happen in some capacity on our original date," says Deepika, a fashion blogger and senior account exec who met Mike, a mechanical engineer, at Drexel University in 2011. The couple went with an intimate elopement in Mike's uncle's backyard, with a guest list of close family (including his 90-year-old grandmother), a four-legged friend (pup Domino) and decor by one vendor (RAM Floral). "It wasn't the day we'd planned, but it was truly better than anything we ever expected," says Deepika. Here, she shares their story.
This story is part of Philadelphia Wedding's on-going Real Talk series, where real Philly couples share their unique approaches to wedding planning and marriage. If you have a unique story or experience worth sharing, we'd love to hear about it.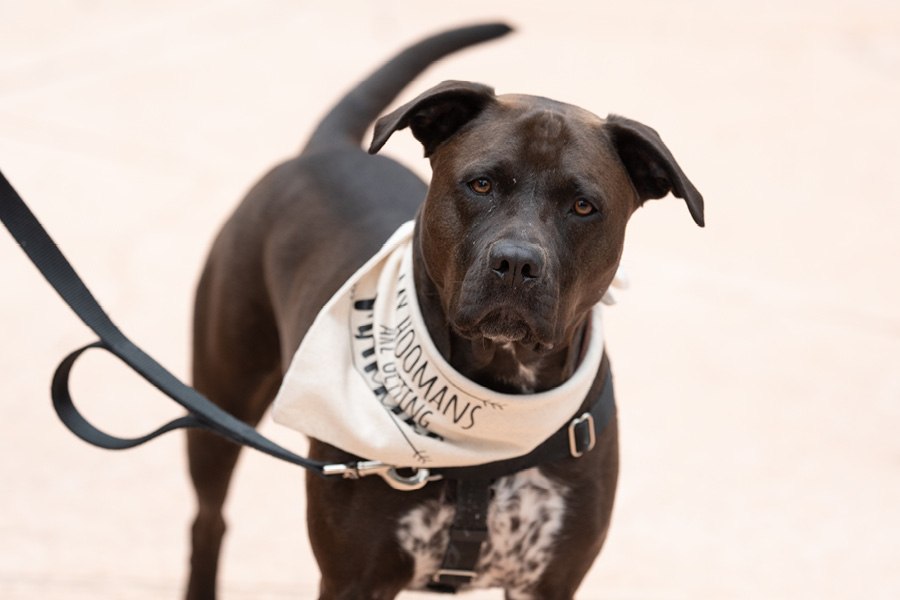 We made the decision a little more than two weeks before the celebration. With the help of our moms, we called and texted our guests to let them know that we unfortunately were canceling. We also informed them that we planned on getting married, legally, on April 18th and that we looked forward to celebrating with them in the future. By doing this, we were able to reach over 300 guests in less than 24 hours.
Our vendors have also been so flexible and patient. There's no guidebook on how to handle changing a wedding due to a global pandemic — for vendors, brides or grooms. Since our wedding was in the earlier stage of social distancing, we were all navigating the process together and trying to make the best decisions with the information we were given. Our only challenge was with our venue. Cescaphe did an amazing job of rescheduling weddings for those couples who had been impacted. Unfortunately, we weren't able to find a date at The Lucy that worked for us due to limited availability through 2020. We were offered other venues within the company — all of which are beautiful — but decided that we needed a break from wedding planning and would figure out the details when everything clears up a bit. [Ed Note: In addition to RAM Floral, vendors for the big event are Beauty by Payal, Beautiful Blooms, Twisted Oaks Studio, Willow Tree Films and SoundConnection.]
The morning leading up to the ceremony felt like a normal Saturday. We both woke up and worked out, then got ready to make the two-hour drive to Cedar Grove, N.J. I had experimented with giving Mike a haircut the week before, which thankfully worked out. Mike cleaned up his beard and I did my own hair and makeup. We both brought our outfits in the car in garment bags. We also got Domino ready in his special bandana.
RELATED: A Guide to Philadelphia Weddings During the Coronavirus Outbreak
I originally intended to wear white for our ceremony. One of my good friends is making my ceremony dress, as well as a reception outfit. When we made the decision to cancel, they were not complete yet, so we put them on hold for the time being. I wanted to save both for our bigger celebration, and chose instead to wear a pale blue BCBG Max Azria tulle dress. I fell in love with the dress and thought: "This isn't a traditional wedding anyway, why not wear blue?"
I asked our florist, Rebecca DePasquale, to surprise me. She knows my taste very well. She really took control of the situation and scouted out the best spot. We arrived on-site after she [and husband John] had finished setting up the arch and florals. It was perfect, and on our end, totally hassle and stress free. Both Mike and I were blown away by what she had created. … Once we saw the backyard and the ceremony set up, it all became very real in the best way! [Ed Note: Rebecca wore a floral-printed mask, gloves and maintained social distancing practices; they accessed the yard through a back gate and didn't enter the home to set up. The bouquet was placed on a table near the door for the bride to pick up.]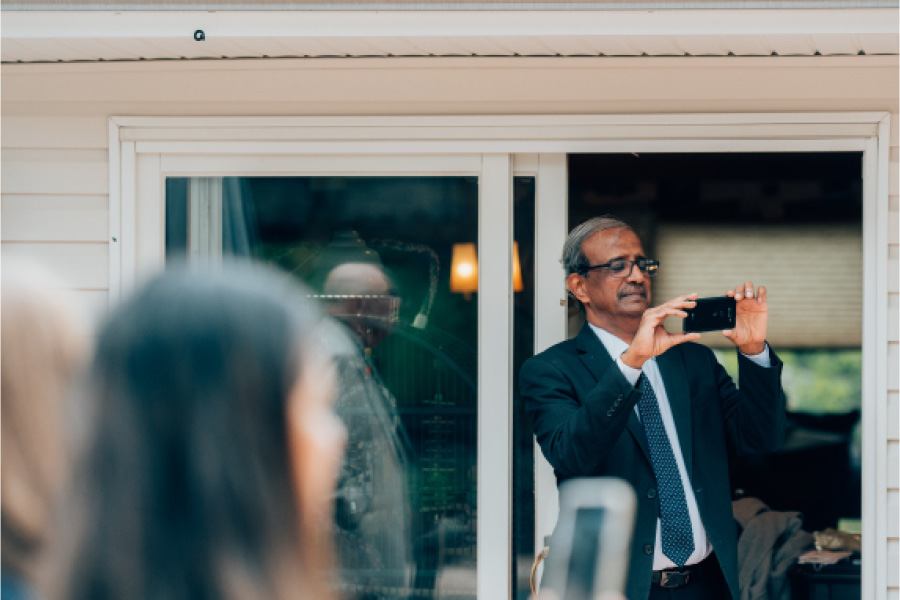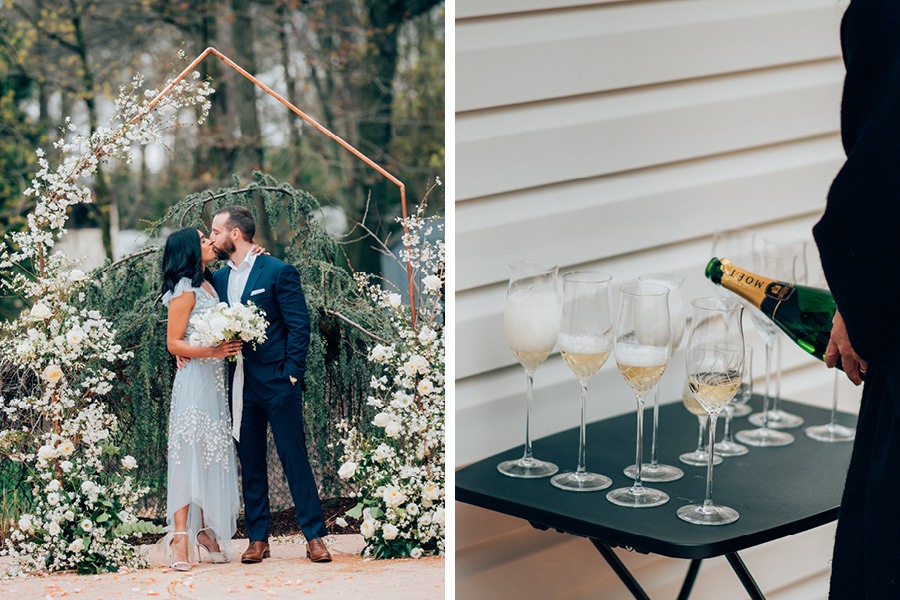 The ceremony was really special. My dad walked me down the "aisle" and we were both relieved and excited that Mike and I were finally able to say "I do." The ceremony itself was short and sweet, and was done by Mike's uncle, Tom, who knows us both well.
In the days leading up to the ceremony, I was having trouble with the idea that some of our closest family and friends wouldn't be present. However, looking back, the day was intimate, special and attended (virtually and in person) by all those who matter to us: On Zoom we had 75 households that signed on, totaling about 90 people from around the world. All of our friends and family dressed up and had cocktails and Champagne ready to celebrate. We also had numerous family members send us video messages and blessings that we are now able to keep forever.
A few of our family friends were waiting outside in their cars for us to say congratulations in person. Even though we couldn't hug them, it was still so special. We also had a FaceTime reception with Mike's groomsmen on our drive back to Philly. Once we arrived home, there were bouquets of flowers and bottles of Champagne waiting for us that had been sent to us by loved ones.
For dinner, Mike surprised me with Trattoria Carina. Neither of us had ever been there, but he knew I was craving cacio e pepe, and that theirs was supposed to be really good. Everything was incredible! We can't wait to visit the restaurant in person once restrictions are lifted.
We did our first dance in our kitchen with Domino as our audience. We danced to Ed Sheeran and Beyoncé's "Perfect Duet," as planned.
As for our big celebration, we are thinking of scaling back our wedding entirely and taking advantage of the beautiful weather that Philly has to offer late summer/early fall. Currently we are looking at Suraya, Bok and a few other urban outdoor spaces. We have our other vendors on hold and definitely plan to use as many of them as possible, pending their availability, when we do pick a date for our wedding 2.0.
A wedding and marriage are not synonymous. A wedding lasts a day; a marriage lasts a lifetime. For us, getting married was our priority, and with the help of our families, we were able to make that happen. The silver lining is that whenever we do decide to celebrate, there will be no pressure on that day since we're already married!
This interview has been edited for clarity and length.
Get more great content from Philadelphia Wedding:
FACEBOOK | INSTAGRAM | NEWSLETTER | PINTEREST
Getting married? Start and end your wedding planning journey with Philadelphia Weddings' guide to the best wedding vendors in the city.
---
---