How Could You Not Say Yes to This Gritty Cake Proposal?
Marry. It. Me. Have more romantic words ever been spoken?
---
As weddings become more and more personal, so do the proposals that precede them. While we love it when couples incorporate the details that make their own love stories unique, we especially love it when those details are the things that also make our city unique. And, right now, it doesn't get more Philly than Gritty. Read about the special role our beloved orange oddball played in a super-cute scavenger hunt proposal below.
The Couple: Steven Mayernick, 31, and Jordan Price, also 31. They live in Fishtown.
How They Got Together: Steve's roommate played in an Irish band with a friend of Jordan's from college, who also happened to be the local rep for Brooklyn Brewery. He'd invited all of them to a Brooklyn Brewery "Philly Mash" event at Alla Spina. Steve was supposed to be at a wedding that weekend, but after a mishap with some car keys, ended up having to take the train back to the city. While in line waiting for food, Steve recounted for his friends this crazy string of bad luck that led him to still be in town. Jordan overheard Steve lamenting, and couldn't help but chime in with some teasing. They soon bonded over a love of Philly's food scene, shared Spotify playlists, and an affinity for El Rey's happy hour (and their queso fundido). After a bit of hemming and hawing, Steve extended an invite to Pumpkin BYOB for a real date, and they both knew that night there was no looking back. They dated for three years and about two weeks before getting engaged. The day of the proposal was actually framed as a belated anniversary celebration because Jordan was traveling on the actual anniversary.
The Proposal Story: Steve knew he wanted the proposal to be something special, and something uniquely fit for Jordan's interests. So, under the premise of having to head into the office for some work during the day, Steve laid out a scavenger hunt for the day. He warned her there would be a slew of clues taking her all around the city for a day of self-care and fun at some of her favorite spots. Clue One was set by her teapot in the morning and the game was afoot!
The clue alluded to Gavin McKay and "east winds" so, after a bit of sleuthing, Jordan was off to the Market Frankford Line to rush to her first stop: a workout class at one of her favorite studios, Unite Fitness. As a freelance writer about food, fitness, and wellness trends, there couldn't have been a better way for her to start the day than with a good sweat.
After completing the 75-minute class, she was presented Clue Two. This one hinted at rainbow streets and cheese that's best fried. That was an easy one: Bud & Marilyn's. (The couple can't get enough of the fried cheese curds on the menu). Waiting at the restaurant, brunch menu at the ready, was Jordan's buddy Liz, who later mentioned not spilling the beans during the meal was one of the biggest challenges of their friendship to date.
Liz presented Jordan with Clue Three, suggesting she head back to where it all began. This set her off to Steve's old apartment, where a few of his friends still live. Steve had left her a change of clothes, and all the necessary toiletries (including a hair dryer), so that she wasn't a sweaty mess for the rest of the day. The trick was that they were going to end the night at a nice dinner, with no time to change later, so this was a good opportunity. Also, that's where Clue Four was waiting.
Clue Four was the only one she struggled with, but it mentioned the flowers by Rocky, so she began strolling in the direction of the Art Museum. After a gentle nudge from Steve, she quickly realized her destination was, in fact, a florist she'd used when they attended their first Dîner en Blanc together. (Jordan is on the planning team for the event.) She hopped on a bus to make up the lost time, walking into the shop minutes before they closed. There, waiting atop a flower crown reminiscent of the one she'd worn at the 2016 Dîner en Blanc, was Clue Five.
This one referenced the Pixar classic Coco and an ocean full of blue fishes, so she hopped in a Lyft across town to Coco Blue's Fishtown salon, where another pal was waiting for manicures. (And, to Steve's chagrin, a last-minute decision for pedicures as well, which nearly threw the timeline off entirely). Jordan's friend whipped out Clue Six at the end of the pampering, and, tipped off by a tea-themed clue, she scampered off to one last Philly favorite.
At Steap & Grind, a barista was waiting with a matcha latte and a new book for Jordan to relax and decompress with after a day of running around. That relaxation was short lived, as she realized she was coming dangerously close to a dinner reservation (that didn't actually exist). Jordan hustled across the street home, where she was told to meet Steve on the rooftop for a special treat before the meal.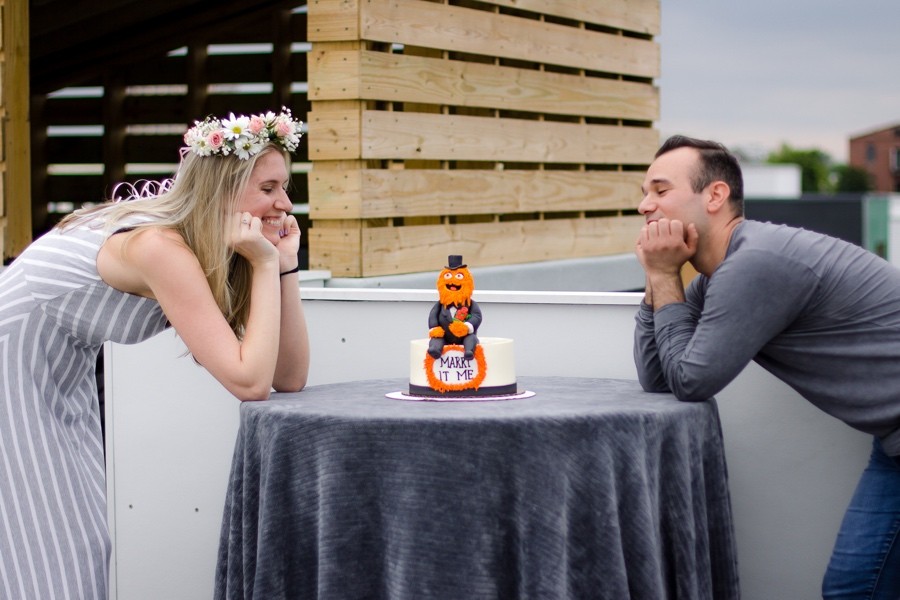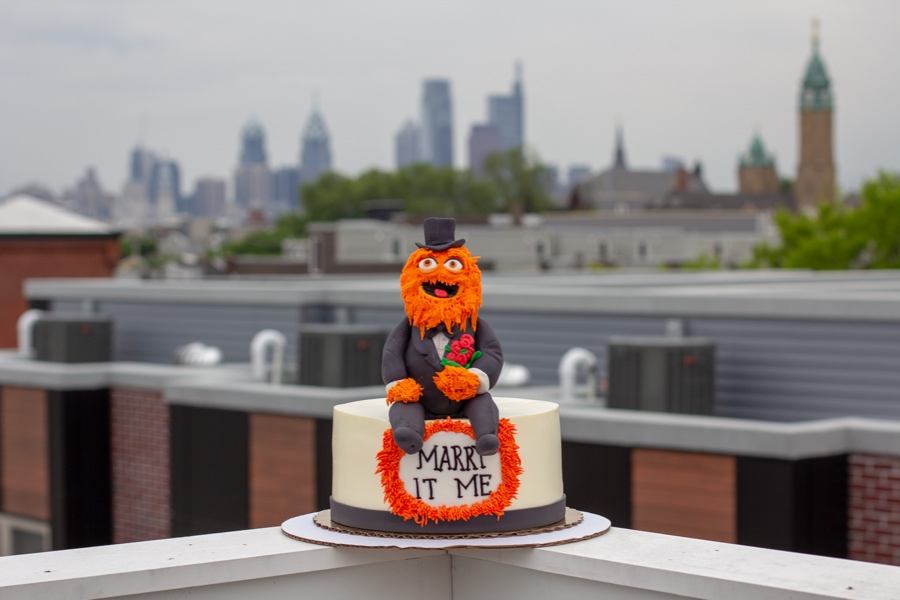 Exhausted and intrigued by the day, Jordan had no expectation of a proposal, but ascended the stairs to find not Steve, but a cake topped with a bright orange, edible statue of her other love: Gritty. Expertly crafted by Whipped Bakeshop, the carrot cake had three simple words:
MARRY
IT ME.
Steve soon joined her on the roof, presenting her with a ring from Philadelphia jeweler John Marchiafava of Marchi Jewelry before surprising her, yet again, with their families waiting downstairs with bottles of bubbly and lots of hugs. Other friends quickly arrived, surprising her one last time by gathering on the roof while the newly engaged couple took a quiet stroll around the neighborhood shortly after the proposal. Many photos were taken of the cake, and it's distinctly possible that Jordan kept the fondant Gritty (for the memories).
This story has been edited for clarity and length.
Get more great content from Philadelphia Wedding:
FACEBOOK | INSTAGRAM | NEWSLETTER | PINTEREST
Getting married? Start and end your wedding planning journey with Philadelphia Weddings' guide to the best wedding vendors in the city.
---