We Were There for Preston & Steve's Engagement Wake Up Call This Morning (Hint: She Said Yes!)
---
I woke up at 4:30 this morning in order to go watch another girl get woken up at 6:30 (lucky)—with a proposal!
We told you the other week that the guys over at WMMR's Preston & Steve morning show were running a contest in which they would help two Philly guys propose to their girls, with bling provided by Steven Singer—and at ungodly hours of the morning: this was officially dubbed the Engagement Wake Up Call.
Well today, the first one went down in the Fox Chase section of the Northeast, as her soon-to-be fiance, Nick McIlwain of the morning crew, two photographers and a videographer, Steven Singer himself, the three members of the Ardmore Trio and, well, me, barged into Ashley Krogh's bedroom before the sun had risen above the horizon. (Sorry, Ashley!)
Tom Walsh, our groom-to-be, asked Ashley to marry him with the cushion-cut stunner you see here, as Pachelbel was played in the background and the aforementioned motley crew looked on. (And, well, as Preston & Steve's bajillions of listeners listened in.) Miraculously, Ashley looked super cute, was dressed appropriately, and did not pop Tom in the nose before accepting his proposal. It was very sweet. He cried. She cried. I cried. Here's a super quick recap (longer video should be up later on Preston & Steve's site):
Afterwards, we learned about the hiccups that almost blew it: Tom had arranged for both of them to have off today, but obviously, Ashley didn't know this, so Tom, a firefighter with Ladder 19 in South Philly, got up early and dressed for work as usual. Sometime during this process, Ashley, a sporadic early riser, appeared, sat down on the couch, and started watching TV! Tom chased her back to bed, saying he had planned on bringing her breakfast there*, and luckily, that's where she stayed—falling back asleep—until she was ambushed with strangers and flowers and diamonds.
And while Tom did remember at the last minute to barricade the couple's two pups in his truck, lest their barking and scurrying around wake her up, he did confess that he'd left his brand new "I Hate Steven Singer" pen on the kitchen counter for the past few days—ever since he had picked up the ring—which Ashley somehow didn't see or touch until she grabbed it to write down her email address for me. WHEW.
Below, a few pics from my dying iPhone and from the kind people at WMMR:
*When I asked Ashley if Tom bringing her breakfast in bed seemed odd or caused her to raise her eyebrows, she said no, which means that Tom, you're doing something right!
---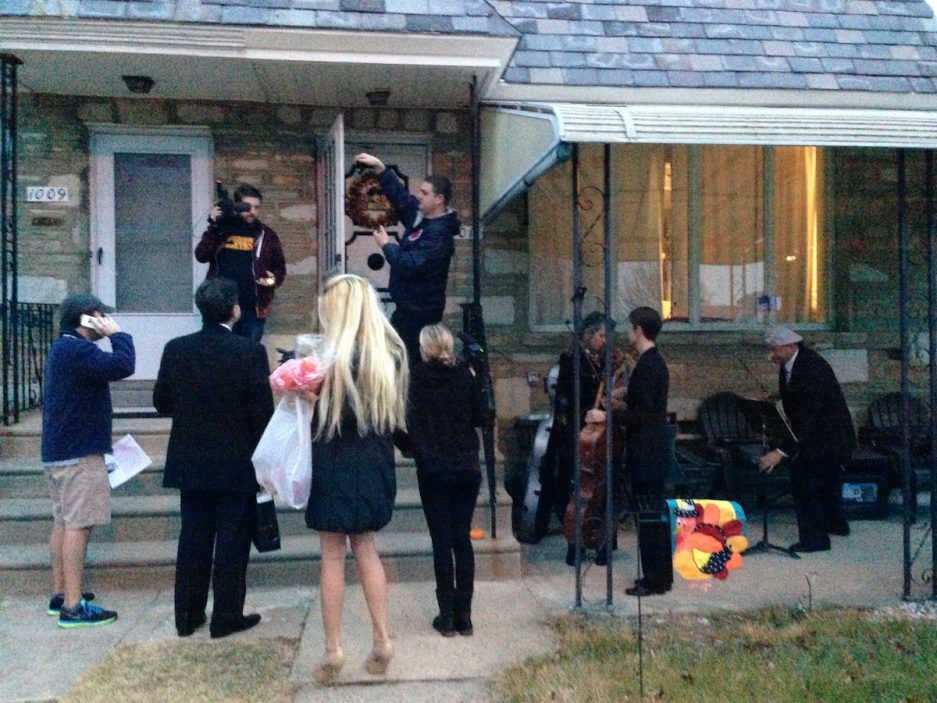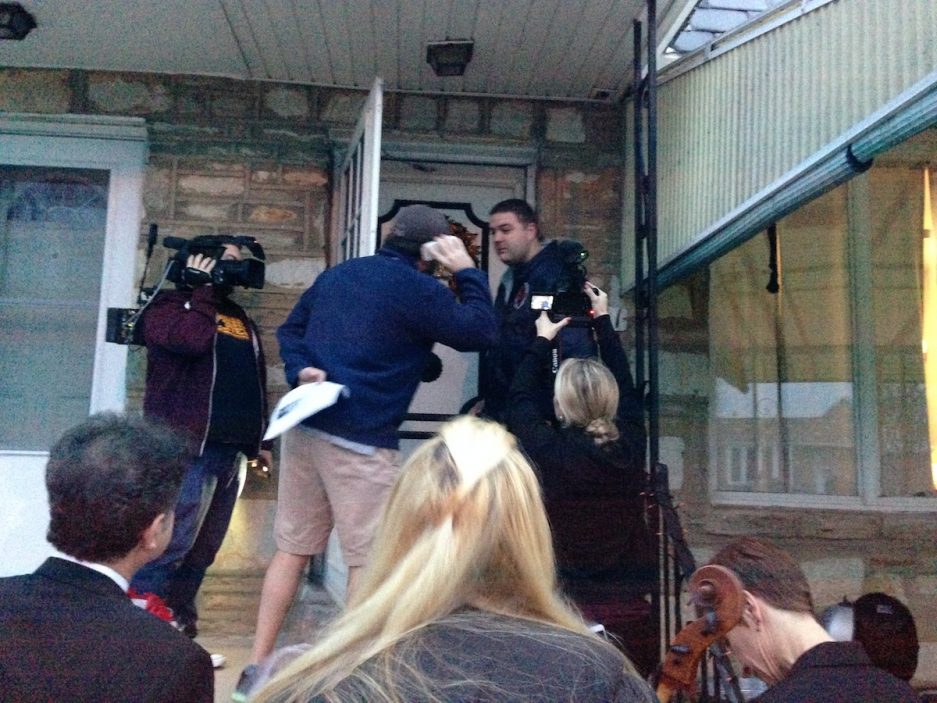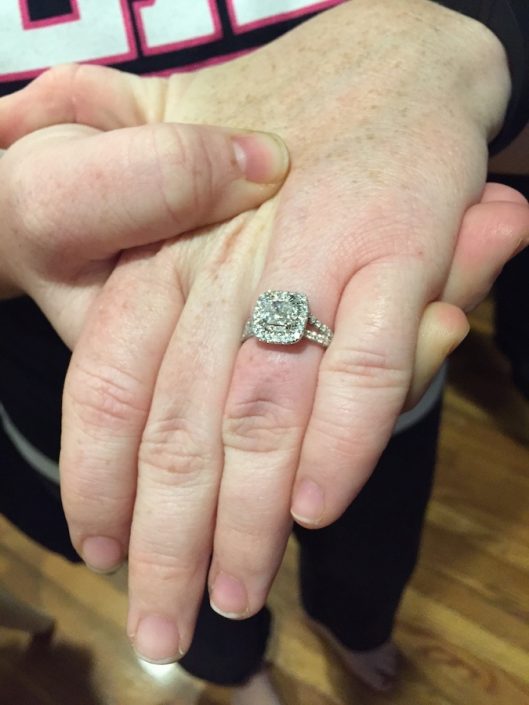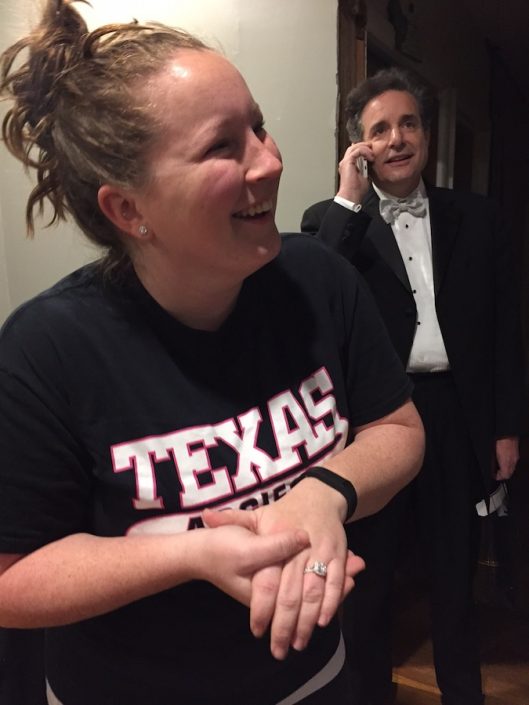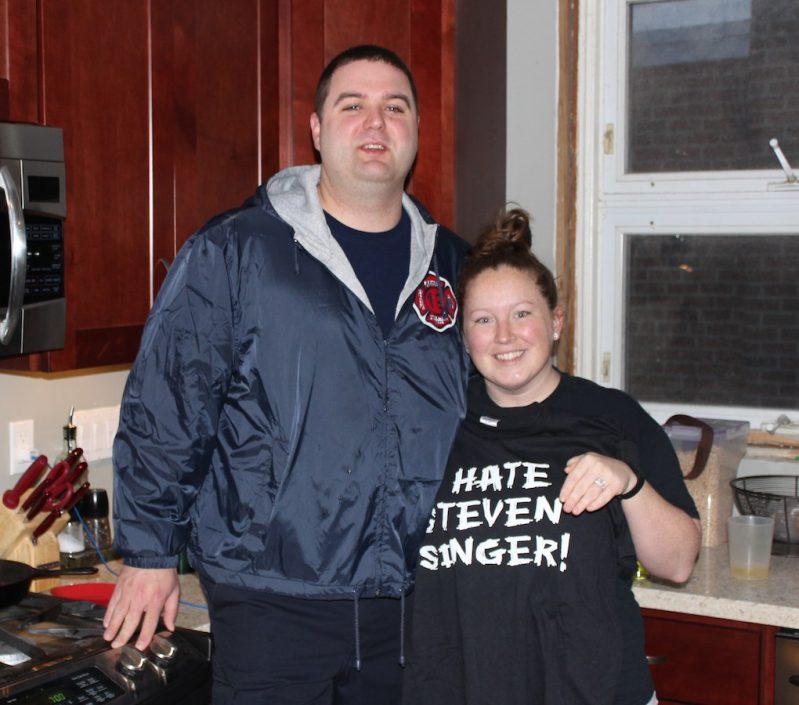 ---
It was a pretty awesome way to start the day for all of us involved, so we hope it was even better for them. Congrats, guys!
Oh—and if you'd like to listen to this happen again, tune into the show tomorrow morning, when the guys will be barging into the bedroom of another bride-to-be. I know I will.
RELATED: WMMR's Preston & Steve and Steven Singer Jewelers Want to Help Two Philly Couples Get Engaged!
To read about—and watch!—more proposals we love, go here.
Like PW on Facebook | Follow PW on Twitter | Sign up for the PW newsletter
Getting married? Start and end your wedding planning journey with Philadelphia Weddings' guide to the best wedding vendors in the city.
---