News
"Where's the Conflict?" Anthony Gargano Asks After Fanatic Injunction
A judge just issued an emergency injunction against him in Fanatic lawsuit.
---
Check phillymag.com each morning Monday through Friday for the latest edition of Philly Today. And if you have a news tip for our hardworking Philly Mag reporters, please direct it here. You can also use that form to send us reader mail. We love reader mail!
"Where's the Conflict?" Anthony Gargano Asks After Fanatic Injunction
A few weeks ago, I told you that the sports-radio station 97.5 The Fanatic was taking Anthony Gargano, one of its key personalities, to court. Why? Because Gargano decided he was going to start working for a new digital sports-media company, PHLY Sports, while still working at the radio station. The owner of The Fanatic cried foul, saying this was a glaring violation of Gargano's contract with the station, and asked a judge for an emergency injunction against Gargano.
The parties appeared in court yesterday and revealed they had reached a settlement agreement as far as the emergency injunction was concerned. And, long story short, the judge granted the emergency injunction against Gargano, and he's officially no longer employed by The Fanatic. He's also not allowed to solicit advertising from current or recent Fanatic advertisers for 18 months. Notably, the Fanatic can still pursue damages against him, which is what it appears to be doing.
Gargano's contract with the Fanatic wasn't set to end until October 2024, after which he would have been contractually obligated to avoid competing with The Fanatic for six months. Meaning he probably wouldn't have been able to do anything with PHLY Sports until April 2025, which seems a long way off. But as a result of all the legal maneuvering, he'll be able to join PHLY Sports as "on-air" talent six months from now. And part of the settlement allows him to work with ALLCITY, the owner of PHLY Sports, on a national online-only NFL show set to start in November. He's co-hosting.
Reached by phone on Wednesday morning, Gargano told me he doesn't understand why the Fanatic was making a fuss.
"Where's the conflict?" said Gargano. "I honestly never thought there was a conflict. One is an all-digital company, and the other is a sports-radio station. I actually thought the two would complement each other and that I could bring the resources of PHLY Sports to help out the Fanatic."
As for the timing of his departure from the Fanatic — he's been off the air since early September, when all this came to a head — Gargano points out that it couldn't have been worse: "Red October?! The Eagles 5-0?! And the Sixers and Flyers are just getting going. This is my favorite time of the year."
Well, They Blew Up an ATM in Philly Last Night
Remember when people set off M-80s (or similar heavy-duty firecrackers) in the middle of the night just for kicks? Unfortunately, the more recent trend has been to use M-80s to blow open ATMs. And it just happened again. In the overnight hours, police say, somebody used explosives to get to the cash inside an ATM at the Foodland Express Chinese Restaurant on 57th Street, just north of Market Street, in West Philly. The bombing bandit (or bandits) made off with some as-yet-unknown amount of money. Fortunately, no injuries.
Local Talent
Congrats are in order for Philadelphia's own Don Argott. He's the director behind the acclaimed documentary Kelce. And he has something to celebrate. On a streaming service chock-full of documentaries, Kelce is now officially Amazon Prime Video's most-watched documentary of all time in the United States.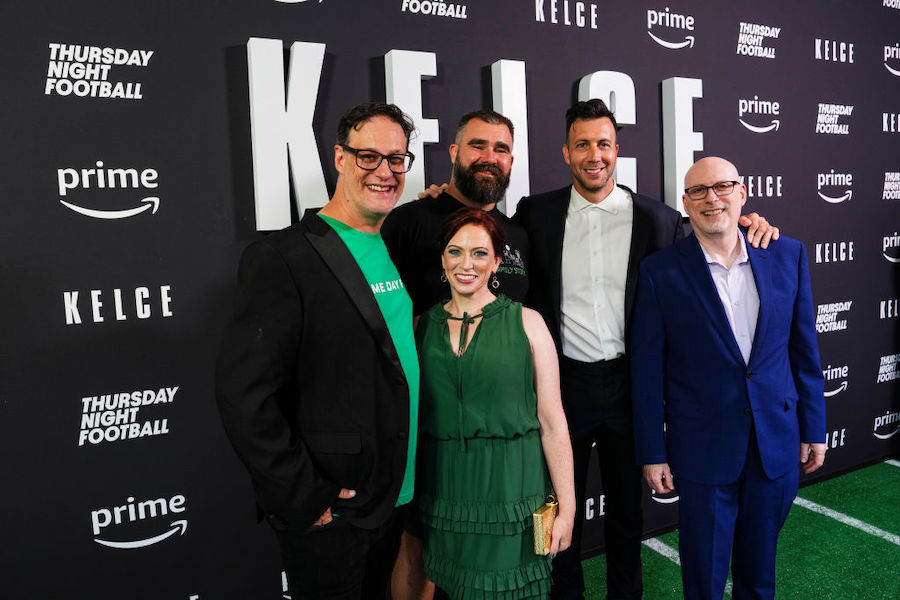 Haven't watched Kelce yet? Do so. If you have and you're looking to explore more of Argott's catalog, there is plenty to choose from.
If I had to recommend just one, it would be Last Days Here. It's about the struggling lead singer of the legendary (well, legendary in head-banging circles) heavy metal band Pentagram. If your knee-jerk reaction to my suggestion is But I don't like heavy metal music, you don't need to. Last Days Here is as much a documentary about heavy metal as Kelce is a documentary about football. Which, of course, it's not. Sort of like suggesting that one can only enjoy Rocky or Raging Bull if one is a boxing fan.
By the Numbers
34 percent: Decrease in motor vehicle crashes in Philadelphia resulting in fatalities or serious injuries from 2012 through 2022. That's according to the city's new Vision Zero Annual Report Card. Vision Zero will go down in the record books as one accomplishment of the Kenney administration that everybody can agree on. Well, everybody except people who hate bike lanes. Those lanes are one of the components of Vision Zero that contributed to the decrease. Another big one: speed cushions.
3,000: Approximate number of illegally dumped tires removed from local sections of the Schuylkill River as part of a dredging project. And I thought my neighbor who tosses his mini bag of Cheetos out the car window on a near-daily basis was bad. (My real question is: Does this mean his steering wheel is covered in crusty orange goo? Ew.) Be better, people.
$150,000: Estimated amount of damage and theft sustained by one North Philadelphia drugstore alone during the infamous looting that took place two weeks ago. Police just released new surveillance video of that incident. Arrests are pushing close to 70 citywide. There were obviously a lot more people involved than that.
And from the Pressure's-On Sports Desk …
The Phillies face off yet again against the Atlanta Braves tonight in our house, with the first pitch at 5:07. Starting on the mound for us: Aaron Nola. C'mon, guys, let's get it done!
The Sixers have another pre-season match-up with the Celtics tonight, but this one, like the Phils game, is at home, starting at 7 p.m. Trust the Process?
All Philly Today sports coverage is provided by Sandy Hingston.
---
---