Opinion
How to Make a More Kid-Friendly Philadelphia, and Why We Absolutely Should
When we talk about imagining a more kid-friendly city, we're really talking about caring for — investing in — ourselves. As a complete, better Philadelphia.
---
Eleven summers ago, the Center City District unveiled a newly renovated Sister Cities Park. Embedded in the midst of the buzzing Ben Franklin Parkway, the once-barren swath of land was now an oasis, a wholesome slice of urban utopia that included a pond-like pool, a rocky climbing embankment, benches and tables, geysers bursting from smooth bluestone pavement, a cafe with restrooms, stroller­ parking, and a soft, expansive lawn. Now, every summer, you see children there from all over the city, running free and playing together, and adults of all stripes, too — some watching the kids, some sipping drinks, some spreading blankets in front of the musicians who pop up to play under sherbet skies.
It is, for my money, the most magical place in Philadelphia.
This is an astounding stance to take, maybe, in a town that also includes the room where the Declaration of Independence was signed. I stand by it, though, in large part because of the feeling I get when I'm at Sister Cities — pride in Philly and its people, yes, but also a profound sense of "feeling okay as a caregiver," as Meghan Talarowski recently put it.
Talarowski is a renowned play researcher and playscape architect and the head of Philly-based Studio Ludo, the design firm behind the forthcoming Anna C. Verna Playground in FDR Park, among others nationwide. When she used that language — feeling okay as a caregiver — she was referencing time she spent as a parent in London, where she could roll a stroller right into a black taxi or a bus, where museums had breastfeeding spaces and calm-down rooms, where the plentiful playgrounds all had coffee shops. This was a city, as Talarowski says, that was "investing in people."
As both a city dweller and a parent, this resonates with me. To be taken care of in these ways, to have your own basic needs met so that you can in turn meet the needs of a child, and, more crucially, to see your kids safe and cared for and engaged in the place where they live — these are not small things. They are, however, often the result of an aggregation of small things — like, say, the rubberized posts (a.k.a. bollards) that keep cars away from crosswalks, a shade tree at a park, a mini library at a laundromat. (And okay, yes — sometimes it's also very big things, like a $5 million park.)
In some ways, Philly is already good at this. Far beyond a single park experience, there are countless other places, people and programs that creatively and consistently make kids and parents feel okay, so they can be okay. But like most of America, our city could also do a great deal better for our children and families. And I'm not just talking about the obvious, onerous battles we haven't nearly won yet — the guns, our poverty, the underfunded schools. Though I will be honest: These horrors that cut entire families down make writing about bike lanes and parks feel at times like blasphemy.
But of course, it's not wrong to want more parks and safer bike lanes; to want traffic calming on our streets — where upwards of 100 people died in accidents last year — so children can enjoy more independence and freedom. It's not wrong to want my kids, your kids, all our Philly kids to have real and easy access to fun playgrounds and ball fields; to dream of multi-family housing that facilitates a sense of community, to ease some individual burdens; to think that instead of widespread bans on teenagers, we maybe ought to work harder to give young people more safe things to do and fun places to be. We also know these sorts of choices can have a mitigating effect on violence, on poverty, on rudderlessness. They can even help boost academic achievement.
In his new book A Minor Revolution: How Prioritizing Kids Benefits Us All, Adam Benforado, a Drexel law professor, makes a compelling case for fostering "a child-first mind-set" — not just in law, but across society, and not simply as a moral choice about caring for our most vulnerable, but because "it's the best way to create the world we all want to live in." You know: safer, cleaner, more equitable, more connected. More fun. Even if you care not a lick about kids, he says, "You should still care very much about structuring society around them" as the most effective way to address many of our most expensive problems — investing in them now to save all of us much more later. (One University College London study suggests that for $1 spent in early play-based education, society reaps $8 in benefits.)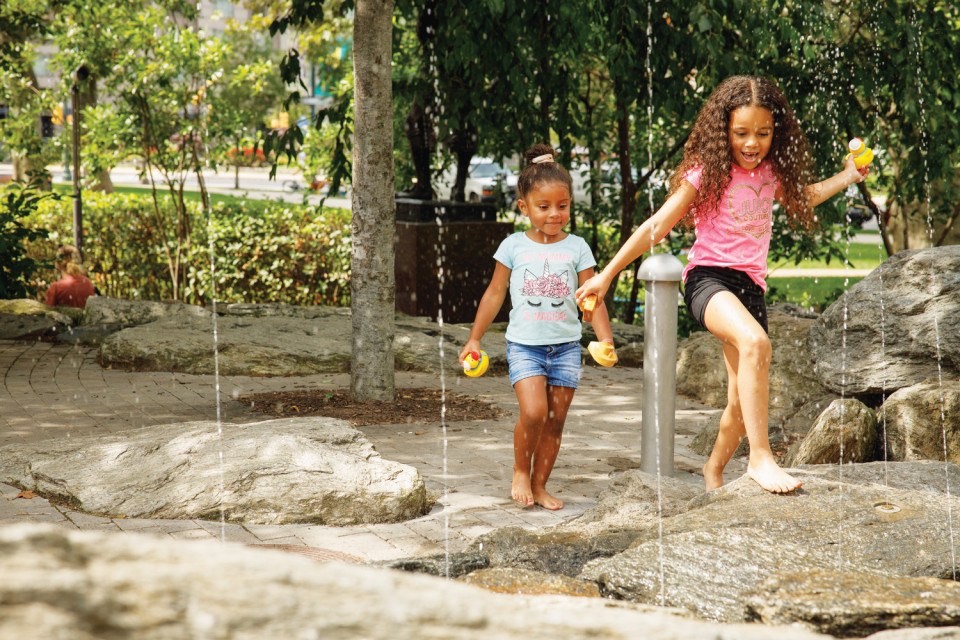 Benforado is hardly alone in this view. Kid-friendly thinking as a conduit for human-friendly cities is the driving idea behind countless urban projects and organizations worldwide. The Canadian nonprofit 8 80, for one, works with cities to improve public space and mobility via the conceit that "if everything we do in our cities is great for an eight-year-old and an 80-year-old, then it will be better for all people." It's no coincidence, surely, that so many of the most famously family-friendly cities — Copenhagen, Oslo, Helsinki, Stockholm, Reykjavík — are also cities where people are rated the world's happiest.
There are more arguments I could make here for prioritizing more kid-friendly city-building — like the recent population dip in Philly (shouldn't we aim to keep more families here?); like the fact that — thank you, Whitney Houston — our children are literally the future. (Shouldn't we invest in that future?) My favorite point, though, remains grounded in an idea Benforado shares in his book about how raising children has mistakenly been cast as "the prerogative of parents alone" — how as long as we live in a society, we're all better off when we instead "think of all children as our children."
In fact, I wonder if it's even better to think of our kids — who make up nearly 23 percent of Philly's population, by the way — not just as ours, but as us. After all, when we talk about imagining a more kid-friendly city, we're really talking about caring for — investing in — ourselves. As a whole. As a complete, better Philadelphia.
>> Click here for 17 Big Ideas to Make Philly a Kid-Friendly City
---