News
I Was at Game 5 in Boston, and for Sixers Fans, It Was Pure Philly Joy
Philly fans got loud in Boston as the Sixers beat the Celtics in Game 5. Here's what it was like on the scene at TD Garden.
---
BOSTON — "I paid $750 to be here. I'm not fucking sitting down," John Taylor tells me. He's a Philly fan who now lives in Connecticut, and the security staff at TD Garden is not loving his passion. But I am. He's had a few; he's getting his life. He puts his arm around me like we're old friends and tells me about watching the 2018 Super Bowl in enemy territory. (Tom Brady's name is invoked like that of a villain.) He's going out to celebrate after this.
Clearly, he's not a pessimist like me, because despite the Sixers' double-digit lead, there are still seven minutes left of Game 5, and I'm still catching my breath from Game 4's blown lead and overtime drama.
In those next seven minutes, two other Philly fans would be ejected for beefing with Celtics fans several rows behind them. And the Sixers would keep their lead. And TD Garden would not be pleased.
Not long after that, I'd sing "Here Come the Sixers" with my new besties on the sidewalk. But I'm getting ahead of myself.
I flew into Boston and was deposited downtown, where TD Garden sits atop North Station. I watched a sea of green-clad Celts fans flow into the arena. Once inside, I scanned the crowd for some friendly blue Embiid and Maxey jerseys among the shamrocks. I couldn't find many … yet.
TD Garden was excited; there were balloon garlands and giant screens and everything set up in anticipation.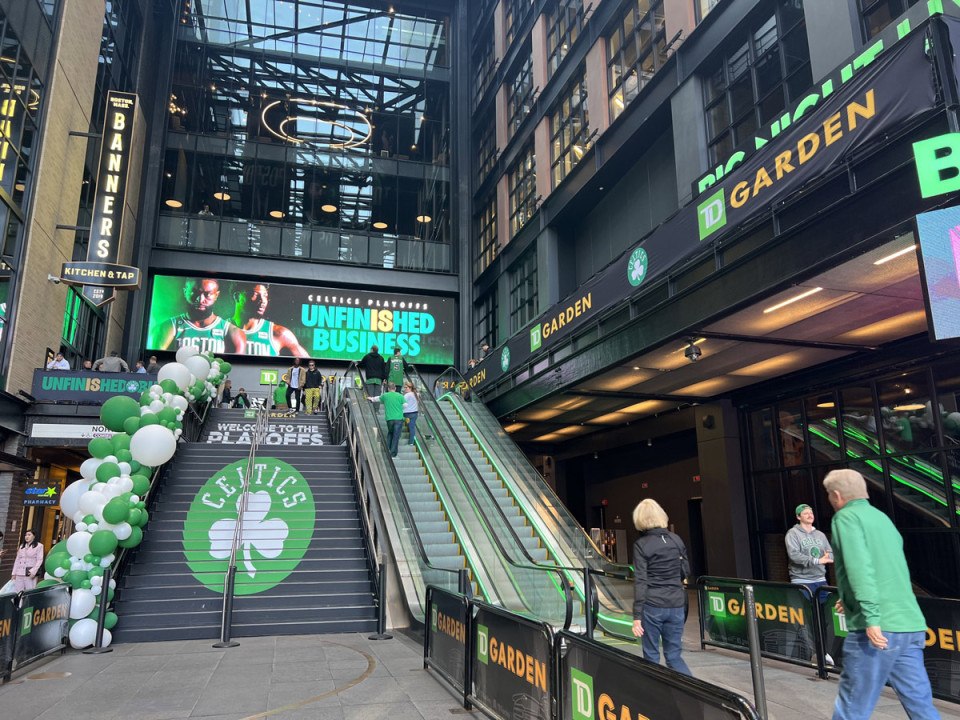 I hypocritically noted to myself how annoying the color green is — months after spending most of my working and waking hours bleeding green and cheering on Broad Street and in parking lots with birdmen. "Unfin18hed Business," the massive screen above the escalator declared. The 18 is for the Celtics' desired 18th championship. That doesn't excuse it. Their business remains unfinished. Unfin18hed, even.
Here and there, spots of blue amongst the green announced themselves. They'd get louder throughout the night. They'd get brazen. It started to feel less like an away game.
The Sixers pulled it out, of course, 115-103. An archway of fans chanted "MVP!" as Embiid passed their seats on the way out. Tyrese Maxey gave high fives; he finally had the game we all knew he had in him.
Some fans were Philly-born but brought to Boston for work; three of them excitedly posed for a photo together after the Sixers' victory. Trevor Bellino, Neel Vidwans and Luke Gioffre were all wearing Philly sports gear, but one of them excitedly told me they're from Philly when I said I was from Philly Mag. "I know!" I replied. It's like we all couldn't believe our good fortune — that we were all in the same different city on the same night that something wonderful happened. "And the Phillies won tonight, too!" said Gioffre, wearing a Phils jersey. It was endearing as hell.
We'd meet later on the street and pose for a blurry selfie, when I was in the middle of interview-slash-singing-with some more Philly fans. Kyle Jones was one of them, hugging another Philly fan he'd only just met.
Another, Nicole Dabene, told me she's actually Boston-born-and-raised but is a Sixers fan through and through. Why? "I just fucking love this team." She wore thigh-high red stiletto boots to match the lettering on her "PHILA" shirt. No notes, my queen. Let's clap our hands and stomp our feet under a statue of Bobby Orr. We only have each other.
---
---